Oscar nomination voting officially started yesterday and will run until January 17th, with the nominations for the 95th Academy Awards announced on January 24th. There have been a number of films, performances, screenplays and technical aspects that we've appreciated from this insanely good year and we here at Next Best Picture put together a few final FYC pleas down below just in case if any Academy members happen to visit the site and need additional help filling out their ballots. We humbly ask that you consider these contenders when casting your ballots.
Best Picture: "RRR"
S.S. Rajamouli's "RRR "is the kind of film that inspires hyperbole. It is massive in every conceivable way: Giant crowds, pounding score, outsized emotions. Like most other films from India's Tollywood film industry, it is drunk on the possibilities of cinema, constantly coming up with inventive new ways to make the audience cheer. And cheer they do in cinemas all around the world. "RRR" is the kind of international crossover sensation that used to happen regularly but hasn't happened recently. It's easy to see why: This is the kind of large-scale epic filmmaking that Hollywood used to produce more often but is now reserved for either war films or superhero pictures. To be clear, "RRR" isn't a war film or a superhero picture, but it's so much more than that. Taking two real Indian freedom fighters and inventing a story about a period of their lives that isn't well-documented, Rajamouli's screenplay tells an involving story of two men with an instant connection who slowly discover they are working at cross purposes. Friendship, betrayal, accomplishments, setbacks, and ultimate redemption are all portrayed in the most dramatic, entertaining fashion by the film's charismatic stars Ram Charan and NT Rama Rao, Jr., and told with an abundance of cinematic brio by Rajamouli and his team. "RRR" might be three hours long, but it's paced perfectly, with an emotional story and character beats between the film's eye-popping action sequences. This is the kind of exciting, rousing cinematic experience that makes people say, "they don't make 'em like they used to," except that they do, just not here in America. Given the increasing prominence of India's film industries at the international box office, it's time for AMPAS to recognize what audiences around the world have known for years: India is making movies that fully embrace all the possibilities that cinema has to offer, giving you the kind of entertainment that makes you want to get up and dance in the theater. Sit down and watch it – don't worry, there's an intermission so you can go to the bathroom – and you'll discover yourself in the hands of a masterful visual storyteller. "RRR" is cinema, pure and simple.
Best Director: Park Chan-wook – "Decision To Leave"
Academy Voters should seriously consider Park Chan-wook in the Best Director lineup for "Decision To Leave." Everything fans adore about Chan-wook's sensibilities as a filmmaker is harnessed into this single film. A psycho-sensual Hitchcock-esque thriller masterfully balancing comedy, romance, and suspense, it's one of his most layered and intricate works to date. The performances he brings out of Tang Wei and Hae il Park are hypnotic as you become entrenched in their dangerous cat-and-mouse game of lust and murder. The technical choices Chan-wook makes in this film are beyond mind-blowing– every editing decision, every seamless application of visual effects, and every shot choice is executed eloquently and expertly planned. More films should aspire to be as engaging, erotic, and as stylish as "Decision To Leave," Chan-wook has clearly established himself as one of the most unique voices in Korean cinema with films like "The Handmaiden," "Thirst" and "Oldboy." It's about time the Academy finally takes notice.
Best Actress: Danielle Deadwyler – "Till"
The year 2022 turned out to be a great year for films and performances. One performance that stood out above all and deserves deep consideration for Best Actress in a Leading Role at this year's Academy Awards is Danielle Deadwyler from the film "Till." Despite being relatively new on the acting scene to most Academy voters, Danielle Deadwyler's portrayal of civil rights activist, Mamie Till, left me and many others in tears and pure awe throughout. Her powerful and commanding performance shows perseverance through Black trauma and is a symbol of true inspirational bravery, reminding us of a horrific time in our history that should never be forgotten.
Best Actor: Paul Mescal – "Aftersun"
"Aftersun" is a film that does not rely on telling the audience what is going on but instead shows the audience the pain behind what is seemingly a fond memory of a father and daughter on holiday. With a screenplay like that, it is vital that you have someone that can be vulnerable on screen and sell the character of the father, Calum, cast in the film. On a first viewing, it may be obscure to the viewer what decisions Paul Mescal is making to bring the character of Calum to life, opposite the wonderful Frankie Corio in the loveliest duo dynamic of the year. However, once you put the pieces together on what "Aftersun" is truly about and understand why the daughter, Sophie, is looking back on this specific memory, a second watch of the film highlights all the nuances in Mescal's performance that adds layers to his character outside of the holiday. Whether it is the conversation with Sophie's mother on the phone or the rare moments we see of Calum away from his daughter, finally letting his emotions out in the hotel room, it is hard not to be impacted by his performance by the time he says goodbye to his daughter at the airport. While it is never explicitly stated what happened to Calum after that holiday, the audience can piece together a narrative that comes through thanks to Mescal's breathtaking performance. Simply put, no Best Actor line-up this year is complete without placing Paul Mescal on that list.
​Best Supporting Actress: Claire Foy – "Women Talking"
Claire Foy gives a powerful performance in Sarah Polley's "Women Talking" that has largely not been recognized this award season. Foy, playing a mother desperate to provide a better life for her children and herself, wears her heart on her sleeve as she fights to break free from the violent patriarchal colony she and her fellow female counterparts live in. As a small group decides the best actions to take, she stands up to others when they dismiss her thoughts, like her electrifying scenes with Jessie Buckley's Mariche, and strikes us to our emotional core as she pleads for the safety of her young children. Even though we're with her for just a short amount of time, Foy's multi-faceted performance stays with us long after the film's end. So much so that we can't help but wonder what she and her children are up to with their newfound freedom.
​- Ema Sasic
​Best Supporting Actor: Barry Keoghan – "The Banshees Of Inisherin"
Over the years, Barry Keoghan has shown off his range while working with some of the most prolific directors in Hollywood, such as Yorgos Lanthimos, Christopher Nolan, and Chloé Zhao. However, in "The Banshees Of Inisherin," directed by Martin McDonagh, Keoghan brings it all together with his most earnest and heartbreaking character to date. Through his performance, he peels back the layers of the dim Dominic Kearney– on the surface, he cracks jokes with Pádraic (Colin Farrell) and tries to keep things light; yet in every interaction, there's a melancholy to Dominic just under the surface. Part of that is due to his slower nature and the abuse he endures from his father (Gary Lyndon). However, it takes Siobhán (Kerry Condon) rejecting his marriage proposal, which lets Kearney's sadness consume him. Keoghan initially plays it off casually, but his delivery of "there goes that dream" is devastating in a way that donkey kicks you in the chest. You feel his heartbreak in real-time, and it's a testament to Keoghan's raw talent. Though the conflict of The Banshees of Inisherin lies between Colin Farrell and Brendan Gleeson's characters, it's hard not to be drawn in by Barry Keoghan's magnetic performance here.
Best Adapted Screenplay: "Bones & All"
Despite receiving much praise in its fall festival run, "Bones And All" has been pushed to the side during award season. This more than likely comes down to its roots in the horror genre, but a single genre should not define what an achievement Luca Guadagnino's latest film is. The screenplay by David Kajganich is an adaptation of Camille DeAngelis's novel by the same name. As great as Young Adult novels can be, it takes talent to heighten a story of this caliber and add layers of sophistication that translate onto the big screen, yet Kajganich has done it. Incredible performances aside, it is the humanistic screenplay of "Bones And All" that captivates you through the world-building and the characters of Maren and Lee, evoking such empathy for their situations that, in reality, are morally unacceptable. Balancing romance, suspense, drama, and horror to create something so profound, layered, and moving in such a masterful way as has been done here is a rarity, which is why I urge voters to consider "Bones And All" for Best Adapted Screenplay.
​Best Animated Feature Film: "Apollo 10 1/2: A Space Age Childhood"
"Apollo 10 ½: A Space Age Childhood" is Richard Linklater's third venture into the animated realm. Unlike "Waking Life" (2001) or "A Scanner Darkly" (2006), though, the film is a sweet recollection of youth that plays like gangbusters for both kids and adults. The recreation of 1969 Houston, with all of its landmarks and space-age artifacts, is a sight to behold, as are the varying animation styles that range from realistic to Saturday morning cartoons. There was some controversy surrounding "Apollo 10 ½: A Space Age Childhood" initially, as the Oscars deemed it ineligible, then eligible on the grounds of its rotoscoping process, so I urge voters to take advantage of the overturn and champion a filmmaker who continues to find new ways to mythologize the mundane.
​Best Documentary Feature Film: "Bad Axe"
There has been an overabundance of documentaries made about the pandemic, but "Bad Axe" is one of the best. No other documentary has captured what ordinary people felt during 2020. These aren't politicians. These aren't nurses or doctors. The Siev family simply owns a restaurant in Bad Axe, Michigan, and has to cope with the reality of the pandemic and a rapidly changing political climate that puts their well-being as an Asian-American family in a hostile pro-Trump part of the country and pursuit of the American Dream at risk. That sounds simple, but what unfolds is a stunningly honest portrait of clashing family dynamics, rising stress levels, fear of Covid-19, and extreme racial harassment. For filmmaker David Siev, this was more than just being in the right place at the right time. The movie is gripping, well-edited, and so personal. It's a testament to his brilliant filmmaking that the unquestionably terrific "Bad Axe" deserves to be recognized at the Academy Awards for Best Documentary Feature.
​- Daniel Howat
​Best Cinematography: "Nope"
When it comes to movies about the very act of filmmaking, Jordan Peele's "Nope" is an unexpected addition to this specific group of films. After all, his latest horror masterpiece is, in simplest terms, about a group of people trying to capture an image of something magical and untamable. Most directors would likely describe their laborious efforts to make a film in similar terms. The construction of a new type of film camera is even a plot point! The artist tasked with filming Peele's bizarrely original story is cinematographer Hoyte van Hoytema. The living legend is already a household name to cinephiles, thanks in part to his stunning work with Christopher Nolan on such films as "Interstellar" and "Dunkirk" – the latter of which earned him an Oscar nomination. With "Nope," he's faced with the challenge of giving extra menace to the monster at the story's center beyond what Peele's direction and writing can do. He uses a variety of techniques to do so. Most notably, he doesn't shy away from handheld camerawork, which gives the film a frighteningly realistic edge. This method calls to mind shaky videos of supposed cryptids circulating on the Internet. He's also a master of capturing epic images that fill the frame but never overwhelm it. The climactic chase scene is reminiscent of classic Westerns, with clouds of dust and different planes of moving objects packing the screen. Van Hoytema has already been worthy of plenty of nominations in the past, and "Nope" is the latest of his work that deserves attention from the Academy.
​- Cody Dericks
Best Costume Design: "Everything Everywhere All At Once"
The costume designer branch loves a period piece. As such, period films are dominating the Best Costume Design awards chatter this year. But plenty of contemporary-set films are deserving of Oscar recognition as well. What better way to show some modern love in the category than to honor Shirley Kurata's work in "Everything Everywhere All at Once"? Kurata's costume design is a remarkable combination of elaborate and everyday contemporary with layers of sci-fi. Her creative work complements the Daniels' genre-bending ambition. Not only is the wardrobe a distinct reflection of each universe in the story, but also a revealing expression of character. The epitome of Kurata's bold and innovative costumes is the wardrobe of Stephanie Hsu's character Joy/Jobu. Each piece embodies a different world of emotion, from the glamorous jeweled Elvis jumpsuit to the celestial bagel palace outfit. In Jobu's colorful and chaotic 'final fight' dress, all of the pieces come together for a patchwork of everything Joy is going through all at once.
Best Film Editing: "Moonage Daydream"
Only the Thin White Duke/Ziggy Stardust/Aladdin Sane (also known as David Bowie) could be the subject of such a kaleidoscopic spectacle as Brett Morgen's "Moonage Daydream." Only his life and career, captured in a collage of both moving and still images (not to mention his discography), could provide enough material to hypnotize an audience into a state of euphoria for over two hours. Free of third-party testimony or an outside narrator, "Moonage Daydream" feels as if a message sent down from Bowie himself, perhaps from the far reaches of the cosmos. With copious amounts of potential footage, Morgen and his team displayed the year's greatest skills in editing by cramming infinity into a feature-length runtime. Owing everything to the montage-documentary style of Dziga Vertov (the titular man with a movie camera), Morgen and company clearly demonstrated their right to be trusted with Bowie's first-ever officially sanctioned film. If any other musical artist is looking for such a perfect tribute, they know who to ask.
​- Eve O'Dea
Best Production Design: "Guillermo del Toro's Pinocchio"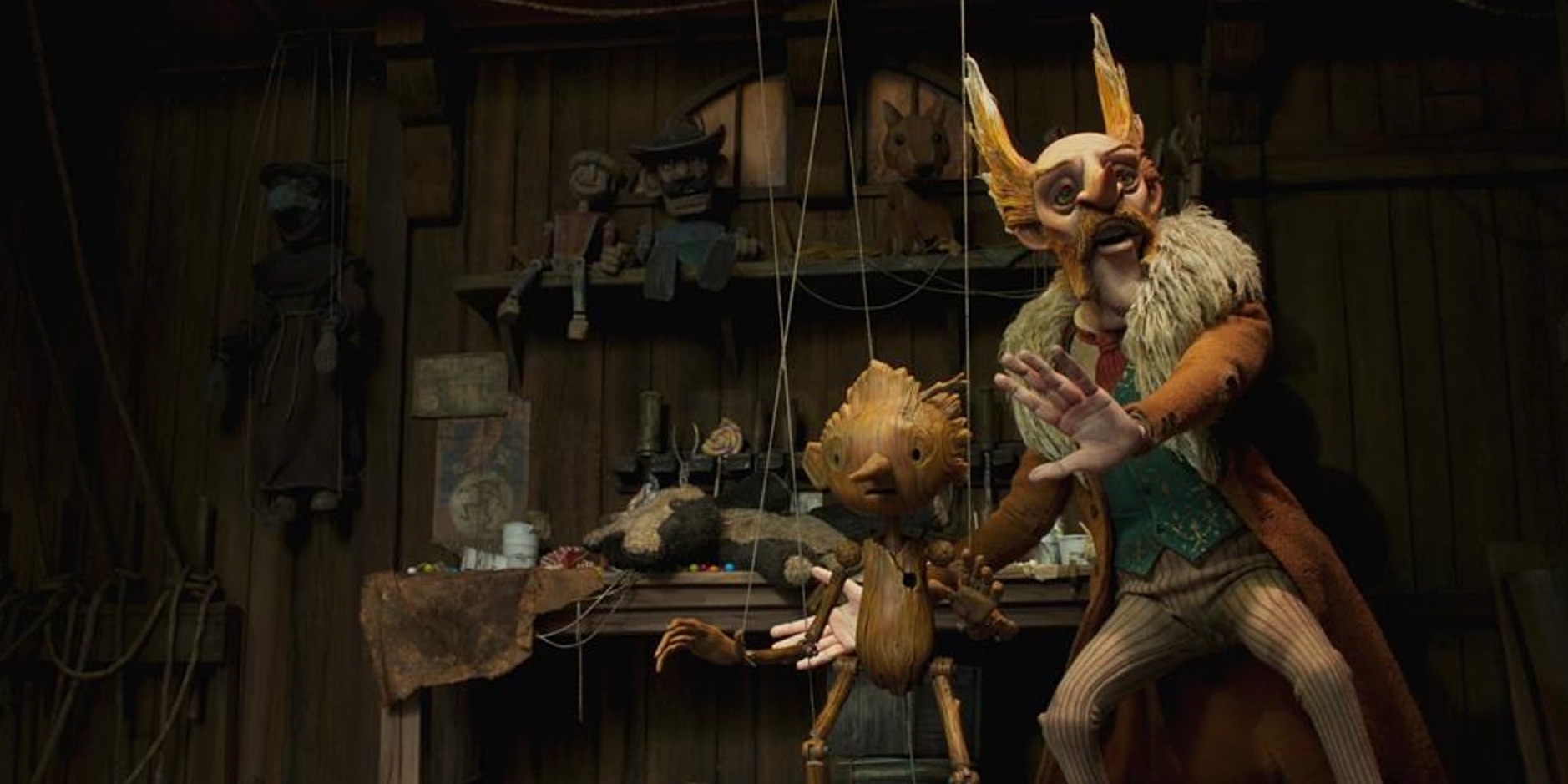 Guillermo Del Toro's sets are always lovingly crafted and richly detailed. In his plea to help voters and the industry at large realize that "Animation is cinema," his latest film, "Pinocchio" (or "Guillermo del Toro's Pinocchio"), is no exception. It may be a stop-motion animated film, but his characters inhabit exquisitely constructed sets like any live-action film. Set within fascist Italy, Del Toro's film introduces us to dozens of locations, from a gloomy circus, to the inside of a whale, to Geppetto's workshop, to bombed-out churches, and even takes us out of the natural world and places us in the mystical places beyond this life. They're all equally memorable and draw the viewer into a version of "Pinocchio" that is unlike any they have ever seen before. The whole film is a marvel of craftsmanship down to the very last detail, and it's palpable whether you're watching the film in a theater or at home on Netflix. Should the film receive a nomination here for its Production Design, it would become the first animated film ever to achieve the honor.
​- Will Mavity
Best Sound: "All Quiet On The Western Front"
Edward Berger's 2022 version of "All Quiet On The Western Front" has received a fair amount of praise for its realistic depictions of war; much of that stems from its impressive technical elements, including the sound work. The entire film is such a visceral experience, thanks primarily to the specific, meticulously-placed sound editing and mixing that all but drops you into the battle scenes. This is the kind of movie that is made for the big screen, although its more intimate moments — such as Paul's breathing — are just as chilling as the larger ones. Sound supervisor/sound designer Frank Kruse, re-recording mixer Lars Ginzel, and co-sound designer Markus Stemler created masterful sounds that show the harsh realities of this particular war. It's a tricky thing, too, to mix dialogue, effects, and music all together, and the sound team pulls it off masterfully.
Best Original Score: "The Whale"
Although I'm pretty aware this is a long shot given he's not a branch favorite, one of the best scores I heard this year was Robert Simonsen's work on Darren Aronofsky's "The Whale." Giving the film an atmospheric quality that swings between brooding and uplifting, the score is key to evoking the emotions Fraser and the rest of the wonderful actors are trying to elicit from the viewer through Samuel D. Hunter's words. The score walks a fine line between being understated and overstated, but its presence is most greatly felt in the film's final five minutes when it builds to an awe-inspiring crescendo before the flash of white and the credits roll. As Simonsen's haunting strings play over the credits, we're left with the feeling of regret, loss, and a bit of hope that we, too, can see past people's mistakes to find the goodness in others.
​- Matt Neglia
Best Original Song: Good Afternoon – "Spirited"
It pains me to remind you that in recent days, you have been subjected to a petty plea by one Hugh Jackman, whose personal grievance against the innocent and shy actor Ryan Reynolds has now polluted the race for Best Original Song. In his bitterness, Mr. Jackman has asked you to punish Mr. Reynolds by voting against a song he merely performed in a recent film — a song which he did not himself write. Instead, by voting against the song "Good Afternoon," you will actually be punishing the song's composers, Benj Pasek, and Justin Paul, whose fine work helped to make a giant hit out of another recent film, "The Greatest Showman," which starred…Mr. Jackman (The ingratitude of this man knows no bounds)! Instead, I ask you to ignore Mr. Jackman's bitter rantings and give serious consideration to nominating "Good Afternoon" for this year's Academy Award. Unlike many of its competitors, which, fine songs though they may be, are merely tacked on to their films' end credits, "Good Afternoon" does two important things those songs do not. It is performed within the body "Spirited" and advances the storyline. Those two qualities used to be important in determining which Original Song was the year's best. It can be again with your vote to nominate "Good Afternoon."
​- Tom O'Brien
Thank you for considering these contenders in your Oscar voting. For those who are not voting, what would you like Academy voters to consider? Please let us know in the comments section below or on our Twitter account and check out our latest Oscar nomination predictions here.