It's the age-old question for awards pundits: how soon is too soon to start discussing next year's Oscars after the conclusion of last year's ceremony? You could ask a million different pundits and get a million different answers. Still, this particular pundit subscribes to the belief that you simply have to let the films tell the story – don't try and guide the race, but follow it instead. When a film debuts with near-universal adoration and all-encompassing euphoric buzz, that's a title that can't be counted out for awards attention, regardless of what time of the year it premiered and what genre it's categorized as. Time and time again, this has been the case. However, for most statistical accuracy, let's just look at the past decade: despite debuting in May or even February, films like 2014's "The Grand Budapest Hotel," 2015's "Mad Max: Fury Road," 2017's "Get Out," and 2018's "Black Panther" endured all the way until the winter of the following year, bolstered by an industry-wide appreciation of audacious craftwork, a connection with the cultural zeitgeist, or both. It isn't every year that a Q1 or Q2 smash hit critical/commercial sensation lands a spot in the Best Picture lineup, but there are always some strong contenders that linger from the start of the year, and as history shows, they can't be ignored.
This year, a few compelling candidates have emerged (Matt Reeves' "The Batman," Robert Eggers' "The Northman," etc.), but no 2022 release thus far has earned the kind of widespread wonderment that Daniels' "Everything Everywhere All At Once" has – in fact, few films this century have received such profuse praise. First released on March 25, 2022, following a premiere at the South by Southwest Film Festival, "Everything Everywhere All At Once" has gradually built up the kind of natural – and monumental – momentum that any prospective awards contender dreams of. On the surface, it's not even remotely a conventional contender (a multiversal sci-fi action comedy that features dildo fights, a dimension where humans have hot dogs for fingers, and butt plug battles?), but week after week, as it's expanded wider and wider across the nation, it's simultaneously expanded – and emboldened – its burgeoning fanbase. It's received a 97% on Rotten Tomatoes with an 8.8/10 average rating (and a 90% and an 8.2/10 from "Top Critics"), a 93% Audience Score with a 4.7/5 rating, an 82 Metascore on Metacritic and a 7.9 User Score, an 9.0/10 on IMDb, and, as of April 5, it's officially the highest-rated movie of all time on Letterboxd.
What's making this movie from the directors of "Swiss Army Man" – a film about a man on a deserted island and his friendship with a farting corpse – connecting with crowds worldwide? Well, for starters, it is, in every sense of the word, "the movie of the moment." A direct response to the aimlessness and nihilism that plagues our populace today, "Everything Everywhere All At Once" is an antidote for the "nothing matters" crowd, cutting through the chaos and the clutter of the modern sociopolitical struggles in our culture – and our more intimate ills – by reminding us of the things that do matter most (our family and our friends, candor, and compassion) and forcing us to refocus our priorities on what we can control instead of what we can't. Fitting for a movie titled "Everything Everywhere All At Once," the film is about, well, everything, and it's this masterfully wide-reaching messaging that has allowed audiences of all backgrounds to find something to relate to and some lesson to take with them when they leave.
Even still, despite the ever-apparent admiration for Daniels' latest cinematic delight, writing an article like this opens one up to the "it's too early!" complaints from those who believe awards season should only truly start with the fall festivals, protesting the possibility that punditry becomes a 24/7 business (it already has) that prioritizes the competition over the actual art in contention. It's a fair argument, but rest assured that this article is not written in an attempt to reduce "Everything Everywhere All At Once" to no more than a line item on this year's Oscar prediction lists or to "get a leg up" on fellow pundits. For a film like this to transcend its genre bias and last all the way from a March release to the awards ceremonies of January and February 2023, it has to be championed and campaigned as such as soon as possible. A piece like this is written out of pure passion, both for this film itself and what it represents in today's increasingly commercialized cinematic marketplace – and what Oscar attention for a film like this would mean for the marketplace going forward. So, without further ado, here are our opinions on "Everything Everywhere All at Once's" Oscar chances, assessed category by category.
Best Picture
As soon as one sees "Everything Everywhere All At Once," it's abundantly clear that we're witnessing a once-in-a-century cinematic sensation bursting with unadulterated originality and creativity at the seams. Based on both its critical scores and social media chatter, almost everyone agrees that the film is undeniable of "Best Picture quality," but whether it will be nominated is another question entirely. Initially, many were skeptical that a film such as this – given the genres it toys with and its occasionally offbeat humor – would break through with the Academy; would it be "highbrow" enough for them or seen as art appropriate to be honored by the Academy Awards? However, week by week, more and more prominent figures in the industry have voiced their support for the film – from Barry Jenkins to Rian Johnson to Edgar Wright – with it generating the kind of communal rallying that has powered past genre pics ("Mad Max: Fury Road," "Dune," etc.) into Best Picture. And it shows no sign of slowing down, with each passing day bringing more praise.
Additionally, "Everything Everywhere All At Once" is not a pure "genre exercise" by any stretch of the imagination. The same social significance that made Q1 releases like "Get Out" and "Black Panther" into credible Oscar contenders is embedded into the very fiber of this film as well, as mentioned in the introduction – it's the cinematic equivalent of a warm hug in these trying times, acknowledging all the adversity and animosity that exists in the world but assuaging our anguish at the same time. That poignant philosophical pull will keep the film generating conversations all year long (and beyond) and, likewise, keep it in contention. Plus, do we really think this universal exaltation will cease to exist by the end of 2022? Given the celebration amongst critics in particular for this filmmaking feat, it stands to reason that it will rank very high on many – if not all – year-end lists, giving it yet another boost during a crucial voting period. No one is denying that "Everything Everywhere All At Once" doesn't have significant hurdles to overcome to attain Oscar glory (it'll have to maintain momentum in the face of new films from Steven Spielberg and Martin Scorsese, and even though it's establishing its place early, it's not like it won't have competition), but it's already got the most important part down: being absolutely adored.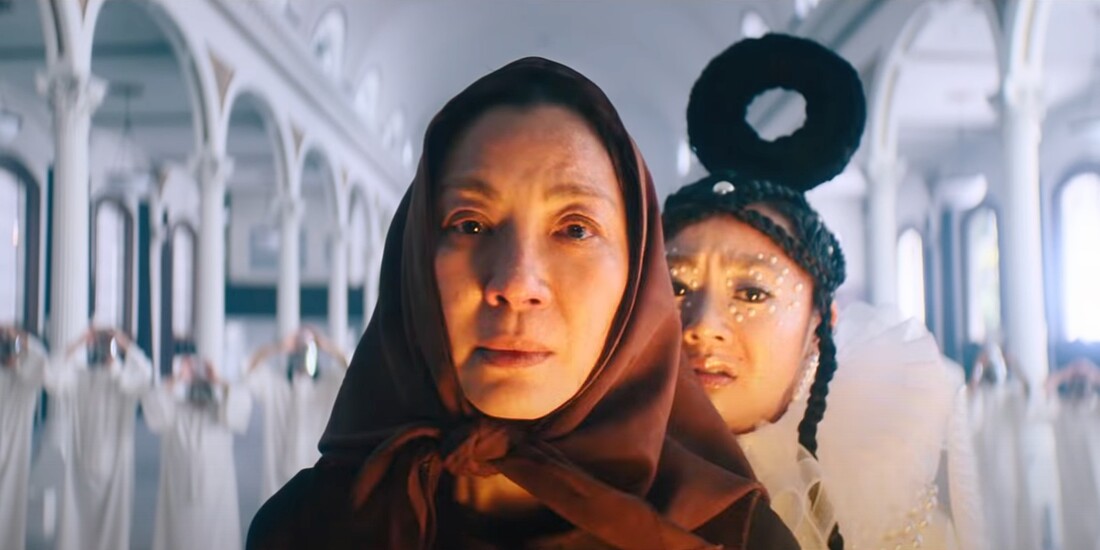 Best Director
If the Oscars are honoring "Everything Everywhere All At Once" in Best Picture, there should be no universe in the multiverse in which directors Dan Kwan and Daniel Scheinert aren't brought along for the ride. Sure, there are freak snubs every now and then for top-tier contenders and prominent tech players (Christopher Nolan for "Inception" or Denis Villeneuve for "Dune," just last year), but if you're operating under the assumption that the film is going to connect with Academy crowds, it's unimaginable that Daniels be ignored.
As the writer-director of such a truly insane idea that shouldn't work whatsoever (more on that first part in a moment), the fact that they pulled this premise off – and did so with the greatest degree of success – is already more than enough to secure them a spot in this category, but a fact that further contributes to their campaign is that "Everything Everywhere All At Once" is monstrously maximalist filmmaking, a style most often favored by the directors' branch over subtler directing methods. It remains to be seen how the Academy at large (and all voting bodies, for that matter) react to some of their more juvenile humor in the film and the big swings they take in that bombastic finale – to say nothing of the contenders they'll have to combat with names like Spielberg, Scorsese, Chazelle, and Cameron – but as it stands right now, they're certainly circling a nomination.
Best Actress
It's Michelle Yeoh's world, and we're all just living in it. Just as every passing day brings more praise for "Everything Everywhere All At Once," so too do they bring more praise for Ms. Michelle Yeoh in particular, who has been the face of a plethora of profiles for over a month now, all analyzing the supreme success of her decades-spanning career – which began in the 1990s with Hong Kong action films before she was brought on to Hollywood blockbusters like James Bond sequel "Tomorrow Never Dies" in 1997 and further made a fixture of modern American films in the years that followed – and lamenting the fact that, despite coming close with 2000's "Crouching Tiger Hidden Dragon" (and also earning a fair bit of awards hype for 2018's "Crazy Rich Asians"), she has never been nominated for an Academy Award. In fact, no East Asian or Southeast Asian actresses have ever been nominated for Best Actress.
When combining the generational celebration of her entire career with this truly abhorrent fact of Academy history, it seems like Yeoh is in quite a solid position to land an Oscar nod when all is said and done. And yet, that's without even taking into account the fact that critics the world over have been loudly lauding her turn here, hailing it as the best of her career, and are sure to keep her in their minds when doling out their own awards in December, which will only further cement her as a compelling contender. And how could she not be? The film is practically made to honor Michelle Yeoh's legacy and the many "lives" that she (not just Evelyn) has led, and taking all of this into consideration, it seems as if all of the stars are finally aligning for her appointment with the Academy Awards. Sure, she'll have to fight for a spot with Margot Robbie ("Babylon"), Cate Blanchett ("TÁR"), and Carey Mulligan ("She Said"), but her narrative has already been established. It's everyone else who has to catch up.
Best Supporting Actor
With that being said, Michelle Yeoh isn't the only actor in "Everything Everywhere All At Once" with a once-in-a-lifetime Oscar narrative. Ke Huy Quan, who plays her endearingly earnest husband Waymond, is generating an almost equal amount of praise, given how efficiently he executes both the film's arresting action sequences and its enormously affecting emotional beats. In many ways, Waymond is the heart of the film, and Quan's wonderful, warm work assures that he's on the top of everyone's mind as soon as they leave the theater.
Furthermore, the role represents Quan's return to Hollywood. Despite being a celebrated child star in the 1980s (as Short Round in "Indiana Jones and the Temple of Doom" and Data in "The Goonies"), he stepped away from American cinema in 1992 following "Encino Man" and spent over two decades working as an assistant director for Wong Kar-wai and choreographing fight scenes for several Asian films. However, after seeing the success of 2018's "Crazy Rich Asians," the actor felt that there were finally rewarding Asian roles to pursue in America in this day and age, and he's beginning his career comeback with "Everything Everywhere All At Once."
Though Michelle Yeoh seems like more of a slamdunk acting nod for the film – assuming it hits with the Academy – in all honesty, Quan isn't that far behind. He benefits by not only featuring in many key scenes with her but also demonstrating an impressive comedic and dramatic range in this role himself, making him an early year supporting standout when it usually takes longer for those categories to fill up. As with Daniels and Yeoh, it's not like the path to the nomination will be easy – with Quan having to fend off Seth Rogen and Paul Dano ("The Fabelmans"), Robert De Niro ("Killers of the Flower Moon") and Brad Pitt ("Babylon") – but if a voter is passionate about this picture in general, it stands to reason that a voter would be passionate about the iconic stars who form the face of the film, and as such, Ke Huy Quan should absolutely be included in the same acting Oscar conversation as Michelle Yeoh.
Best Supporting Actress
Despite having two promising nomination possibilities with Stephanie Hsu and Jamie Lee Curtis – who play Michelle Yeoh's Evelyn's distressed daughter and her irritable IRS inspector, respectively – "Everything Everywhere All At Once" is least likely to score an acting nod in the Best Supporting Actress category. This isn't a knock against either actress by any means (Hsu is heartbreaking, especially as her conflict with Yeoh's Evelyn takes center stage in the third act, and Curtis is a comic force to be reckoned with), but rather an acknowledgment of the differences between their prospective campaigns and those of Yeoh and Quan.
In addition to being given a bit meatier material throughout, Yeon and Quan rise above on account of appreciation for their entire careers and what these roles represent for them. Hsu and Curtis lack such a narrative that would allow them to compete with strong Best Supporting Actress contenders like Michelle Williams ("The Fabelmans"), Lily Gladstone ("Killers of the Flower Moon"), or any of the "Women Talking" ensemble (Jessie Buckley, Claire Foy, Rooney Mara, Frances McDormand, etc.). Of the two, Hsu has the best chance to coattail love for "Everything Everywhere All At Once" overall, as she does indeed get a few strikingly emotional scenes as the story reaches its resolution. However, she's still far from being as strong as Yeoh and Quan, at least for now.
Best Original Screenplay
Pretty much copy and paste everything written about Dan Kwan and Daniel Scheinert in Best Director because the same applies here. As far as "original" screenplays go, it's doubtful that we'll see five more conceptually ambitious – and simultaneously successful – scripts this year that would crowd "Everything Everywhere All At Once" out of this category. In fact, even if all other bids fail, this is one of the categories many seem most confident about – the film is literally what this award was created to champion.
In their efforts to attach modern meaning to the multiverse, Kwan and Scheinert script one of cinema's most eccentric yet emotional epics in eons, refusing to be constrained creatively and letting all their whims run wild until they're brilliantly brought together in deeply felt fashion in the film's finale. Sure, they'll have to contend with the likes of Steven Spielberg and Tony Kushner ("The Fabelmans"), Damien Chazelle ("Babylon"), Martin McDonagh ("The Banshees of Inisherin"), and David O. Russell ("Canterbury Glass"), but come on, how is one of the medium's most inventive ideas since the motion picture was invented going to be ignored?
Best Cinematography
As we get into the crafts categories, it's important to remember that this competition is much harder to assess sight unseen, and despite "Everything Everywhere All at Once's" terrific technical work from top-to-bottom, its awards story still has more blanks to be filled below-the-line. Regardless, Larkin Seiple's phantasmagoric photography deserves a place in this year's Best Cinematography conversation, no matter what "Avatar 2" or "Babylon" brings to the table.
Aside from establishing an absorbing aesthetic for the film overall, Seiple (perhaps best known for shooting Childish Gambino's "This Is America" music video) is stupendously skilled at giving each universe its own unique visual distinctions, not to mention the handsome hues he shrouds his stars in as they madly make their way across the multiverse in the most manic manner possible. Many will likely cite recent Oscar winner Greig Fraser's work on "The Batman" as the cinematography stand out from the first half of 2022. Still, Seiple's cinematographic contributions to "Everything Everywhere All At Once" speak for themselves, and should the film become the awards juggernaut we're expecting it to, don't count him out.
Best Costume Design
Best Costume Design is probably one of the coolest crafts categories at the Oscars, as the costume designers aren't always beholden to Best Picture contenders, and they're unafraid to branch out to nominate truly worthy work regardless of the genre or franchise it comes from. Hell, just last year, "Cruella" literally won this award (and rightfully so – did you see that trash dress?!). Perhaps the most eye-catching example of "Everything Everywhere All at Once's" Oscar-worthy costume design is found on Stephanie Hsu's Jobu Tupaki, a true multiversal style icon if ever there was one, constantly shifting between colorful and chaotically assembled clothes, but let's not discount all of Evelyn's attire either, from her gorgeous gown in her "Movie Star Universe" to her drab dressing in the "Hot Dog Finger Universe" to her culturally authentic Asian costuming in the "Opera Singer Universe."
Given the overwhelming amount of costume changes that designer Shirley Kurata had to account for, it seems that "Everything Everywhere All At Once" will definitely be a much talked about contender in the Best Costume Design race, if not a potential winner. It remains to be seen how strong other contenders like "Elvis" (costumes designed by Oscar winner Catherine Martin) and "Babylon" (costumes designed by Oscar nominee Mary Zophres) are, but Kurata's excellent and whimsical work is not to be overlooked, and her expansive innovation makes for quite the narrative.
Best Film Editing
Of any craft category, "Everything Everywhere All At Once" almost undeniably has the best chance of picking up an Oscar for Best Film Editing. In many ways, editor Paul Rogers reinvents the art of editing altogether, seamlessly shuffling between all of the universes in this vast multiverse – along with altering between several distinctive art styles – and fostering frenetic pacing for the film throughout the entirety of its nearly 2 ½ hour runtime, while simultaneously letting subtler and more sensitive beats breathe and never overwhelming the audience with the film's absurdist opulence.
Surely we can expect some more strong editing work later this year from Oscar winners Tom Cross ("Babylon") and Thelma Schoonmaker ("Killers of the Flower Moon"), but Rogers' work is already in a league of its own. Like Daniels, Yeoh, and Quan, Rogers' name has been frequently cited by enthusiastic crowds heaping praise on "Everything Everywhere All At Once," as Daniels' concept would crumble beneath the weight of its own ambitions were Rogers not there to piece it all together proficiently. If he's somehow snubbed in 2023, we need to rethink the idea of "awards" entirely.
Best Makeup & Hairstyling
Much like Shirley Kurata's costume design, the makeup and hairstyling accomplished by department heads Michelle Chung and Anissa Salazar, respectively, are carefully curated to not only properly place Evelyn's personage in every distinct universe (with over 40 hair changes for Michelle Yeoh) but to also efficiently establish the aberrant appearance of Stephanie Hsu's Jobu Tupaki (including that instantly iconic bagel hairdo). And all of that is without even mentioning the formation of the hot dog fingers on the hands of Evelyn and Jamie Lee Curtis' Deirdre in the "Hot Dog Finger Universe."
"Everything Everywhere All At Once" does lack the plethora of prosthetics that usually allow a film to prevail in this category (look no further than recent winners "Vice," "Bombshell," and "The Eyes of Tammy Faye") and that's something that the already released "The Batman" offers, for instance. Still, depending on how (or if) the category fills out with potentially showier contenders and competition towards the end of the year, "Everything Everywhere All At Once" has proved that it can possibly find a place for itself amongst the nominees.
Best Production Design
If we sound like a broken record at this point, that's just because the craftwork in "Everything Everywhere All At Once" is so overwhelmingly exemplary that we've almost run out of words to describe it. But, truthfully, as with the costume design and the makeup/hairstyling, the purposefully produced production design, art direction, and set decoration from Jason Kisvarday, Amelia Brooke, and Kelsi Ephraim, respectively is an essential assist to Daniels as they seek to place us in several stylistically diverse universes and give each environment an original personality of its own. Perhaps most impressive is the mileage they get out of the main office setting where most of the action occurs, constantly finding new ways to maximalize this space and build on it from scene to scene.
Late-year contenders are sure to fill up this category, with "Babylon" recreating 1920s Hollywood, "The Fabelmans" showing us Steven Spielberg's childhood in 1950s Arizona, and "Killers of the Flower Moon" taking us to 1920s Oklahoma – without even accounting for the sure-to-be stunning set decoration to be found in "Avatar 2" – but "Everything Everywhere All At Once" has the makings of a "cool" contender, and should it do well with art and set decorators guilds (and also perform well overall as a film with the Academy), its chances here are still somewhat firm.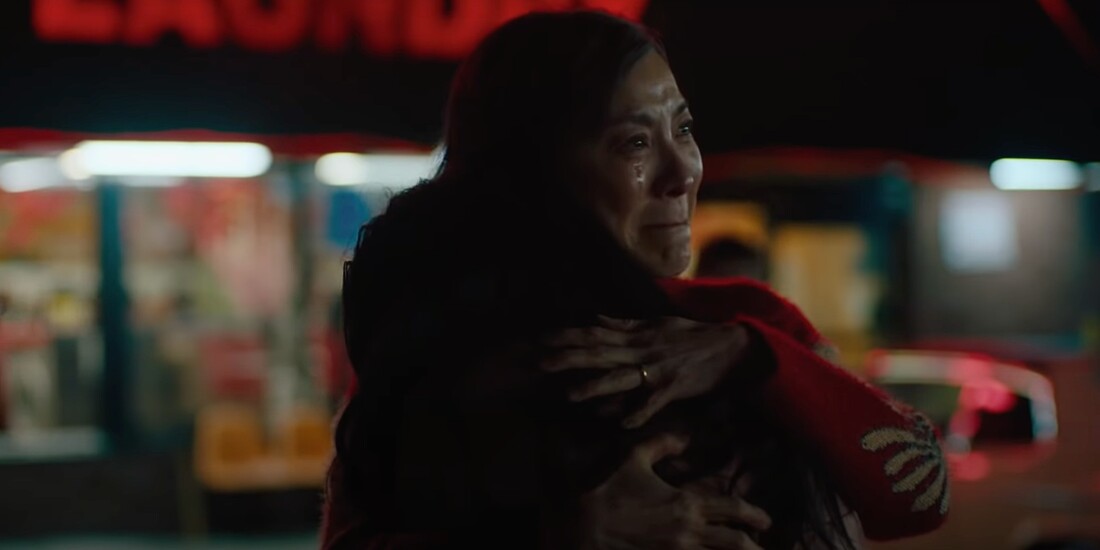 Best Visual Effects
"Everything Everywhere All At Once" recently made headlines for only having seven people credited for its visual effects, led by visual effects supervisor Zak Stolz and lead visual effects artist Ethan Feldbau. For a film of this size – and one that deals with as much wondrous technical wizardry and vibrant "verse-jumping" as this one does – it's almost unfathomable to think that's the truth, yet it is. Despite not having the resources and money of a Marvel movie, "Everything Everywhere All At Once" looks just as good (if not better) than a "Doctor Strange in the Multiverse of Madness," and that's because it's sometimes less about the quantity of people on your team and more about the quality of the people you've hired.
Stolz, Feldbau, and the rest of their team certainly deserve all the accolades in the world for delivering A24's first real action epic and making it look like a studio blockbuster extravaganza with all the bombastic bells and whistles intact. Though Best Visual Effects is a place where more mainstream fare can often break through with the Academy, we have a feeling that the narrative of this "small team that could" making "Everything Everywhere All At Once" look as wildly well-put-together as it does – along with the film's strength in categories across-the-board – will give them a big boost when it comes to contending against the likes of "Avatar 2" and "Doctor Strange in the Multiverse of Madness."
Best Original Score
American experimental band Son Lux – comprised of members Ryan Lott, Rafiq Bhatia, and Ian Chang – composed their first musical score as a band for "Everything Everywhere All At Once," and their operatic orchestrations are an essential attribute of the film's emotional impact, especially in that tender third act. It's packed with playful and pulsating tracks throughout that would easily warrant consideration for the Best Original Score category. It's in that third act in particular where the true significance of the score shines, and it becomes clear that these composers are artists as vital to the film's overall thematic triumph as Daniels or their actors.
As mentioned before, it's challenging to prejudge the contenders for craft categories, but even more so for Best Original Score, given that we haven't heard 95% of the contenders yet. Michael Giacchino's "The Batman" score is the other key Q1 contender, while we're on the lookout for five-time Oscar winner John Williams' work on "The Fabelmans," Oscar winner Justin Hurwitz's work on "Babylon," and Simon Franglen's additions to the music of "Avatar" (taking over for James Horner). But this far out, it'd be foolish not to include "Everything Everywhere All At Once" and Son Lux in one's perspective lineup, and it can also go hand-in-hand with our next potential nomination.
Best Sound
The structuring of such a spacious and copious soundscape in "Everything Everywhere All At Once" by the film's sound team is one of its greatest technical triumphs, as they conscientiously craft an engrossing aural environment that places us right in the thick of Evelyn's tussles, the anxiety-inducing wilds of the apocalyptic "Alpha-Verse," and the jumbled anarchy that accompanies verse jumping with expert efficiency. Few other action films or blockbusters this year will feature not only such well-done sound work but such subversive sound design too.
There are sure to be many more explosion-driven action extravaganzas that will be released before 2022 is over, but, as with every other technical element in "Everything Everywhere All At Once," the intricate and innovative work turned in by this team will undoubtedly make it stand out against the competition, offering sound unlike any other film in contention. Be on the lookout for your "Avatar 2's" and your "The Batman's" – and maybe even some musicals like "Elvis" too – but "Everything Everywhere All At Once" is no slouch in Best Sound.
Conclusion
At the end of the day, despite having high hopes for "Everything Everywhere All at Once's" Oscar prospects right now, it's important to remember that awards won't make it more special than it already is to so many, nor would prospective snubs dull its shine in any capacity. The film is still the film no matter what surprises awards season has in store, and word will continue to spread about the wonders of Daniels' creativity regardless of what – if any – Oscars it wins. There's one universe in our multiverse where this takes home Best Original Screenplay and Best Film Editing (and maybe even contends for the top prize), and there's another where it's almost ignored entirely, and it's too soon to say which one we live in. All we can do now is continue to shout our passionate pleas at the sky, share this magical movie with as many people as possible, and dare to dream a little bigger, year by year, season by season. After all, at this point, anything is possible – and don't you let anyone tell you any different.
"Every rejection, every disappointment, has led you here, to this moment. Don't let anything distract you from it."

Do you think "Everything Everywhere All At Once" will be remembered come end of year for awards season? If so, what nominations do you see it receiving? Let us know your thoughts in the comments section below or on our Twitter account.

​You can follow Zoe and hear more of her thoughts on the Oscars and Film on Twitter at @ZoeRoseBryant