Well, it's official. We have all lost our goddamn minds. Last week, Warner Bros. dropped the second teaser trailer for Greta Gerwig's "Barbie," and the internet descended into what could only be described as full-on madness. The trailer became the #1 trending video on YouTube, and overzealous trailer reactions entirely overtook the internet. And yes – there were lots and lots of Barbie posters.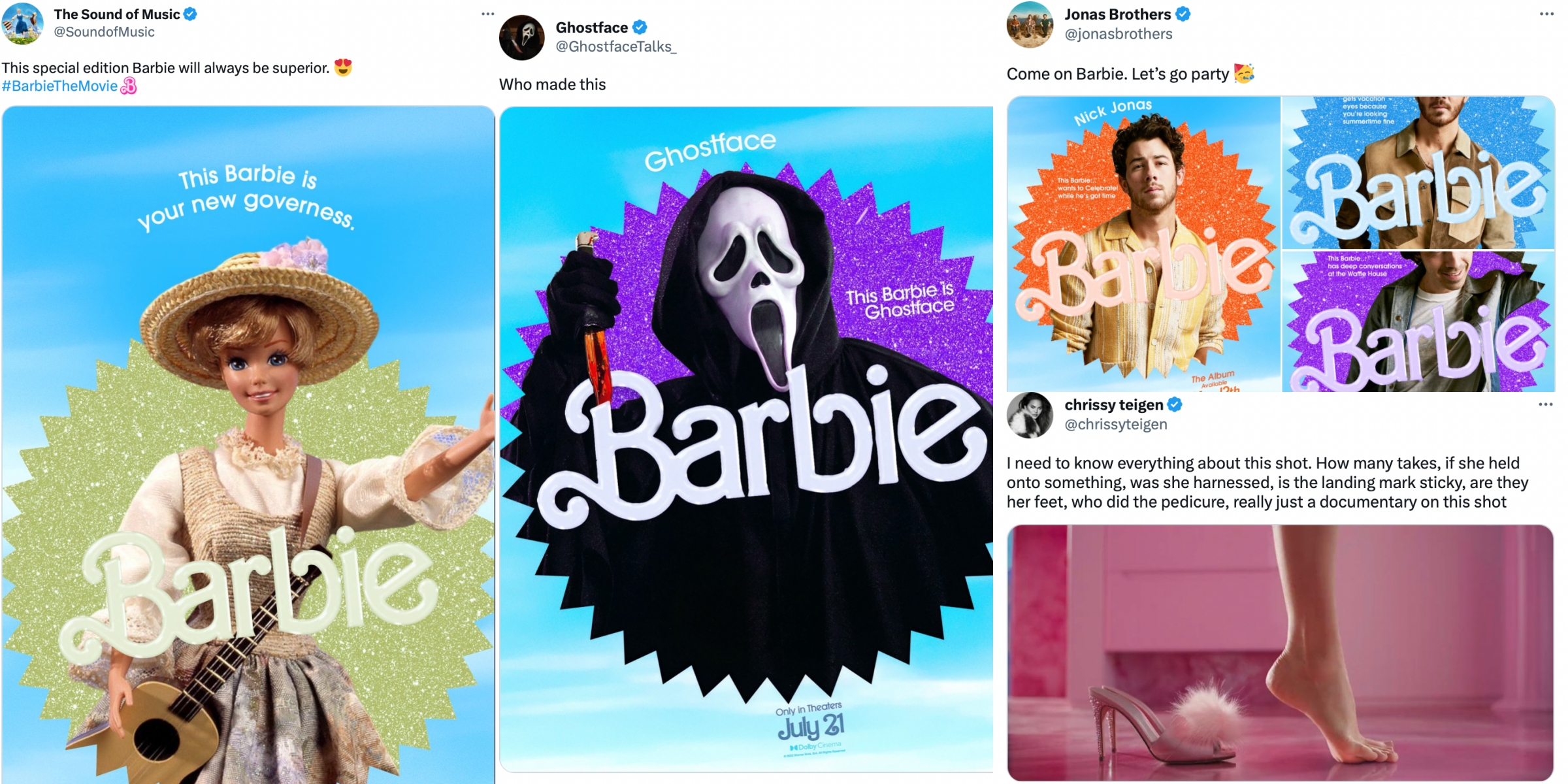 It's worth noting that the rollout for this film has been a masterclass in marketing since day one. I awoke on Tuesday thinking it was another ordinary day, only to find three different posts of "Barbie" sliders on Instagram. Three different posts introduced us to the film's extended cast via. highly stylized individual character posters featuring the likes of Dua Lipa, America Ferrera, Michael Cera, Will Ferrell, and even Oscar-winning "Promising Young Woman" writer-director Emerald Fennell. In an ingenious move, Warner Bros. released a Barbie Poster Generator that allowed you to quickly and seamlessly put yourself on the "Barbie" poster. And that's when peak craziness hit. It truly felt like everyone and everything was on "Barbie" posters. From The Jonas Brothers to Gabrielle Union to Planned Parenthood and Nickelodeon, it was one of those rare collective experiences that united the internet in pure positivity. But what exactly is fueling the collective consciousness of Barbie Mania?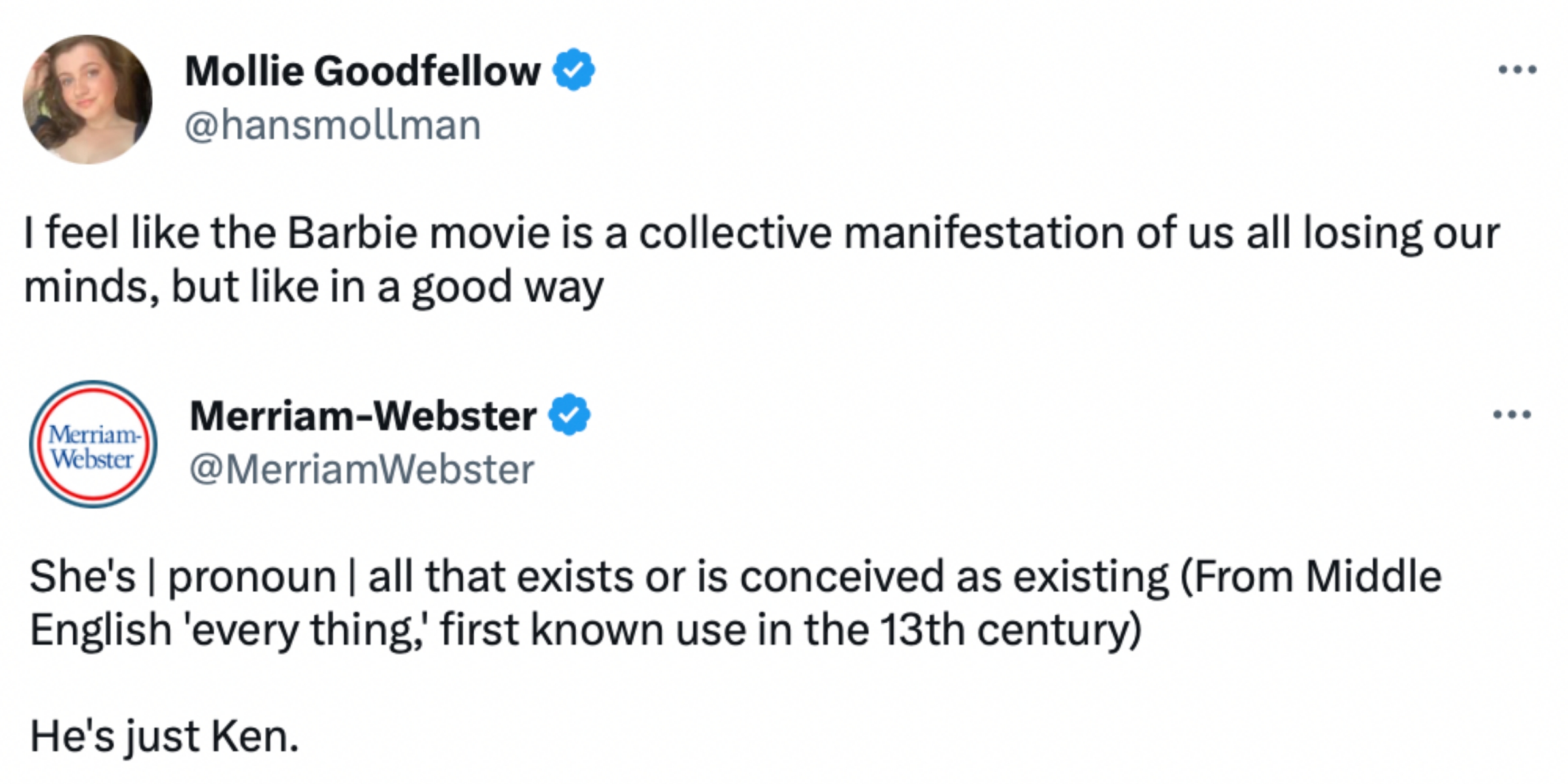 If we had to search for the starting point of the unhinged excitement, it began with the casting of Margot Robbie in the title role, followed by the announcement of Ryan Gosling as Ken. Often taking on roles that are a bit self-serious, fans were thrilled at the idea of seeing Gosling as Ken and his bleach-blonde hair and tanned skin in the trailer didn't disappoint. And what can I say about Robbie? She *is* Barbie.
But more important than Barbie and Ken themselves is the director and writer for this upcoming film, Greta Gerwig. Beloved for her work on films such as "Lady Bird," "Little Women," "Frances Ha" & "Mistress America," Gerwig is associated with a very distinct, very feminist, quirky energy that colors all of her projects. So to have a feminist auteur such as Gerwig not only directing "Barbie" but also writing the screenplay alongside partner Noah Baumbach ("Marriage Story" & "The Squid and the Whale"), this feels gloriously unorthodox – like we're about to see a fever dream of a movie none of us could have ever expected to experience in our lifetimes. And it's not just Gerwig, Baumbach, Robbie, and Gosling that point to something special here. Alexandre Desplat ("The Grand Budapest Hotel") is creating the music, with Oscar-nominated cinematographer Rodrigo Prieto ("The Irishman") behind the lens, Jacqueline Durran ("Spencer" & ""Cyrano") designing the costumes, and Sarah Greenwood ("Atonement" & "Anna Karenina") in charge of the production design.
But again, beyond a top-notch cast and crew, why is everyone *this* excited for "Barbie?" An obvious jumping-off point is, of course, nostalgia. Take specifically the scene in the trailer when Gosling's Ken proudly reveals his rollerblades. Just one look at those roller blades, with their neon yellow, plastic-y sheen, and it felt like I was transported back to my childhood. And it felt wonderful! But to say only nostalgia is driving this would be more than lazy and over-simplified; it would be disregarding the fact that so many childhood-driven projects have come and gone with not even a smidgeon of this type of fanfare. It may be a contributing factor, but it's a small piece of a more giant, color-packed puzzle.
One exciting thing to look at is how the so-called Barbiecore trend was one of the biggest fashion trends of the past year. We saw hot pink overtake the lines of high-end labels such as Valentino and Balenciaga, with stars such as Anne Hathaway, Florence Pugh, and Kim Kardashian dressed head to toe in monochromatic shades of Barbie's signature color. Regarding Barbiecore, more is more, and it's all about pink, pink, pink! It's a visual motif that has imprinted on millennials in a few real ways over the past two decades, and it's not just Barbie that tattooed that color onto our brains. Take "Legally Blonde," for example. The costume design is perhaps the film's most significant legacy – and a huge reason an entire generation is eagerly awaiting the third "Legally Blonde" film over 20 years after the original's theatrical release. In that way, "Barbie" has an over-the-top aesthetic (both in its costume and production design) that's nostalgic yet modern, and it's clearly tapping into a sort of hyper-specific visual splendor many of us are desperately clinging to right now.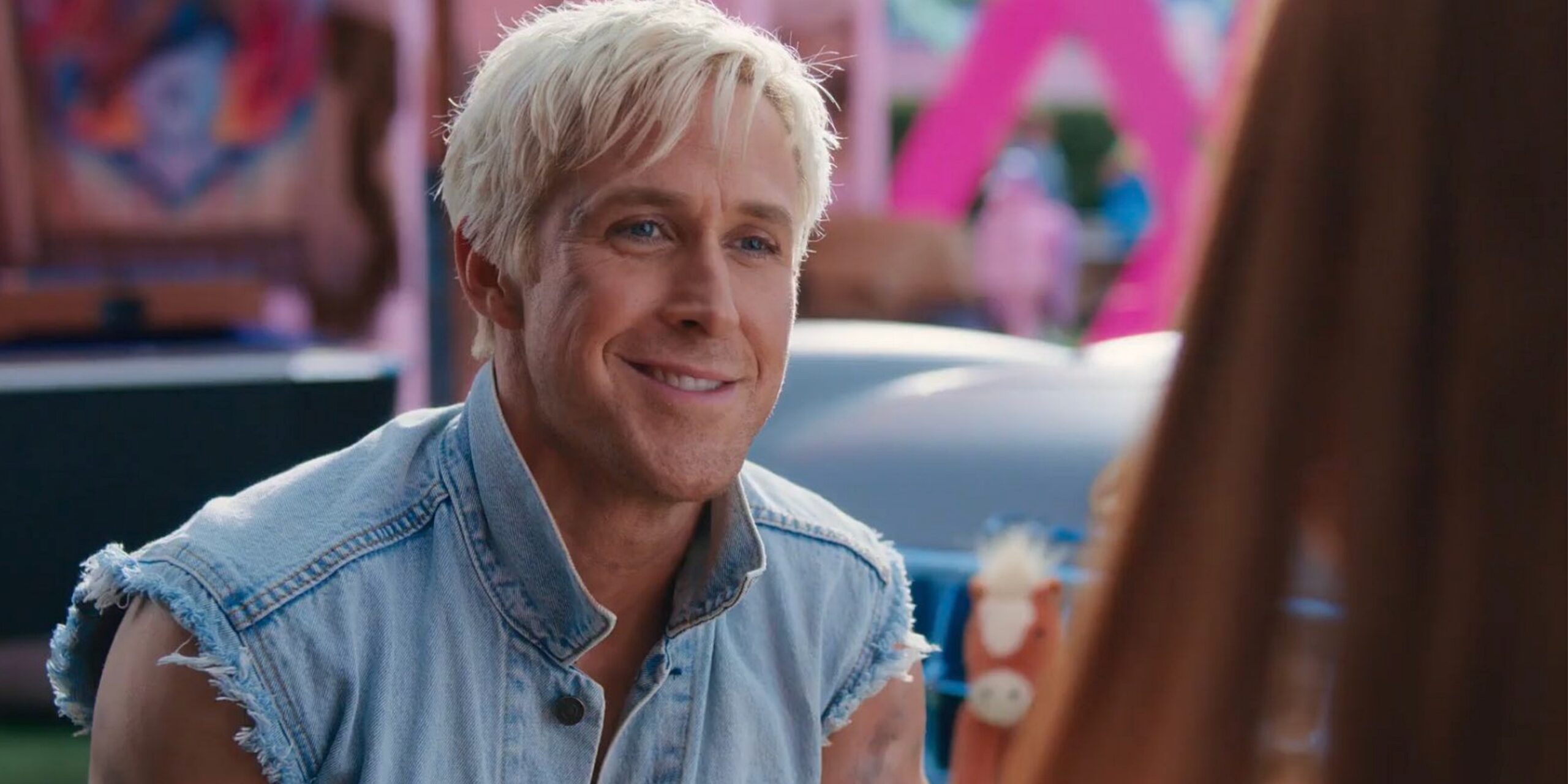 On the day of the second trailer release, the film's vague official synopsis was revealed: "To live in Barbie Land is to be a perfect being in a perfect place. Unless you have a full-on existential crisis, or you're a Ken." There's something endlessly fascinating about getting the opportunity to celebrate Barbie, with someone nearly identical to that classic image, with all of her impossible-to-achieve beauty standards – while also knowing there will be substance, diversity, and something rebellious built into the mold as well. A feminist Barbie that maintains the big boobs, ultra-tiny waist, blonde hair, blue eyes, dressed to kill, full face of glam makeup Barbie…but with a potential "Lady Bird" flare. Give me Messy Barbie. Give me Mid-Life Crisis Barbie. Give me all the things we were indirectly told Barbie isn't.
And the fact that we may get that movie (Thanks, PG-13 rating!)…well, it doesn't feel real. We don't often get out-of-the-box interpretations of iconic material when major corporations like Mattel are involved. Here, we're getting a movie for those who grew up with Barbie. We're getting innocence with a wink and who the heck knows what else. But to (almost) quote Taylor Swift: I feel a Magenta Haze creepin' up on me. And I'm all about it!
Are you excited to see "Barbie?" What did you think of the trailer? Please let us know in the comments section below or on our Twitter account.