Sony Pictures kicked off the studio presentations at CinemaCon 2023 with a direct challenge to other studios: they're committed to theatrical releases over streaming. With 23 features coming to theaters in 2023, Sony is delivering on that commitment. "We're not fucking around here," Sony Pictures Entertainment chairman Tom Rothman said. The studio revealed looks at many of those films to CinemaCon attendees, primarily theater owners, to stir up excitement for their upcoming slate. No new projects were announced, but lots of exclusive first looks to showcase the films made for the big screen were shown.
While Sony spent much of last year's presentation announcing new projects for their "Spider-Man" Universe, only two Spidey-related projects appeared at CinemaCon this year. Sony's heavily teased what is likely their biggest blockbuster of the year, "Spider-Man: Across The Spider-Verse," coming to theaters on June 2nd. One of the film's co-directors, Kemp Powers ("Soul"), was on hand to introduce a full 14 minutes of the movie alongside stars Shameik Moore, Hailee Steinfeld, and Issa Rae. While we didn't get to see Issa Rae's Jessica Drew, the low-key sequence highlighted a slightly more mature Miles Morales (Moore) balancing his growing relationship with Gwen Stacy (Steinfeld), his parents, and his Spidey-abilities. As expected, the animated footage was incredible, even without seeing much action.
However, the footage from "Kraven The Hunter" was almost exclusively action-oriented. Via. a video stream, Aaron Taylor-Johnson introduced the teaser by addressing speculation about the film's rating. "Will it be rated R? Fuck yes, it will be rated R." While light on plot points, the footage featured brutal action, including Kraven biting off someone's nose and spitting it toward the camera. This will be Sony's first-ever R-rated Marvel film, and they're heavily leaning into it. It will be released in theaters this October.
The trailer for "The Equalizer 3" (possibly stylized as "EQ3") highlighted even more brutal violence, like Denzel Washington's character shooting a room full of goons before stabbing a man in the face with a pistol. Washington introduced the trailer alongside director Antoine Fuqua and co-star Dakota Fanning. Fuqua also presented Washington with a CinemaCon Lifetime Achievement Award for his decades of work that bolstered the cinematic experience. While "The Equalizer 3" doesn't look like it's bringing anything new to the franchise, fans should be in for another solid thriller on September 3rd.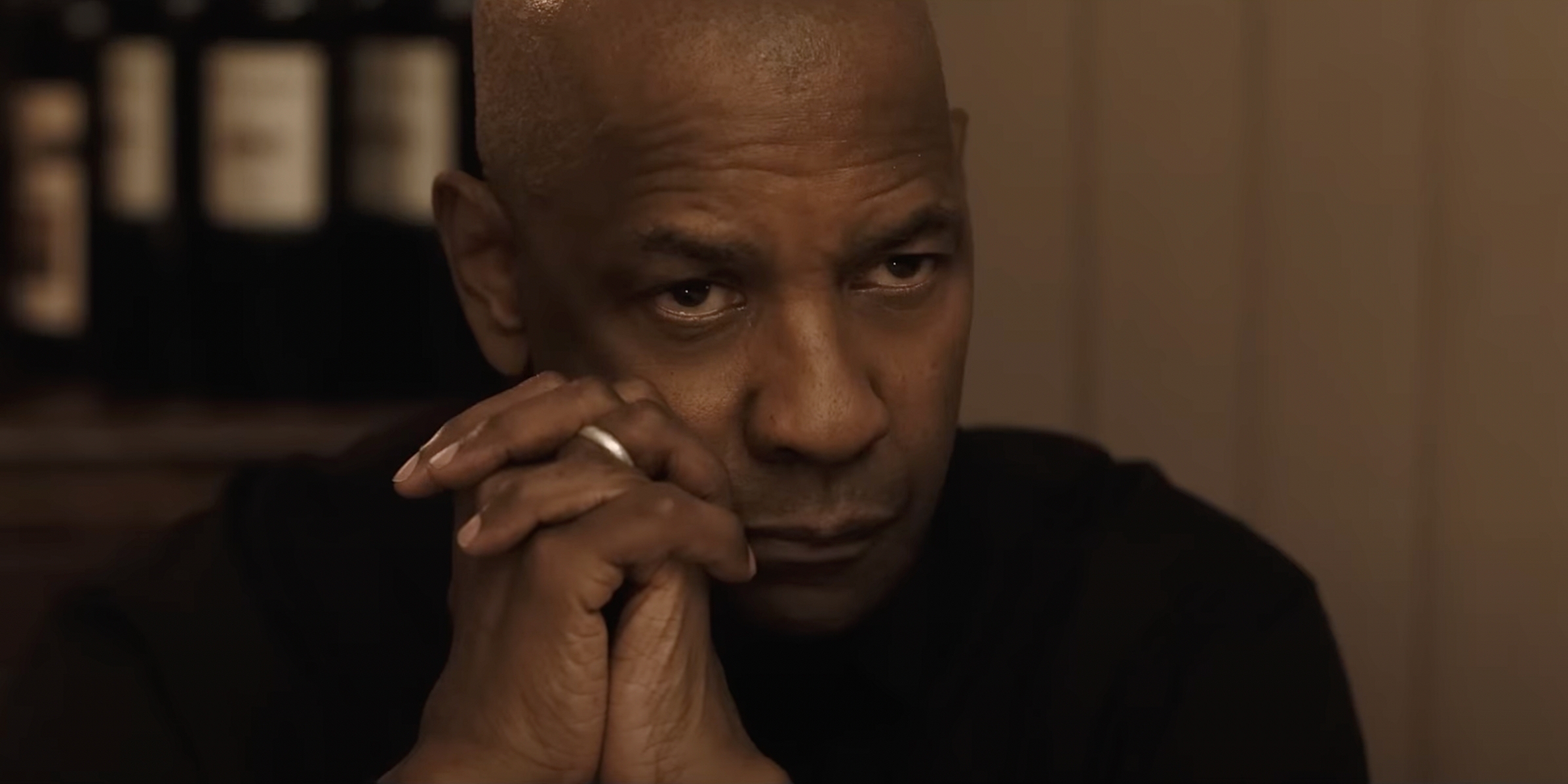 Even more action came from Sony's collaboration with Apple TV+ for Ridley Scott's historical epic "Napoleon." Rothman assured the theater owners that Sony would support the film with a "full-fledged theatrical release" this November 22nd. While we didn't see a trailer, Rothman introduced an extended battle sequence, showcasing what Scott does best. It was a thrilling sequence that revealed the ruthlessness of Napoleon on the battlefield as soldiers fought on a frozen river. While we didn't see much from Joaquin Phoenix's highly anticipated performance in the titular ruler, we did hear him using an American accent, which is an unexpected choice. Nevertheless, the footage looked promising, highlighting Scott at his best when working in the same vein as "Gladiator" or "The Last Duel."
Orlando Bloom and David Harbour next introduced the teaser trailer for the racing movie "Gran Turismo." While made in collaboration with PlayStation, the movie isn't exactly an adaptation of the game but a surprisingly true story about a young man who used the game to train to be a real-life race driver. Directed by Neill Blomkamp, his first film that he didn't also write, this action drama arrives in theaters on August 11th.
One of the presentation's highlights included footage from "Dumb Money," director Craig Gillespie's film about the GameStop stock short squeeze of 2021. Gillespie and star Paul Dano introduced the opening few minutes of the movie, which promises an intelligent comedy in the vein of "The Big Short" or Gillespie's "I, Tonya." Dano plays the real-life YouTuber who kickstarted the GameStop saga and goes by the name Roaring Kitty. Seth Rogen, Pete Davidson, and Sebastian Stan round out the cast. Landing in theaters on October 20th, this could be a stealthy Oscar contender, especially if Sony decides to make a festival run with it.
Sony then plugged several other movies throughout the presentation, including trotting out Glen Powell and Sydney Sweeney, fresh from Australia for their film "Anybody But You," and Jennifer Lawrence and director Gene Stupnisky for "No Hard Feelings." Both are raunchy romantic comedies whose footage seemed to play well to the audience. Trailers for Bert Kreischer's "The Machine" and the latest "Insidious" film, "Insidious: The Red Door," showcased more thrills. Will Smith and Martin Lawrence sent a message from the set of "Bad Boys 4," as did the cast of the sequel to "Ghostbusters: Afterlife."
With brutal action made more visceral on the big screen and raunchy comedies made funnier with an audience laughing along, Sony made it clear they're committed to theatrical with a strong overall presentation. They even jokingly complimented the other studios for realizing the errors made in their significant shifts to streaming. "Pundits say movie stars don't matter anymore," Rothman claimed. "I really hope my competitors believe that shit."
What was your favorite piece of news from the Sony panel at CinemaCon this year? Please let us know in the comments section below or over on our Twitter account.