1999 saw the release of numerous classic films which initially flopped, films like "Fight Club", "Bringing Out The Dead" and "The Iron Giant." Twenty years have passed, and now these films have finally received the attention that they so rightly deserved upon their release. However, there is one flop that still manages to retain its disastrous reputation. This is the Will Smith-led vehicle, "Wild Wild West" which failed to make its return. In fact, "Wild Wild West" only made $222.1 million worldwide. This may sound like an impressive sum, but the film's production and marketing costs were close to $300 million, therefore it resulted in a nearly $100 million loss for the film's studio, Warner Bros.
Smith has been so traumatized by the experience that he is still apologizing for his involvement in the film to this day. It should be worth noting that he passed on "The Matrix'' in order to star in the aforementioned flick, and in a surprising turn of events Keanu Reeves has gone on the record as expressing his liking for "Wild Wild West." Truth be told, there are many reasons why "Wild Wild West" ended up being an embarrassing stain on the careers of actors Will Smith, Kevin Kline, Kenneth Branagh, and Salma Hayek. It almost seems like delving into these reasons becomes a far more interesting and rewarding experience than actually forcing yourself to watch the film.
The tale of "Wild Wild West" begins with the TV series in the 1960s. The TV show was notable for blending elements of the Western genre and Spy themed shows which were popular at the time (such as "Mission Impossible," "Get Smart," "The Avengers" and "The Man From U.N.C.L.E." all of which subsequently had their own adaptations to the Big Screen). "Wild Wild West" was a show that never took itself too seriously, and was described by creator Michael Garrison as "James Bond on horseback."
CBS brokered a deal with Warner Bros in which they would license the TV rights to the studio, and in exchange, the broadcaster would pay $6 million for two airings of the finished production. A script for the film adaptation was penned by the likes of S. S. Wilson, Brent Maddock, Jeffrey Price, and Peter S. Seaman. Wilson had penned sci-fi classics such as the "Short Circuit" films (1986 & 1988), as well as "Tremors" (1990) and "Hearts and Souls" (1993), so it would seem he was adept at blending elements of comedy and science fiction. Maddock was Wilson's writing partner so that only added to the potential. As for Price and Seaman, they were another screenwriting and producing duo who had found success with the classic genre-blending film "Who Framed Roger Rabbit."
Barry Sonnenfeld was also brought on board, to direct. Sonnenfeld had been a well-established figure in the industry, and prior to becoming a director, he had been the cinematographer on films like "Raising Arizona" (1987), "When Harry Met Sally" (1989) and "Misery" (1990). He had also become the director of another big-screen adaptation of a well-loved TV show, "The Addams Family" (1991) largely by accident and managed to pull it off. He followed this up with the sequel, "Addams Family Values" (1993), as well as having hits with "Get Shorty" (1995) and "Men in Black" (1997) which starred Will Smith (who would be brought on board to star in "Wild Wild West").
So it would seem that with a more than capable director, a decent scriptwriting team, and an already established audience made up of fans of the original TV series that they should have been onto something big. So what went wrong? Some speculate that the finger of blame can be pointed at producer Jon Peters.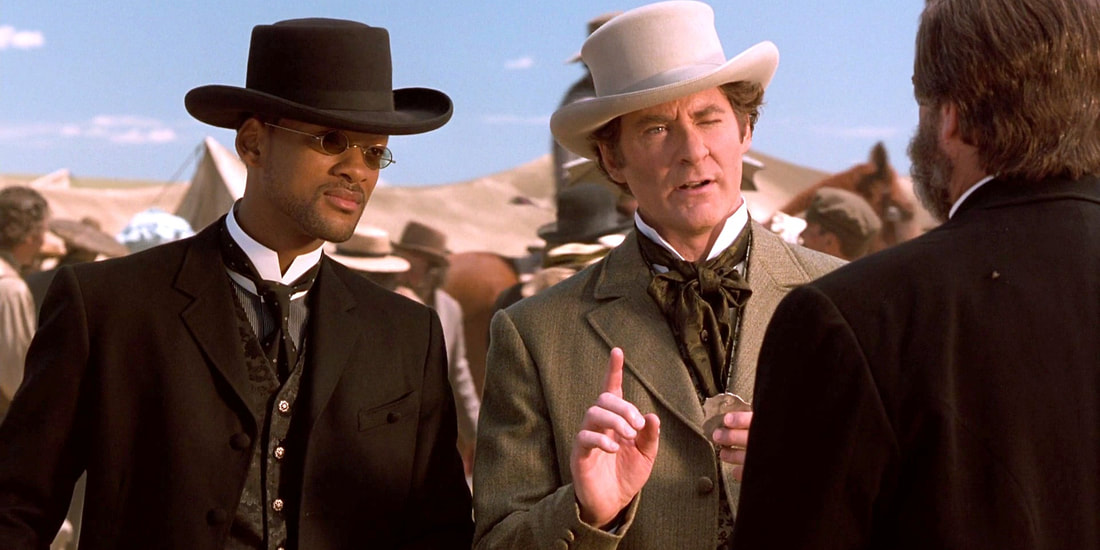 In the early 1990s, Peters bought the film rights to the "Superman" franchise from Warner Bros. He then asked Kevin Smith to write the screenplay but gave him clear instructions: there was to be no Superman suit, no flying and there must be a giant spider for Superman to fight. Naturally, this absurd vision was abandoned and the script discarded. Peters must have had a thing for giant spiders as he requested one be put into "Wild Wild West", in metal form. For some unknown reason, the studio listened to Peters.
Warner Bros. originally pursued George Clooney to co-star as Artemus Gordon, but also considered going with the likes of Kevin Kline, Matthew McConaughey, and Johnny Depp. In the end, the role went to Kline after Clooney dropped out due to a disagreement with Sonnenfeld. Filming was expected to begin in January 1998 but was instead pushed to April 22, 1998. The film was given a long 100-day shooting schedule, which proved not to be long enough. Reports quickly began to leak that the movie was not only over schedule but also massively over-budget.
The studio insisted the production costs were to be $105 million, but the budget ended up ballooning closer to $180 million. It is reported that during the shooting of one stunt sequence, a planned building fire grew quickly out of control and overwhelmed the local fire crews that were standing by. As a result, much of the set was destroyed before the fire was put out. Onset disasters like the fire meant the production ended up running two weeks over its original schedule. All of this and more led to terrible results at test screenings, so the film was allocated ten more days worth of reshoots.
To get a jumpstart on the opening box office weekend Warner Bros. decided to open "Wild Wild West" on a Wednesday. Initially, the strategy looked as if it would work, and the weekend three-day total was $27,687,484. However, word-of-mouth and poor reviews ended up keeping the viewers away and the film began its steady fall through the box office chart. The film did manage to make $108 million overseas, but by that point, the damage was already done.
​The critical response to the film was harsh, it seemed that critics were trying their best to outdo one another in order to see who could pen the best insults. Peter Bradshaw from the UK outlet 'The Guardian' described the film as a '107-minute Technicolor aneurysm' ending his review with the stinger of a line 'Best to give a miss to a movie whose title should be Mild, Mild Zest, or just Failed, Failed Jest.'
Roger Ebert of the Chicago Sun-Times, was also extremely critical, giving the film a one-star review and writing "Wild Wild West" is a comedy dead zone. You stare in disbelief as scenes flop and die. The movie is all concept and no content.''
The film would go on to be nominated for several Razzie awards, and it went on to win five of them: Worst Director, Worst Original Song, Worst Picture, Worst Screen Couple (Kline and Smith), and Worst Screenplay. The screenwriters would find little success after "Wild Wild West" and Sonnenfeld wouldn't direct another film until 2002, which was a sequel to "Men In Black."He would go onto direct the third "M.I.B." film but the last film he directed was the dismal "Nine Lives" a so-called 'comedy' in which Kevin Spacey becomes a talking cat.
Smith's career has also seen its fair share of ups and downs since "Wild Wild West." He began to take on more 'serious' roles which proved to be more successful. With the biopic "Ali" (2001) and "The Pursuit of Happyness" (2006), the noughties turned out to be a fairly good decade for him. However, things took yet another turn when Smith starred in the appalling "After Earth" (2012) alongside son Jaden Smith, but he seems to be bouncing back. Kline has had a steady flow of work mostly in theatre and voice-over, but his last major screen role was in the 2017 live-action remake of "Beauty and the Beast."
Rewatching "Wild Wild West" for the first time in years, I have to admit what little magic it may have been hiding has not remained with the passage of time. Ebert and Bradshaw were right, this film is an utter mess. There isn't any chemistry between Smith and Kline, who are both individually talented comedic actors. Instead, Kline looks uncomfortable and restrained and Smith is too busy giving one-liners to pay attention to the mess that is unfolding around him. The humor is dated even by late 90s standards, with most of the jokes falling flat. It tends to rely on slapstick and gross-out humor which may have made the 10-year-old version of myself laugh but now fails to even make me exhale out of my nose.
After conducting research into the film and understanding the complications involved with bringing this project to the big screen, it has allowed me to make sense of why "Wild Wild West" flopped. I doubt a film like such as this would be made today, relying on star power alone in this day and age just isn't enough to put bums in seats. What it boils down to is a classic example of 'too much money and not enough sense'. Quite simply put, "Wild Wild West" will always be a "Wild Wild Mess."
Do you agree with my take? What do you think of "Wild Wild West?" Let us know your thoughts in the comments section below or on our Twitter account.
You can follow Bianca and hear more of her thoughts on the Oscars and Film on Twitter at @the_filmbee