By Nicole Ackman ​​​
I recently had the opportunity to go to my first film festival as a member of the press, and it was practically here in my own backyard. I left New York City and moved home to my native Raleigh, North Carolina and was thrilled to get the chance to attend Film Fest 919 in Chapel Hill, only a short drive away. The festival took place at Silverspot Cinema from October 9-13. While at the festival, I got to meet some amazing people (from my In Their Own League co-contributor, Paola Harvey, to screenwriter Anthony McCarten) and see ten great films.
Film Fest 919 was founded just last year and is run by three women: Randi Emerman, Carol Marshall, and Claudia Puig. It's designed to showcase films by female and diverse filmmakers in addition to the films doing the circuits at all of the main festivals. Last year's offerings included "Roma," "Green Book," "The Favourite," and many others. This year, the festival also introduced a new program called "Offscreen: Interactive Student Symposium" which gave students from universities across North Carolina the opportunity to meet with filmmakers and learn more about the industry.
There were amazing events and parties every day – so many that it seemed impossible to go to everything while still seeing films. I didn't make it to the special encore screening of "Rocketman" with special guest Ray Williams, the man who discovered Elton John, or to the panel discussion on screenwriting with Daniel Wallace, the author of "Big Fish." And while I did meet Joe Letteri, I didn't get a chance to attend his presentation on special effects.
The festival had a fantastic offering of thirty-eight films this year, with many of them even showing multiple times. It was difficult to build my plan of what to see around my full-time work schedule, and there were some that it hurt my heart to miss like "Parasite" and "Waves." The movies shown included popular films, Netflix films, indie films, and foreign films. There was more variety than I expected, including films from 18 countries.
I saw "Marriage Story," "The Report," "Honey Boy," "The Truth," "Clemency," "Portrait of a Lady on Fire," "The Two Popes," "Just Mercy," "The King," and "Jojo Rabbit." Some of my reviews have already been posted on Next Best Picture and I have a few yet to finish up. I fell head over heels for "Marriage Story" and "Jojo Rabbit" and was shocked by how much I loved "Just Mercy" and "The King." In fact, there was nothing that I saw that I didn't appreciate at least some part of, even though I loved some films more than others.
​The festival opened with a Netflix film for the second year in a row. After sharing some appetizers in the lobby, festival-goers got seated for "Marriage Story." Actress and comedian Martha Kelly did a brief Q&A with the audience before the movie, talking about her hilarious role as The Evaluator. She's a genuine fan of the movie and noted that it's sure to make you cry. "Scarlett Johansson and Adam Driver just hit you in the heart," she said.
On Saturday night, screenwriter Anthony McCarten was presented with Film Fest 919's first-ever Distinguished Screenwriter Award before a showing of "The Two Popes." McCarten is a three-time Academy Award nominee, known for "Darkest Hour," "The Theory of Everything," and "Bohemian Rhapsody." After the movie, McCarten did a Q&A with the audience and I was able to catch up with him and ask him some questions one-on-one. Keep an eye out for that article coming soon.
The closing night film was the TIFF People's Choice Award winner, "Jojo Rabbit," and it was a beautiful way to end the festival. Before the closing night party, the winners of the Audience Award were announced. "Parasite" took the award with "Just Mercy" and "The Two Popes" coming in as the runner-ups. (It seemed that neither the opening nor closing films were eligible.) "Parasite" was the movie that everyone at the festival was talking about, so it seemed fitting.
While festivals like Cannes, Venice, Sundance, and TIFF are the flashy names that every film critic and film fan dreams of attending, it's so important to recognize and celebrate smaller film festivals. I'm grateful to have had the chance to see so many independent and foreign films on a cinema screen that I might not have otherwise gotten the chance to here in North Carolina. Aside from that, smaller local festivals offer an amazing opportunity to see the films that everyone is talking about months before they are released theatrically.
At the end of Film Fest 919, the founders announced that the festival will return next year at Silverspot Cinema from October 14-18. I highly recommend that anyone in or near North Carolina consider attending. It was a fantastic way to meet other film lovers and industry experts and see tons of films. I couldn't have asked for a better first experience attending a festival as a member of the press and can't wait to return next year.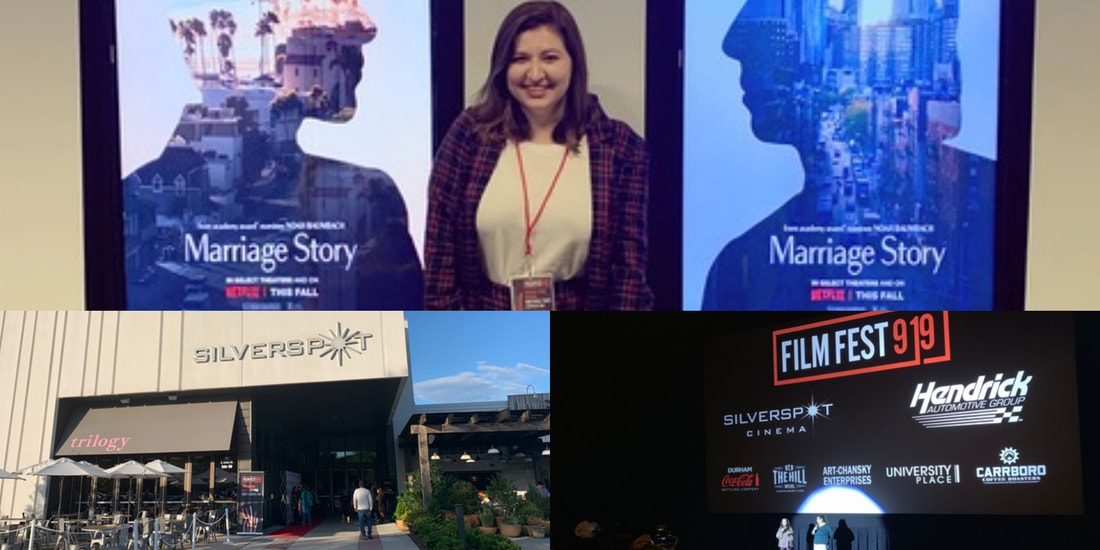 You can follow Nicole and hear more of her thoughts on Film and the Oscars on Twitter at @nicoleackman16