By Robert Dougherty ​
"Happiest Season" is obviously tailor-made for a few audience demographics. Between those who love Christmas movies, members and supporters of the LGBTQIA+ community and those arguing for more inclusive storytelling, this story of a lesbian couple keeping their relationship a secret from one's conservative family during a holiday visit has much buzz and anticipation around it. Yet it is not just apparently tailor-made for those future viewers, but for a good deal of people who've watched a fair amount of "Peak TV" these last several years, thanks to the resume of much of its cast and crew.
With the sheer amount of television and the sheer amount of big stars making it this last decade or so, the old barriers between TV and movie stars were obliterated long ago. Nevertheless, "Happiest Season" is particularly notable for bringing together a cast that comes from a wide variety of television darlings, now bringing their talents to a project originally meant to be on the big screen. What's more, considering their roles in some of the small screen's most celebrated and optimistic shows of recent years, it's no wonder they've united in the kind of sentimental and open-hearted film "Happiest Season" is designed to be.
This makes it a bit ironic that "Happiest Season" is helmed by a veteran of one of the era's most biting and unfortunately prophetic comedies. Although Clea DuVall has had a varied and distinguished career acting in projects like "But I'm a Cheerleader," "Argo" and "Zodiac," she may be most well-known these days for her recurring role on Veep as the stoic Marjorie, Selena Meyer's former bodyguard and perhaps the sole source of comfort for her eternally put-upon daughter Catherine. Now not only is DuVall directing and co-writing a much brighter and more hopeful story like "Happiest Season," she has brought along another frequent "Veep" guest star to help her create it. Yet unlike DuVall, co-writer Mary Holland is also appearing in front of the camera, as one of the sisters of Mackenzie Davis's Harper.
"Veep" dominated the comedy section of the Emmys for many years, despite or because of its increased parallels to the real-life darkness and absurdity of politics. In contrast, for one reason or another, the Emmys did a complete 180 just two months ago in giving its every comedy award to the cynicism and darkness free "Schitt's Creek" for its final season. The biggest winner of all in that streak was supporting actor, head writer, showrunner and co-creator Dan Levy, whose post-"Schitt's Creek" career officially begins in "Happiest Season" as the best friend and fake ex-boyfriend of Kristen Stewart's Abby, in a role that likely combines David Rose with Rupert Everett in "My Best Friend's Wedding."
"Schitt's Creek" took years to build itself up as an awards juggernaut, a beneficiary of Netflix binge-watching, and as the most soft-hearted show on television that served as the ultimate antidote to grim, anti-hero centered prestige TV. Before it took that title, the most cheerful comedy on TV was NBC's "Parks and Recreation," which even ultimately softened up characters like Aubrey Plaza's aggressively uncheerful April Ludgate. But Plaza's return to bright and bubbly comedy in "Happiest Season" seems to have yielded her a less outwardly dark-humored character, as an old friend and likely secret ex of Harper.
Plaza isn't the only veteran of the late 2000s/early 2010s NBC Thursday night lineup in "Happiest Season," which also has "Community" alum Alison Brie as another sister of Harper's. Brie's Peak TV resume also includes "Mad Men," the recently and abruptly canceled "GLOW," and voice work on a Netflix show that actually got a proper ending in "Bojack Horseman." "Happiest Season" appears to be more in line with her "Community" persona, as the trailer demonstrates her upright and ultra-competitive streak with her sister, further piling on the kind of familial pressure that would make Harper hide her true self at all costs.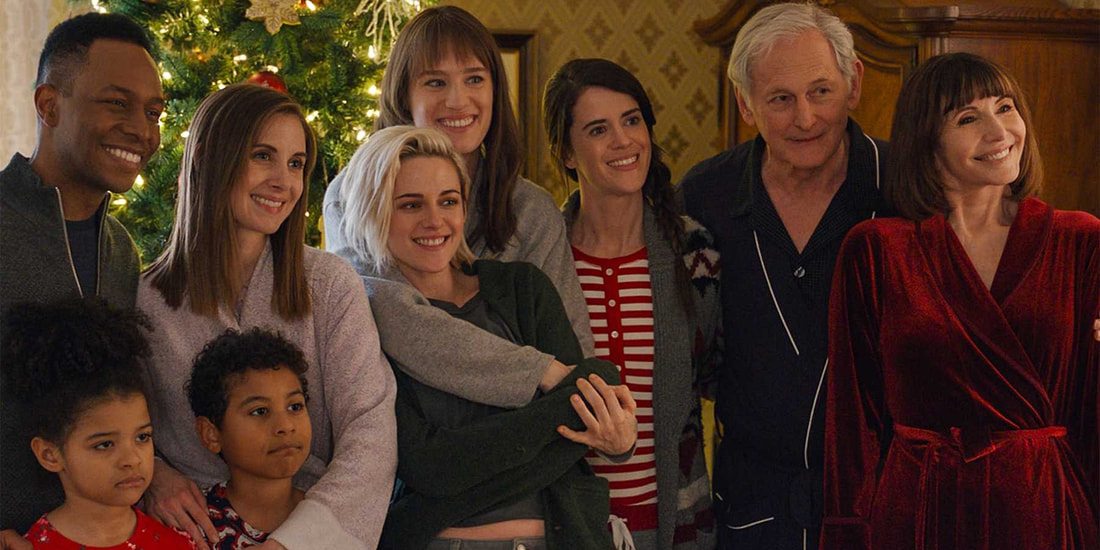 A story of a gay woman hiding her feelings from her family can and often has led to darker and more depressing movies. This has made films like "Happiest Season" more revolutionary than they otherwise would have been, for the sheer novelty of promising a gay couple a happy and conventional ending as there would be for any straight couple. Fittingly enough, Davis is already a veteran of such a novel approach, as her iconic "Black Mirror" episode "San Junipero" is celebrated as not just a rare case of a happy ending for a gay couple, but perhaps as the first happy ending in that show's otherwise very bleak history. In addition, Davis's breakout role on the little-seen but critically beloved AMC drama "Halt and Catch Fire" also became celebrated for her character's canonically platonic love story with her female business partner and fellow 1980s computer expert.
Davis, Levy, Brie and Plaza launched their careers in the Peak TV era, which has doubled as a haven for older movie veterans as well. Two of them are also in "Happiest Season," as its family is run by patriarch Victor Garber and matriarch Mary Steenburgen. Much of Steenburgen's work as of late has been in television, as the Oscar winner has had notable guest runs on "Justified" and "30 Rock," was part of the FOX cult comedy series "The Last Man on Earth" and currently co-stars and sings on NBC's musical comedy "Zoey's Extraordinary Playlist." As for Garber, he is coming back down to Earth after years in DC and the CW's "Arrowverse" of superhero shows, most notably as an alum of the network's wildest and weirdest hero show "Legends of Tomorrow."
In ways big and small, "Happiest Season" is one big union of cast members and creative heads who represent the peak of the last decade of television. This makes it all the more ironic that the one exception to that trend is the film's actual headliner, as Stewart represents the outsider not only to her character's girlfriend's family but to a whole cast of actors who all have the vast TV experience she doesn't.
Technically, Stewart does have some recent TV camera time as a two-time host of "Saturday Night Live" but otherwise, her career to this point has mainly been based as a movie actress. It has primarily been based in dramas, with the very rare comedy like "Adventureland" and "American Ultra" sprinkled in, although the few people who saw "Charlie's Angels" last year did see Stewart play someone with a sense of humor in a would-be blockbuster for the very first time.
"Happiest Season" is a change of pace all around for Stewart, and not just because she gets to be in a happy love story with a woman. The "Twilight" era on and off-screen fueled a seemingly humorless on and off-screen persona for Stewart, which is just one of the many perceptions she has had to shatter once she was finally freed from that franchise. Being a romantic comedy lead for the first time is just the latest milestone in her reascension, and "Happiest Season" certainly provides a formidable ensemble to help her settle into the genre.
​Most anyone who has watched television in the last decade knows quite well how formidable that ensemble is, as they have all had their part in some of the most beloved shows of the era. What's more, many of them have also been in some of the most optimistic and joyful shows of the era, celebrating the kind of bright, inclusive storytelling that hasn't always been a hallmark of the Peak TV era, especially in its most overly bleak and toxic corners. However, it is the exact kind of resume that's ideal to build something like "Happiest Season" around.
"Happiest Season" may well be the kind of movie that feels like it was an algorithm tailored for Christmas movie lovers, romantic comedy lovers and LGBTQIA+ members and allies. But beyond that, it might well be the ultimate algorithm made for certain Peak TV viewers as well, uniting the worlds of "Veep," "Schitt's Creek," "Parks and Recreation," "Black Mirror," "GLOW," "Mad Men," "Community," "Halt and Catch Fire," "Bojack Horseman" and more in one fell swoop.
Perhaps not all of these shows or their actors got the appreciation they should have while they were on the air, or only got it near the end of their run or right afterward. Yet whether they were instant or gradual award darlings or mere cult classics, their influence has echoed through the big and small screen, networks and streamers and everything in between. Now its latest victory has been its part in helping something like "Happiest Season" come together, in a way that was unthinkable before television and movies became what they are now.
Fans will see if the tv magic of Davis, Brie, Plaza, Levy, DuVall, Howard, Steenburgen and Garber can combine with Stewart to forge a new holiday movie classic, when "Happiest Season" is delivered as an early Christmas present from Hulu on November 25th. Have you seen it yet? If so, what did you think? Let us know your thoughts in the comments section below or on ourTwitter account.
You can follow Robert and hear more of his thoughts on the Oscars and Film on Twitter at @robertdoc1984