By Robert Pius
In perhaps her most famous moment on screen, Glenn Close emphatically tells Michael Douglas "I'm not going to be ignored." The film of course is "Fatal Attraction," which became a national sensation in 1987, sparking massive debate and becoming a blockbuster at the box office. But when it comes to the Oscars, Close has been oddly ignored a massive seven times!
Now granted, amassing seven nominations over a thirty-five-year career is quite an achievement but for some reason, Close has never been able to make it over that final finish line known as the Oscar podium. That streak of bad luck looked to be ending with the 2018 release "The Wife." The film received excellent reviews on the film festival circuit in 2017 but failed to get a theatrical release until the following year. The film looked like it would have a quiet reception until Close scored a huge upset at the Golden Globes that year beating the favored Lady Gaga of "A Star is Born."
Suddenly, Close was off and running and almost overnight she jumped to first place on most pundits Oscar favorite lists. Everything seemed to be clicking for Close with a SAG win, a Critic's Choice Award (which she tied with Gaga) and an Independent Spirit Award. Close almost magically was granted the title of a sure thing. Stephen Colbert maybe described it best by saying Close was "having a moment" to which she responded that maybe she should get out of her jammies more often. A powerful speech at the Globes discussing how her mother confessed to Close near the end of her life that she felt she hadn't accomplished anything tied in nicely with the plot of "The Wife" and hinted at a powerful Oscar speech at come.
​The first sign that something could go wrong was probably at the BAFTAs where Close lost to Oliva Colman for "The Favourite" but British actors often win on their home turf so Close remained firmly on top of the lists of oddsmakers. Finally, Close would not be ignored by the little gold man. BUT in one of the biggest shocks in Oscar history, she was. When the envelope was opened, a deadpan Frances McDormand pronounced the winner to be Oliva Colman which provoked a rueful smile from Close (she'd been here before) and outright shock from Colman. A befuddled Colman stammered through a humorous and clearly unplanned acceptance speech nicely proclaiming Close as her idol and that this wasn't how she had wanted things to turn out. And that was that. Close was a good sport showing up to the after parties and submitting to interviews but her heart must have been a bit broken. I know mine was.
But wait!! Like the trooper she is Close has bounced back and seemingly in a big way. She is currently sitting on top of the pundit's charts again for her work in the upcoming film "Hillbilly Elegy" based on the best-selling memoir about growing up in Appalachia. Her placement at the top of the charts seemed mostly due to people predicting Close to win based on an overdue narrative (even though we saw how well that worked out the last time.) No reviews have been posted of the film so I found it quite exciting when Janet Maslin, the former film critic of The New York Times quietly tweeted about the film a few weeks ago. Maslin has seen the film and her reaction is quite positive. She states: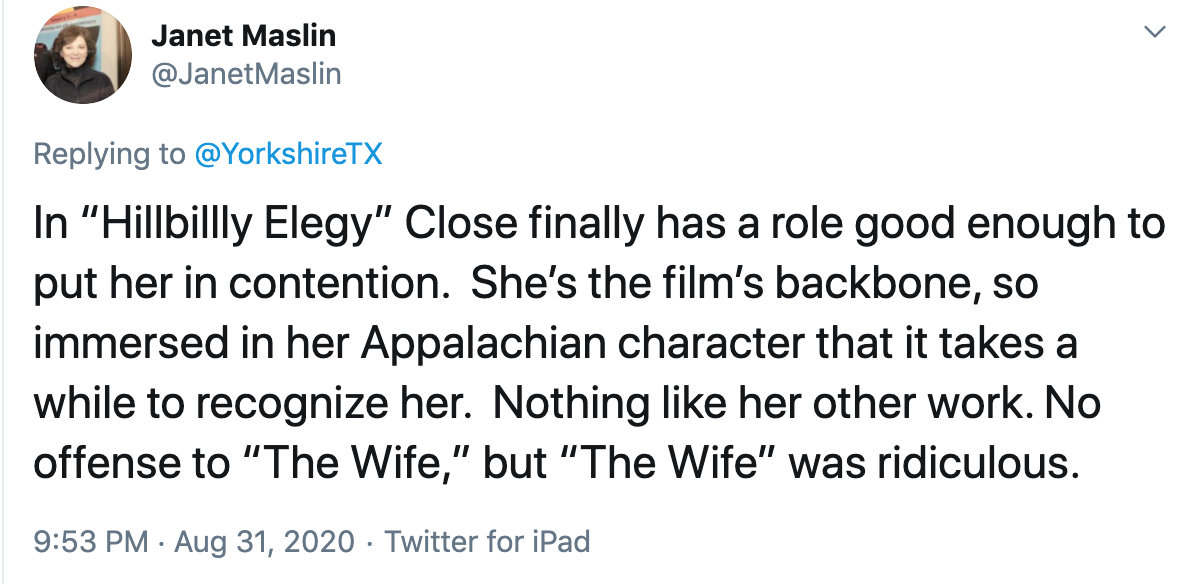 and she also said…"Barring some twist of Oscar politics, Glenn Close wins this year."
The film's trailer seems to confirm Maslin's assessment. Close does seem to look completely different from how we are used to seeing her. She's playing a real backwoods poor character and contorts her face to the point of being unrecognizable. The trailer offers insight into the intensity of the performance and also hints there may be a bit of humor involved in the role also as we see Close comically reacting to a clip from "Terminator 2: Judgment Day." Close's fame has mostly come from dramatic roles but she has also displayed a distinctive comic flair in some of her parts such as Cruella de Vil in "101 Dalmatians." She was also the comic highpoint of the otherwise undistinguished remake of "The Stepford Wives." Her great stage triumph as Norma Desmond in "Sunset Boulevard" was notable since despite the dark subject matter of the musical she managed to bring the house down in laughter at times with genuinely funny line readings, something that others who played the role had trouble doing. The trailer indicates that her role in "Hillbilly Elegy" might contain some great moments of comic eccentricity where Close might be able to excel as she did on Broadway. There is also an indication that she and Amy Adams will have some real knockdown dramatic moments since the trailer displays the two in some intense conflicts. It looks like Close will get to play a full range of emotions in this film.
Exciting news that Close has bounced back so quickly after what could have been a career-ending humiliation and could be given not just a she's overdue Oscar, but perhaps one for one of the best roles of her career. Maslin was always a tough but insightful critic so I take her mini-review as something to be taken seriously. Maslin did state that the film is a likely nominee in other major categories too. Amy Adams (another perpetual Oscar nominee who just can't win) also appears in the film, so it remains to be seen who will receive an Oscar. Maybe both? How glorious that two of our most acclaimed actresses could get rid of the dubious record of being the most nominated actresses without an Oscar win with two performances that really knock people's socks off.
Close has been an awards magnet at other shows winning three each at the Emmys, Tonys and Golden Globes. Her Oscar run has always been odd and sometimes her losses were due more to her competition's narratives than her actual performance. Close achieved the rare fete of being nominated for her first film role in 1982's "The World According to Garp." She received excellent reviews and won the Los Angeles Film Critics and the National Board of Review awards and was a runner-up for two other major critic's prizes, the National Society of Film Critics and the New York Film Critics. A precursor run like that could have got her the Oscar but there was the problem of Jessica Lange. Lange gave a devastating performance as the doomed actress Frances Farmer and would have likely won a Best Actress for it had Meryl Streep not had "Sophie's Choice" in the running that year. Streep was clearly taking Best Actress so Lange started being awarded the Best Supporting Actress prize at the ceremonies Close didn't win. Lange's performance in "Tootsie" was poignant and in a popular film but she was clearly being awarded there as compensation for people not voting for her as Best Actress. So Close started off her Oscar run as the victim of an odd glitch in the system. Without Lange being there she may have taken home an Oscar for her first film role.
Perhaps because of that loss Close scored a second nomination for her second film the following year, 1983's The Big Chill. The ensemble drama campaigned all of its cast in the supporting categories and while William Hurt, Jeff Goldblum and Mary Kaye Place were thought to be the front runners for nominations Close ended up being the only one of the eight-member cast nominated. She didn't stand much of a chance here and lost to Linda Hunt for her gender-bending performance in "The Year of Living Dangerously" a performance that would probably be controversial today due to Hunt's pretending to be Asian. Close was becoming a fixture in the Supporting Actress category and the next year would earn her a third consecutive nomination for playing Robert Redford's love interest in "The Natural." Again she wasn't really in the running for a win and lost to Peggy Ashcroft for "A Passage to India."
She'd sit out the next two Oscar ceremonies but in 1987 she'd earn her first Best Actress nomination and become the most talked-about woman in the country practically. "Fatal Attraction" with its story of a woman obsessively pursuing a relationship with a married man took the world by storm and was the subject of immense controversy since some saw it as a film bashing career women and glorifying stay at home mothers. Despite the controversy, one thing that was unanimously agreed upon was that Close was fantastic. Even more so since prior to playing Alex Forrest in this film she was starting to become seriously typecast as "good" women. Her character in "The Natural" is symbolically even played as an angel in the film's most famous scene where she stands up in the bleachers, her hat glowingly like a halo and inspiring Robert Redford to hit a home run. So the sexual animal and unstable woman she played in "Fatal Attraction" was a shock to audiences following her career. In retrospect, it is hard to see how a performance like this that so captured the nation didn't win the Oscar especially as the film remains as popular today as it did on release but the controversy probably scared away voters and Close was up against Cher in "Moonstruck." Cher had a strong year with three hit films plus an overdue factor from when she was snubbed for a nomination for her Cannes Film Festival winning performance in "Mask." The transformation of a pop star and TV comedienne turning into a serious actress was too much for the Academy to pass by so Close went home for a fourth time empty-handed.
The good woman image was now gone though and Close was once again nominated for Best Actress the following year for the scheming French aristocrat in Dangerous Liaisons. This was probably the closest she had ever come to winning since the film was a period piece with a bunch of nominations and Close received excellent reviews. In retrospect, this is the kind of film the academy usually loves so her loss is hard to understand on the surface. If you look closer though you'll see she lost to Jodie Foster for "The Accused." This film was a bit of a disappointment at the box office and Foster is the only nominee from the film but the story of a rape victim seeking justice paralleled Foster's own experience as being the victim of John Hinckley's obsession which led him to shoot President Ronald Reagan (on the day of the Oscars no less.) Foster went through a hellish experience being thrust into global attention and even had to sit in a room with Hinckley and be deposed by his lawyers. Hinckley was said to have become obsessed with Foster for her Oscar-nominated role as the teenage hooker in "Taxi Driver" and aimed to impress her by killing the president. Foster had a great deal of difficulty shooting "The Accused" since it hit so close to home. She publicly spoke of how she thought her work was so bad that she was going to quit acting. When the reviews were good the Academy seemed to want to welcome its troubled former child star back into the fold so Close was once again didn't make it to the podium.
Close would continue working in films, theater and television but it would be 24 years before she'd get back to the Oscar race this time for the film version of a play she had starred in early in her career, "Albert Nobbs." She wasn't really in contention here and the nomination was the prize for her (Meryl Streep won her third Oscar for "The Iron Lady").
So it's been a rocky road for Close and the Oscar. She still is likely to be robbed of the full Oscar experience since the show will likely be done virtually due to the global pandemic but at least she will be able to relinquish her title as the most nominated actress never to win. Reviews of the film haven't hit the presses yet but Janet Maslin's endorsement of Close's performance and the film itself gives some hope that Close will finally get her Oscar and even better she'll deserve it. A win for "The Wife" would have been nice but naysayers would have dubbed it a make-up award for past slights. Hopefully, if Maslin's opinion is shared, Close will rightfully be called the Best Supporting Actress of 2020.
Do you think this is finally Glenn Close's time or will the Academy ignore her again? Let us know your thoughts in the comments section below or on our Twitter account.
You can follow Robert and hear more of his thoughts on the Oscars and Film on Twitter at @robertpius_