Paramount Pictures Domestic Distribution Chief Chris Aronson kicked off the studio's CinemaCon 2023 presentation in style, rising from "the sewer" with a pizza in hand while a "Teenage Mutant Ninja Turtles" themed dance crew hyped him up. Aronson and company were there to reinforce their commitment to the theatrical experience. In fact, Aronson used some of his time to roast AMC Theaters, quoting Nicole Kidman's AMC opener and poking fun at the theater chain's differently priced seating tiers. "Heartbreak feels good in a place like this, like when you're in the center section, and you paid more for your seats than those people in the balcony."
With his jokes out of the way, the Paramount team showcases a wide variety of films from 2023 and beyond for the theater owners in the crowd to be excited about. "Theatrical remains the cornerstone of our business," Paramount President Brian Robbins said, "and that's what we're committing to today." They celebrated the massive success of last year's "Top Gun: Maverick," noting that it's Paramount's highest-grossing movie ever. "Smile" got quite the shoutout, as the team highlighted that it was initially made for streaming before being bumped up to theaters. The team promised more hits for theater owners in 2023.
The new "Teenage Mutant Ninja Turtles: Mutant Mayhem" was up first for Paramount, with writer and producer Seth Rogen taking the stage. After lots of mocking at Aronson's expense ("Seems unfair to ask studio executives to fill a stage designed for the most charismatic people on the planet – they built this for Adele!"), Rogen raved about his experience making the animated film. He highlights that the Turtles are played by actual teenagers, giving the movie a more authentic feel, or as authentic as you can with mutants. Rogen described growing up with these characters and feeling connected to them. "I love these characters. They were weird, noble, brave, and smart. Just like how I saw myself, except for the noble, brave, and smart parts." He introduced an extended trailer, showing how the Turtles want to find acceptance, saving New York City so that other people might not find them scary or weird. The stylized look works well and could be a big hit for the studio starting August 4th.
Director Steven Caple Jr. and stars Anthony Ramos and Dominique Fishback hit the stage to promote the newest entry in the "Transformers" franchise, "Transformers: Rise of the Beasts." Caple noted their reliance on shooting in real locations rather than in studios or green screen sets. The new trailer highlights that as well. While if chock-full of CGI thanks to the Transformers, the locations do feel very real, a stark contrast to other major franchises. Ramos and Fishback celebrated the 90s setting, saying the film is full of the fashion and music of the era.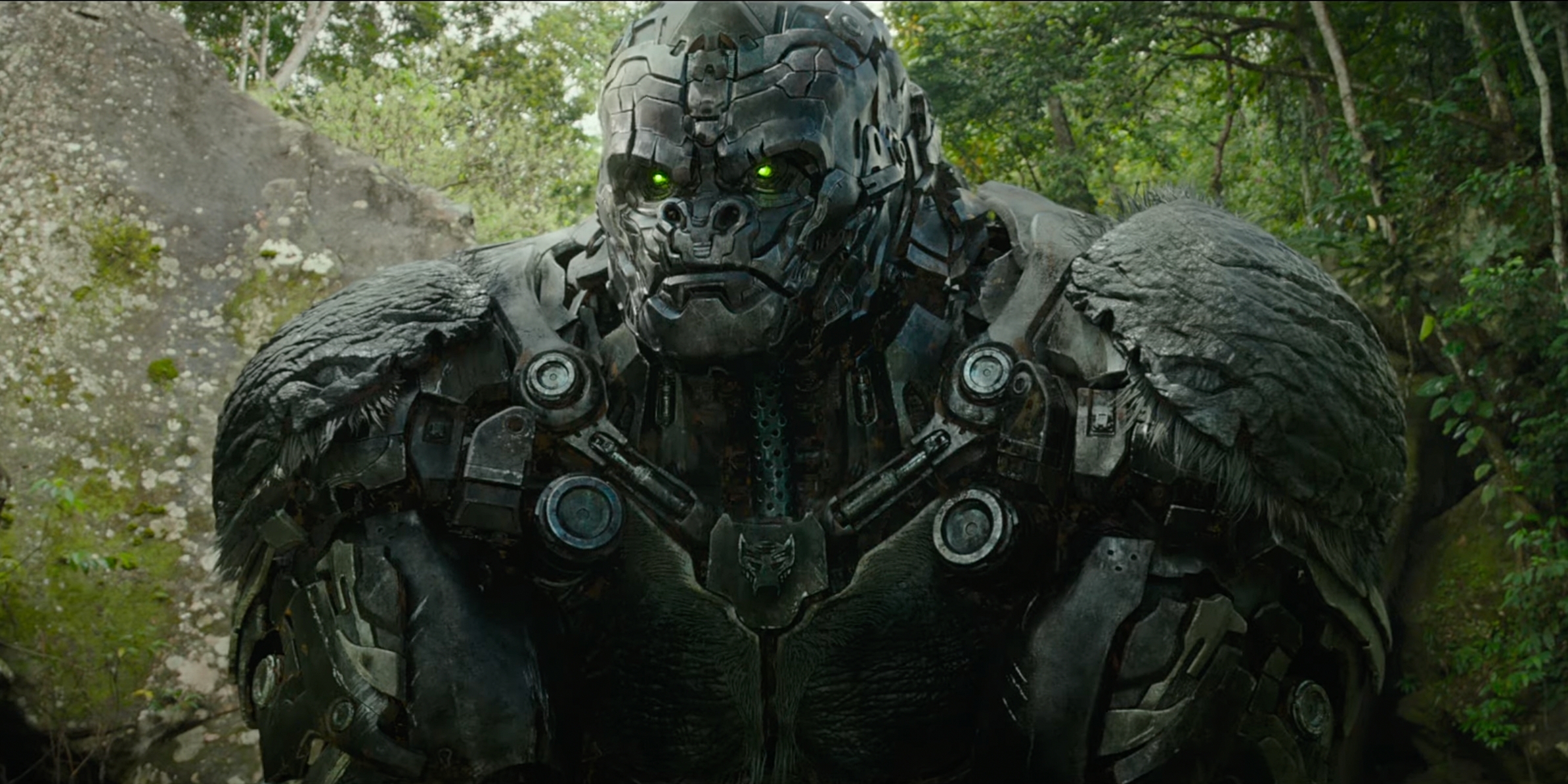 Continuing the "Transformers" love, President of Paramount Animation Ramsey Naito announced "Transformers One," an animated film with Chris Hemsworth voicing Optimus Prime, Brian Tyree Henry voicing Megatron, and many more. Naito also announced a new "Spongebob" movie, "Spongebob: Search For Squarepants," featuring the Flying Dutchman. Additionally, Naito mentioned the untitled theatrical animated film from the "Avatar: The Last Airbender" universe. The only image shown showcases an older Aang who has entered adulthood. Finally, we saw a rough cut of the trailer for "Paw Patrol: The Mighty Movie," in which a meteor hits Adventure City, giving the Pups superpowers.
Perhaps the most anticipated piece of Paramount's presentation came from master director Martin Scorsese taking the stage. Made in collaboration with Apple TV, Scorsese introduced the first-ever trailer for "Killers of the Flower Moon." The explosive trailer featured stunning imagery and production design on a massive scale. "This is a picture designed to be seen on the big screen," Scorsese said. "This is a big-screen movie, and that's what you'll see." As if we needed any more confirmation, this trailer wowed the crowd here at CinemaCon and is sure to be a major awards contender this fall.
Another awards season hopeful was showcased with "Bob Marley: One Love." The legendary musician's son, Ziggy Marley," came out on stage to praise the team telling his father's story. "My family and I are honored to be alongside Paramount and this cast and crew." The first trailer showed star Kingsley Ben-Adir as the titular singer, looking incredible in the main role. It's a dramatic trailer, as most biopics have, but it has good energy and lots of love. Things are lining up well for Ben-Adir's awards hopes.
Filmmaker John Krasinski came out on stage to tease two upcoming projects in 2024. First was "A Quiet Place: Day One," with director Michael Sarnoski ("Pig") taking the next step in the franchise started by Krasinski. The frightening trailer focused on Lupita Nyong'o's character trying to survive as the creatures first land on Earth. It looks big, bold, and another great entry in the story. Next up was Krasinski's next directorial feature, "If." Krasinski says he made this family film for his kids, much in the mold of "E.T." and "Willy Wonka." "Big shoes to fill, I know," he jokes. In an extended, rough cut of a behind-the-scenes featurette, we hear star Ryan Reynolds describe the film as a "live-action Pixar film." Steve Carrell, Matt Damon, Emily Blunt, Phoebe Waller-Bridge, and more will also voice imaginary friends who come to life.
Last but certainly not least, Paramount hopes to make "Mission: Impossible – Dead Reckoning Part One" the highest-grossing entry in the franchise yet. They showed a new trailer and a 20-minute action sequence from the movie. The sequence found Hayley Atwell's character in trouble, running into Tom Cruise's Ethan Hunt, where the two make their giant, action-packed escape from Pom Klementieff's assassin. As expected, the sequence is thrilling, funny, and completely visceral. Without a doubt, theaters are in store for a big hit with the film this summer. Can Paramount reignite theaters as they did with "Top Gun: Maverick" last year?
What was your favorite piece of news from the Paramount Pictures panel at CinemaCon this year? Please let us know in the comments section below or over on our Twitter account.