​Ryan Gosling is one of Hollywood's quietest superstars. His films have garnered box office success, cultural staying power, and a pair of Oscar nominations to boot. As a collection of stories, however, his films represent something altogether unique. They document a career-long character arc, a maturation of Gosling's screen persona from heartthrob and rebel to thoughtful adult; from lovesick kid hanging atop a ferris wheel to a family man walking atop the moon. It's rare that an actor undergoes such a lengthy metamorphosis, and rarer still that they maintain their favor with audiences along the way, but such has been the case with the Ontario native.
Gosling made his screen debut with 2000's "Remember The Titans", but it wasn't until "The Notebook" that his brooding good looks broke into the mainstream. His portrayal of Noah, the farm boy who sweeps the wealthy Allie (Rachel McAdams) off her feet, captivated a generation of teens who pined for their own prince charming to come and do likewise. That the film still holds up today is largely due to the appeal of this young love, and the grand gestures of naivete it inspires. Noah isn't a real person, he's a fictional ideal, a vessel through which immaturity and jealousy take on dreamy connotations. Gosling plays him perfectly. His stunted persona would continue with his turn as a drug addict in the superb "Half Nelson" for which he earned his first Oscar nomination for Best Actor.
"Blue Valentine", the second act in Gosling's romantic triptych, sees him embrace the worst aspects of this persona. In a marked difference from "The Notebook", his relationship (this time, a marriage) can no longer survive on juvenile antics or impulsive displays of affection. What his wife and daughter require is stability, and that is something his character is simply incapable of providing. He's stuck in the past. Gosling gives a fearless performance here, donning a beer gut and a receding hairline to embellish his fall from youthful grace. Noah this is certainly not. The film ends with the character leaving his family behind, rather than become the man they so desperately need him to be. It's as devastating a failure as has ever been shown on screen.
Gosling's neo-noir films with Nicolas Winding Refn, "Drive" and "Only God Forgives," take self-destruction to the brink. Both films present the actor as a solemn loner, wounded by a checkered past and willfully dealing with bottom-feeders and thugs. No longer stuck, he's moved on to being completely lost. Nicolas Winding Refn's direction gives these films a lurid, neon-soaked appeal, but it is Gosling, with his sad eyes and coiled body language, who gives them a discernible heart. Violence is his only means of communication, and the tragedy of these characters, both of whom are doomed by the end, is that they're smart enough to note the futility of it all. These releases, along with the noirish melodrama "The Place Beyond The Pines", represent the nadir of Gosling's screen journey; the proverbial darkness before the dawn.
Gosling intersperses these tense roles with reminders that he could get by on sheer charisma if he wanted. "Crazy Stupid Love" and "The Big Short" see him take ensemble parts that are strong on paper and elevate them further with crack timing and an eagerness to look silly. The same can be said for his broadly comedic turn in "The Nice Guys", where his slapstick antics and banter with Russell Crowe skewered any lingering misconceptions that he was a stiff performer. Watching him struggle to work a bathroom stall and a gun at the same time never gets old. These films may be second-tier Gosling to some, but they are essential to his resume, as they bridge the gap between the impulsive characters we've discussed thus far and the matured, humbled man we meet in Damien Chazelle's "La La Land."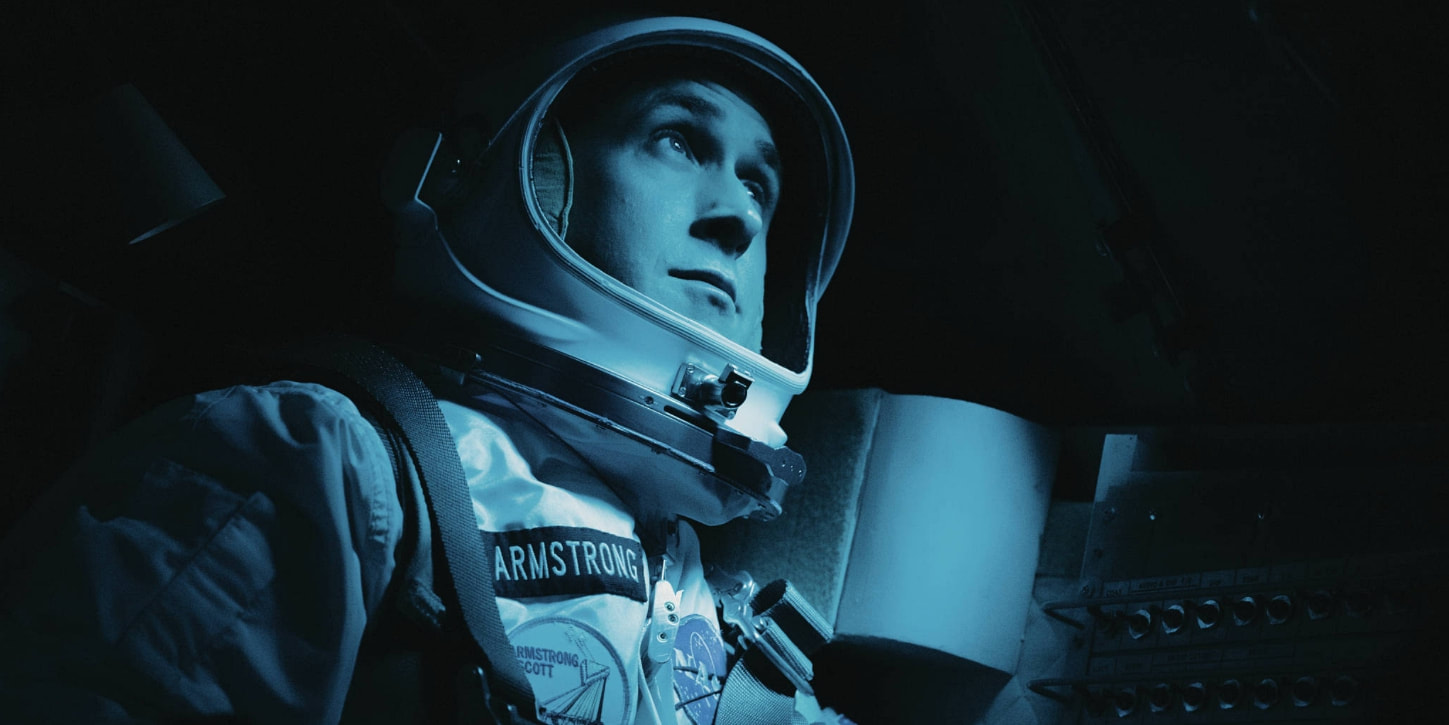 Not as sappy as "The Notebook" nor as torturous as "Blue Valentine", "La La Land" sees Gosling make peace with those earlier incarnations, and accept the fact that some things are out of his control. His character, the struggling pianist Sebastian, is a romantic, but he's level-headed enough to realize that staying with Mia (Emma Stone) may not be the best choice for her career. Gosling's acting is masterfully subdued here, letting the emotions of each viewer fill in the blanks and inform the heartbreak that occurs between the characters. The final scene doesn't feature public outbursts or threats of violence, but rather a sweet, nonverbal exchange that conveys what words never could. Gosling keeps right on playing his song, a newfound wisdom emanating from his piano keys and his overall screen presence. For his work on Damien Chazelle's film, Gosling earned his second Oscar nomination for Best Actor.
Gosling charts a similar path in Denis Villeneuve's "Blade Runner 2049." What starts out as a routine police case snowballs into a conspiracy that could unravel the very fabric of civilization, but for Gosling's Agent K, the most pressing matter is reuniting a father with his child. This is pursued for selfish reasons initially, but even after the character learns of his irrelevance, he pushes ahead and sacrifices himself to ensure their safety. Gosling makes the shift from misanthrope to hero feel genuinely earned here, and as his character lay dying in the snow, one gets the sense that he's content with his choice. He's finally learned to believe in something other than himself.
Which brings us to "First Man." Gosling reunites with Damien Chazelle to tell the story of astronaut Neil Armstrong and the filmed results are both intimate and triumphant. Gosling plays Armstrong as a stoic and savvy technician but the true depth of his performance comes through when he drops the polished facade and allows his doubts to fester. He's shouldering the weight of a nation that's desperate to beat the USSR and the strife of a family who fears he won't survive the mission. In contrast to earlier, flashier roles, Gosling excels here because of how naked he appears, how relatable his personal and professional setbacks feel. It is ultimately his belief in the greater good that allows him to overcome these setbacks and take mankind's first step on the moon.
The humility with which Armstrong handled his post-landing fame has been discussed ad nauseum, with many crediting his time in the navy and his blue-collar background. With Gosling, however, we needn't seek out testimonials. We've witnessed his journey from adolescent to adult firsthand, experienced the bumps and bruises, the highs and lows, as though they were our own. It's impossible to say what he'll do next, but we can rest assured that it'll come from a relatable and very human place. It always has.
Have you seen "First Man" yet? What is your favorite Ryan Gosling performance? Feel free to answer that question in this week's poll (ends Saturday) or let us know in the comments section below.
You can follow Danilo and hear more of his thoughts on the Oscars and Film on Twitter at @DaniloSCastro