Two fascinating categories (and two that also sadly have a shot at being left off of the live ceremony this year due to the Academy's stubborn move to keep the Oscar ceremony to under three hours long) are Best Costume Design and Production Design. With Oscar nominations a day away, I wanted to take one final look at both categories and highlight some hopefuls and some favorites to give these proper artists and films their due.
​BEST COSTUME DESIGN
It's a known trend that period costumes tend to dominate the Best Costume Design category at the Oscars. What's more, there's an obvious inclination towards the royal garb of European kings and queens– consider, for instance, the four year stretch of 2006-2009 in which each of the only palace dramas nominated for costume design of each year, took home the top prize ("Marie Antoinette," "Elizabeth: The Golden Age," "The Duchess," "The Young Victoria"). Since then, a relative drought in movies chronicling pre-20th-century aristocrats (save for "Anna Karenina," which had designer Jacqueline Duran nab her second Oscar) made room for the recognition of some unorthodox fashion innovations (i.e. "Mad Max: Fury Road" in 2015).
Nevertheless, the Academy's fixation with old, gaudy gowns and corsets persists. Despite middling critical reception, last year saw Consolata Boyle's turn of the century wear in "Victoria & Abdul" make the cut, leaving out "I, Tonya's" nineties-inspired skate suits and fur jackets (some of us are still peeved). While certainly a testament to the power of name recognition for repeated nominees, and for the frequent collaborators of Academy darlings like Stephen Frears, voting trends still point towards the supremacy of regal period wear over contemporary design. While the front runner for this year's race doesn't necessarily break the mold, there's a strong potential for the entry of a black sheep nominee from the world of contemporary clothing. Here's a look at the hopefuls and the underdogs for this year's Best Costume Design race, as well as a shout out to some work from left field courtesy of yours truly.​
The Favourite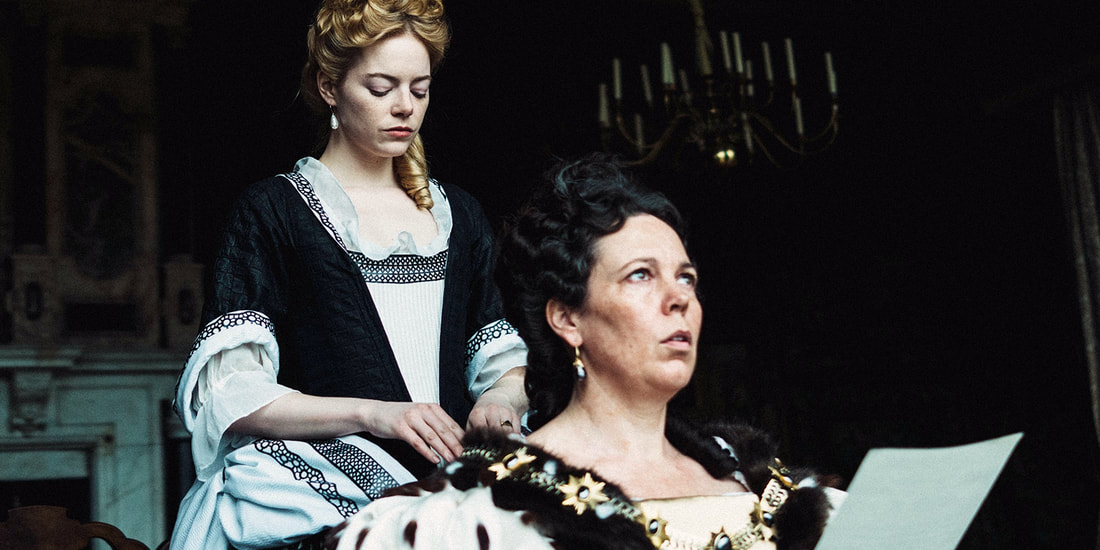 By Sandy Powell
​Beyond extravagant gowns (of which there are plenty), "The Favourite's" most iconic pieces play into the film's tinkerings with gender roles. Consider Sarah's (Rachel Weisz) shooting attire, an elegant jacket, with pants and britches– not manly, but uniquely empowering. Reminiscent of the way Marlene Dietrich or Katharine Hepburn adapted menswear into an expression of sensuality as confidence. There's also Queen Anne's (Olivia Colman) armor, a clunky beatle-like assembly of plates and guards, and Masham (Joe Alwyn) and Harley's (Nicholas Hoult) prince poppycock get-ups, nearly drag-like in their flamboyance.
For all the talk about giving contemporary costume design a chance at gold, "The Favourite's" modern rendering of the palace intrigue drama– with its tangled power dynamics and foul-mouthed repudiation of aristocratic propriety– showcases costumes that go against the grain of what's historically expected while playing an integral role in character development. Powell isn't just expected to win for "The Favourite," many believe she rightfully should.
Mary Poppins Returns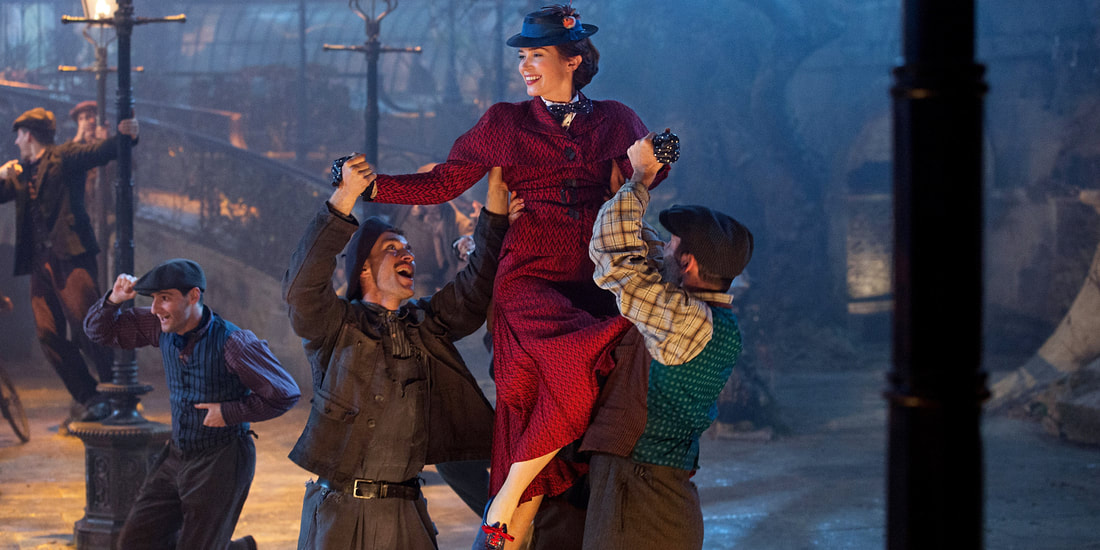 By Sandy Powell
​It really shouldn't surprise us that nine-time nominee and three-time Best Costume Design winner, Sandy Powell, should find herself competing against, well– herself. The work Powell showcases in "Mary Poppins Returns," Disney's reboot of the beloved, color-soaked classic, proves a formidable opponent to the clothes of Queen Anne's court. Set in 1930's Depression-era London, the film flaunts nostalgic, Edwardian-inspired costumes– tweed jackets, mid-calf hemlines, billowy, high-waisted skirts. But then "Mary Poppins Returns" is no ordinary period piece– doubling as a fairy-tale, bursting with hand-drawn animation, singing, dancing, and a heavy dose of magic. The clothes reflect this exuberant, imaginative spirit with brilliant pastel shades that blend seamlessly into the animation, and art-deco inspired geometric patterns, ruffles, and chevrons. Yet the world of Emily Blunt's prim and proper Mary Poppins maintains the sharp and neat elegance that the legendary au pair would've wanted. It's that delicate in-between spectacular and clean-cut that distinguishes the film's wardrobe, making it one of the bigger threats to steal the spotlight on Oscar night.
Black Panther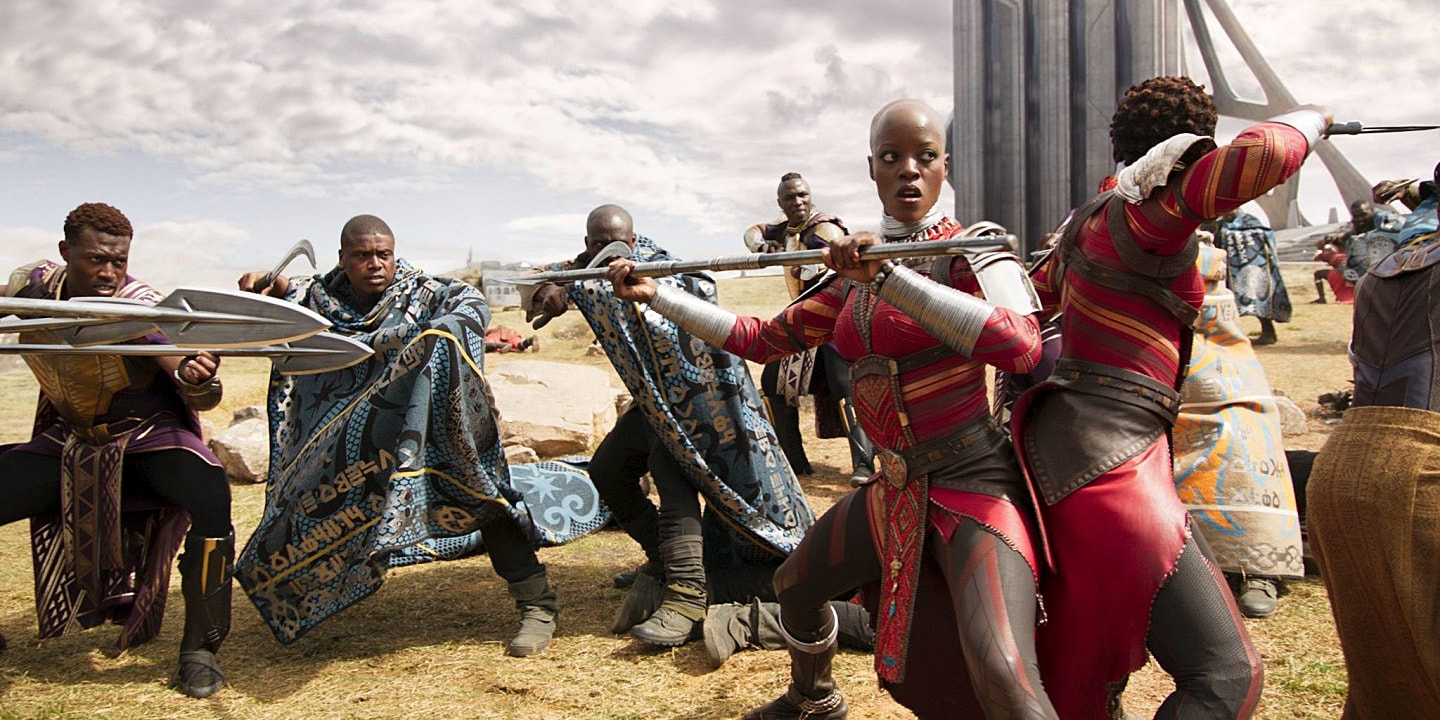 By Ruth E. Carter
I can't think of a more innovative and unprecedented design achievement than Ruth E. Carter's work in "Black Panther." Inspired by the artistry of the different peoples and cultures of Africa, Carter's take on the Wakandan superhero is an afro-futurist blend of technology and indigenous textiles, textures, and patterns. With the help 3-D printing, Carter created such sartorial marvels as Queen Ramonda's (Angela Basset) Zulu-inspired headdress and the fabric of Nakia's (Lupita Nyong'o) black and fluorescent green, open-shouldered fight dress. It's hard to single out any one costume here, as every Wakandan character boasts a distinct look: General Okoye (Danai Gururi) with her crimson suit and Maasai tribe-esque gold neck piece, W'Kabi's (Daniel Kaluuya) Lesotho-blanket inspired cloak cum shield. A veteran costume designer in Hollywood with a career spanning over thirty years, and two Oscar-nominations for her work in films by Spike Lee and Steven Spielberg, Carter's design in "Black Panther" might be the boldest thing she's ever produced. Not only is it expected to receive a nomination, but it should also be seriously considered for a win.
​Mary Queen Of Scots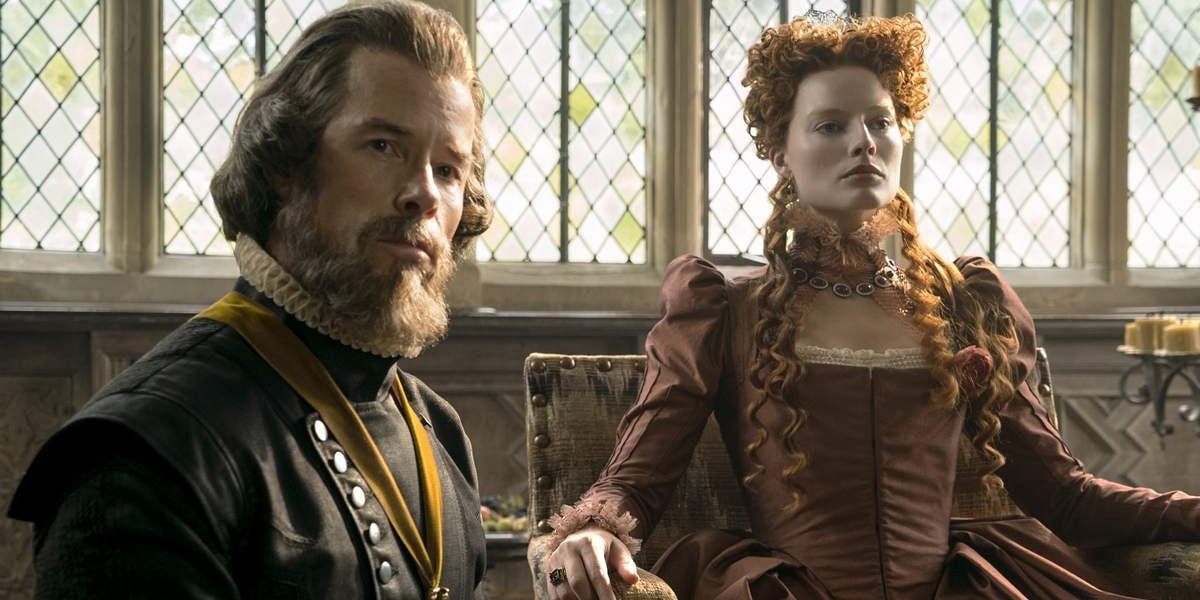 ​By Alexandra Byrne
Byrne is no stranger to dressing the most iconic Queen of England. After winning for her design in "Elizabeth: The Golden Age" in 2007, the Oscar-winner returns to the British Isles for Josie Rourke's feminist rendering of the regal rivalry between Elizabeth (Margot Robbie) and Mary (Saoirse Ronan). With the film's modus operandi in part dedicated to contrasting the muted, sterility of Elizabeth's English court with Mary's liberated, European demeanor, the result is design that plays directly into the film's heavy color motifs: an off-shoulder red gown for the martyred Mary on the day of her execution, an austere black and lace-cuffed dress for an Elizabeth struggling with insecurity. Perhaps Byrne's most impressive achievement here is her use of denim, which she relies on for a variety of Mary's outfits in order to convey the heroine's active involvement in matters of war and state, and her indifference to getting down and dirty. I'm going to predict that Byrne makes the cut here, but I also wouldn't be surprised if she's edged out for a more alternative pick ("BlacKkKlansman").
Bohemian Rhapsody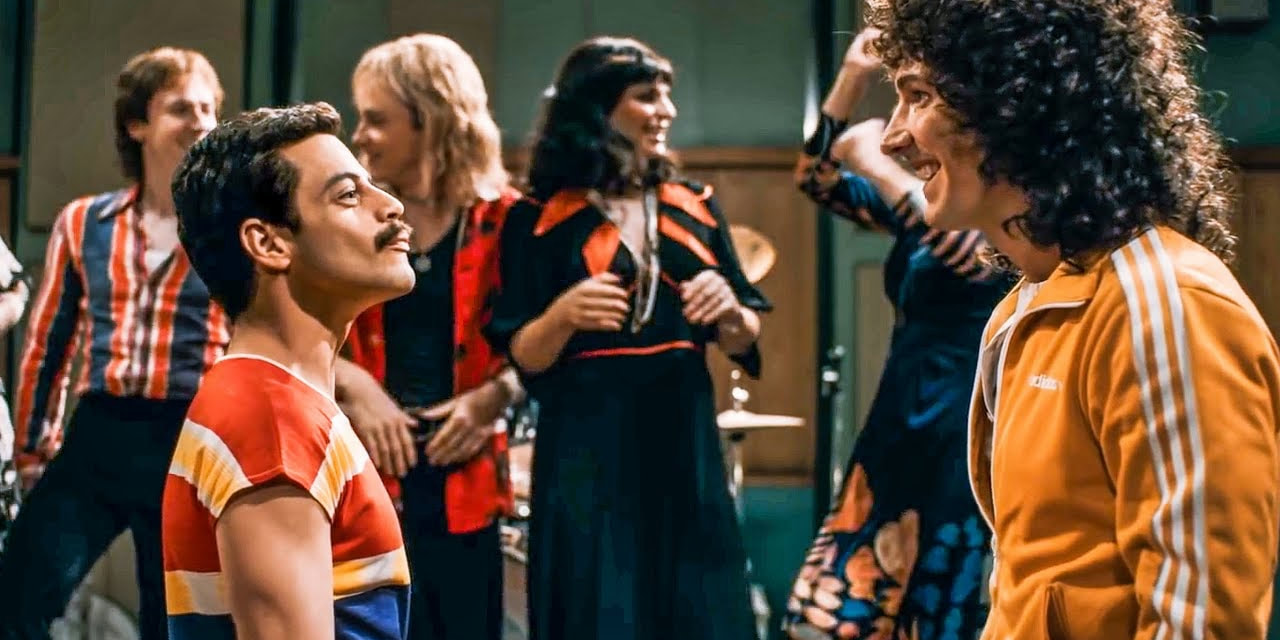 By Julian Day
The glam rock looks of Queen and its iconic frontman Freddy Mercury might be a costume designer's wet dream. While designer Julian Day certainly drew inspiration from Mercury's androgynous fashion statements, he was afforded ample creative legroom to invent new looks to suit the narrative. Skin-tight leather trousers, plunging v-necks, sequins, and diamonds galore–it's natural that AMPAS would be inclined to reward a film that showcases interpretations of some of the most revolutionary looks in fashion history. In terms of historical awards recognition, Day is probably one of the lesser known designers here. But considering the success of "Bohemian Rhapsody" on the awards circuit thus far, as well as BAFTA and Costume Designers Guild nominations under its belt, Day appears slated to slip into the pool of five nomination morning.
BlacKkKlansman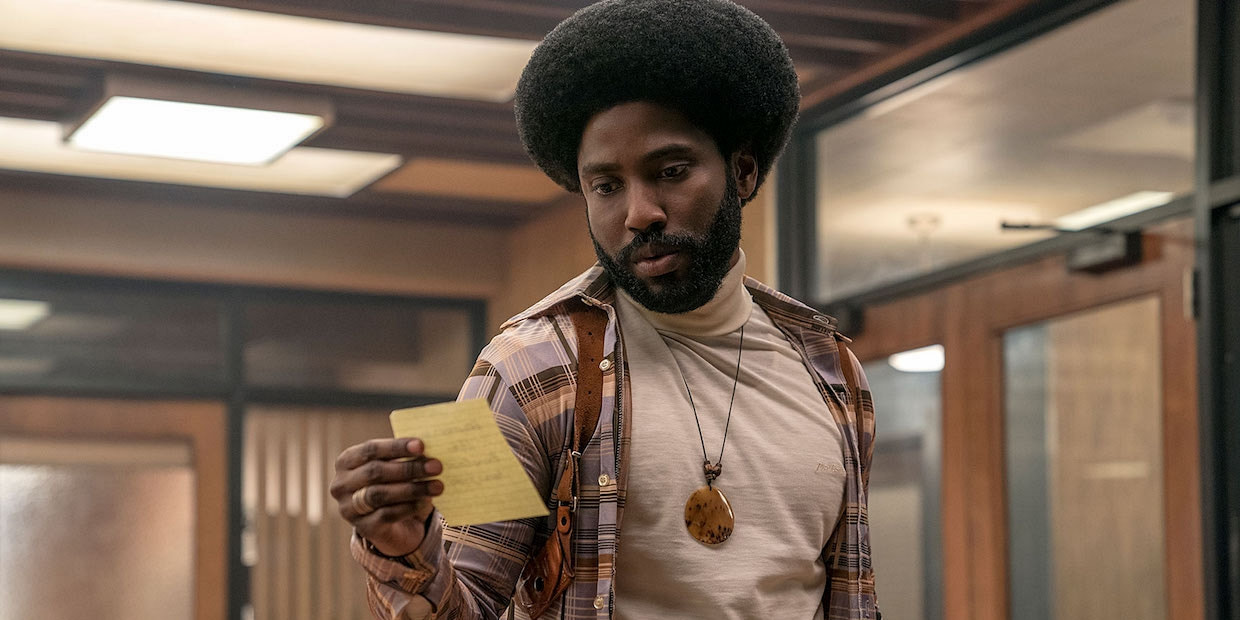 By Marci Rodgers
Indebted to intensive research, up-and-coming designer Marci Rodgers showcases a commitment to reproducing the aesthetics of the decade, the styles of its heroes as well as its villains. The standout is, of course, Ron Stallworth, whose wardrobe was partially inspired by the real Stallworth's personal tastes, but emboldened to distinguish the protagonist from the rest of the police department. It's no mistake that Stallworth's attire hearkens back to the blaxploitation superheroes touched upon in the film, from marshmallow shoes to bold shearling jackets. But Rodgers' design is more than just showy costumes. While klansmen robes and Flip Zimmerman's dowdy flannel aren't exactly fashion statements, Rodgers' carefully invested the sartorial looks with an eye towards realism and fine details. While "BlacKkKlansman" could certainly miss come nomination morning, if the film as a whole performs well, then there's no question that Rodgers' design could make the fourth or fifth slot.
​Crazy Rich Asians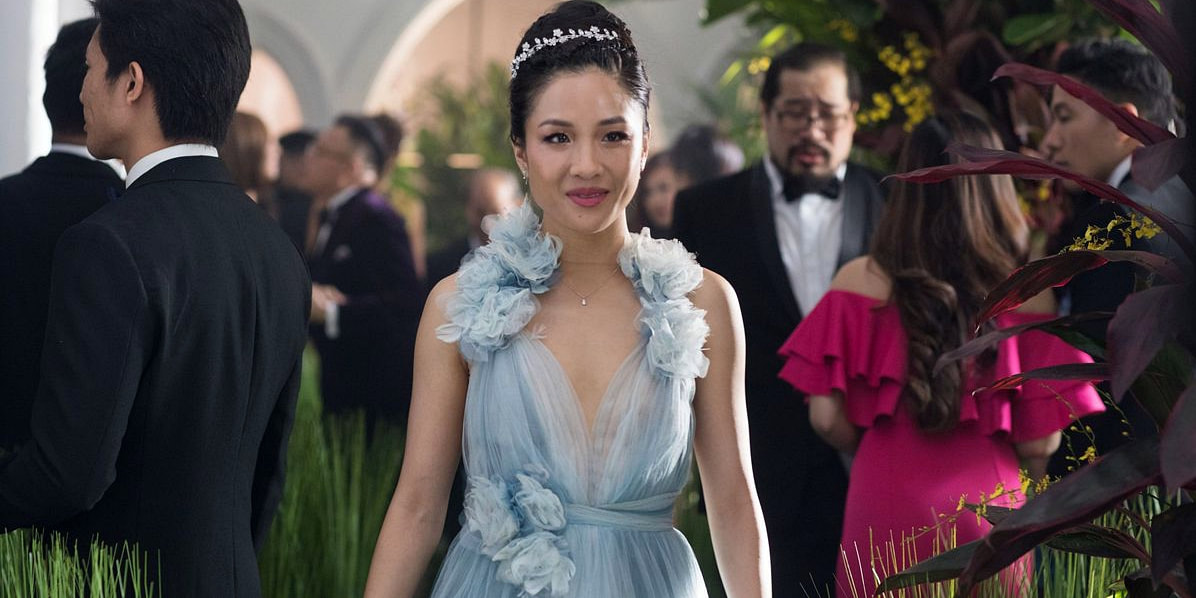 By Mary E. Vogt
While "A Star Is Born" also boasts a stellar assembly of modern showbiz inspired costumes by Erin Benach, contemporary wear will always be at a disadvantage in this category. Unfortunately for Benach, the contemporary design to beat has got to be Mary E. Vogt's clothes in "Crazy Rich Asians." Thanks to Vogt's design, CRA reads like a fashion film in the way that "Sex in the City" was a showcase for the highest of the high-end designers. An airy all-blue gown for Rachel's (Constance Wu) embattled modern Cinderella, Peik Lin Goh's (Awkwafina) street-wear inspired silk pajamas with dog patterns, and Nick's (Henry Young) summery white linen suit– clothes deserving of its own runway show while tailored to the personalities, quirks, and motivations of its characters. And then there's Gemma Chan's character, Astrid's entire wardrobe.
Fantastic Beasts: The Crimes Of Grindelwald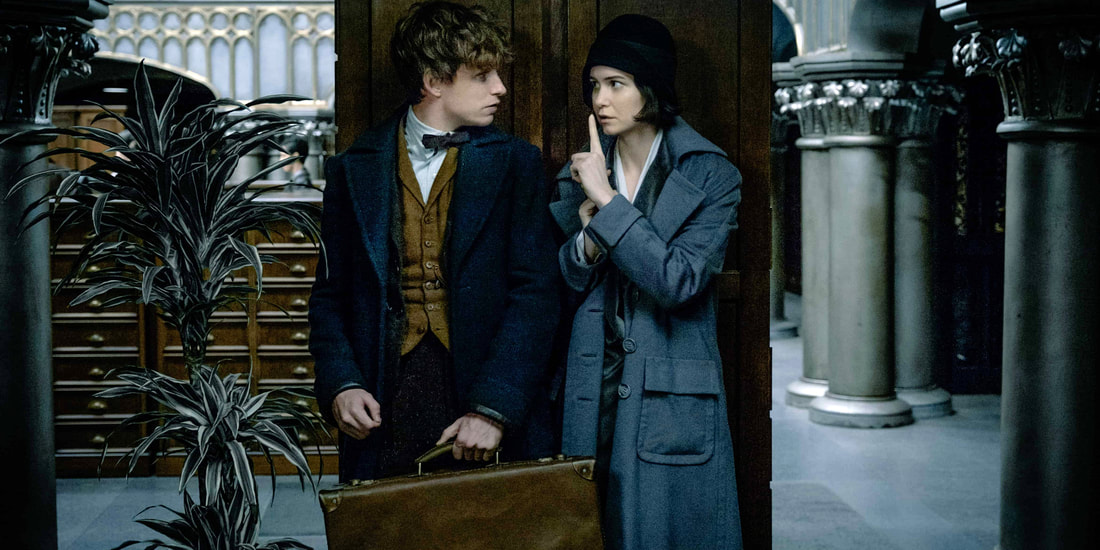 By Colleen Atwood
Any talk of the Costume Design Oscar race would be remiss to neglect Colleen Atwood– twelve-time nominee and four-time winner, most recently for her design in the first installment of "Fantastic Beasts And Where To Find Them" in 2016. This time should be a bit more of an uphill battle than the first. Not only did Atwood miss a BAFTA and CDG nomination, but the film is also marred by rotten reviews, and the stigma surrounding one of the film's leading men, domestic abuser Johnny Depp. Nevertheless, "Fantastic Beasts: The Crimes of Grindelwald," which takes place primarily in Paris, has an undeniable high-fashion feel. Atwood channels the period attire of the 1920s and 30s and adjusts these looks for the personas of ultra-chic wizards: popped collars, velvet blazers, neckerchiefs, and tweed vests. The color palettes of the costumes this time around have shifted towards neutral, black and brown tones to match the mystique of an older Paris and the heightened threat of black magic, which, paired with sophisticated silhouettes and neat, streamlined tailoring makes these costumes look straight out of a classic YSL or Chanel catalog.
Personal Shoutouts…
It personally dampens my spirits to think that Lindy Hemming will go unrecognized for her work in "Paddington 2." From pink pajamas to Paddington's iconic blue jacket, Hemming's clothes is arguably the visual trademark of the film. And then there's Hugh Grant's character– Phoenix Buchanan's dashing plaid ensembles and wild disguises. I mean, he literally has a nun's robe with marvelous, effeminate, silhouette that can be turned inside out into a pope's outfit.
Another standout of the year is the afro-punk aesthetic of Deirdra Elizabeth Govan's clothes in "Sorry To Bother You." Every one of Tessa Thompson's character, Detroit's outfits exude the mis-matched eccentricity of a resistance artist, and her earrings alone are sartorial staples of a politically turbulent year in the fight against the patriarchy.
​BEST PRODUCTION DESIGN
​The production designer is tasked with creating the physical reality in which the film takes place; such a task requires much more beyond merely choosing a location. A combination of sketching, set decoration, and engineering is key to an effective production design, which can determine whether the feel of a film, or even just a scene in particular works as intended. This year's Oscar race for Best Production Design sees the frontrunners tied at the hip with the costume design race, which is not an atypical phenomenon. It's not a given, however, that a win in one category will lead to a win in the other. While this was the case for "The Great Gatsby," "The Grand Budapest Hotel," and "Mad Max: Fury Road" from 2013 through 2015, the last two years had "La La Land" and "The Shape of Water" take gold for production design, while their costume designers went home empty-handed.
I can certainly see a world in which "Black Panther" dominates the art and tech nominations– this could be AMPAS voters' way of rewarding the film without necessarily giving it nominations (or wins) in the more high-profile categories. As for production (and costume) design, it'll be hard to ignore "The Favourite" when it offers with such exquisite and original execution what AMPAS voters tend to recognize in these categories.
But let's not get ahead of ourselves, as nomination morning is still on the horizon. Let's take a look back at the year in outstanding production design and some expected, or merely hopeful, candidates.
​The Favourite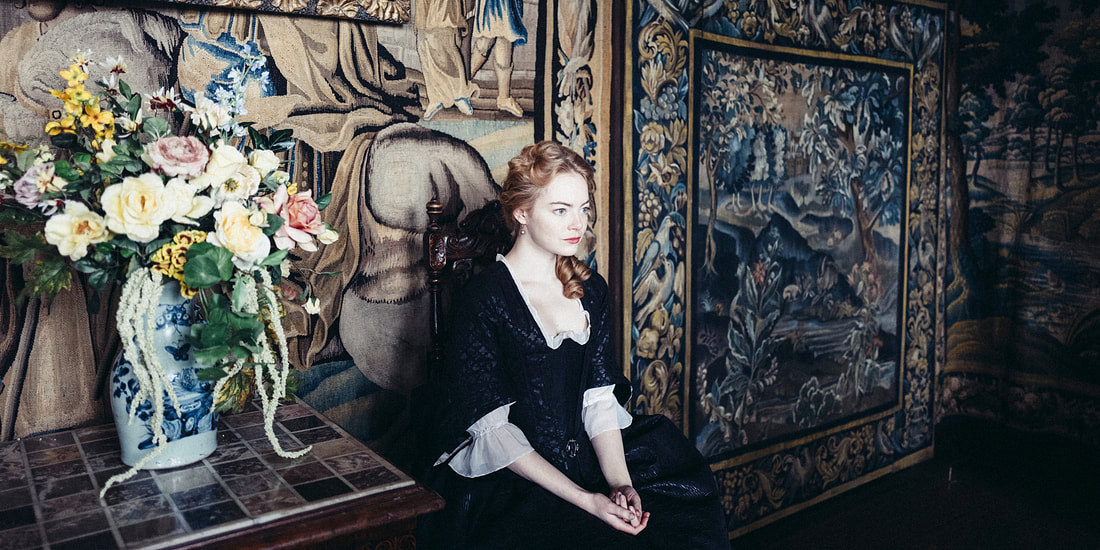 By Fiona Crombie

The sprawling court of Queen Anne was reconstructed in a real-life historical setting formerly owned by English nobles– the Hatfield House. While the design here by Fiona Crombie was to an extent achieved by successful location scouting, Crombie's massive, candle-lit, monochromatic sets are crucial to the film's sense of alienation. Along with the creation of distinct hyper-ornate, gilded walls, Crombie manipulates scale to precision– Queen Anne's massive bed, tiny footstools, and cramped, stairwells and corridors– creating an almost funhouse effect further accentuated by Robbie Ryan's fisheye cinematography. "The Favourite" has a trademark look to it that sets it apart from other period dramas, while still benefiting from the hard-to-ignore gaudy tendencies that characterize films about kings and queens. It'll be hard to deny Crombie the win. . .
Black Panther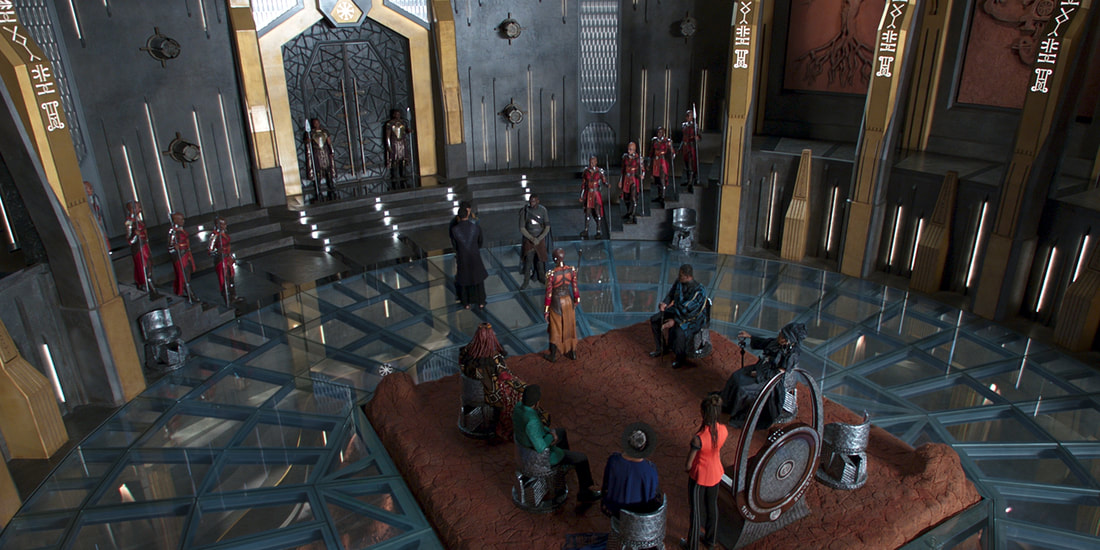 By Hannah Beachler
"Black Panther" has a lot going for it in that production designer Hannah Beachler was essentially tasked with creating an entire fictional society. The Wakanda Beachler eventually will create is based on her extensive research throughout coastal cities in sub-Saharan Africa, particularly South Africa, but obviously injected with the magic of an enlightened, hyper-advanced utopia. Should "Black Panther" make it in nomination morning, Beachler would be the first black female production designer to be nominated for an Oscar. Given continued resistance against the idea of Black Panther receiving too many above the line nominations, the notion of a below the line invasion for the film seems more and more realistic. Considering Beachler's renowned work for Beyonce's Lemonade and the scope of her responsibility in creating an entire country for the MCU, a win is most certainly not out of the question. Though it's worth noting that Beachler was snubbed out of a nomination by BAFTA. . .
​Roma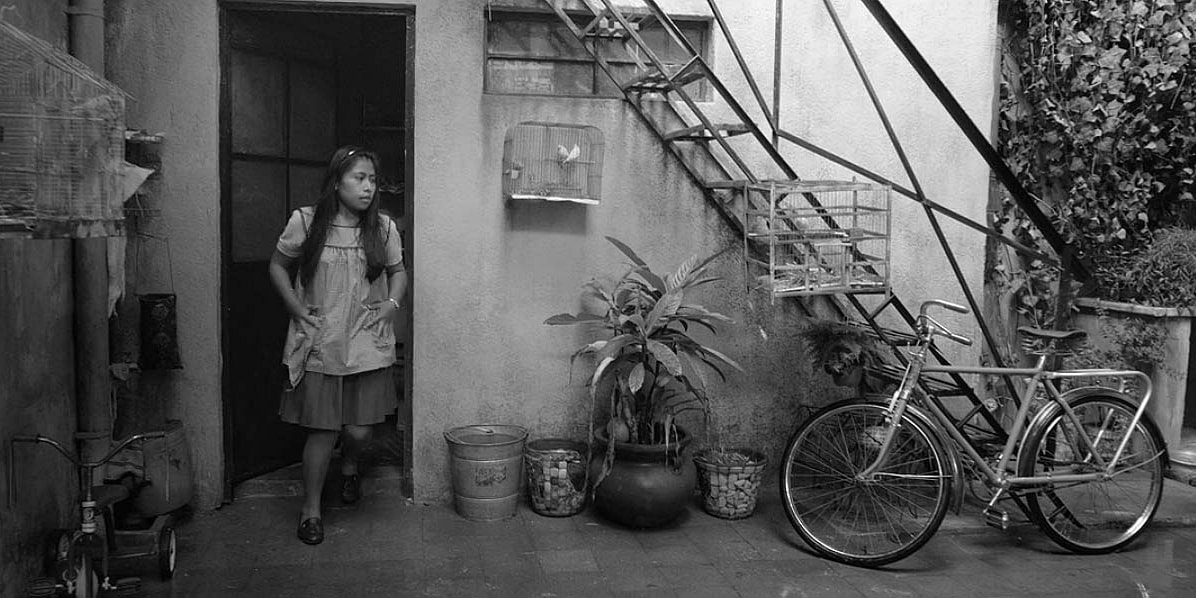 By Eugenio Caballero
"Roma" is Alfonso Cuaron's most personal film to date, a repository for the director's childhood memories growing up in Mexico City. Instead of opting for something more intimate and small-scale, Cuaron, with the help of his production designer Eugenio Caballero, recreates with almost alarming detail the neighborhood he grew up in in the 1970s. From an entire block of the city to the insides of his family home (with checkered tiles, antique furniture, toys scattered all about) recreated based off the director's memory, "Roma's" production design is a meticulous work that works in tandem with the film's realism. While I wouldn't be surprised if Caballero is eventually overlooked for the fictional inventions of "Black Panther" or the lavish decor of "The Favourite," if nomination morning bears results that are anything like the continued support "Roma" has so far entertained, it should have a solid chance at a production design nomination.
Mary Poppins Returns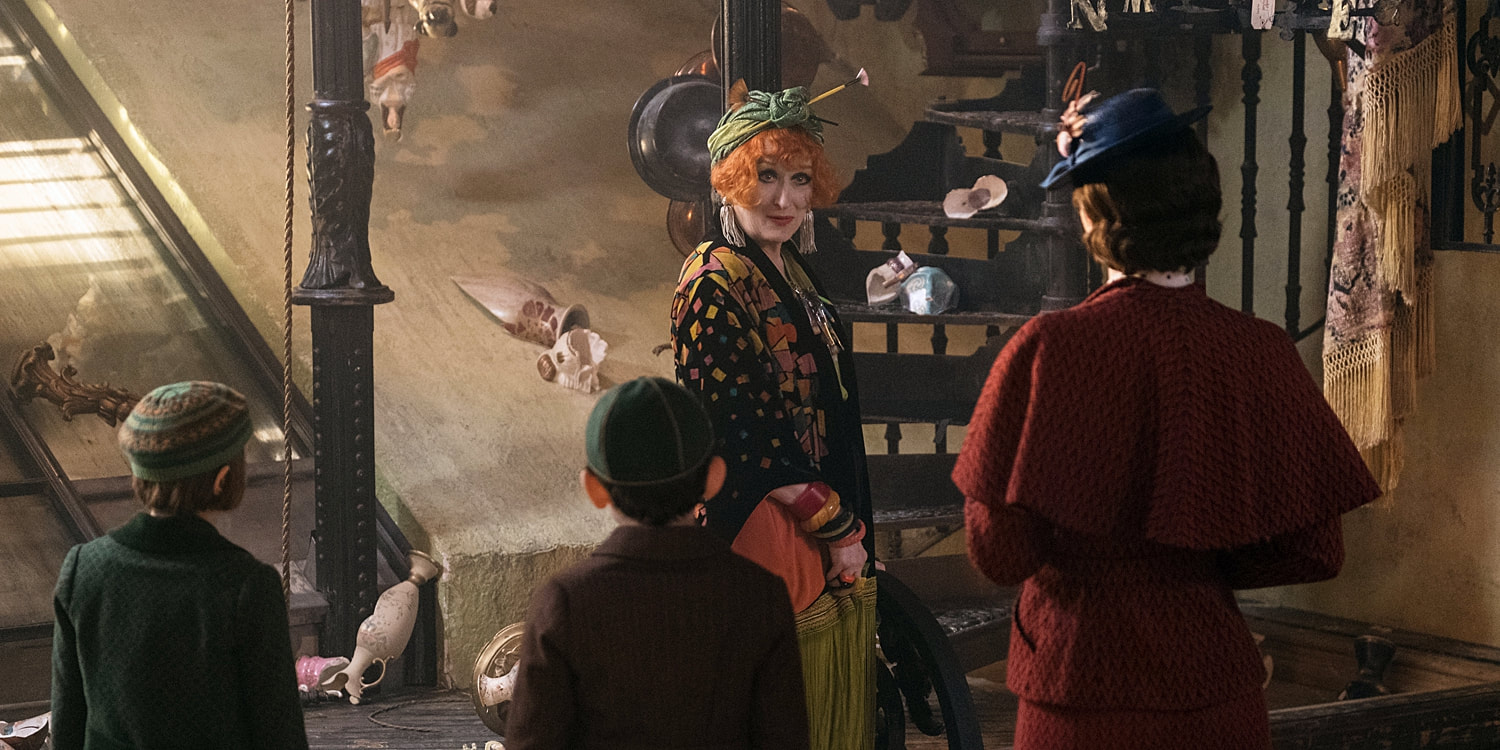 By John Myhre
Oscar-winning production designer John Myhre knew about "Mary Poppins Returns" for almost ten years prior to the film's release, giving him ample time to consider the reprisal of our beloved English au pair. With a heavy dose of inspiration from the original classic, Myhre pays tribute to London and elevates the city as another character in the film, with an iconic scene at Big Ben and ample amounts of romantic city fog. With one foot in this romantic homage to London, the other is dedicated to the film's sense of fantasy and wonder– consider the upside down house of Meryl Streep's Topsy, one of the most impressive sets in the film. Add to all of this the difficulty of creating set pieces and coordinating them to work with the several long musical numbers in the film, and you've got quite the labor of love. "Mary Poppins Returns" has got the required precursors under its belt to be a shoo-in nomination morning. Whether it's got a chance of winning is another story, though not unimaginable.
Bohemian Rhapsody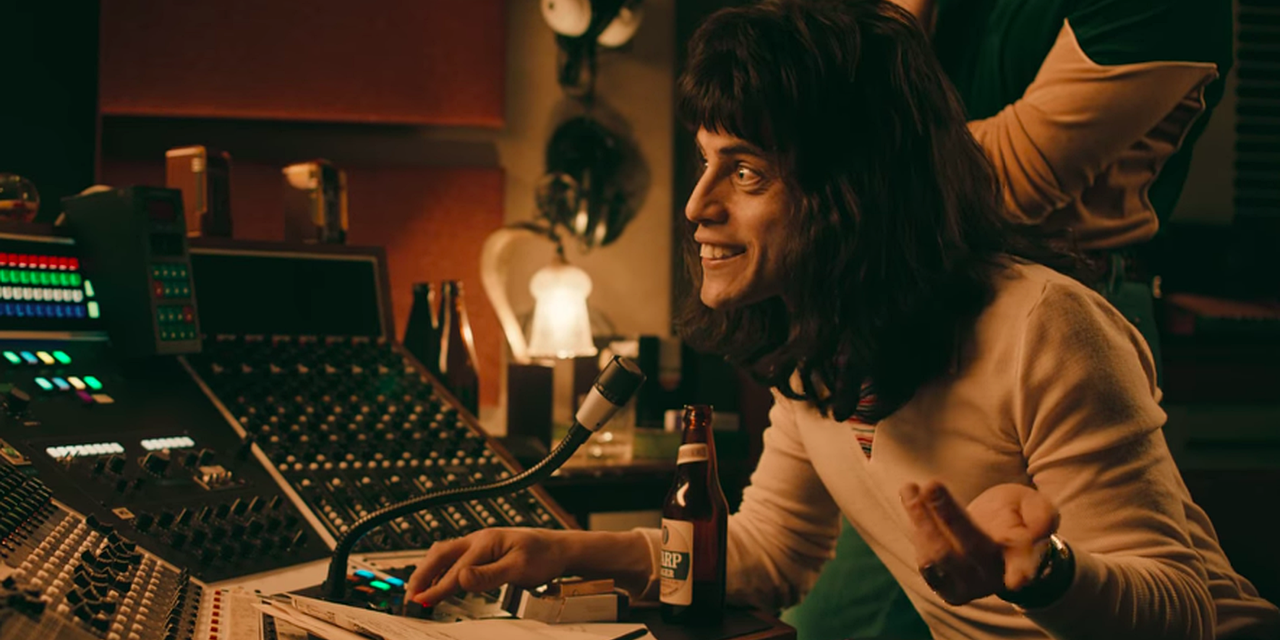 By Aaron Haye
With all the unexpected love "Bohemian Rhapsody" is getting this awards season in all categories, it is no surprise that it should also pop up in consideration for best production design. Though it missed with BAFTA and Critics Choice, the film boasts an impressive set piece with its recreation of Wembley Stadium for the film's Live Aid 1985 segment. Production designer Aaron Haye sought out an airfield in England in order to build a replica stage that would accommodate the scope of this pivotal performance, which many consider the film's most important scene. Should the film as a whole perform as expected nomination morning, production design should follow suit.
​
​First Man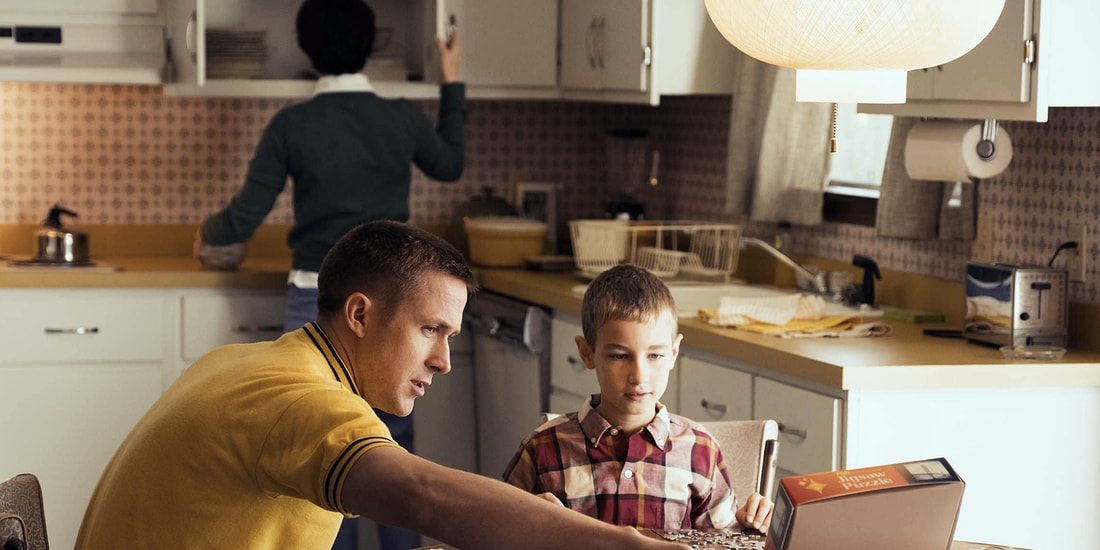 By Nathan Crowley
Known (and repeatedly nominated) for his work in collaboration with Christopher Nolan, production designer Nathan Crowley was specifically sought out by Damien Chazelle to step in as the mind behind "First Man's" NASA recreations. To get a picture of the lengths Crowley took to create an authentic reality for Chazelle's cinema verite-inspired biopic, the designer relied on blueprints and archival footage to create replicas of mission control and the vomit-inducing triple axis trainer, from scratch. For the film's epic moon landing, Crowley took a practical approach and had a rock quarry physically sculpted to resemble the lunar surface. Despite having been nominated a whopping four times for his work, Crowley is currently Oscar-less. While his name and the film's overall precursor recognition in the tech fields should land him a nomination, none of its nominations for production design thus far have resulted in a win. Should "First Man" accrue as many tech nominations as its expected to on Tuesday morning, Crowley should certainly make it in– but a betting man would say it stops at that.
The Ballad Of Buster Scruggs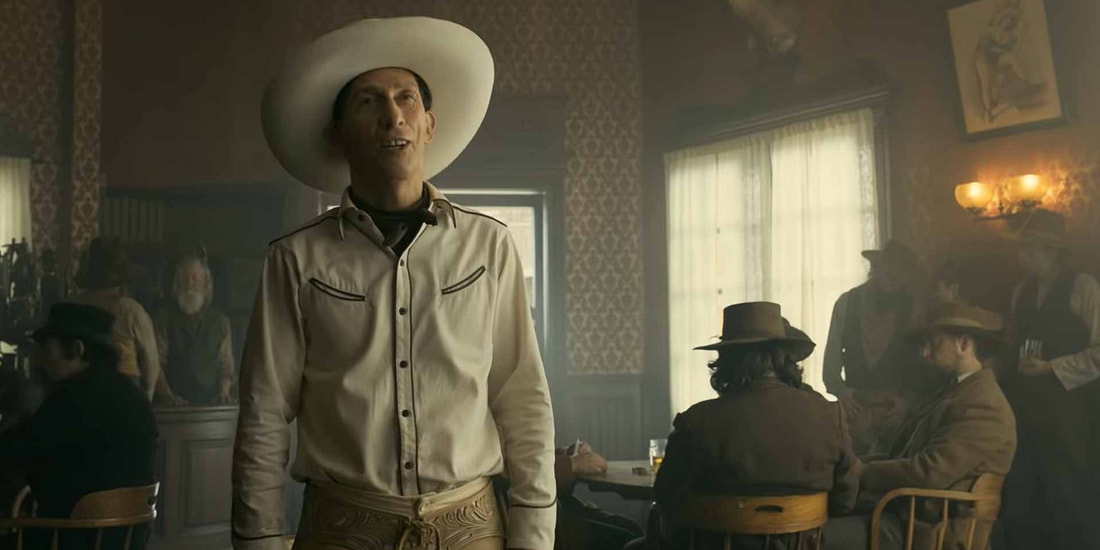 By Jess Gonchor
The Coen brothers are beloved in the industry, and with frequent collaborator Jess Gonchor masterminding the different looks of each entry in their latest Western anthology film, perhaps primed to surprise us with one or more nods in the Oscar race. With potential to break in for Best Costume Design or best song (with Best Adapted Screenplay being the longest shot), the multiple locations and distinct atmospheres of each story demand a shifting design approach tethered broadly to the film's wild west aesthetic. Add to this the challenges of visually crafting the one-of-a-kind, often absurdist narrative inventions of the Coen's (a single, hanging tree in the middle of a desert in Near Algodones, or the traveling one-man-show in Meal Ticket), and you've got memorable art direction that many may consider worth rewarding, if at least to give "The Ballad Of Buster Scruggs" and the Coens some kind of recognition.
Crazy Rich Asians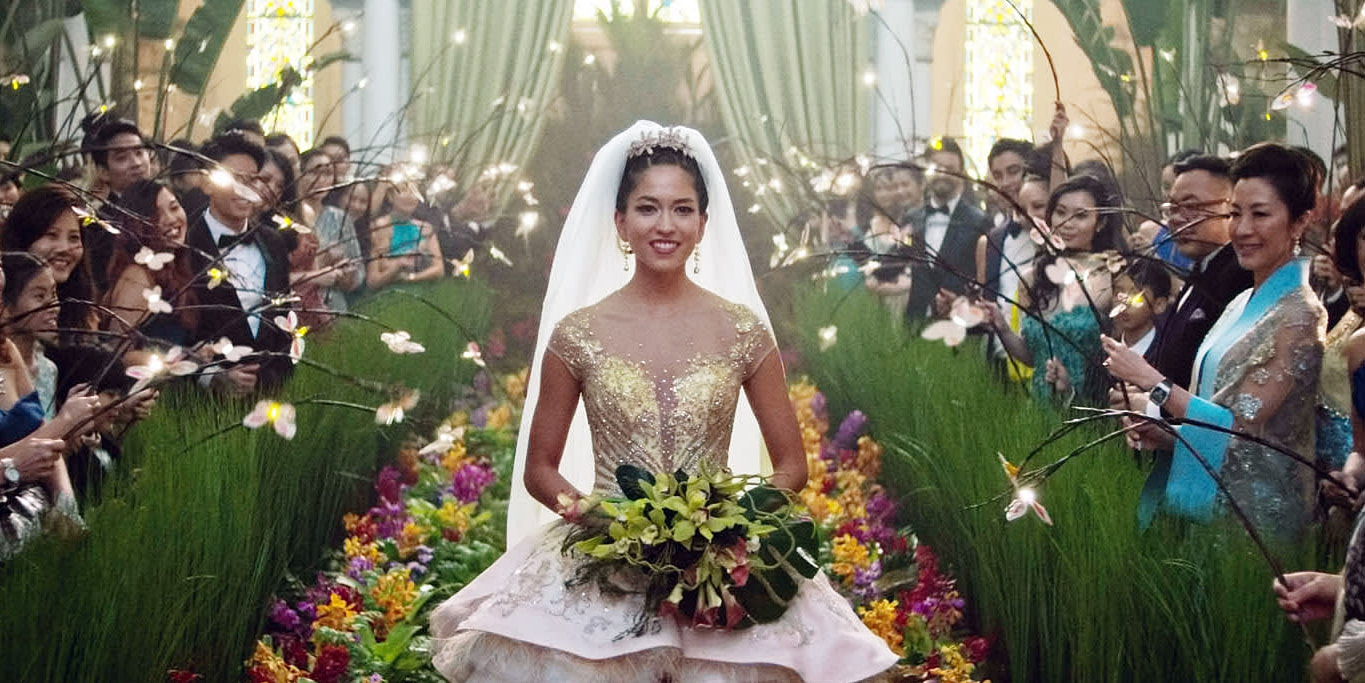 By Nelson Coates
The success of production designer Nelson Coates work in "Crazy Rich Asians" is not only in the end result– of the film's extravagant tropical luxury– but in how he pulls off creating an atmosphere of extreme wealth with a production budget that is only a sliver of the Young's fictional fortune. There's the lavish party at the Young's estate, the island Bachelorette party, Peik Lin Goh's (Awkwafina) nouveau riche family mansion overdosed on gold, but what is perhaps the most memorable set piece is the final wedding ceremony. Following the book from which the film is adapted and its many specifications, this climactic scene is the equivalent of a royal wedding, and the procession includes the bride making her way down a firefly-lit water aisle lined with lush flowers. Coates has a CDG nomination for his work here, but that's a far crawl from being a top contender or even a secure nominee. The saving grace here is that Crazy Rich Asians is a beloved film that AMPAS should want to recognize in some regard– production design could be its way in.
There are plenty of others I could highlight and no one truly knows what the outcome of tomorrow's Oscar nominations will be. Take a look here at our final predictions for both Best Costume Design & Best Production Design. Let us know your predictions and thoughts in both of these categories in the comments section below or on our Twitter account.
You can follow Beatrice and hear more of her thoughts on the Oscars and Film on Twitter at @beansproutbea