By Robert Dougherty
​
It took a few weeks later than usual, but the critic awards part of Oscar season is ready to launch in full force, starting with the Boston Society Of Film Critics awards this weekend on December 13th. When the rest of the critic organizations slowly weigh in over the next 2-3 months, we will have a slightly better idea of the pecking order in the major races and whom to defend when and if the industry awards circuit ignores it anyway. Nonetheless, when it comes to the Best Picture race, it seems easier than usual to make an educated guess on where the majority of critics will land.
"Nomadland" already made history with wins at Venice and Toronto, so winning the most critical prizes would appear a natural stepping stone. Regardless of whether that makes it more or less likely to fall short with the Academy, the signs are more apparent that the lion's share of critics will eventually make it their top champion, even if Oscar voters might be more stubborn.
Academy voters are increasingly unlikely to listen to critics' choices these days, which is how we've gotten winners like "Green Book," gotten snubs for the likes of Lupita Nyong'o, Ethan Hawke and Toni Collette, and how "Hillbilly Elegy" is still alive in the Oscar conversation even with a 26 percent Tomatometer score and a Metacritic score of 39. But while Rotten Tomatoes and Metacritic scores can be thrown out at that stage of the season, they are somewhat harder to ignore at the critic award stage, which would point to a dominant showing ahead for "Nomadland."
Through 172 reviews as of December 7th, "Nomadland" has a Tomatometer score of 97 percent, on par with "One Night in Miami…," clearly ahead of perceived front runners "The Trial of the Chicago 7" and "Mank," and just behind near-perfect films with fewer reviews like "Ma Rainey's Black Bottom," "Minari," "Soul" and "The Father." Yet for all the attention over the Tomatometer, the average rating is the most essential Rotten Tomatoes statistic, which is where "Nomadland" has considerably more distance from the pack.
With an average rating of 9 out of 10 as of December 7th, "Nomadland" is well ahead of "One Night in Miami…" and "Soul's" 8.4, "Ma Rainey's Black Bottom" and "Sound of Metal's" 8.2 and "Mank" and "The Trial of the Chicago 7's" even lower 7.8. The only contenders reasonably close to those numbers are "Minari's" 8.6 and "The Father's" 8.5, yet they have significantly fewer reviews in right now. Metacritic reflects an even more overwhelming gap, as "Nomadland's" 98 score as of December 7th dwarfs "One Night in Miami…" and "Sound of Metal's" 81, "Mank's" 79 and "The Trial of the Chicago 7's" 77. The only contenders that are closer are "Soul" with 89, "Ma Rainey's Black Bottom" with 87 and "Minari" and "The Father" with 86, and they all have many more reviews yet to come that may bring their scores down.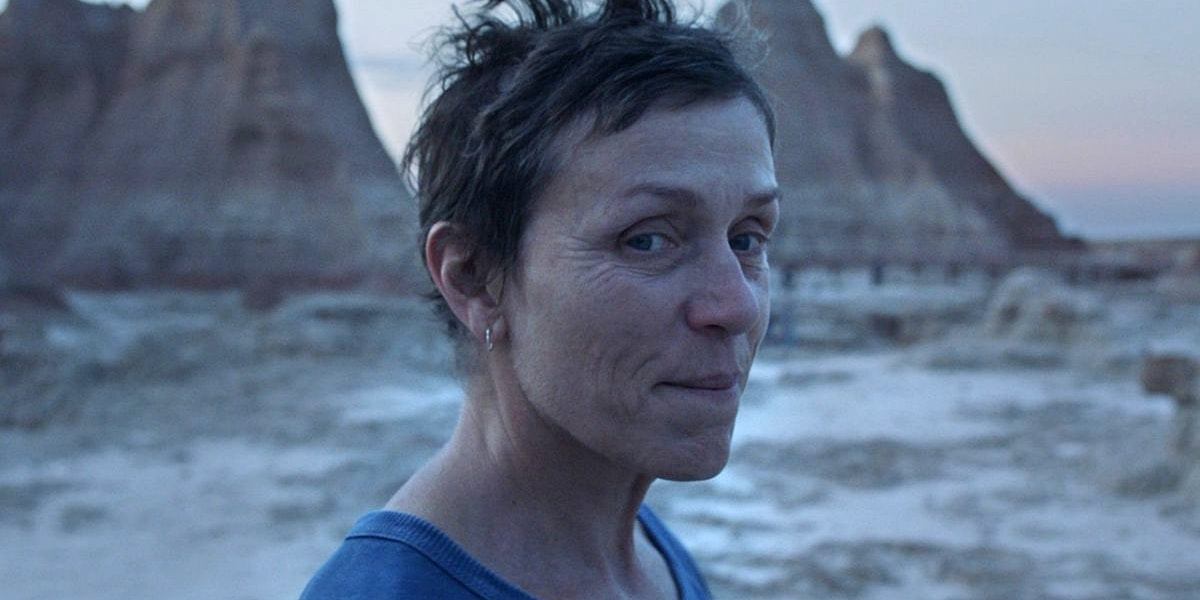 No one is within real striking distance of "Nomadland's" critical numbers at this stage of the season. There are almost no potential contenders left to premiere before the bulk of critic awards start coming in. There might be an asterisk later if "Judas and the Black Messiah" and/or "The United States vs. Billie Holliday" have those kinds of raves one or two months from now. However, it is clear there's still a way to go before those mysteries are solved. As it stands, at least among the award season films that screened and broke their embargoes, none of them turned out to come close to "Nomadland's" raves.
The Academy's choices and the critic's choices are increasingly far apart these days, yet it has been a far different story regarding critic awards and review scores. "Parasite" was considered an upset winner on Oscar night, but its 9.4 RT average rating and 96 on Metacritic put it well ahead of the field in those scores and in critic awards season. "Roma" was even more dominant in 2018, which was obvious early on since no challenger came close to its 9.0 RT rating and 96 on Metacritic, although the Academy blocked all this out in that infamous case.
2017 was more fractured with a slew of films in the high 8's and high 80s/lower 90s, though "Get Out" squeaked through with the most critics prizes despite slightly lower average ratings and Metacritic scores. It was far more of a two-film race in 2016. Still, the higher-scoring "Moonlight" eventually outlasted "La La Land" with the most critics, just as it ultimately did in a far less orderly fashion with Oscar voters. "Spotlight" also had the best scores, the most critic awards and the bigger Oscar win in 2015, unlike "Boyhood," which only got the first two in 2014.
While "Boyhood" still has a perfect 100 score on Metacritic and a 9.2 average RT rating, "Birdman's" 88 Metacritic score and 8.5 average rating was deemed good enough for the Academy. This may be the biggest cautionary tale for "Nomadland," as none of its challengers are close to its 98 Metacritic score and 9.0 RT rating, yet the far lower scored "The Trial of the Chicago 7" and "Mank" may well remain the most likely Oscar favorites. But these numbers paint a far more promising picture for critic award season and signal that like "Parasite," "Roma," "Moonlight," "Spotlight," "Boyhood," "12 Years a Slave," "The Artist" and "The Social Network" before it, the critics are favored to mainly stand behind "Nomadland" as their 2020 champion, whether or not the Academy takes that under consideration.
The critics' choices may be panning out less in Best Picture lately, but they are more stable in other races. Their majority was right when it came to Bong Joon-Ho, Alfonso Cuaron, Guillermo del Toro and Damien Chazelle as the last four Best Directors, which could bode well for "Nomadland's" Chloe Zhao if she outperforms the seemingly overdue David Fincher. Then again, when Fincher was their overwhelming choice for "The Social Network" 10 years ago, Tom Hooper still beat him on Oscar night after going completely winless with the critics.
​Acting races reflect an even greater recent divide between critics and the industry, as Joaquin Phoenix, Rami Malek, Renee Zellweger, Eddie Redmayne, Sam Rockwell, Alison Janney and "Green Book's" Mahershala Ali didn't need critical backing for Oscar gold. Frances McDormand ended up virtually tied with Sally Hawkins in critic awards before a more convincing Oscar night win for "Three Billboards Out Side Ebbing, Missouri," which doesn't necessarily mean that a more convincing critical majority for "Nomadland" will yield an even easier third Oscar. The 2020 actress race may end up as fractured among critics as 2017 was, yet as Collette and Nyong'o showed in 2018 and 2019, winning a lot of critic prizes doesn't even guarantee a nomination these days.
McDormand is still almost certainly in regardless, as is "Nomadland" in Best Picture and probably Zhao in Director. If they all ride in with the most wins among critics, it will put quite a target on all their backs, which might not be ideal for a few reasons. Of course, a year like 2020 is not one where the usual rules and trends might apply, as "Nomadland" already proved by being the first film to win the top Venice and Toronto awards in the same year. Even so, the Academy is not always a group that finds it easy to think differently, although "Parasite's" victory and moving the 2020 ceremony to April 2021 shows there are recent exceptions.
It may be quite easy to believe the critics and the industry will not be in sync these next few months in a more extended and more chaotic awards season than usual. If something like "Judas and the Black Messiah" or "The United States vs. Billie Holliday" storms in late to win, even after premiering too late for most of the critic awards, such a divide will be more understandable than usual. But if they aren't that much of a factor, then an outcome like the ones in 2018, 2014 and 2010 will undergo the typical brand of controversy, which would at least be something familiar in such an unfamiliar season.
The critics' award season did technically begin with the brand new Sunset Film Critics Circle Group on December 1st, whose big winners weren't "Nomadland" but "Promising Young Woman" and "Sound of Metal." They could well be big winners when the more established groups make their choices, but those movies and their leads mainly need critics as springboards just to get Oscar-nominated, whereas "Nomadland" has loftier goals in sight.
That doesn't mean it will win the first few contests in Boston and other cities, so these critic award dominance expectations may look premature at first. Yet when one film has such a clear advantage of critical acclaim over the competition as "Nomadland" turned out to have, the critic awards part of the season tends to reflect that advantage – even in years where the industry and Academy tend not to pay attention later.
Have you seen "Nomadland" yet? If so, what did you think? Do you believe it will dominate the critics awards this awards season or will something else challenge it? Let us know your thoughts in the comments section below or on our Twitter account.
You can follow Robert and hear more of his thoughts on the Oscars and Film on Twitter at @robertdoc1984