By Nicole Ackman ​
Here at Next Best Picture, we also cover Theatre from time to time on the Next Best Theatre Podcast. With this post, I want to merge both film and theatre into one and give those who love both something exciting to read.
​There's something very special about being able to see a film or television actor that you admire give a great performance live on stage in front of you. Of course, there are many talented theatre actors but there are some actors who have made a great career of performing both onscreen and onstage. We have rounded up a list of where you can see your favorite film and television actors on stage in New York City from now through the spring.

​Lucas Hedges in "The Waverly​ Gallery"
In the current revival of "The Waverly​ Gallery" at the Golden Theatre, Lucas Hedges acts opposite Elaine May in a touching memory play that explores how a family deals with a grandparent getting Alzheimer's disease. "The Waverly​ Gallery" closes on January 27.
Kerry Washington in "American Son"
Kerry Washington stars alongside Steven Pasquale, Jeremy Jordan, and Eugene Lee in a new play by Christopher Demos-Brown, directed by Tony Award winner Kenny Leon. The show is about a biracial couple at a Florida police station late at night trying to find out what has happened to their teenage son who has gone missing. "American Son" also closes January 27 at the Booth Theatre.
Paddy Considine & Brian D'Arcy James in "The Ferryman"
After playing the role in London, Paddy Considine is playing Quinn Carney in Jez Butterworth's "The Ferryman" on Broadway. The show is about a family of a former IRA activist in early 1980's North Ireland dealing with loss and politics. On February 19, Brian D'Arcy James will replace Considine in the role. Considine was seen in this year's "The Death of Stalin" while James was in "First Man." "The Ferryman" is now booking through July 7 at the Bernard B. Jacobs Theatre.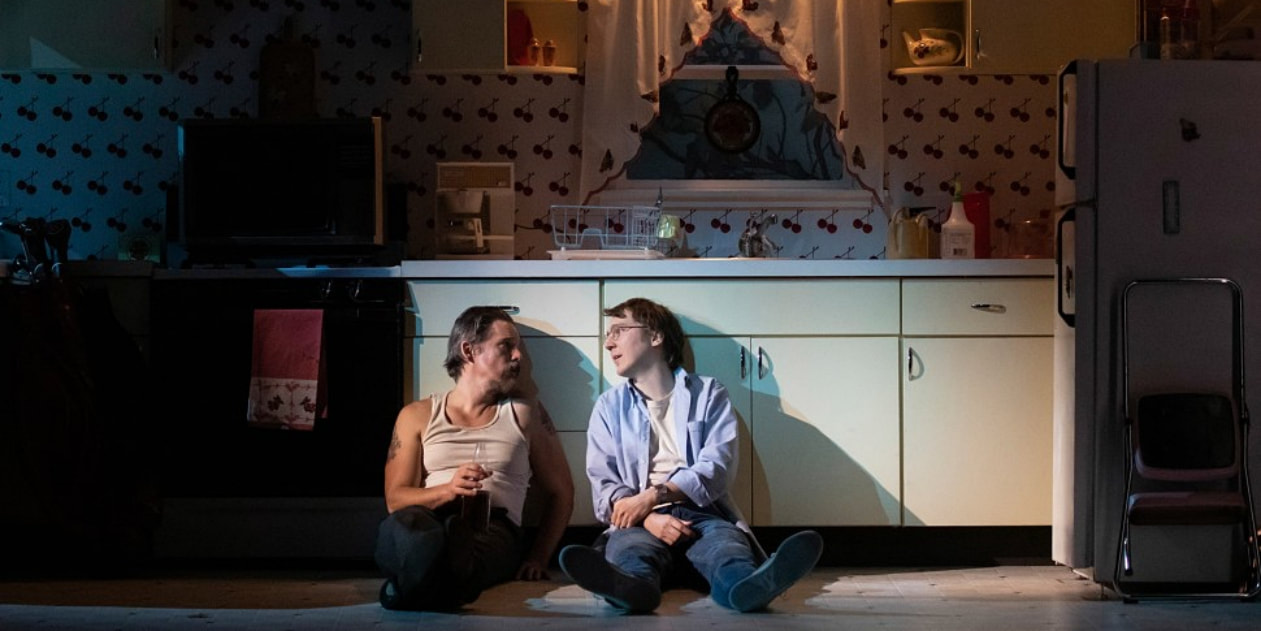 Ethan Hawke & Paul Dano in "True West"
Ethan Hawke, seen in "First Reformed" last year, and Paul Dano, who directed and wrote "Wildlife," star in a revival of Sam Shepard's play, "True West." The Pulitzer Prize-nominated play depicts two very different brothers who are at odds with each other. You have until March 17 to catch this show at the American Airlines Theatre.
Cuba Gooding Jr in "Chicago"
After playing the role last fall on Broadway and earlier last year in London, Cuba Gooding Jr. has returned to the long-running musical "Chicago" as Billy Flynn. A prolific actor well-known for "Jerry Maguire" and "Pearl Harbor," Gooding Jr. was recently seen in "The People v. O. J. Simpson: American Crime Story." He will be giving them the ol' razzle-dazzle at the Ambassador Theatre until February 10.
Bryan Cranston in "Network"
After winning the Olivier Award for Best Actor for his run in "Network" at the National Theatre in London, Bryan Cranston is starring in its Broadway transfer at the Belasco Theatre. The Tony, Olivier, Emmy, and Golden Globe winner plays Howard Beale in Lee Hall's adaptation of the Oscar-winning film. The show is currently set to run until April 28.
Jeff Daniels in "To Kill a Mockingbird"
Jeff Daniels is bringing the role of Atticus Finch to the stage in Aaron Sorkin's adaptation of the classic American novel currently on at the Shubert Theatre. After a messy lawsuit that seemed it might doom it before it ever opened, the show earned great reviews. Tickets are currently on sale through November 3.
Keri Russell & Adam Driver in "Burn This"
Adam Driver and Keri Russell can be seen on Broadway in the first revival of Lanford Wilson's play. Wilson's intense story about love and attraction is sure to be a great piece for Driver and Russell who both are amongst the cast of "Star Wars: Episode IX" which will be released later this year. "Burn This" starts previews on March 15 before opening on April 16 and plays until July 7 at the Hudson Theatre.
Daveed Diggs in "White Noise"
Daveed Diggs, the writer, and star of "Blindspotting," returns to the New York stage later this spring in in the world premiere of Pulitzer Prize-winning playwright Suzan-Lori Parks's newest piece. Diggs shot to stardom after playing Lafayette and Thomas Jefferson in the original cast of "Hamilton" on Broadway. The piece depicts three cosmopolitan friends and how they react to a racially motivated incident with the police. It will be directed by the Public's Artistic Director Oskar Eustis and will play March 5 to April 14.
Glenda Jackson in "King Lear"
Glenda Jackson will take on one of the greatest roles in the Shakespearean canon, King Lear, in a special 19-week-only engagement. Jackson is a Tony and Oscar winner and will be joined in the cast by Golden Globe winner Ruth Wilson and "Game of Thrones" cast member Pedro Pascal. Performances start on February 28 at the Cort Theatre.
Nathan Lane & Andrea Martin in "Gary: A Sequel to Titus Andronicus"
Theatre legend Nathan Lane and Andrea Martin are set to star in the world premiere of a new comedy called "Gary: A Sequel to Titus Andronicus" that picks up after the conclusion of one of Shakespeare's goriest tragedies. Lane and Martin play two servants who must clean up the bodies in the wake of the battles. It runs from March 5 to August 4 at the Booth Theatre.
Annette Bening & Tracy Letts in "All My Sons"
Arthur Miller's revered play, "All My Sons," is getting a revival by Roundabout Theatre Company later this spring with Tony and Oscar nominee Annette Bening and Tony and Pulitzer Prize winner Tracy Letts. This American classic is set in the aftermath of World War II where the Keller family struggles to deal with secrets they'd rather stay hidden. It runs from April 4 to June 23 at the American Airlines Theatre.
Laurie Metcalf & John Lithgow in "Hillary and Clinton"
Tony and Emmy winners Laurie Metcalf and John Lithgow take on the roles of Hillary and Bill Clinton in this new play by Lucas Hnath, directed by Joe Mantello. The play, set in early 2008, explores marriage, gender roles, and politics and couldn't be more timely. It begins previews on March 16 and officially opens on April 18 at the John Golden Theatre.
Do any of these excite you? Have you seen any of these shows yet? Let us know in the comments section below or on our Twitter account.
You can follow Nicole and hear more of her thoughts on Film and the Oscars on Twitter at @nicoleackman16