By Matt Neglia
I mentioned in my reaction to Steve McQueen's "Lovers Rock" that if the same level of quality and empathy were shown in the other installments of his "Small Axe" Anthology that we would be heading for a revolutionary work of art that very well could stand as the already herald filmmaker's masterwork. Well, I am happy to report that the streak continues at this year's New York Film Festival with the premiere of "Mangrove." Clocking in at 126 minutes, this feature-length film (compared to "Lovers Rock's" 68-minute runtime) is a vital offering from McQueen that will inevitably suffer comparisons to a very similar type of movie being released this awards season, "The Trial Of The Chicago 7." However, in terms of narrative coherence, staying power, and its far more urgent call for Black justice, I would argue that this "trial" is the better of the two and one wholly worth checking out when it lands on Amazon Prime on November 20th.
Taking place in Notting Hill, London 1968, the true-story follows Frank Crichlow (Shaun Parkes), a Trinidad-born owner of the café, Mangrove. It is a fully Black-owned business that he is trying to run as cleanly as possible. The neighborhood spot is a welcome one for all members within the community including locals, activists, intellectuals and artists, but the police see it differently. Disgusted with the idea that a Black man can find success in their country, they hold numerous raids on the establishment and continue to harass Frank and his customers, despite there being no evidence of any illegal activity. Frank and other members of the community decide enough is enough and they take to the streets to protest the obvious racism that has been exhibited by members of the police force. The protest leads to Frank, Altheia Jones-LeCointe ("Black Panther's" Letitia Wright), a leader of the British Black Panther Movement, activist Darcus Howe (Malachi Kirby) and six others all being arrested and placed on trial for attempting to start a riot. They would be regarded as the "Mangrove 9." What follows is a trial that would mark a significant moment in British race relations history that has mostly been forgotten about – until now.
​Emotionally charged, backed by sensational performances and shot beautifully on 35mm by cinematographer Shabier Kirchner, "Mangrove" is easily one of the best films I have seen this year. If "Lovers Rock" was the appetizer, "Mangrove" is the first full course meal (I say first because we already know there will be others to come). My suspicions about what McQueen was trying to capture with this anthology have really come to the forefront here. He's attempting to use the past to tell us about our current times, but on a very large canvas. In order to convey such a massive canvas to us, he has shown that he's not only willing to tell the story at hand (and believe me, the trial is absolutely riveting) but that he's patient and willing enough to capture the finer details of what makes up the community and setting with which these stories are taking place in. The result is a deeply human story and a rousing experience that strikes a chord with you.​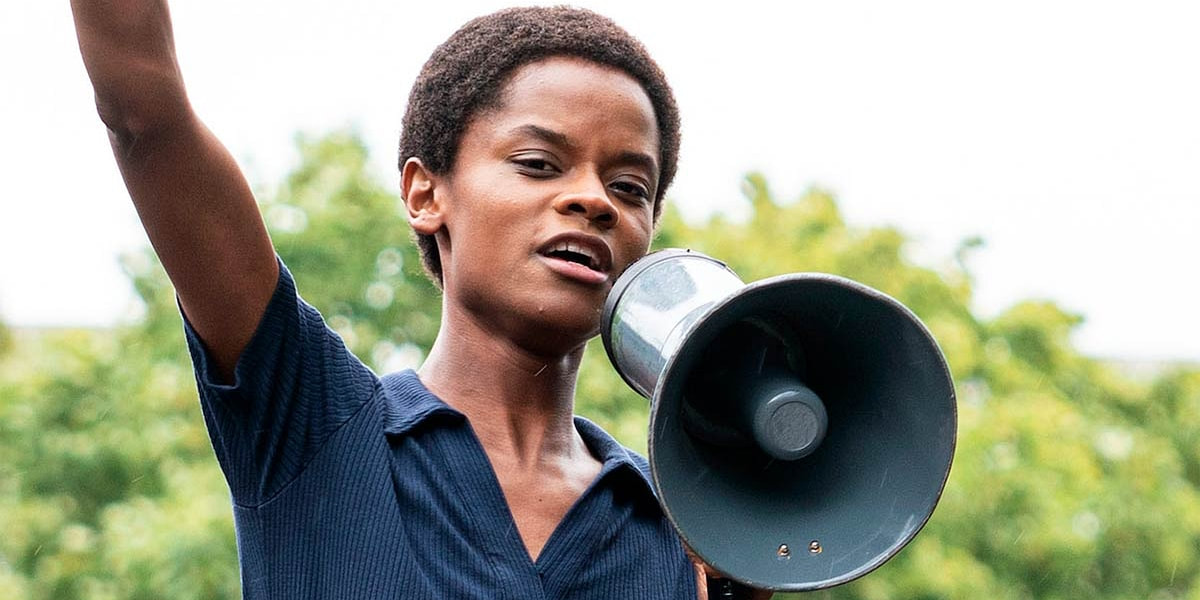 As I mentioned before, the performances in "Mangrove" are absolutely phenomenal. Steve McQueen started having conversations with Letitia Wright before she made "Black Panther" and his knack for discovering new talent (Michael Fassbender & Lupita Nyong'o) continues here. Shaun Parkes is an English actor some might recognize from television, but if there's any justice in this world at all, he and other members of this cast will be seen in a lot more high-profile productions. As a desperate man trying to hold onto his business, while unbeknownst to him, also becoming a leader to the people in his community, Parkes absolutely excels in every scene he is in. His face conveys so much, even in his quieter scenes, like when the camera pushes in on his face towards the end of the trial. He anchors the entire film on his back with strength and magnetic power.
Letitia, already a hot newcomer after her breakout role in Marvel's "Black Panther," continues to stun in an explosive role as a young student and political party leader. She shows us more of what she's capable of, especially in one showstopping monologue where she tries to convince Frank from accepting a plea deal during the trial as she forcefully proclaims "they've been trying to divide us for 400 years."
And then there's Malachi Kirby, who I had never seen before prior to this. He completely blew me away with his charismatic performance and stole the show for me. Electing to represent himself at the trial ("What better way of representing ourselves than self-representing ourselves?"), Darcus Howe takes the stand and in one of many memorable scenes, cross-examines the police officers in a showcase of guilt and shame. He exposes the holes in their arguments which is fueled by hate and prejudice, to great effect. And if that weren't enough, he also delivers a compelling monologue at the end of closing arguments which will be known as the "It's closing time" speech. While there are other tremendous performances being delivered all around, these are the three which stood out the most for me and I'm sure they will for others as well.​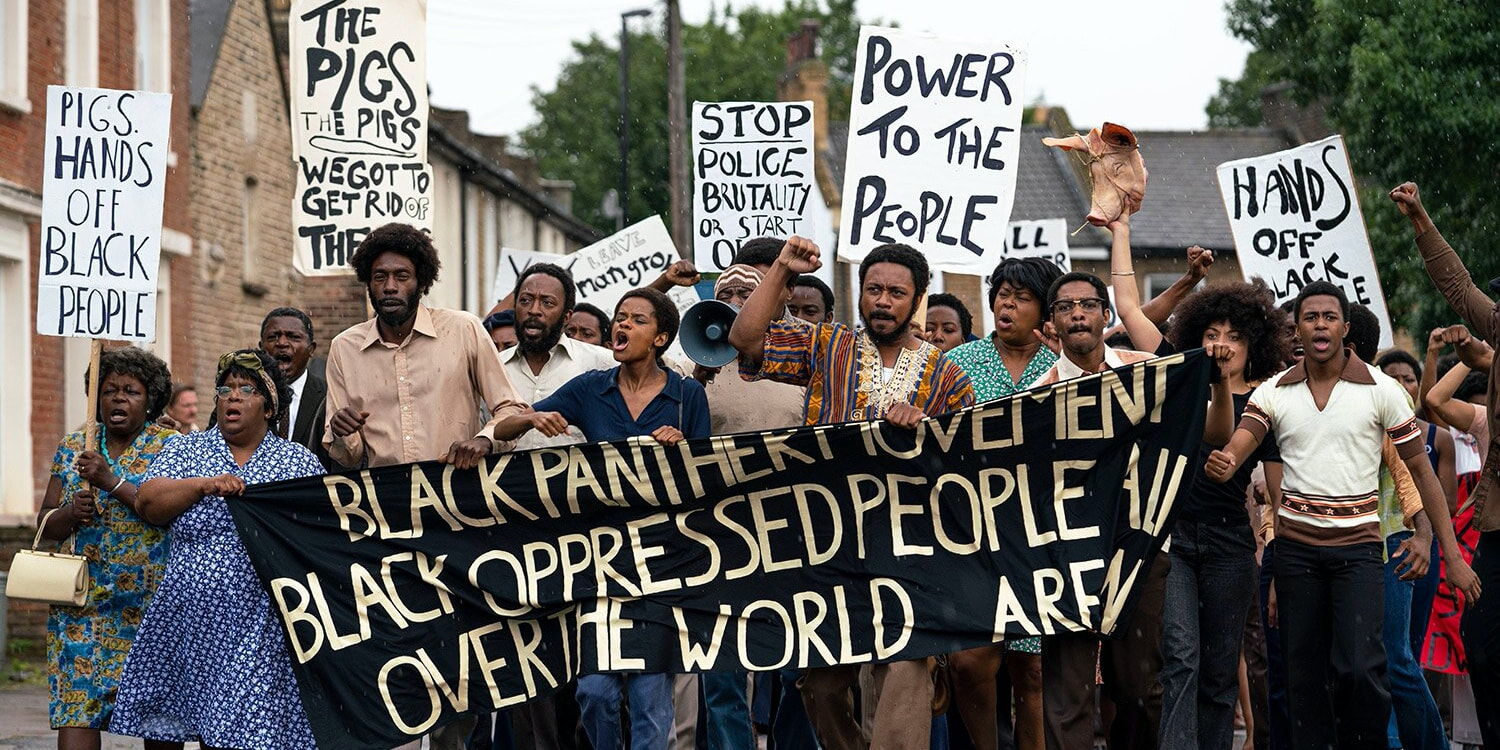 ​Advocating for justice in a world where after the cops who killed Breonna Taylor were not convicted to the full extent that matched the crime which they committed, may feel tiring and disheartening. But hopefully "Mangrove" can rejuvenate our desire for justice, equality and give us hope that love always triumphs over evil. Its themes and effectiveness with which it conveys them should properly land it in the Oscar conversation (if submitted), despite similarities to Aaron Sorkin's recently reviewed "The Trial Of The Chicago 7." Yes, both films take place during the same time period. One in America, one in Britain. Both deal with protests, police harassment and lead to a trial that gained in notoriety for the world to hear about. However, "Mangrove's" perspective on racism and how it tells the story of its Black characters cannot go unnoticed when making such comparisons, even though I'm a big fan of the Bobby Seal scenes in "The Trial Of The Chicago 7."
Because Sorkin's film was seen first and has the wealthy streaming giant Netflix behind it, its place in the Oscar race feels more secure. Seems unfair, doesn't it? Feels like another injustice is being placed on Black creatives and storytellers, during a time when people are taking to the streets and demanding that very thing. Why can't the race have both films involved? Why should the similarities between both of these films be used as an excuse for why one should contend and the other not? These are questions I want you all to ask yourselves when you see "Mangrove." Its emotionally stirring moments are equal to, if not greater, than anything offered in Sorkin's film and they're delivered with more humanity and urgency, rather than laced with witty dialogue designed to entertain and inform.

There's a brilliant shot in "Mangrove" (one of many by cinematographer Shabier Kirchner) of Judge Edward Clark (a ruthless Alex Jennings) looking out of his window from his chambers before the trial begins. There are protestors shouting outside in the streets in support of the "Mangrove 9" that justice be served and their false charges are dropped. They're circling around, reflected in the window around Clark's head, spinning round and round. He's confused and so is our system today. So too are the justice systems all throughout the world for Black Lives, which is why we continuously need to keep taking to the streets and remind those in power again and again, that "Black Lives Matter." McQueen has said that "when the Cannes Film Festival selected Mangrove and Lovers Rock earlier this year, I dedicated both to George Floyd and all the other Black people that have been murdered, seen or unseen, because of who they are in the US, UK and elsewhere. As the proverb goes, 'If you are the big tree, we are the small axe.' Black Lives Matter." Only two out of the five films have been shown so far for the "Small Axe" anthology and already I'm thanking and praising Steve McQueen for his artistry and sympathy. I can't even begin to comprehend what else he has in store for us with the remaining three films in this masterpiece of Black storytelling.
Tickets for "Lovers Rock," "Mangrove" and "Red, White and Blue" can be purchased for the New York Film Festival here. The final remaining film in the Small Axe Anthology to play at NYFF58 will be "Red, White and Blue" on October 3rd.
You can follow Matt and hear more of his thoughts on the Oscars and Film on Twitter @NextBestPicture