By Daniel Howat
Director Bong Joon-ho famously commented that the Academy Awards are "very local" instead of genuinely representing international cinema. He's right, of course. While Bong Joon-ho's "Parasite" went on to win four Oscars, including Best Picture becoming the first and only foreign-language film to have won the Academy's top prize, there is still much progress needed. International cinema has received more Academy Award recognition with each passing year due to people's ability to seek them out via. streaming or on demand, thus increasing their visibility and buzz when it comes time for awards season. The Academy itself has become more inclusive, and films not primarily in English are increasingly seen as across-the-board contenders.
Yet, as international films have seen increased Oscar success, the category specifically designed to recognize these films has hardly changed. Best International Feature Film received a change in name in 2019, putting "Best Foreign Language Film" to rest. Other than that, the category functions much the same way it has since its inception in 1956. As the Academy Awards become slightly less local, many of the outdated rules of this category are hard to justify. It's a tricky category that requires special consideration, but an overhaul is long overdue. Let's dive into Best International Feature Film and see how it could change for the better.
THE SPIRIT OF BEST INTERNATIONAL FEATURE FILM
Before exploring how the category can improve, it's essential to define the "spirit" of Best International Feature Film. What is this category intended to celebrate or represent?
Much debate has waged over the name of this category, with the Academy wisely moving away from "Best Foreign Language Film" in 2019. Removing the negative connotations of the word "foreign" that could somehow imply these films and filmmakers were outsiders or "other" was a helpful step. Yet, Best International Feature Film poses problems as well. As we'll discuss, English-language films from England aren't eligible, for example, despite being "international" to America. To combat this, the BAFTAs name their version of the category "Best Film Not In The English Language." That name feels a bit more accurate, though it doesn't entirely encapsulate the award's purpose.
The spirit of Best International Feature is to celebrate films from across the globe, not from the English-speaking countries that have an easier time finding an audience with Americans at large. This category shines a light on places and cultures worldwide that don't typically get attention from American awards shows. Language is a significant factor, as Americans often shy away from non-English language content, but it's also about cultures that may be underrepresented, English-speaking or not. Thanks to the Best International Feature Film Oscar highlighting these films, American audiences may have an easier time finding compelling art from unique cultures they might otherwise never encounter.
The Academy must make numerous to the category for this infectious spirit to remain intact and properly honor films from around the world.
AWARD THE FILMMAKERS
No individual has ever been nominated for or won the Academy Award for Best International Feature Film. It sounds ridiculous, but it's the absolute truth. The most egregious and inexplicable caveat of the Best International Feature Film Oscar: the award is presented to the country that submitted the film, not any individual filmmaker. That means that none of the filmmakers who have directed winners of Best Foreign Language Film or Best International Feature Film since its inception 65 years ago are technically considered "Academy Award winners."
Just as Best Picture initially went to the film's studio until 1951, Best International Feature Film is presented to the winning country that submitted the movie. This relic of the early 20th century makes increasingly less sense as the years roll on and the embrace from American audiences for international cinema grows larger. While, more often than not, the director of the winning film does get to keep the Oscar statuette, which isn't insignificant, the fact remains that they are not technically considered Oscar winners in the Academy's records — they only began adding the director's name to the statuette in 2014. Indeed, giants of this category like Federico Fellini, Ingmar Bergman, Akira Kurosawa, and Vittorio De Sica never won a single competitive Oscar, despite many of their films winning Best Foreign Language Film. Some other recent examples like Michael Haneke (2012's "Amour") and Thomas Vinterbeg (2020's "Another Round") received nominations outside of Best International Feature Film like Best Director but they still remain Oscar-less despite their films winning Best International Feature Film. It's lovely to see Ryusuke Hamaguchi accept the award on stage during the telecast and deliver a speech for "Drive My Car," but as far as the record books are concerned, he and many others are not considered an Oscar winner; the country which the film represents is.
This first change to Best International Feature Film is the most obvious and the easiest to make: award the filmmakers, not the country. They are the creative force behind the film. Their work, vision, dedication, and talent have led them to this point. Look to the example set by Best Documentary and Best Animated Feature. Rather than awarding Disney for winning Best Animated Feature, the credited director is nominated, along with other "key creative individual(s)" with "a director or producer credit."
With the director of the winning film accepting the Oscar on the telecast and their name engraved on the statuette, isn't that good enough? As far as the general public is concerned, the directors might as well be Oscar winners. That's certainly nice. But that's why this change is so obvious and so simple. The general public, and maybe even much of the Academy, may see these directors as the winners already. It's time that the official record books line up with that perception and turn it into a reality.
Many of the other necessary changes to Best International Feature Film aren't as easy to implement. If no further changes are made to the category, this at least is the most vital.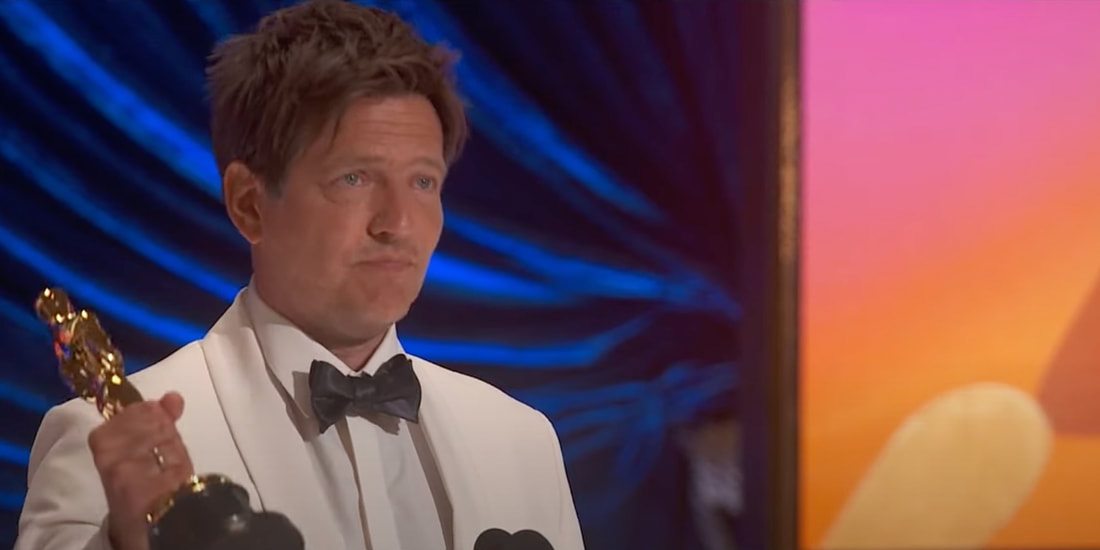 LANGUAGE ELIGIBILITY
As it stands now, there are essentially two factors that deem a film eligible for Best International Feature Film. First, the film must be produced entirely outside the United States of America. Second, the film's spoken dialogue must be predominantly (more than 50%) non-English language. The primary language spoken does not need to be the official language of the submitting country, which allows a film like "Water," primarily in Hindi, to be submitted and nominated from Canada.
The language requirement poses a challenge, however. In 2019, the Academy disqualified Nigeria's first-ever submitted film, "Lionheart," because the movie was primarily in English, despite English being one of the official languages of Nigeria. This decision aligned with the category's current rules and caused some understandable outrage. Director Ava DuVernay, a member of the Board of Governors of the Directors Branch, raised an important question: "Are you barring this country from ever competing for an Oscar in its official language?" A film like "Lionheart," though in English, clearly fits the spirit of the award, showcasing a culture that doesn't often get highlighted in America.
Though the category's name is now "Best International Feature Film," we know that that's not entirely accurate. Films like "No Time To Die" don't compete in the category for obvious reasons: yes, it's "international" to this American organization, but this category is not intended to award films such as this. It violates the spirit of the award. The language requirement rightfully prevents "No Time To Die," or other British films, from competing. On the other hand, films like "Letters From Iwo Jima" or "Apocalypto," while meeting the language requirement, also feel like they violate the spirit of the award, produced almost entirely by Hollywood filmmakers.
So how do we ensure that British or other English-language films don't dominate this category in violation of the spirit of the award while still allowing for English-language films like "Lionheart" a shot at a nomination? There must be room for a case-by-case analysis of submitted films. If a movie doesn't fulfill the language requirement, but the submitting country believes it's a valid representation of their country's film community, it's fair for them to be heard. Revamping the Best International Feature Film Preliminary Committee could hold the key to many solutions in this category, including circumventing corruption.
AVOIDING CORRUPT COMMITTEES
Every country is currently welcome to form a nominating jury or committee that the Academy must then approve. Once the country's jury is approved, they may submit one film as their official selection. This official selection must meet the eligibility criteria. After receiving these official selections, the Academy's International Feature Film Preliminary Committee views all submissions and votes to narrow the list down to fifteen films. One more round of voting by the Best International Feature Film Nominating Committee narrows this down to the final five nominated films.
The first problem with this model: these juries have far too much control over what film gets to represent their country. It's no wonder that the Academy continues to award the country rather than the filmmakers; it's buy-in to participate in these committees. If these are the nominations of the Academy, why must they outsource these selections to other organizations? There are numerous problems as a result, like unfair competition, strange divergences in taste, and even corruption.
While the nominating committees of most countries keep things above board, some governments, like China and Russia, may not. The Academy cannot blindly accept that these government-controlled (or government-approved) committees will be unbiased. Some of the best filmmakers across the globe are critical of their governments. This isn't problematic for countries like France and Norway but gives unnecessary power to oppressive regimes.
Iran has a history of jailing filmmakers they deem problematic. Director Mohammed Rasoulof, whose films have twice won Un Certain Regard at Cannes Film Festival, has been imprisoned numerous times, most recently in 2020, for making films that were "propaganda against the system." Would Iran ever select such movies to contend for Best International Feature Film? Likewise, Jafar Panahi was imprisoned in 2010 and banned from making films for 20 years. Thankfully he broke this ban, making the documentary "This Is Not A Film" in secret while under house arrest. Naturally, Iran did not select "This Is Not A Film" as their official submission for the Oscar that year. However, the film did make the shortlist for Best Documentary Feature, which does not have the same restrictions imposed on it as Best International Feature Film.
Iran is certainly not the only country facing these concerns. The Academy cannot trust these committees to evaluate art objectively. It's an absurd idea that, at best, leaves room for unfairness or, at worst, breeds outright corruption. But that's not the only problem with this nomination process…
CHOOSING THE BEST FILMS
Even without corruption within these committees, forcing countries only to submit a single film eliminates far too many films from consideration. Before the Academy ever gets to weigh in, some of the year's best movies have already been passed over.
In 2019, France had to choose between Céline Sciamma's "Portrait Of A Lady On Fire" and Ladj Ly's "Les Misérables," among many other fantastic French films. Their committee eventually decided on "Les Misérables," which landed a nomination for Best International Feature Film. While this excellent drama deserved recognition, "Portrait Of A Lady On Fire" received far more critical acclaim and captured the hearts of all those who saw it. Critical acclaim does not always translate to the Oscars, but why not let the Academy decide which film they prefer?
Some years have highlighted this discrepancy embarrassingly. In 2002, Spain selected "Mondays In The Sun" as their official submission rather than Pedro Almodovar's "Talk To Her." "Mondays in the Sun" failed to get a single Oscar nomination, yet the Academy fell in love with "Talk To Her." Almodovar was nominated for Best Director and even won Best Original Screenplay. Yet, the film was ineligible for Best Foreign Language Film, which it surely would've won given the film's performance on Oscar night.
The Academy should be the ones in control over the films they nominate. There's no sense in letting other groups pick their favorite movies when that's the reason the Academy Awards exist in the first place.
And yet, the committees do still serve a valuable purpose, so they shouldn't be eliminated entirely. With these rules in place, it levels the playing field between countries. Japan gets as many entries as Tunisia. France gets as many entries as Bosnia. Otherwise, it's feasible to imagine countries with greater filmmaking resources, like France and Japan, unfairly dominating the category with multiple nominations every year. This also creates space for smaller films to stand out. In 2021, Bhutan scored its first nomination for "Lunana: A Yak In The Classroom," the first-ever submission from the country. It's easy to imagine that a film like this might not have gotten enough eyes on it to snag the well-deserved nomination with a free-for-all nomination process.
So how do we keep the level playing field while avoiding corruption?
EXPANDING THE ACADEMY NOMINATING COMMITTEE
The happy medium could be found in an expanded role for the Best International Feature Film Preliminary Committee. Right now, the committee's role is the watch all of the films submitted by the countries and narrow them down to a 15-film shortlist. The committee has no actual involvement in receiving the submitted films as they play no part in compiling the longlist.
First of all, the committee should be able to vote on challenges regarding submissions. The eligibility criteria is essential, but the committee must be able to weigh in on exceptions to these rules. For instance, in 2019, perhaps the Preliminary Committee could have voted to accept Nigeria's submission of "Lionheart" despite not meeting the language criteria. If a country feels that its submitted film should be eligible, it can appeal to the Preliminary Committee for an official decision.
Furthermore, this committee should add their selections to the longlist to prevent films like "Talk To Her" from being eliminated before the Academy weighs in. As stated earlier, the country-specific committees, though flawed, do serve a purpose and shouldn't be eliminated outright. However, if the Preliminary Committee had control over adding films to this longlist, they could add films that deserve consideration. This longlist could also circumvent potential corruption. It is safe to venture that Iran's "This Is Not A Film" would've been added to the longlist in 2011, despite Iran selecting a more politically convenient film.
This longlist could be a set number of ten films not submitted by a country. Compared to the 90+ official submissions, even that small number could help solve some of the problems inherent in the existing rules. If we can't fully prevent corruption, then let's have the Preliminary Committee overrule it. If the language requirements are helpful, the Preliminary Committee can overrule it when a film deserves consideration regardless. Every submitting country is still on a level playing field, but exceptions to the rules can be made without the feeling of unfairness. Rather than entirely outsourcing the nominations in this category, it gives the Academy a say in the films they can choose.
The fifteen-film shortlist can still follow this upgraded longlist. The committee could add a caveat that only one film per country is allowed on the shortlist to ensure fairness across the board. This prevents the committee from adding ten films from France, thus filling up the category and locking any other countries out of consideration.
Best International Feature Film is an inherently tricky category to revamp. Even as films not in English routinely score Best Picture nominations, a trend that is likely to continue and expand in the years to come, Best International Feature Film still highlights incredible art that might otherwise not receive attention in Hollywood. No single solution will be perfect in fixing the issues this category faces and will continue to face as international cinema becomes more popular with American audiences. No new rules will be foolproof. Still, the Academy must take steps to fix the glaring problems within the category. Why? Well, simply because it's the right thing to do, especially in an industry that is priding itself on being more inclusive than ever before. Awarding the filmmakers and taking a more active role in compiling the longlist could go a long way towards achieving that.​
What do you think about these proposed changes for Best International Feature Film? Do you have any ideas of your own? Do you think the Academy should keep the process as it currently stands? Please let us know your thoughts in the comments section below or over on our Twitter account.
You can follow Daniel and hear more of his thoughts on the Oscars and Film on Twitter at @howatdk