By Matt Neglia
Just as I did yesterday with the acting categories at this year's Oscars, I am now going to do the same for the Screenplay races where I dive in deep, examine the stats and put my brain to good use in predicting which films are going to win these two categories. We now know the winners of the Critics Choice, the Golden Globe, USC Scripter, Writers Guild Of America and the BAFTA for Best Original and Adapted Screenplay. One of these categories is all locked up while the other could go either way.
​Click below to see my in-depth analysis on these two categories.
BEST ADAPTED SCREENPLAY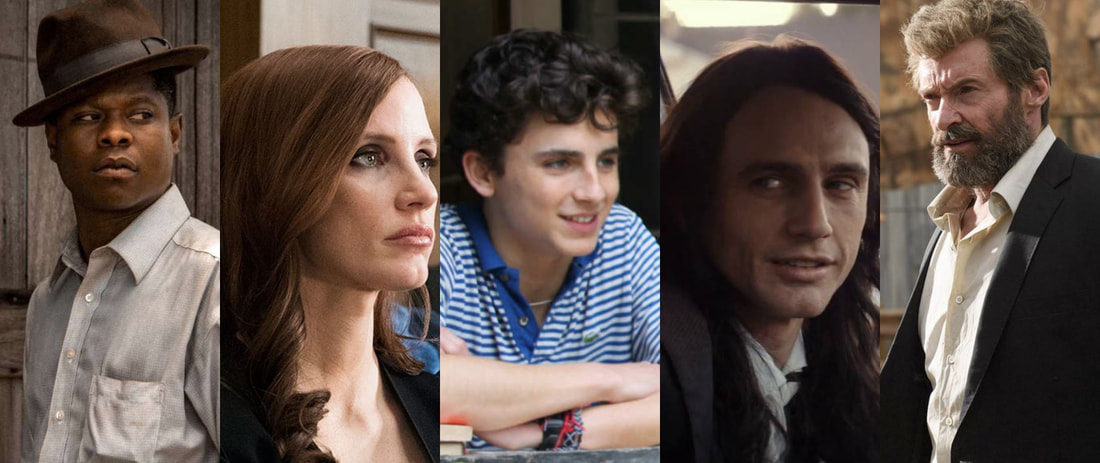 Here are the nominees for Best Adapted Screenplay…
"Call Me By Your Name"
"The Disaster Artist"
"Logan"
"Molly's Game"
"Mudbound"
And here are the stats for previous winners dating back to 1984 when the WGA started handing out their awards for Adapted and Original Screenplay only (They used to hand out drama/comedy awards before that).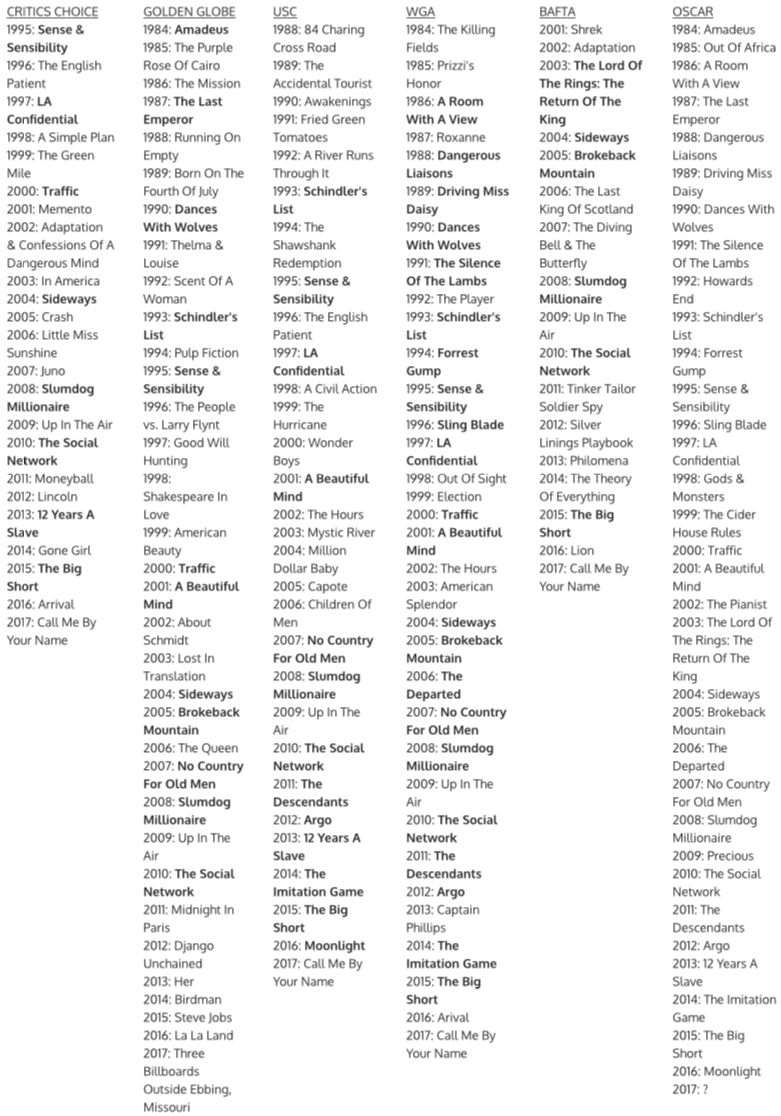 I've only included the above winners because you all have told me how much you enjoy seeing how everything does/does not line up in terms of the precursors because let's be honest…Ever since James Ivory received sole writing credit for his adaptation of "Call Me By Your Name" this Oscar has had the 89-year-old's name written on it. A legend within the industry, known for his collaboration with his late partner Ismail Merchant, he has given us timeless classics such as "Howard's End," "A Room With A View" and "The Remains Of The Day." With virtually no competition all season and having swept all of the awards necessary (Globe could always go either way between Original and Adapted), one thing the "Call Me By Your Name" fans can be rest assured of is seeing James Ivory take a long overdue walk to that podium. I'm sure we'll all be standing up and clapping as this legend receives his just due for not only his beautiful career but for an equally beautiful and deserving film.
​PREDICTED WINNER: "Call Me By Your Name"
RUNNER-UP: "Mudbound"
BEST ORIGINAL SCREENPLAY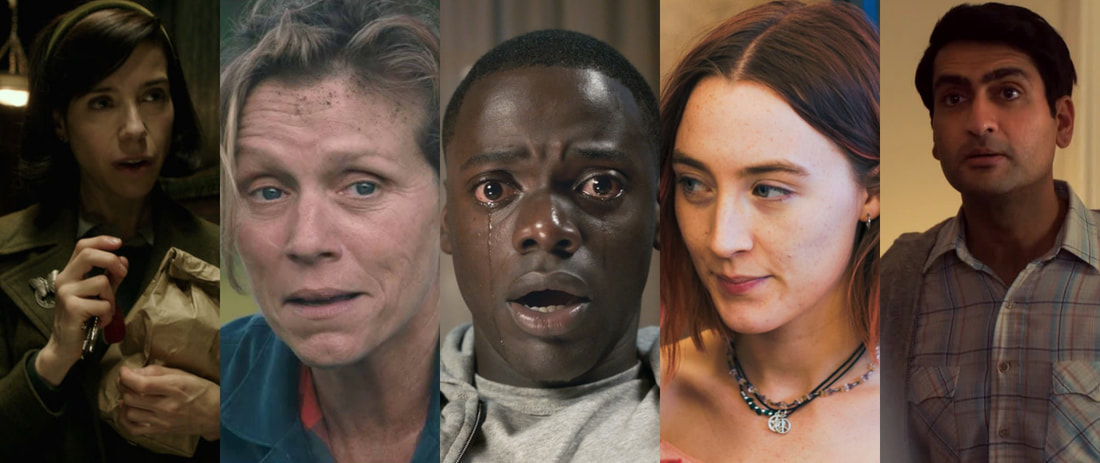 Here is where things get fun! Here are the nominees for Best Original Screenplay…
"The Big Sick"
"Get Out"
"Lady Bird"
"The Shape Of Water"
"Three Billboards Outside Ebbing, Missouri"
​And here are the stats for Original Screenplay because trust me…they're important this year.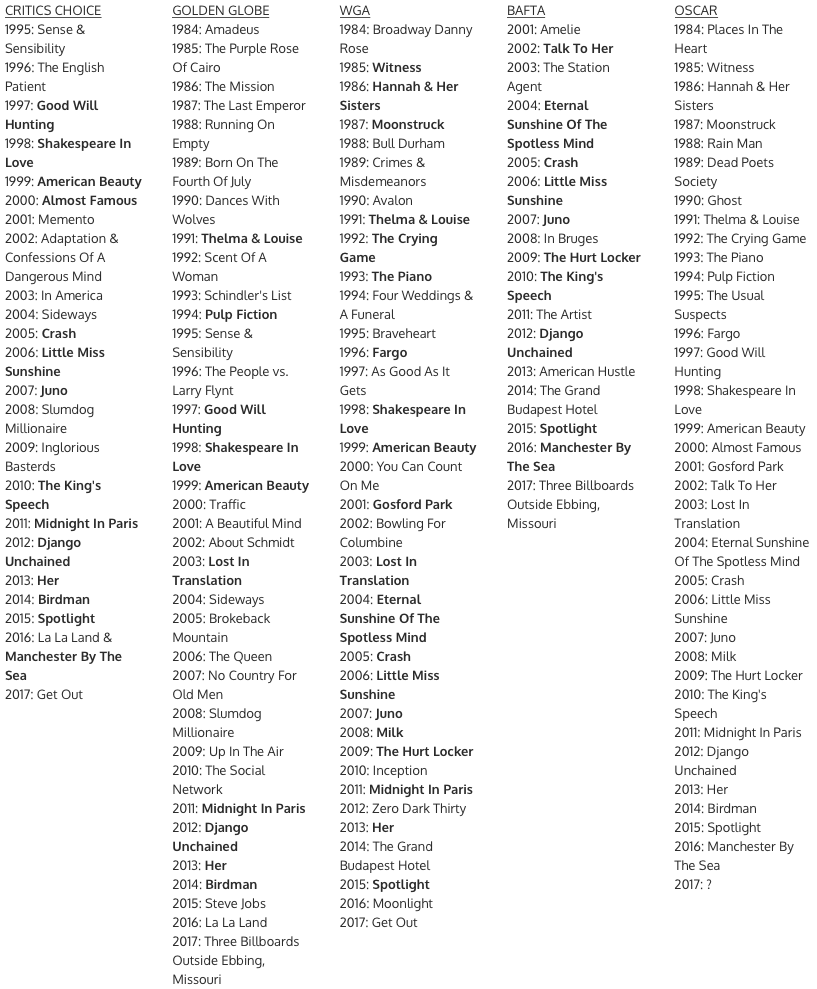 I am here to officially tell everyone that I am not concerned about Best Original Screenplay. It's not because I fear "Three Billboards Outside Ebbing, Missouri" winning. On the contrary, I love the film and wish it nothing but the best. This extends to how well it performs on Oscar night because make no mistake, should "Three Billboards Outside Ebbing, Missouri" win Best Original Screenplay and/or Best Picture, the internet will never let it live it down and it will go down in history as one of the most undeserving winners (In years this strong too nonetheless) in Oscar history. So, I want it to win and I don't want it to win. Many have stated their issues with "Three Billboards Outside Ebbing, Missouri" has less to do with the performances (Although there are some who despise those as well – can't win them all) themselves and mostly to do with the message, structure and general overall writing of the film.
Now yes, it has won both the Golden Globe and BAFTA for Screenplay. It was not eligible for the WGA where "Get Out" won. And, it competed against "Get Out" at the Critics Choice Awards where it lost. However, it won the BAFTA over "Get Out" and if you factor in that the Critics Choice and the Golden Globes have zero crossover with the Academy, then both films are equal. What you need to ask yourself is whether or not "Three Billboards Outside Ebbing, Missouri" would have beaten "Get Out" at the WGA had it been eligible. We'll never know. And now it all comes down to Oscar night. Due to how the precursors have gone, I am not going to factor "Lady Bird" into my predictions here and to be totally honest, you shouldn't either. If it pulls an upset and somehow wins Best Original Screenplay without a single win from the Critics Choice, Golden Globes, WGA or BAFTA then it will become the first film to do so since "Ghost" in 1990.
Some are using general "feeling" to predict the winner between "Get Out" and "Three Billboards Outside Ebbing, Missouri." Some are using stats. I'm going to use both.
"Pulp Fiction" is the only film to win only the BAFTA and the Globe and go on to win the Oscar and that was before the BAFTAs moved their date to be before the Oscars so realistically this isn't even a great stat. The only other time a GG/BAFTA winner went on to win the Oscar was "Django Unchained" BUT it also won Critics Choice, something "Three Billboards Outside Ebbing, Missouri" was unable to do against "Get Out."
"Get Out" on the other hand has won a combination of both Critics Choice and the WGA. No film has EVER won the Oscar with only those two awards walking into the night. You usually have to win those two and something else as evidenced below…
2005 "Crash" – Also won the BAFTA
2006 "Little Miss Sunshine" – Also won the BAFTA
2007 "Juno" – Also won the BAFTA
2011 "Midnight In Paris" – Also won the Golden Globe
2013 "Her" – Also won the Golden Globe
2015 "Spotlight" – Also won the BAFTA
Let's assume that "Three Billboards Outside Ebbing, Missouri" had been eligible for the WGA and won! We would not even be having a conversation then as that fits the mold better of a runaway winner, plus no film has ever won Original Screenplay with just a Critics Choice win had "Get Out" lost there. If "Three Billboards Outside Ebbing, Missouri" had been eligible and lost the WGA then I would definitely be picking "Get Out." The reason? Take a look at the track record for Critics Choice, Golden Globe, BAFTA and WGA for matching the Oscar winner.
Critics Choice – 13/22 (59%)
Golden Globe – 10/34 (29%)
WGA – 20/33 (60%)
BAFTA – 10/16 (62.5%)
While BAFTA has a very high success rate, the combination of the Critics Choice and WGA both being within the same ballpark makes me feel very confident that from a stats perspective, the odds favor "Get Out."
Moving away from stats though, the other reasons I think it will be "Get Out" much for the same reason I knew "Manchester By The Sea" would beat "La La Land" last year is pure and simply because…it's the better screenplay. It fits the mold of what an "Original" Screenplay is. It's high concept, provides social commentary, toys around with genre and gives its actors plenty to work with. I've been hearing a lot lately that because "Three Billboards Outside Ebbing, Missouri" is such an actor's showcase, that the actors will propel it to a win here. I think two things will stop that…
1. I don't believe "Three Billboards Outside Ebbing, Missouri" is going to win Best Picture
2. There is more passionate love for "Get Out" overall than there is for "Three Billboards Outside Ebbing, Missouri"
3. We may already have to contend with the idea of Greta Gerwig going home empty-handed (Sorry), there's no way they're going to let the same thing happen to Jordan Peele
In the last few years, Best Picture has been tied at the hip to a screenplay win. Going back to when we started using BAFTA as a precursor, 2011, 2004 and 2002 are the years where the Best Picture winner did not have a Screenplay win. 2011 is the only time since the preferential ballot was re-introduced to Best Picture that it has failed and that was quite obvious, much like how "Birdman" did not need an Editing nomination to win Best Picture because of its premise, "The Artist" did not need to win Screenplay for the exact same reason. The rule of thumb should be that if you're predicting "Three Billboards Outside Ebbing, Missouri" to win Best Picture then you should also predict it to win Best Original Screenplay. However, if you're not, you're wise to go with "Get Out" instead. I will go into this a lot more when it comes time for me to predict Best Picture at a later date.
The second point is pretty clear as evidenced from the online backlash for "Three Billboards Outside Ebbing, Missouri" versus the love that "Get Out" received (99% on Rotten Tomatoes, plus more Best Picture and Best Screenplay wins than any other film this year from critics and over $250 million at the box office). However, with 4 Golden Globe wins, 3 Critics Choice wins, 3 wins at SAG and 5 wins at BAFTA, we have yet to see that backlash take hold of "Three Billboards Outside Ebbing, Missouri's" chance to win major prizes. It's possible that we have been making excuses all this time as to why the film is winning and that it ultimately will not win big on March 4th when all but a missing Best Director nomination for Martin McDonagh tells us otherwise….
The last part is tricky because we know that voters don't vote that way. had they have done that in 2014 then Wes Anderson and Richard Linklater would have also won Oscars the night Alejandro Gonzalez Inarritu went home with three. However, there is no denying how long and hard Jordan Peele has been campaigning this film. How he is at the forefront of that campaign and how he has also managed to charm everyone he comes in contact with. People want to see him get rewarded. They may even throw us a curve ball as there is an equal amount of people who I'm sure want to see Greta Gerwig rewarded. Her film has not won anything however and the fact is that it needed to win some sort of a writing award in order to be in this conversation more. I am not prepared to predict a vote split and neither should you based on what we know about the stats. I don't think it's impossible though. Just highly unlikely. However, if it's between the divisive "Three Billboards Outside Ebbing, Missouri" which has only won from foreign-based groups and the universally loved "Get Out" which has won more screenplay precursors than any other film this year (32), my money is officially on the later.
​PREDICTED WINNER: "Get Out"
RUNNER-UP: "Three Billboards Outside Ebbing, Missouri"
So tell me, who do you think will win Best Adapted & Best Original Screenplay at the Oscars? Was my insight helpful at all in either cementing your pick or changing it? Let us know in the comments below. Check out my previous article on predicting the acting categories and be on the lookout as I dive deep into all the other categories on our march towards the 90th Academy Awards.
You can follow Matt and hear more of his thoughts on the Oscars and Film on Twitter at @NextBestPicture