One thing that really struck me about all the great 2017 movies that I had the pleasure of seeing was that the best ones told stories that differed from my own life, yet allowed me to relate to the characters portrayed. That got me thinking about why we go to the movies. Is it to see a direct representation of ourselves on screen? Or is it see reflections of ourselves through characters whose lives seem a world apart from our own? In writing about my favorite films of the year, I discovered that I had more experiences related to the later. I never went to Catholic school in Sacramento or made the decision to publish government secrets in my newspaper. Yet I totally related to the characters who did. At the same time, I also spent the last year only watching the films I wanted to see. That isn't to say that they were all good, but I only spent my time with projects I thought I wanted to watch. There's a lot to be said for that. With oversaturation in the marketplace, one cannot see everything that comes out. Furthermore, not every film is intended for every audience. I loved films that others disliked and disliked films that others loved. That's the beauty of film as a subjective art form, and one of the reasons I love being able to talk about my favorites. We may not always agree, but the least we can do is try to understand why someone else feels so passionate about their own favorites.
Without further ado, these are my favorite films of 2017.
10. COCO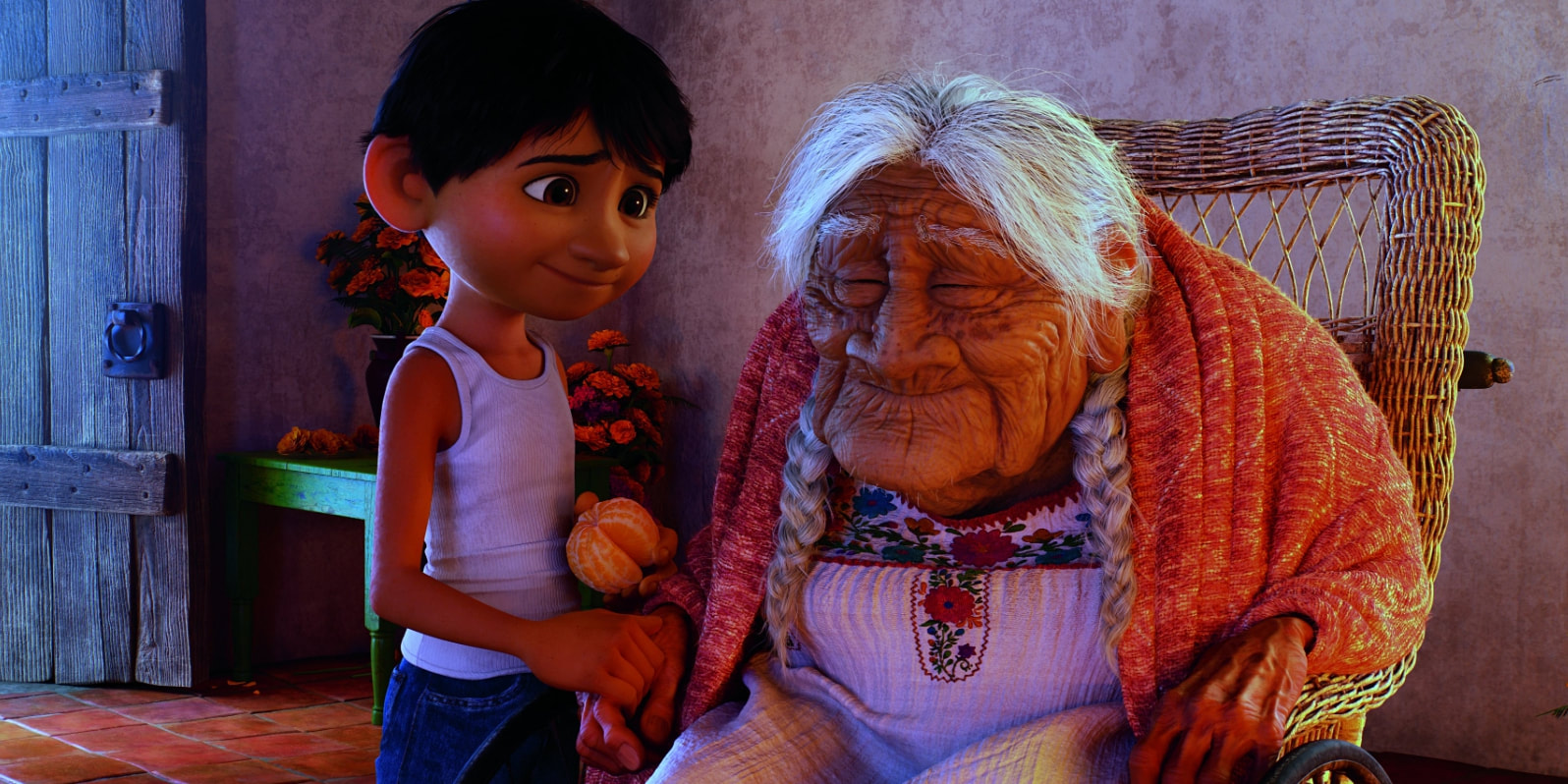 ​"Coco" is yet another Pixar gem that transports its audience to a fantastical world beyond our imagination. Even better, the film takes us on an emotional journey through the vibrant and colorful Land of the Dead as we follow Miguel on his quest to return home, follow his dreams, and most importantly, remember his history. Wonderful voice work and catchy songs help to make this one of the more enjoyable and moving cinematic experiences in recent memory.
9. THE MEYEROWITZ STORIES (NEW & SELECTED)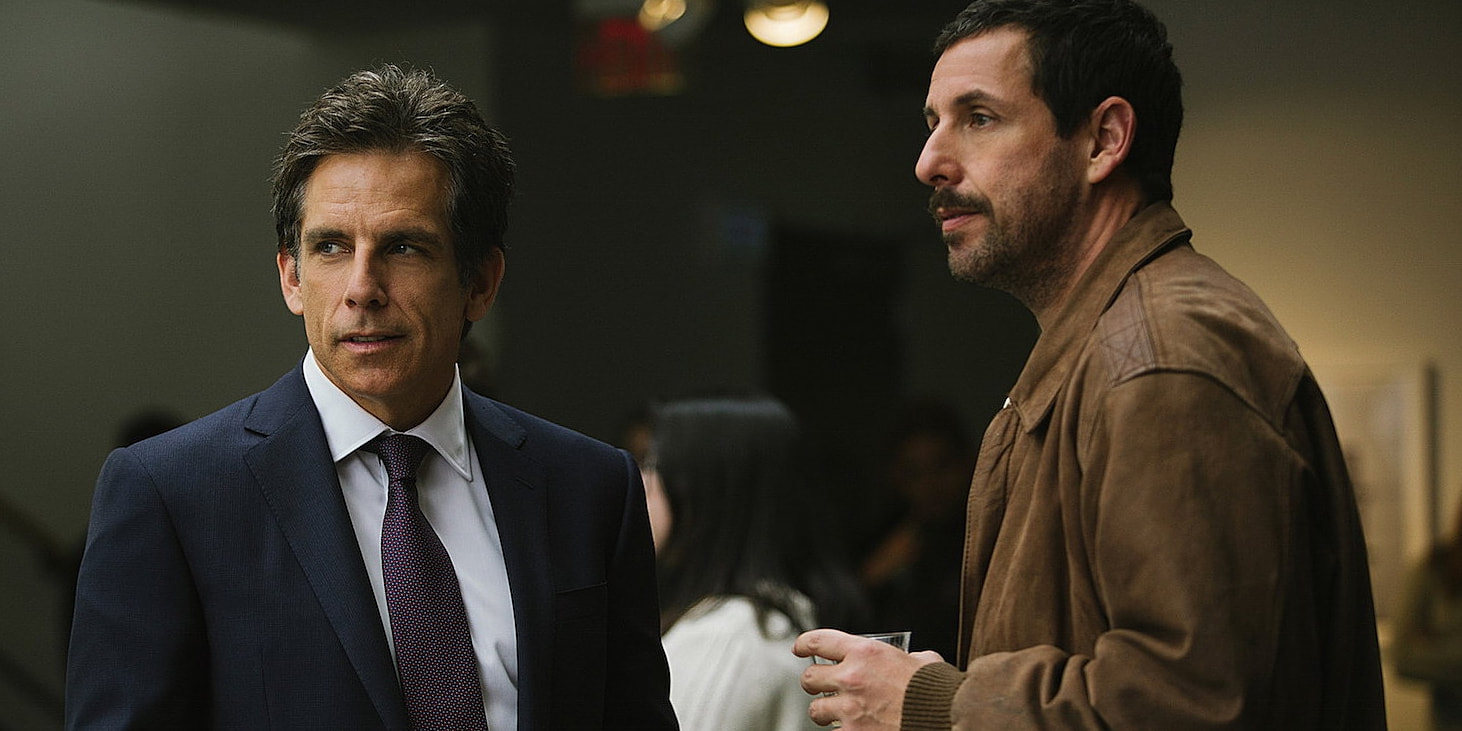 ​Noah Baumbach's "The Meyerowitz Stories (New and Selected)" is a hilarious yet simultaneously heartbreaking portrait of a quirky New York family. It feels like a great novel, with characters and situations that we can all relate to on one level or another. When the Meyerowitz family reunites to celebrate the artistic career of their father Harold, Dustin Hoffman in one of his very best performances, emotions, secrets, and stories follow. Baumbach has such a specific vision of the world he wants to present, and his actors are right on the same page with him. There is not a false note to be found in the film's rich ensemble. Ben Stiller and Elizabeth Marvel are wonderful as two of Harold's children, yet it is Adam Sandler in particular who is the real standout as Danny, Harold's closest child. Sandler has always proven to be a superb performer when he puts his heart and mind into the material. That is not often the case with his raunchy comedies, yet it is all the richer when he actually makes the effort. Every character feels lived in and every situation appropriate for the context. I loved this movie and would love to spend even more time with these terrific characters. Streaming on Netflix. Catch up with it.
8. GET OUT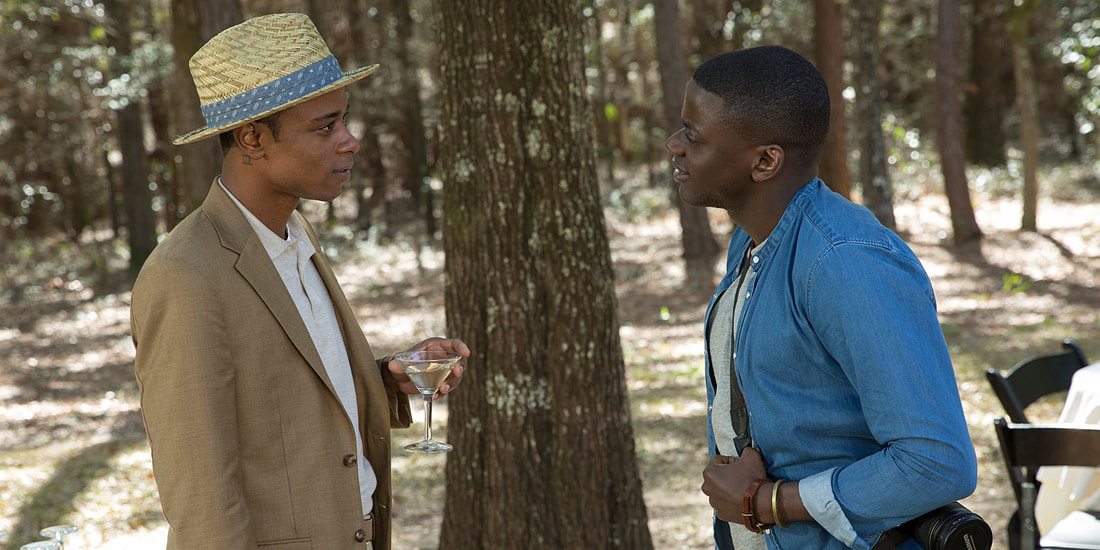 ​There's not much more I can say about the little film that could. "Get Out" is inventive, scary, satirical, and groundbreaking in its approach to topical issues. Think "Guess Who's Coming To Dinner" as a horror film. Director Jordan Peele makes a stunning debut. You know what this movie is, you know how good it is. Be thankful that we have it. I've seen it twice, and I would watch it for a third time if I could.
7. PHANTOM THREAD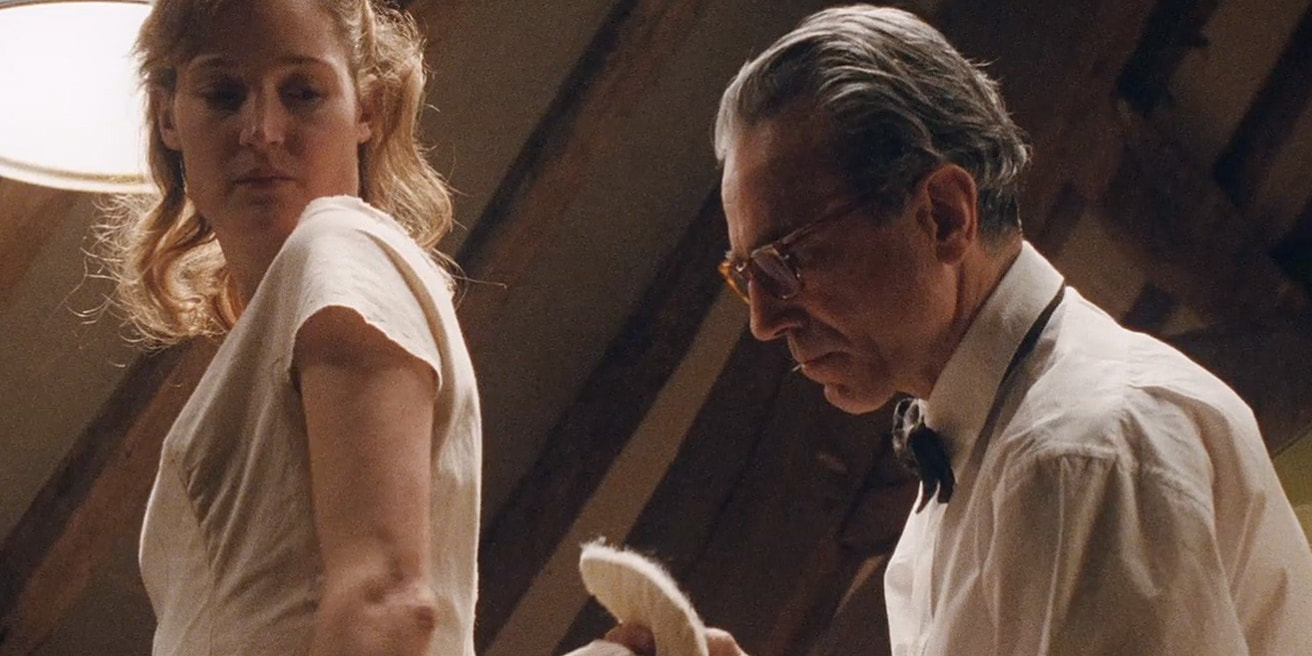 ​Imagine the acerbic wit of "Gone Girl" combined with Daphne du Maurier's "Rebecca." Now imagine that combination set within a London fashion house in the 1950's, and you have Paul Thomas Anderson's seductive, twisty, and twisted "Phantom Thread," or as I like to call it, "Needle Prick." I adored this movie. I'm not sure that I understood everything about it on first viewing, but I loved getting lost in it. This is one gorgeous movie. The score by Jonny Greenwood and costumes by Mark Bridges are second to none. There wasn't a moment in the film where I knew the direction in which it was going. In what is supposedly his final performance, Daniel Day-Lewis gets the opportunity to play a real rascal in Reynolds Woodcock, a perfectionist who is more obsessed with the dresses he designs than the actual people in them. He's like the crazy British cousin of Guido Contini from "Nine." A demented character who you can't help but be fascinated with even when he's at his worst. Complicating matters is his sister and business partner Cyril, a deliciously cold Lesley Manville. However, things take a turn in Reynolds' life when he comes across Alma, a waitress with a peculiar look to her. Things certainly take off from there, and I wouldn't dare spoil any of it. All I'll tell you is that "Phantom Thread" is one of the most complex, original, and shockingly funny films you are bound to come across from this past year. Let it wash over you. You'll be glad you did.
6. THE SHAPE OF WATER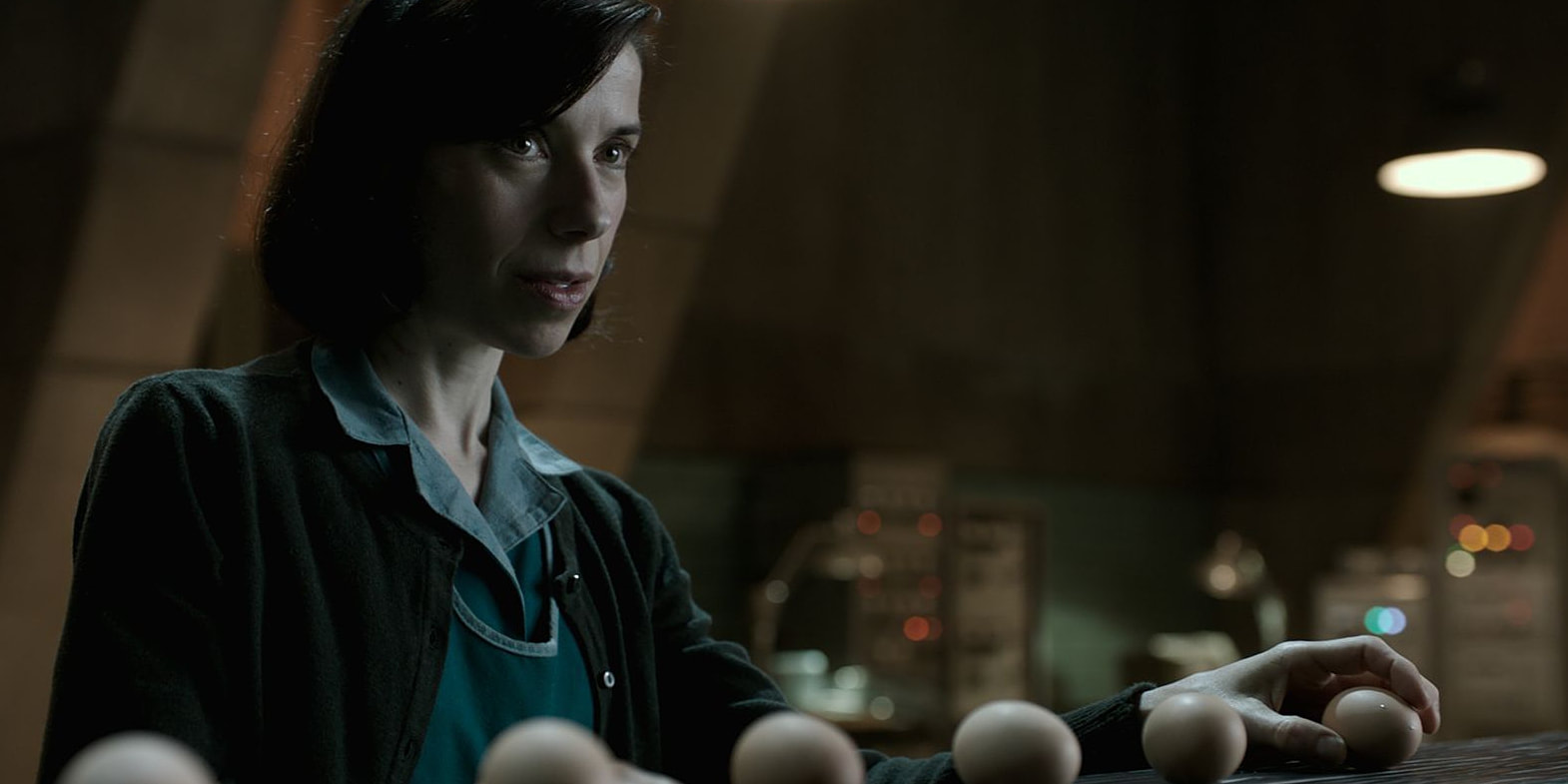 ​Dubbed "a fairy tale for troubled times," "The Shape Of Water" has the magical ability to transport viewers to a world in which the oppressed stand up to the oppressors and love conquers evil. It is really quite beautiful. As Eliza, a mute janitor longing for a deep connection in her life, Sally Hawkins turns in her finest performance to date. Her humdrum life takes an exciting twist when she falls for a mysterious Amazonian sea monster. With the help of her neighbor (Richard Jenkins) and co-worker (Octavia Spencer), Eliza is able to embrace her true love, even under incredibly strange circumstances. However, every fairy tale needs its villan, and Michael Shannon is on hand to represent the corrupt system out to end Eliza's love affair. Visionary director Guillermo del Toro brings his typical creative flair to the table in a way that feels like a beautiful culmination of all previous ideas and themes explored in early works. Oh, and did I mention that there is a swoony musical number too? A lot of this movie really swings for the fences, but it somehow all lands. We're better for it.
5. BEAUTY AND THE BEAST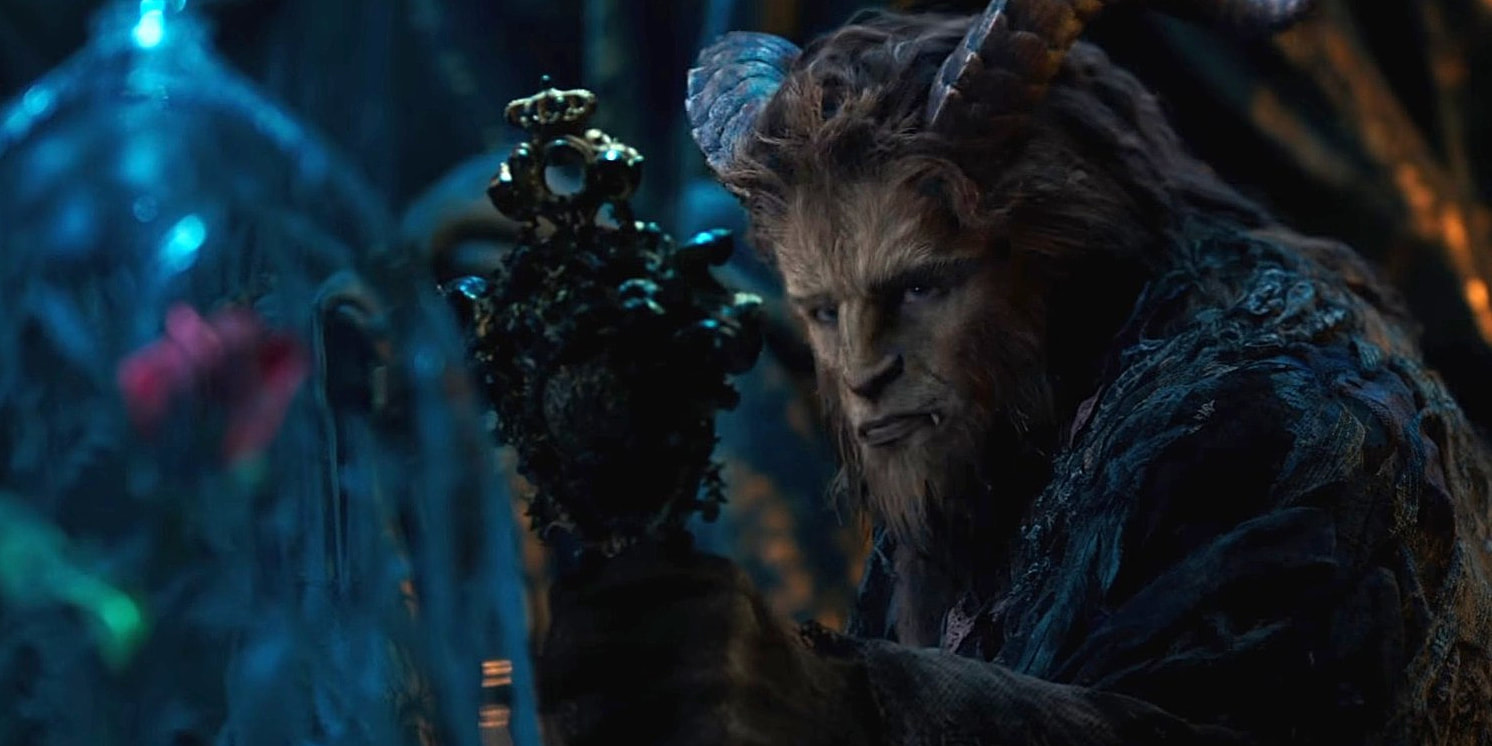 ​After a decade's long drought of movie musicals, it warms my heart to see the 2017 re-telling of Disney's "Beauty And The Beast" play out as such a loving tribute to the genre and its fans. The film is a triumph! Tons of fun and clever references scattered throughout the musical numbers make for an amusing scavenger hunt of sorts for dedicated viewers. While it would be ridiculous to try to match the quality of the original 1991 Disney classic, one of my all-time favorites, director Bill Condon and company inject the tale as old as time with such love and dedication that it feels fresh all over again. Not only is the film a dazzling visual spectacle, but it rings true to the times as well. Belle is a bold and headstrong feminist figure who refuses to be held down by dated societal expectations. Counteract her headstrong personality with Gaston, the perfect villain in the age of Donald Trump. He is a man who creates a cult on the basis of fear and falsehoods. Sound familiar? With a game fantastic cast, eye-popping visuals, and musical numbers that are alive and choreographed with such gusto, I was in awe of "Beauty And The Beast" the entire time.
4. THE BIG SICK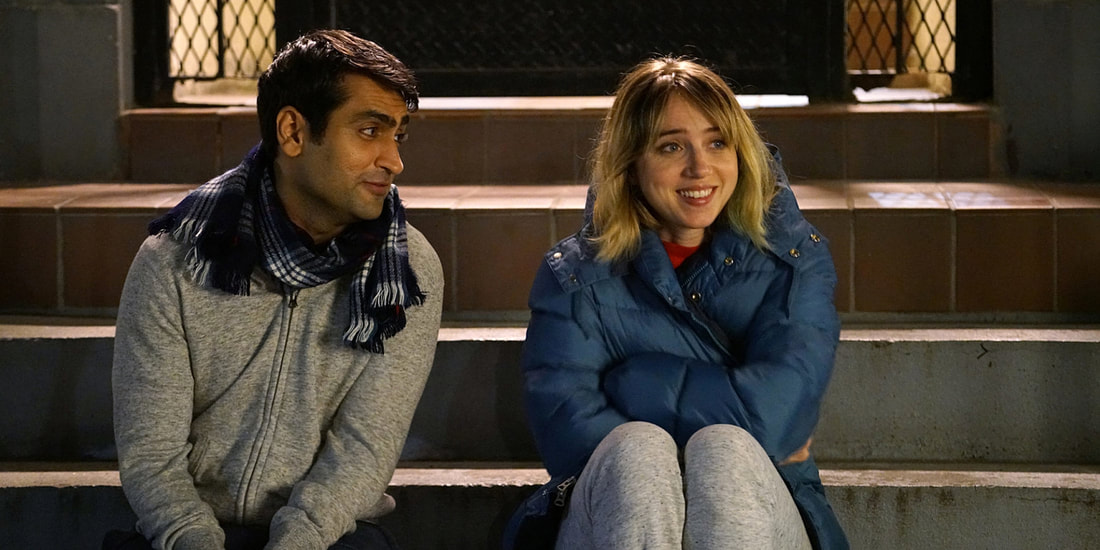 ​I love a charming and smart romantic comedy. Sadly we don't get them so often. So when a film as thoroughly charming as "The Big Sick" comes along, it is cause for celebration. Based on the true story of the courtship between the film's writers Kumail Nanjiani and Emily Gordon, "The Big Sick" is such a thoroughly engaging crowd pleaser with the perfect blend of comedy and drama. Superb performances (Ray Romano and Holly Hunter) and whip-smart writing would have been enough, yet the film goes a step further and incorporates a secret ingredient to success- heart. We love this movie because we are rooting for the relationship between Kumail and Emily to blossom. Only someone with a heart of ice could fail to love this joyous film. As far as I'm concerned, "The Big Sick" ranks alongside "Silver Linings Playbook" and "Enough Said" as one of the best romantic comedies of the modern era.
3. CALL ME BY YOUR NAME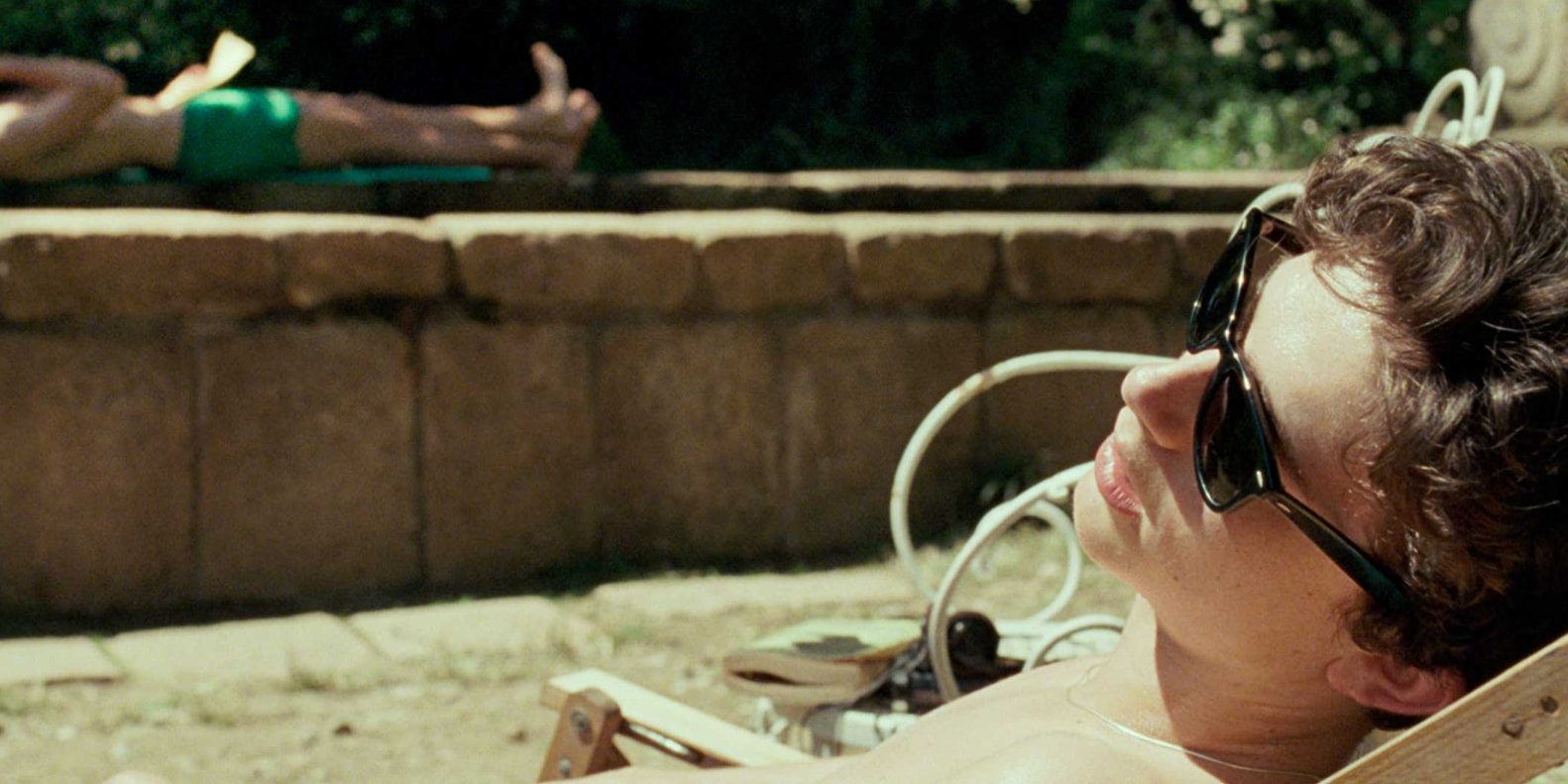 ​"Call Me By Your Name" is a breathtakingly beautiful tale of first love set against a backdrop of fine art, culture, and stunning scenery. I just wanted to jump into the screen and live in the world of this movie! From the gorgeous Italian countryside to the attractive characters and elegant music, this is one of the most aesthetically pleasing films I have ever seen. It is a feast for the senses. As young Elio Perlman, Timothée Chalamet turns in such a layered and physical performance. So much is expressed through his movement alone. He may only be 22, but his performance is mature and as natural as any pro in the business. However, his performance is only as good as his counterpart, who just happens to be the sensational Armie Hammer. This is the film that finally knows how to use Hammer's talents properly. He exudes such charm and charisma that it is impossible not to get caught up in his summer fling with Elio. The chemistry between Hammer and Chalamet is simply spellbinding! Michael Stuhlbarg is also wonderful as the caring academic father who provided much-needed warmth and comfort for his son, Elio. He is the movie father we should all be so lucky to have. As well crafted as every bit of "Call Me By Your Name" is, the film's secret to success is that anybody of any background can sympathise with these characters and their situations. Regardless of gender, sexual orientation, or socio-economic background, these are emotions shared by anyone who has ever experienced the powerful sensation that is first love. This isn't a movie where much happens in terms of plot. Yet at the same time, everything happens.
2. THE POST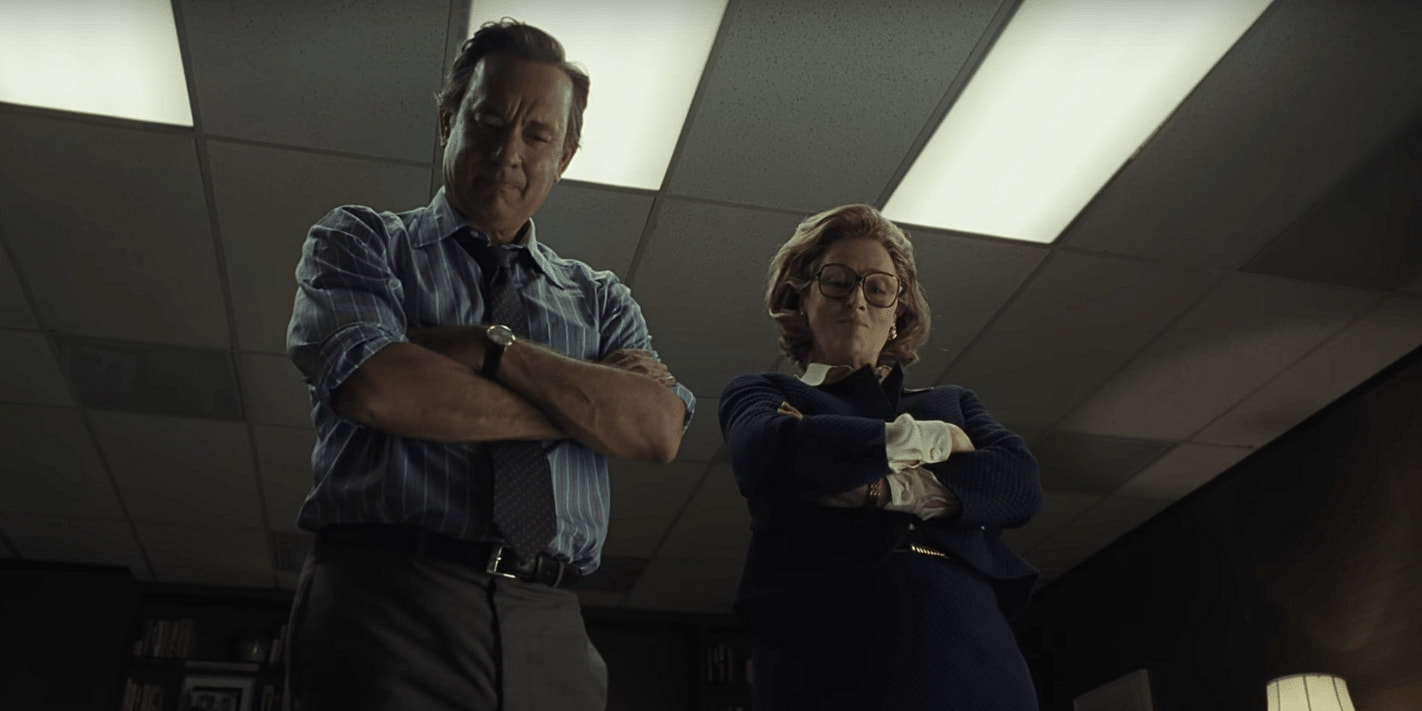 ​When I heard that the new Spielberg film starring Meryl Streep and Tom Hanks would be a 1970's period thriller about politics, journalism, and the Pentagon Papers, I could barely contain myself. It was as if they made a film specifically for me and my interests. My favorite actors, my favorite directors, and one of my favorite topics. Sign me up! However, there's always the risk that high hopes will lead to disappointment. Thankfully, that is far from the case here, as "The Post" is nothing short of a rousing achievement for all involved. Here is a film that is bursting with optimism. It believes in good and the power of our American institutions to stand up to corruption and evil. Its message is as vital as ever and the timing could not be more perfect. The filmmaking on display is exciting, informative, and downright entertaining. Pretty much the ultimate Spielberg package, and he makes it look so easy. When the director's usual flourishes start showing up, your heart soars. Leading the all-star ensemble, Meryl Streep and Tom Hanks are a match made in movie heaven! Their character arcs are so rich, and the scenes they share together are like watching old friends reminisce. As Kay Graham, the first female owner of the Washington Post, Streep turns in one of the very best performances of her already accomplished career. Watching her here is like watching a pro at the top of their game. "The Post" is smart entertainment for mainstream adult audiences. I love it and crave more just like it!
1. LADY BIRD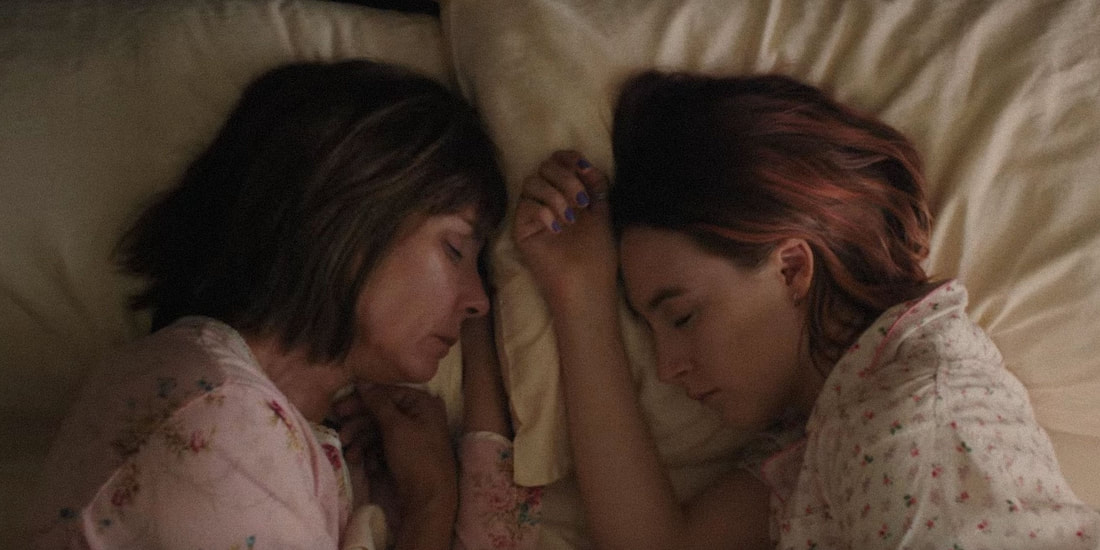 "Lady Bird" is as perfect a movie as I've seen in recent memory. Though I went to high school 10 years later and grew up in a class level above that of the titular character and her family, every note rings true, every situation seems familiar, and every emotion feels relatable. That's amazing and quite miraculous for a film that feels so specific. Director Greta Gerwig has an assured and creative vision that makes me look forward to all of her future projects. She is able to take the coming of age story and make it feel fresh. The film also depicts such a truthful and honest mother-daughter relationship that never for one second feels forced or contrived. It's the best of its kind since "Terms Of Endearment." Saoirse Ronan continues her streak of mature and impressive performances, while Laurie Metcalf proves yet again why she is one of the best performers in the entertainment industry. I can't say enough good about "Lady Bird." I've seen it three times now, and it's still a gem. This is sure to be a classic in years to come!
Be on the look out for more Top 10's and check out others previously announced from Matt Neglia, Deann Chiazzese, Tommy Barquinero, Josh Williams & Daniel Howat. We also recently revealed our own staff nominations for the 2017 NBP Film Awards which you can read here (Winners will be announced this weekend). Also, our NBP Film Community Awards nominations will have their nominations announced this weekend as well. Let us know your thoughts in the comments section below.
​You can follow Michael and hear more of his thoughts on the Oscars and Film on Twitter at @mikemovie