By Matt Neglia
Academy Award winner Steve McQueen's ("12 Years A Slave" & "Widows") newest film "Lovers Rock," the first part in a five-film anthology series titled "Small Axe" for Amazon Studios, has had its world premiere as the Opening Night film at the 58th New York Film Festival after it was delayed from its original premiere at the Cannes Film Festival due to COVID-19. Two other films in the anthology will play later at the festival, "Mangrove" & "Red, White and Blue."
How is this first entry? Well, to be expected from Steve McQueen, it's quite excellent. It was also not at all what I was expecting, and the reasons why are exactly what makes "Lovers Rock" so great.
​McQueen's snapshot of Black culture at a house party in 1980s London is vibrant and infectious. Taking place over the course of a single day for 68 minutes, it's genuinely surprising yet refreshing that there is little conflict or heightened drama in this short movie. There is no pain, no suffering, no twists. There's only the vibe and the feeling of watching a group of people enjoy themselves as they sing and dance to romantic Reggae songs and other hits from the time.
​Some of the songs heard in "Lovers Rock" are "He's the Greatest Dancer" from Sister Sledge, Carl Douglas' "Kung Fu Fighting" and "Kunta Kinte" by the Revolutionaries. McQueen has said, "For me, this is my musical" and although not presented in the traditional sense of what one would expect a musical to be, what McQueen is offering instead is just as intoxicating in all the best ways. One memorable moment is when "Silly Games" by Janet Kay plays and everyone in the room starts singing the song, a cappella style, something McQueen has stated wasn't originally scripted. It's such a beautiful snapshot of bliss, that it makes you forget that what you're watching does not have the typical story structure that one would expect.
This storytelling decision will surely confuse audiences who watch only "Lovers Rock" without the influence of the other four films in McQueen's anthology. Originally conceived as a television series, McQueen is presenting each part as its own feature-length film and since they're all over 40 minutes long, they all qualify in that regard. Although shorter in its length compared to McQueen's other films in his filmography, if you know beforehand what he is trying to capture in this fun and peaceful first entry, everything else that we're anticipating with the remaining four entries will fall into place.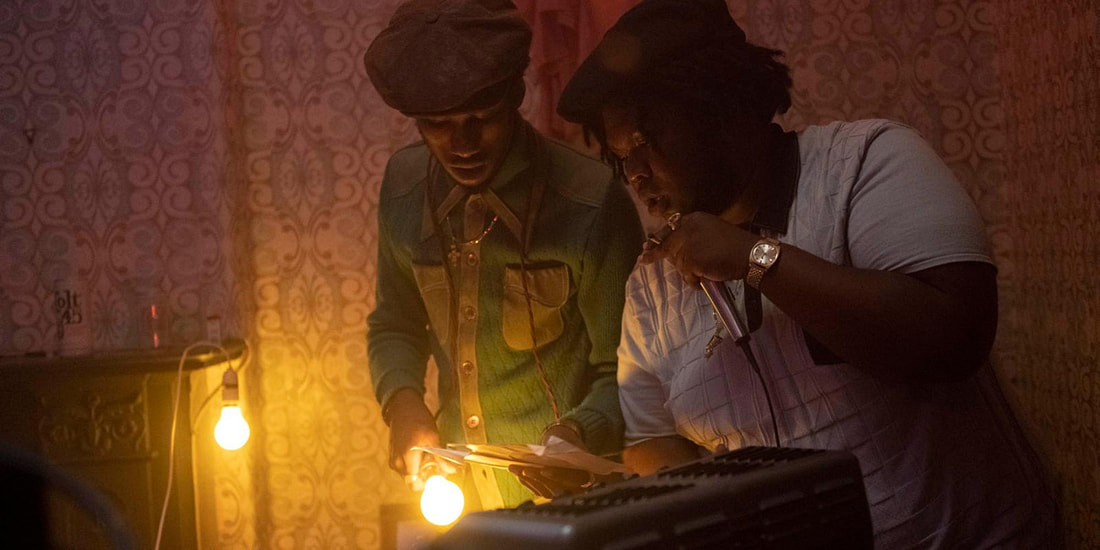 The closest we come to a lead character in McQueen and co-screenwriter Courttia Newland's story is Martha, played by newcomer Amarah-Jae St. Aubyn. We follow Martha for a period of time as she grows more attracted to a smooth and flirtatious Franklyn at the party, played by BAFTA Rising Star winner Micheal Ward ("The Old Guard"). Shaniqua Okwok ("Boys"), Kedar Williams-Stirling ("Sex Education"), Ellis George ("Dr. Who"), Alexander James-Blake ("Top Boy"), and Kadeem Ramsay ("Blue Story") also star in this but the most attention is given to Aubyn and Ward. Aubyn, in particular, commands our attention when so many elements of McQueen's latest are vying for it (smooth camera work, deliberate editing, a realistic sound mix, and colorful costumes), especially in her stand-out striking purple dress. Her chemistry with Ward anchors the short but indelible story and her final moment when she arrives home early the next morning after a Blues-filled night is a perfect end-note.
Does "Lovers Rock" play out for too long, despite the lack of ordinary storytelling? It's debatable. When it's this well-constructed, do I necessarily care? Not really. McQueen develops an atmosphere that is so alluring that you cannot help but want to take part in it. Part of that is because the first few minutes of "Lovers Rock" takes its time in establishing the party before it gets started – the cooking of the food, the placement of the speakers, the movement of the furniture. Anyone who has ever thrown a house party themselves will feel right at home. But McQueen is not just showing us a party. He's showing us a culture, a way of life. He's showing us behaviors of the time – how different they are from today and yet similar in many ways. "Small Axe" refers to a West Indian proverb that means "together we are strong." McQueen is showcasing Black resilience through this fictional story and if his sensibilities and empathy are as a-tuned for the remaining four true-story entries in this anthology as they are here, then we may be in for a revolutionary work of art that very well could stand as the already herald filmmaker's masterwork.
Tickets for "Lovers Rock," "Mangrove" and "Red, White and Blue" can be purchased for the New York Film Festival here. "Mangrove" will premiere at the festival on September 25th, while "Red, White and Blue" will premiere October 3rd.
You can follow Matt and hear more of his thoughts on the Oscars and Film on Twitter @NextBestPicture