​By Liam Heffernan ​
​If there's one thing you can no longer criticize about the 2018-2019 awards season, it's entertainment value. From the drawn-out Oscar hosting saga to the previously announced and rapidly redacted plans for a Best Popular Film award, to the emergence of several surprising contenders who, especially following the Golden Globe results, appear to be staking their claim in a major awards run.
​The biggest shock of this year's Globes was "Bohemian Rhapsody" stunning "A Star Is Born" in two major categories. Most critics had resigned themselves to the prospect that the Hollywood Foreign Press may give Rami Malek a nod in Best Drama Actor over Bradley Cooper (though quite why these two films were competing in drama in the first place remains a mystery). What was far less expected was "Bohemian Rhapsody" taking the top prize for Best Picture Drama.
Firstly, let's not get carried away about the film's sudden chances at winning Best Picture from the Academy. In the past twenty years (excluding this season), eight films have subsequently won the Oscar after winning the Golden Globe in this category. Four of these were in the last decade.

Winners of Golden Globe for Best Drama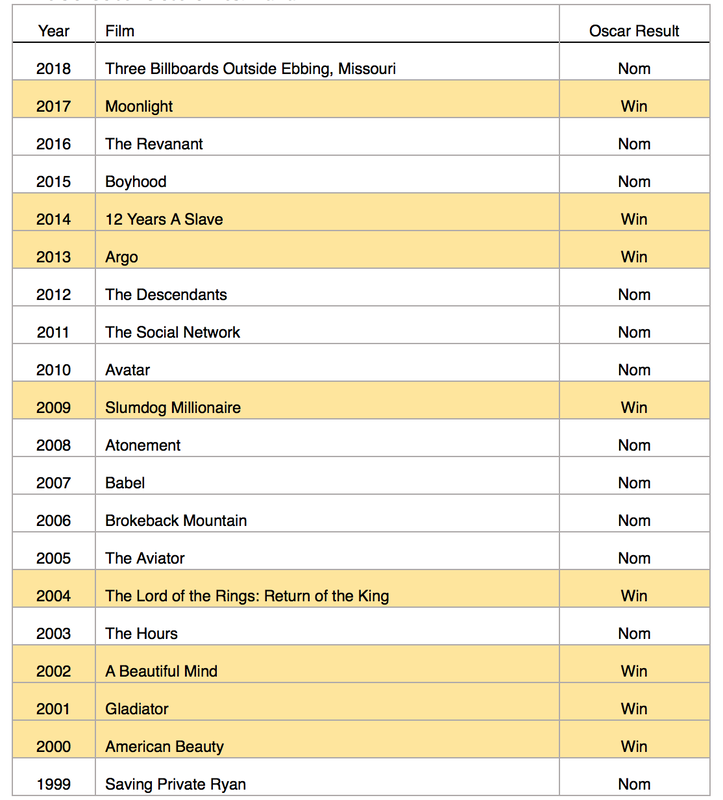 On the one hand, the split over each ten year period is the same. However, the concentration of this pattern seems to decrease over time. In the early 2000s, this award was a strong indicator of the eventual Oscar winner, and looking back even further this strong parallel continues back into the 90s with films including "Titanic," "The English Patient," "Forrest Gump," "Schindler's List" and "Dances with Wolves." So ultimately, what we can glean from the "Bohemian Rhapsody" win is the certainty of a Best Picture nomination, but the increasing uncertainty of anything beyond this. In a nutshell, the Golden Globes have not materially improved the film's standing against the other big contenders, so any excitable fans should not get carried away by a win which, nonetheless substantial, is experiencing a gradual disconnect from the Academy.
The big loser from the Golden Globes was "A Star Is Born." The front-runner this season heading into the Globes, aside from the fact that "Vice" had the most nominations, Cooper's directorial debut was expected to win at least Best Picture Drama, and at least one of the acting categories. In the end, all it took home was Best Original Song. This is an unquestionable setback for a film which was widely tipped to take home major Oscars next month.
Looking at the same stats for Best Picture winners' success at the Golden Globes, it doesn't bode too well for Bradley Cooper's smash-hit. Over the same period, ten Best Picture winners won either best drama or comedy at the Globes. However, there is less consistency in recent years, and what they can take solace in is the clear skew towards drama nominees. Eight of the last ten Best Picture winners competed in drama, which explains why it was campaigned here. Therefore, the best thing for your Oscar chances is to at least get nominated in this category.
Winners of the Oscar for Best Picture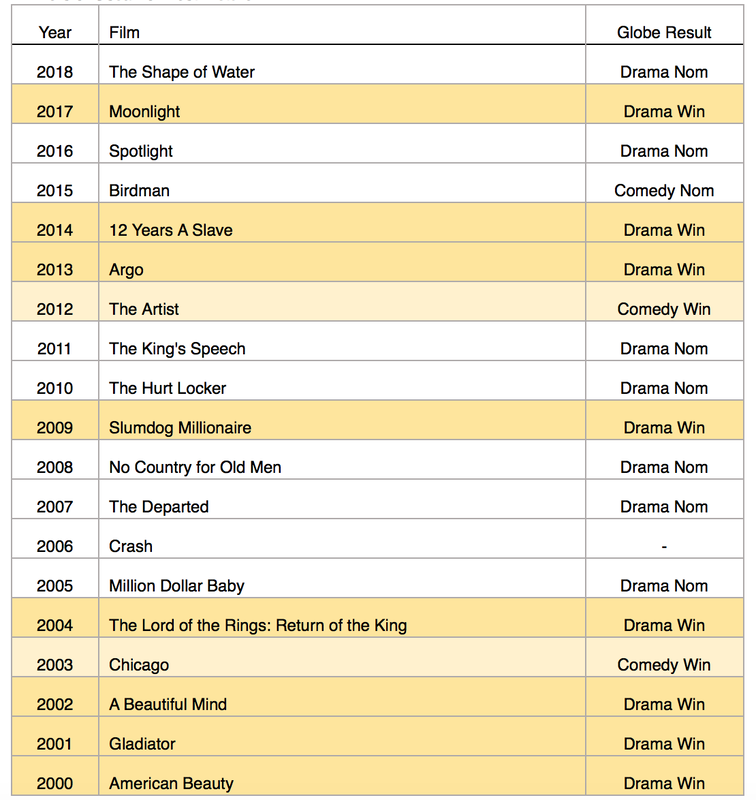 In other words, the Best Picture race is still very much alive for "A Star Is Born," but a directing and foreign language win for Alfonso Cuaron has put "Roma" back in a close second, which could pave the way for a history-making win.
What will be more concerning for Bradley Cooper is the possibility that his seemingly inevitable acting Oscar could be slipping away. In the last ten years only George Clooney for "The Descendants" and Mickey Rourke for "The Wrestler" have failed to convert their leading actor Globe into an Oscar. The former lost out to Jean Dujardin, whose performance in "The Artist" won the equivalent Golden Globe for comedy/musical. The latter to Sean Penn, who was a fellow nominee in the same category for "Milk."
So there is a tiny precedence that it can happen, but there remains a strong correlation that could condemn Bradley Cooper to four additional Oscar nominations without a single win. Christian Bale, having won the comedy/musical award for 'Vice', is now more of a favorite after winning the Globe for Best Actor in a Comedy or Musical.
A similar pattern can be found in the dramatic lead actress category, with eight of the previous winners also picking up the Oscar. The two that differ – Jennifer Lawrence for "Silver Linings Playbook" and Emma Stone for "La La Land" – both won a Golden Globe in the comedy/musical category. Which means if Bradley Cooper has taken a hit, imagine what this has done to Lady Gaga's chances – a pending first time Oscar nominee, with a precedent that you have to win a Globe to win the Oscar. This has now become Glenn Close's season.
There could be some minor solace in winning Best Original Song, but unfortunately, if any category is a poor predictor of its equivalent Oscar, it's this one. Granted, five of the last ten winners have also won the Oscar, but two have failed to even secure a nomination ("Masterpiece" from "W.E." and "You Haven't Seen the Last of Me" from "Burlesque"). However, it can still feel pretty safe that it has at least one Oscar on its way.
The question now, is how did this happen? And is it possible that "Bohemian Rhapsody" could ruffle enough feathers to cause an Oscar shock or two?
The truth is, a lot of voters are feeling love for the Queen biopic, and Rami Malek's campaign is no doubt generating additional proxy votes. What this could do is split votes more than previously anticipated, so those who may have just ticked "A Star Is Born," who now feel they have a credible vote in "Bohemian Rhapsody" will switch allegiance. The same of course could be said for any other film, but it's perhaps safe to assume that "Roma" voters will still be "Roma" voters no matter what happens.
The results at the Golden Globes also suggest a shift in mindset among award voters. Entertainment value is a more prominent driver of awards success. You will all have different feelings as to whether this is correct, but film is a mass medium after all, and this is as valid a consideration as anything when trying to understand why people vote the way that they do.
Fundamentally, the major shift in award trends this season could be the cumulative effect of efforts to broaden diversity and representation in Hollywood. Sounds counter-intuitive, but if a broader demographic, and with it a broader value system with broader interests, are represented within a voting populous, then films which carry a specific appeal (which would have previously won over a heavily white male audience with an equally concentrated set of shared values) are getting the same number of votes, representing a smaller portion of the whole. This creates a new gap in the season, where films which have a more universal appeal are more likely to win votes across the board. Therefore, films like "Bohemian Rhapsody," which can be enjoyed by all but loved by few, suddenly find themselves in the Oscar race.
The Golden Globes have cemented a cultural change within awards season, but let's stay grounded here. "Bohemian Rhapsody" will not be winning Best Picture at the Oscars this year. Surely…right? With PGA, SAG Ensemble, CAS, ACE, ADG nominations, a path for a Best Actor victory for Rami Malek and over $743 million worldwide in a year where the Academy wants popular movies on their show….the unthinkable could still happen.
What do you think? Was the Golden Globe victory last night for "Bohemian Rhapsody" the end of the line for the controversial musical biopic or will it continue to shock us throughout the season? Let us know in the comments below or on our Twitter account.
You can follow Liam and hear more of his thoughts on the Oscars and Film on Twitter at @thisistheheff