By Ryan C. Showers
​
If you have had the feeling that this year's contest for Best Picture is a bit lackluster, you are not alone. This Best Picture race has led many of us to the same conclusion: Films that would be "on the bubble" to be nominated in other years will likely occupy allotted slots in the Oscar Best Picture lineup. A side effect of the financial hit the entertainment industry has endured due to the global pandemic is that this awards season cycle is less complete than past years. This has made it difficult to separate the race between feasible frontrunners, apathetic horses in the running for a nomination but not a win, and passion projects that are most fantasy than reality in an Academy Awards Best Picture competition. This has left many of us wondering what is to come in the race with no undeniable frontrunner to win thus far.

Some may disagree with this characterization of the race, citing "The Trial of the Chicago 7" as having checked all of the boxes the Academy usually embraces in a Best Picture winner. And every day, here at Next Best Picture, we speculate how likely it is that Academy members fitting specific demographics may react in a resoundingly positive manner. Some have insisted "The Trial of the Chicago 7" is a real indomitable threat to be this year's consensus film which will sizzle its way through the preferential ballot on the strength of its talented cast and social relevancy. The best asset working in its favor to win Best Picture is that it is mostly flying under the radar at the moment, while also slyly and gently making its presence known early on in the season last month.

Personally, "The Trial of the Chicago 7" left something to be desired. I found much of it to be dull, one of the weakest scripts Aaron Sorkin has written for the screen, and evidence that he is not that type of filmmaker who can make a Best Picture winner at this point in his directorial efforts. The Oscar pundit counter to this take is that "The Trial of the Chicago 7" is a traditional film that members of the Academy will ultimately see as innocuous, and if it shows strength by winning the SAG ensemble award, a path to winning Best Picture will be effortless. There have been times when updating my Best Picture prediction ranking where I felt more insecure about other contenders and I begrudgingly moved "The Trial of the Chicago 7" back into the top spot – a nimble default choice.

The most exciting aspect of this hypothetical Best Picture win: A historic moment for Netflix, whose efforts to stand shoulder-to-shoulder with other cinematic powerhouse studios and distributors will have finally materialized after strong efforts with "Roma," "The Irishman," and "Marriage Story" in recent years. But "The Trial of the Chicago 7" is not the only film which could lead Netflix to its first Best Picture win in the 2020-2021 cycle. David Fincher's return to filmmaking after six years in "Mank" is going to be a crucial contender this year. Despite being a black-and-white cinematic event about Orson Welles, "Citizen Kane," and Old Hollywood, the skepticism most have about predicting it for Best Picture is that it is too much of a niche entity, and its greatness will be more appreciated by history buffs and cinephiles rather than the broad swath of the Academy.

I have not written off "Mank" from winning Best Picture like many of my colleagues. The narrative against "Mank" is that "only 'movie people' will care about it." This makes me ponder the following: "Do they know that the voters in the Academy are, quite literally, 'movie people' and most definitely have a paramount admiration for 'Citizen Kane?'" Regardless, a potential lack of accessibility will not stop "Mank" from winning more Academy Awards than any other film at the next ceremony. "Mank" is the frontrunner for Best Director, Best Cinematography, Best Production Design, Best Costume Design, and Best Sound. Even if "Mank" fails to win Best Picture, it will still win more Oscars than any film since "La La Land."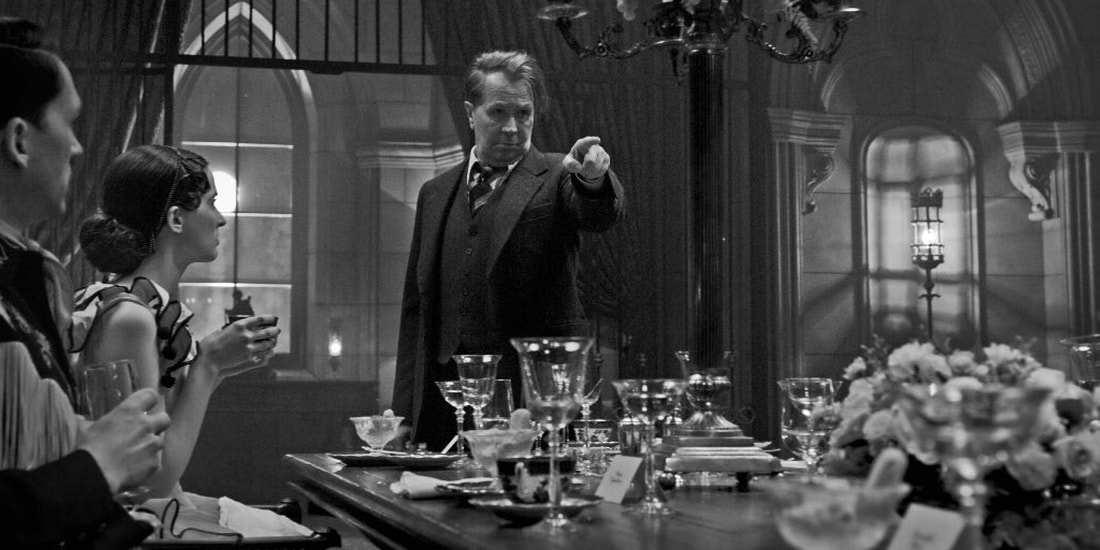 I would like to push back and offer a precedent to make sense of a possible "Mank" Best Picture win. In 2014, the wild and controversial "Birdman" halted the rise of "Boyhood" based on the strength of industry support through what many of us speculated was a visceral identification and connection to the plot and story about struggling artists and the storytelling industry. Despite "Birdman" having eccentric elements, it dominated the guild awards and went on to handily win Best Picture at the Oscars. It is possible "Mank" could follow a similar trajectory and connect with Academy members in its ode to Old Hollywood and the defining cinematic masterpiece of "Citizen Kane." Some could see ignoring a film about the making of "Citizen Kane" to be cinematic blasphemy, especially since Fincher is on such a steady track of finally win Best Director after three decades of exemplary work.

Netflix could finally have its day in the sun with the Academy and win Best Picture for either "The Trial of the Chicago 7" or "Mank." From where I stand, the only foil to this success for Netflix is Pixar's "Soul." It's ironic considering Netflix's greatest hurdle in gaining validation from the Academy was its industry-revolutionizing streaming concept, which is seen as a threat to the theatrical experience. Due to the pandemic, Pixar, a typical box office magnet, will release its latest film on Disney+ on Christmas Day. "Soul" has been received so far by critics as one of Pixar's greatest achievements. Critics have raved about the aesthetic beauty in its animation, but they also say it tugs on the emotional strings of our hearts in quintessential Pixar fashion.

In such a strange year for Best Picture where most of us are unsure where to commit ourselves in our predictions, "Soul" could make a play to win Best Picture. If this were to materialize, "Soul" would become the first animated feature to ever win the top prize at the Academy Awards. If you sound unconvinced of this, I cannot blame you. Only three films have ever been nominated for Best Picture: "Beauty and the Beast," "Up," and "Toy Story 3," and the latter two made the cut in years of a mandated ten slots in Best Picture. Some have interpreted this as the Academy decidedly prioritizing against animated films for the top category, passing them off as "silly kids movies." Maybe another way to explain this ten-year hiatus is that no animated film has earned the Academy's respect as much as the literally perfect film in "Beauty and the Beast" and the emotional triumphs of "Up" and "Toy Story 3."

By virtue of this year's relatively empty field, with so many major films being pushed from outside this year's Oscar eligibility window due to COVID-19, and the risk of attending a theater poses to public health, "Soul" sliding into Best Picture for a nomination would be a big deal. If a Best Picture nomination for "Soul" were to transpire, it would be the first animated film memorialized in the category in ten years. Look ahead to the December holidays: There is a very likely chance everyone and their brother will tune into "Soul" as they celebrate and have time off. Pixar's horse in the race has the advantage of being widely seen at home by most voters and even more members of the general public than even "The Trial of the Chicago 7" or "Mank."
Perhaps "Soul" reaches those heights of quality as past animated Best Picture nominees and would have been competitive for a nomination in this category during a normal year. And perhaps, in a rather otherwise melancholy year of 2020, "Soul" is exactly what will appeal to the widest faction of people within the Academy and it will succeed on a preferential ballot. Also, "Soul" may strike the precise cord for voters who still fear Netflix as a source of theatrical obsolesce – a theory many have used to understand the 2018 victory of "Green Book" over "Roma." If ever there was an alternative to "The Trial of the Chicago 7" or "Mank," neither of which fit unanimously as a Best Picture winner, it could be "Soul." My advice to those not completely sold on the idea of "Soul" winning Best Picture? Your skepticism is justified, however, the opportunity of "Soul" is real, even if it is not the most likely course of action now.

As a final note, for "Nomadland," "One Night in Miami" and "Ma Rainey's Black Bottom," – though smaller productions than those explored thus far in this piece – there is a path. Or at the very least, a claim to fame for each of them in this race.
I wrote about "Nomadland" earlier this year. Chloe Zhao's latest film is sublime, and it has been recognized as such, winning the top prizes at most of the film festivals this fall. "Nomadland" and "Mank" will likely be the two most celebrated films by critics' associations as regional groups begin to announce their annual honors next month. However, many pundits feel as though the strength "Nomadland" will have with critics will be a weakness with the Academy for wins, similar to "Mank." Many find the lack of a substantial plot to be a huge obstacle in its way of uniting the Academy to vote for it for the Best Picture win. Maybe "Nomadland" is the Best Picture winner we are sleeping on?
"One Night in Miami" actually fits the bill as a consensus movie that most voters will rank it in an above-average spot on their preferential ballots. The film is something most everyone respects. Many believe "One Night in Miami" is a shoo-in to win Best Adapted Screenplay. Yet, many believe the film will not explode with nominations apart from that, especially since Amazon has made the consequential decision to campaign the film MVP, Kingsley Ben-Adir as Malcolm X, in a crowded Best Actor field rather than in the thinner Best Supporting Actor category where he could have hypothetically won. Some sources who have seen the film say Regina King's chances of a Best Director nomination are slim. However, "One Night in Miami" is one to watch based on how it unfolds with the precursors. It has the making of a preferential ballot success, if only it can ignite enough passion and acclaim to place itself in the space of the big dogs in the race.
One contender I have more faith in than others is "Ma Rainey's Black Bottom." There is a nagging feeling I have about the concise, 94-minute film. It is the frontrunner in Best Actor and Best Actress for two of the industry's most beloved actors, Chadwick Boseman and Viola Davis. The film hails from August Wilson's play, allowing the film a certain spectrum of snob appeal. Additionally, "Ma Rainey's Black Bottom" will be a magnet for below-the-line technical nominations. Also, the general premise and setting is something that will appeal to Academy voters on a level of taste. In terms of practicality, Netflix is likely going to invest its resources in "The Trial of the Chicago 7" and "Mank." That will leave little push for "Ma Rainey's Black Bottom," but there is still enough time for the strategy to change.
What do you make of the Best Picture race? What do you think will be nominated and what do you think will win? Let us know in the comments section down below or on our Twitter account and be sure to check out our latest Oscar predictions here.
You can follow Ryan and hear more of his thoughts on the Oscars and Film on Twitter at @rc818