This week saw the first premiere screenings for Steven Spielberg's adaptation of the iconic musical "West Side Story." Typically, at least a handful of major contenders premiere late in the year following the rollout of festival films, so the Oscar potential for "West Side Story" has been a big question mark on people's minds. First reactions on Twitter can be a great way of narrowing down what categories the film seems primed to contend for and who the acting standouts may be. Here are some critics' early reactions to the film, plus thoughts from some of our NBP staff.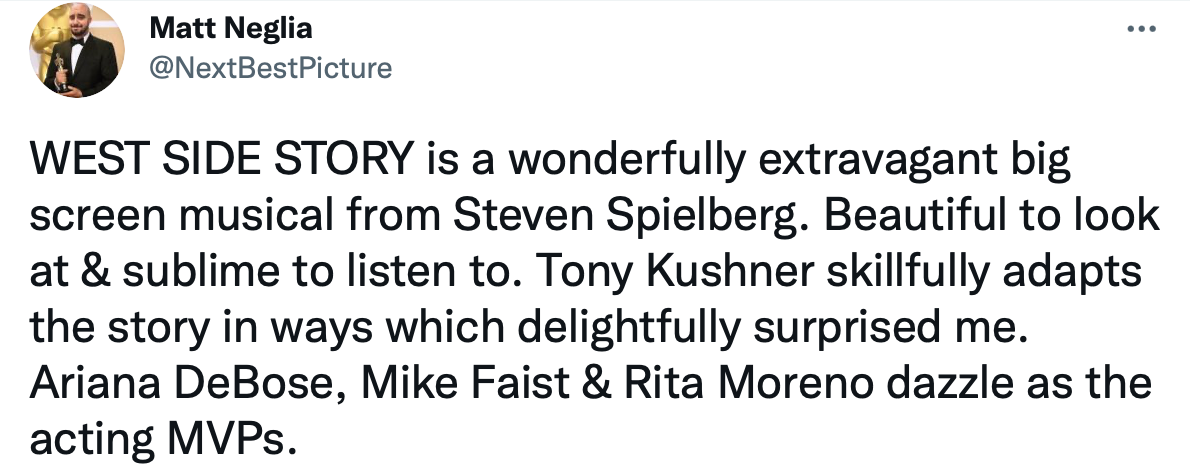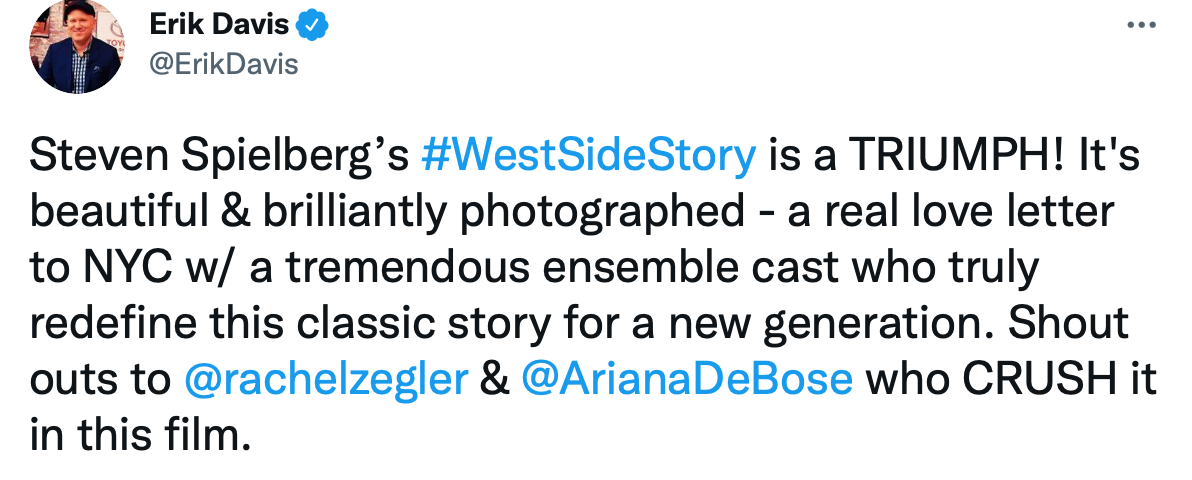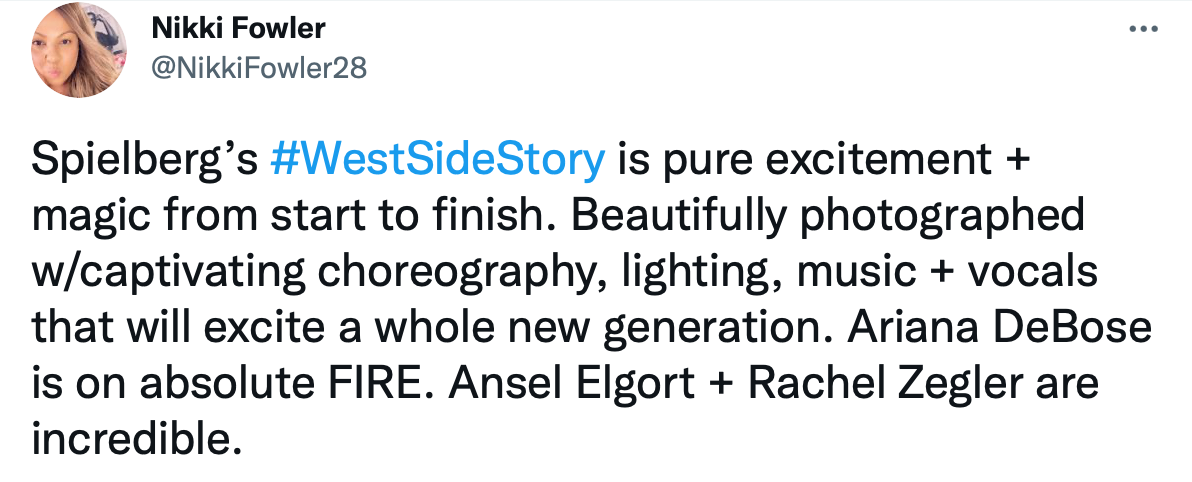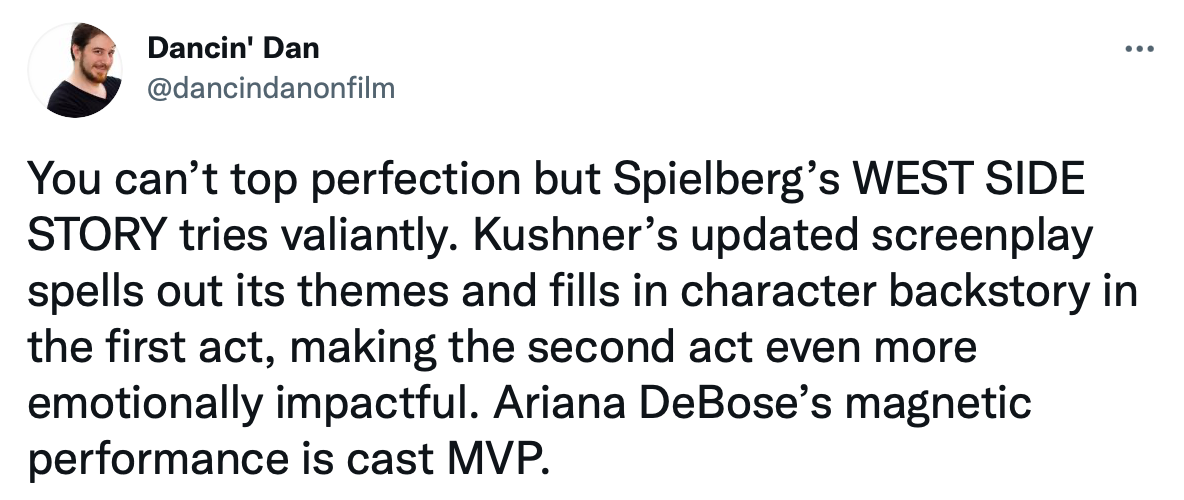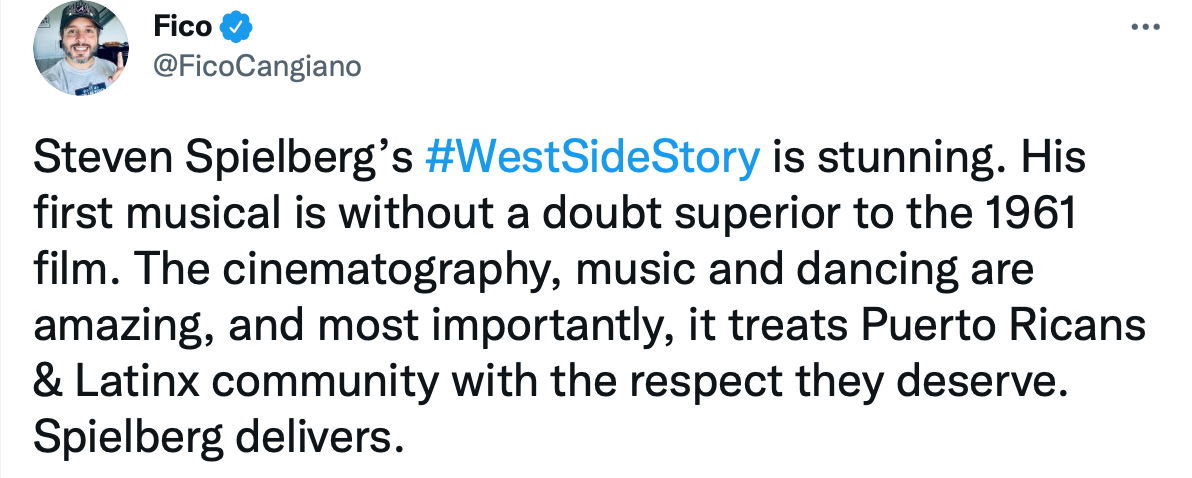 While there are some mixed reactions to individual elements, the overall film appears to be positively received and is now looking to be a top Oscar contender. While we knew a new adaptation of a beloved musical directed by a giant like Steven Spielberg would be a big box office draw, hearing that it is well-liked could lead to this being one of the more significant post-pandemic theatrical events and a decent hit. This is also a film that families or larger groups can go to, especially around the holidays, and those warm feelings could bode well for it in the Best Picture conversation. Another factor is the recent passing of the musical's lyricist Stephen Sondheim; an awards run could be seen as a beautiful send-off to him, where honoring the film could then be seen as a fitting tribute to the astronomical legacy he left behind. A Best Picture nomination feels like a sure-fire lock at this point, and it is looking to be at least a top-five contender for the win.
Having Steven Spielberg in Best Director also feels like a possibility. While some critics had issues with his direction, most praised it. Obviously, the Best Director category is much more competitive this year, so it may not be a guarantee, especially considering how often the Academy has in recent years nominated Spielberg's films for Best Picture but left him off for Best Director. However, the narrative of him making his first musical (something he has always expressed interest in doing) sets up a nomination and possibly a win if voters eat it up as much as we suspect they might. The screenplay by Tony Kushner is also getting a lot of mentions for some surprising changes and updates to the material. He appears to be primed for a Best Adapted Screenplay nomination and could even contend for a win over current frontrunner Jane Campion for "The Power of the Dog."
As far as performances, there have been several actors shouted out for their work in the film. Ariana DeBose as Anita seems to be the most talked-about, with a Best Supporting Actress nomination seeming even more likely than before the film's premiere. The role won Rita Moreno an Oscar for the 1961 film and has won Tony Awards in its various productions, so this has always been up for discussion. Still, now with these reactions, it seems more likely than ever that the young newcomer could receive her first nomination. The other Supporting Actress contender getting highlighted ironically is Moreno herself, who clearly has a strong narrative by returning to this property in a new and memorable role. This is a great way to honor a legend who is about to turn 90 years old, which, if nominated, would make her the oldest living acting Oscar nominee. It's unclear whether both actresses can get in (if there's a ton of support for the film, it could happen), but Moreno seems like the second most likely Oscar nomination. Mike Faist and David Alvarez have both received some notices for their performances. While the Best Supporting Actor category is chaotic at the moment with no clear sense of who will contend for a nomination, it seems less likely that either of these film newcomers can crash the category (especially if they end up splitting votes). Newcomer Rachel Zegler as Maria was definitely the most anticipated and buzzed-about performance leading up to the film's premiere, and she has undoubtedly been praised for her work. However, due to the nature of the role and Maria as a character, it is coming across more as a warm welcome introduction to the film world than a bonafide Best Actress contender. It could obviously still happen, especially if the film is really beloved, but with such a crowded field already, DeBose and Moreno may overshadow her.
For the technical categories, Best Sound feels like a given and will probably be the musical nominee of that group of five nominees this year. Being a flashy big-budget period piece, Costume and Production Design feel like easy nominations as well. However, the cinematography and editing have gotten a more mixed response. They could still be the kinds of nominations checked off by voters (cinematographer Janusz Kamiński is a two-time winner for Spielberg films, and editor Michael Kahn has three wins working with Spielberg), and the positive reactions could quickly overtake detractors. The visual effects have received some adverse reactions, but this is not necessarily the kind of film that would contend for that category anyway unless it was truly undeniable work.
Alongside probably "Dune" or "Nightmare Alley," "West Side Story" will likely lead in Oscar nominations if these first reactions are anything to go off by. Following being delayed a year due to COVID-19, this film has been anxiously anticipated for so long, with some questioning if Spielberg could pull it off (a silly phrase to even think at this point) or if a new adaptation of such a beloved property was necessary. Based on the early buzz, people seem to be pleasantly surprised and even blown away in some cases by what Spielberg has achieved. The overall positive reception will likely lead this late-season film to become an Oscar juggernaut, just as it did in 1961.
Oscar Prospects
Best Picture
Best Director (Steven Spielberg)
Best Actress (Rachel Zegler)
Best Supporting Actress (Ariana DeBose & Rita Moreno)
​Best Supporting Actor (Mike Faist & David Alvarez)
Best Adapted Screenplay (Tony Kushner)
Best Cinematography
Best Costume Design
Best Film Editing
Best Production Design
Best Sound
Will the Academy want to double-dip with two Best Picture wins for "West Side Story?" Is Steven Spielberg about to win his third Oscar for Directing? Which of the actors do you think could get nominated? Let us know your thoughts in the comments section down below or on our Twitter account, and check out the NBP team's latest Oscar predictions here.
You can follow Casey and hear more of her thoughts on the Oscars and Film on Twitter at @CaseyLeeClark