In the first year where the Best Picture field has expanded back to ten nominees again, it leaves things wide open for a huge big screen spectacle like "Dune" to crash the category. After a big opening weekend and plenty of passionate support, the drumbeat will go on for "Dune" to do more than just sweep below-the-line categories. In the process, it should keep inspiring comparisons to how "Mad Max: Fury Road" was the last fantasy blockbuster to truly threaten in above-the-line categories with director George Miller coming close to a win. However, the real blockbuster comparison for "Dune" isn't with "Mad Max: Fury Road" "Star Wars" or "The Lord of the Rings" trilogy – but rather, with the last sci-fi blockbuster to crash the Oscars in the first year of a ten film nominated Best Picture field. Of course, "Avatar" became a more massive hit in 2009 than "Dune" will surely be in 2021, yet the two share a lot beyond that little difference.
Back when Best Picture expanded for the first time in 2009, "Avatar" was a late-breaking epic that became the biggest movie of all time for a while. Fueled by blockbuster auteur James Cameron creating a new world no one had ever seen before, "Avatar" used groundbreaking immersive 3D technology to immerse audiences in a way that overcame a share of grumbling reviews under the surface to become both a record-breaking hit and a serious Oscar contender. In fact, if not for Cameron's ex-wife Kathryn Bigelow making history of her own with "The Hurt Locker," as the first female director to win Best Director, "Avatar" might have duplicated the success of "Titanic" in more places than the box office.
In 2009, Best Picture was expanded in part because "The Dark Knight" was another record-setting blockbuster snubbed in Best Picture the year before. "Avatar" was the ideal test case to prove there would be more room for such movies in the future, though the path got narrower when Best Picture switched to only an eight or nine film field per year. For the next decade, blockbusters struggled to get in unless they were biopics like "Bohemian Rhapsody" and "American Sniper," financially monumental successful comic book films like "Joker" or "Black Panther" or near-universally adored like "Mad Max: Fury Road" – yet none of them came as close to winning Best Picture as "Avatar" did.
Now that Best Picture has expanded right back to ten nominees, the first year of expansion may again include a sci-fi spectacle from a blockbuster auteur. This time, Denis Villeneuve has made a world that was technically seen before back in 1984 from director David Lynch and was read about for decades beforehand thanks to author Frank Herbert. However, by utilizing IMAX as a critical piece of the film's marketing after a year of big-screen event films, Villeneuve has made this old world seem new to critics and audiences who had waited decades to see the planet of Arrakis like this. Like Cameron before him with "Avatar," Villeneuve has made "Dune" overcome some grumbling reviews under the surface so far to exceed expectations, both at the box office and on the awards circuit. If this continues, "Dune" could not only be the big technical winner of the season but also make its mark in both the Best Picture and Best Director race, just as "Avatar" and Cameron did twelves years ago.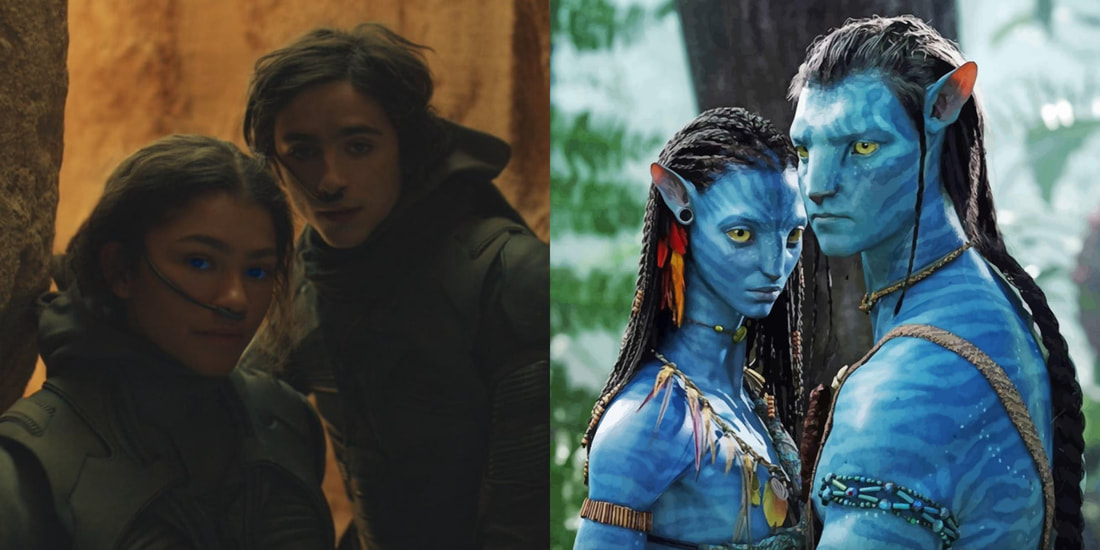 In a way, "Dune" and "Avatar" have the same basic story setup. Both have an outsider arriving at a wonderous planet, only to become the savior of its natives fighting to preserve their home. But since "Dune" is a decades-old story, the 2021 version may only seem to have many story and character cliches, because the books helped birth many of the genre's cliches. If anything, Cameron and "Avatar" ripped off the likes of "Dune" first, even if their story wasn't based on pre-existing material – at least not officially. Just as "Dune" has its warring forces fighting over the all-important substance of spice, "Avatar's" war was over a land rich with the all-important substance of unobtanium. Just as "Dune's" Paul Atreides is groomed and revealed to be the prophesized savior Kwisatz Haderach, "Avatar's" Jake Sully is groomed and revealed to be the Na'vi's prophesized leader Toruk Makto. And in both Arrakis and Pandora, powerful and corrupt forces across the universe must be defeated before they consume the planet's valuable resources and its natives, in tales meant to mirror real-life exploitation, colonialism, and ecological devastation.
Both tales are brought to life by directors who have become symbols for the theatrical experience. Cameron has redefined spectacle in movie theaters time and again, while Villeneuve has notoriously insisted viewers go see "Dune" on the largest screens possible, in spite of the pandemic and a day-and-date HBO Max release. Between Villeneuve taking Christopher Nolan's mantle in urging a return to theaters during the pandemic and Cameron's infamously thorough, to a fault, shoots and lengthy post-productions, these directors have ruffled more than a few feathers to ensure their massive films would deliver on massive screens.
"Dune" and "Avatar" are significant examples, though they also reflect the differences in Cameron and Villeneuve's style. Cameron tends to go big not just in scope, but in emotion, escapism, and sentimentality, to the point where those who don't buy the likes of "Avatar" and "Titanic" have found them laughable. Such detractors couldn't stop "Titanic" at the Oscars, but "Avatar" was ultimately another matter. On the other hand, Villeneuve is growing more Nolan-esque with his more dramatic and moody blockbusters, to the point where those who don't buy it may find him just as cold and clinical as they likely find Nolan. Such critics could put a dent in "Dune's" award campaign later on, especially as it and Villeneuve take on more emotion-driven challengers like "Belfast" and "King Richard" as well as smaller dramas like "The Power of the Dog."
Those who mock the non-visual elements of Cameron's worlds, as they did with "Avatar," may well forget or choose to ignore when they did deliver in "Titanic" and his two "Terminator" films. And those who think Villeneuve has no humanity in his chilly worlds certainly choose to forget "Arrival," "Prisoners," and the gut punches in both "Sicario" and "Blade Runner 2049." Nevertheless, whether unfairly or by their own unforced errors, Cameron and Villeneuve can be very divisive topics of debate for audiences and critics – with "Avatar" and "Dune" as their most recent examples. Yet, after audiences and voters finally put down their 3D glasses, "Avatar" could not entirely seal the deal for Best Picture or Best Director wins at the Oscars. While Cameron and his movie benefited from both a larger field and a somewhat weak field all at once, Bigelow and "The Hurt Locker" were too strong and inevitable at the very top. Still, they had enough room to be the second choice, whereas "Dune" still might have a ways to go to get that far twelve years later.
"Dune" is finally out at a time where "Belfast," "King Richard" and "The Power of the Dog" have established themselves as the three Best Picture frontrunners and seem unlikely to drop down any time soon – even before the fall's biggest unseen contenders reveal themselves. Without the possibility of record-setting box office, which would have been remote even with no pandemic or HBO Max, "Dune" may not become enough of a juggernaut to threaten in Best Picture. Yet it can certainly do enough to get nominated if there aren't any big speedbumps, which would help Villeneuve threaten in the more wide-open Best Director race.
In 2009, Cameron was beaten by the first female Best Director winner, who was pushed over the top by having the Best Picture winner as well. In 2021, Villeneuve could be beaten by the potential third female Best Director winner in Jane Campion, though her and "The Power of the Dog" aren't the sure thing Bigelow and "The Hurt Locker" were. At this point, there's a very good chance the likes of Campion, Kenneth Branagh, Steven Spielberg, Guillermo del Toro, Paul Thomas Anderson, and more could either cancel each other out, fall off completely, or get honored elsewhere, leaving room for Villeneuve to be the last one standing.
Maybe "Dune" won't get to do what "Avatar" couldn't in the Best Picture category, depending on what becomes of the other frontrunners. But if Villeneuve gets to do what Cameron couldn't in Best Director, that will be a big enough win to make "Dune" a historic blockbuster triumph at the Oscars. What's more, it will undoubtedly build up hype for its second part, when and if it is greenlit by then.
"Avatar" was initially meant to be just one film, yet Cameron is now working on four sequels at once – and might eventually get to release one of them (someday). "Dune" was supposed to be at least two parts, yet Warner Bros. chose to wait and see what became of Part One before committing to Part Two. But although both "Avatar" and "Dune" had played a long waiting game before they got to continue their stories, the Oscars have – and in "Dune's" case, likely will – play a part in ensuring their legacies eventually continue.
What do you think will be nominated for Best Picture this year? Check out the NBP team's latest predictions here. How do you think "Dune" will perform at the Oscars? Let us know your thoughts in the comments section below or on our Twitter account.
You can follow Robert and hear more of his thoughts on the Oscars and Film on Twitter at @robertdoc1984