By Tom O'Brien
​
"There's just too many shows on TV."
I can't tell you how many times I've heard a variation of that lament from close friends (and even from one who's an Emmy voter!) in the past year. Now that nomination voting by members of the Television Academy has concluded, the emphasis for Emmy watchers shifts from advocating for who should get nominated to predicting who will.
Tight races are everywhere this year, as dozens of series and hundreds of acting contenders wait to learn whether they are among the chosen ones. But nowhere is the crush of potential nominees tighter, as it seems to be every year, than in the race for Outstanding Limited Series. Streaming services and premium cable networks have recognized that limited series, which often attract top-tier talent both in front of and behind the camera, can bring both viewers and prestige to their brand — and their numbers have increased year after year.
Last year proved to be a bit of an embarrassment to the Academy in the Limited Series category as 13 strong consensus contenders vied for a paltry five nomination slots, the fewest of any major category. In response, this year, the Academy has upped the number of nomination slots in the category to six. However, on this year's Emmy ballot, a whopping total of 61 limited series were vying for those six slots, and the number of serious consensus contenders rose to 15.
Whittling that many contenders down to the core favorites likely proved challenging to Emmy voters, just as it is now for Emmy prognosticators. But I'll give it a go. Combining a mixture of stats — previous industry awards won and critical reaction — with social media reaction and the kinds of shows that Emmy voters have liked in the past, I have singled out six limited series that I think have the best chance to be nominated. This race has gotten so tight, though, that I've hedged my bets by including four additional series that are just on the cusp of a nomination and could easily make it to the final six.
Each limited series this year has at least some pluses or minuses for a nomination, so I've included those along with their listings. In order of likelihood, let's take a look at the primary contenders for an Emmy nomination for Outstanding Limited Series.
DOPESICK
STREAMING SERVICE: Hulu
With star Michael Keaton sweeping the early Best Actor awards, "Dopesick" is probably the likeliest limited series to be nominated among this tightly-bunched group. Danny Strong's eight-episode series takes on the vast issue of America's opioid crisis brought to vivid life through the stories of composite characters whose lives have been destroyed by the epidemic and the power of their experiences seen through Keaton's eyes is both infuriating and heartbreaking.
PRO: The timeliness of the series' depiction of the opioid crisis makes the series as relevant as any. A bonus for its chances: the large Acting Branch will have to see "Dopesick" to consider Keaton and Kaitlyn Dever, and at this stage, getting eyeballs to see your show is the name of the game.
CON: Is the subject matter just too heavy for voters to get through all eight episodes?
THE WHITE LOTUS
STREAMING SERVICE: HBO Max
Mike White's darkly satiric look at privileged elites behaving (very) badly at a posh Hawaiian resort was the must-see television event last summer, prompting enthusiastic online chatter throughout its six-episode run. The series was not always a comfortable watch — the characters' selfish antics hit at times very close to home for some — but it was a critical hit, with Jennifer Coolidge and Murray Bartlett winning this year's Critics Choice Awards for their supporting performances.
PRO: Few of the rival contenders generated the kind of social media hysteria that greeted each new weekly episode of "The White Lotus" last summer. Like "Dopesick," Acting Branch voters won't want to miss Coolidge and Bartlett.
CON: But will Emmy voters, famously known for their short memory spans, remember to vote for a show they saw almost a year ago?
MAID
STREAMING SERVICE: Netflix
Anchored by a career-best performance from Margaret Qualley, this ten-part Netflix series, based on Stephanie Land's popular memoir, captures the struggles of Alex, a financially-destitute single mother who flees her abusive boyfriend to try to make a better life for her child. The abuse that Alex must endure is sometimes difficult to watch, but Whalley's empathetic performance keeps the audience invested in her future.
PRO: "MAID" has already been nominated for many of the industry's top awards (TCA, Globes, and Critics Choice), and Emmy should likely follow suit.
CON: The series' premise may simply be too low-key to compete against the name stars and high concepts of its competitors.
THE DROPOUT
STREAMING SERVICE: Hulu
In this year's weird subgenre of miniseries featuring high-tech startup scammers (Hulu's "WeCrashed" about WeWork and Showtime's "Super Pumped" about Uber), the best of the lot is Hulu's "The Dropout," which chronicles the rise and fall of disgraced biotech company Theranos and its founder Elizabeth Holmes (Amanda Seyfried). What distinguishes "The Dropout" from its rivals is its focus more on the character of Holmes herself rather than the feverish details of the scam.
PRO: The base material of the series from a podcast by ABC News may give "The Dropout" more journalistic weight than its rivals in the race.
CON: Will Emmy voters come down with scammer fatigue in this category and bypass all three series in this genre?
THE STAIRCASE
STREAMING SERVICE: HBO Max
As last year's "Mare of Easttown" proved, true crime dramas have a hold on Emmy voters, so it's no surprise that two of the race's leading contenders center on a murder — but each is told from a very different perspective. In "The Staircase," the murder of a wife and mother (Toni Collette) is seen from three points of view: Her husband (Colin Firth), who has been accused of the crime; her family thrown in disarray; and a French filmmaking crew which is documenting the crime's aftermath. The mixture is a unique one for a crime drama and may help "The Staircase" stand out from the pack.
PRO: The sheer novelty of telling a true-crime drama with a meta element certainly distinguishes "The Staircase" and the pedigree of its esteemed cast, including Oscar winners Firth and Juliette Binoche, impresses as well.
CON: Its unusual premise aside, "The Staircase" is no "Mare of Easttown," at least in terms of audience response, with a common complaint being the series' sluggish pace in later episodes.
UNDER THE BANNER OF HEAVEN
STREAMING SERVICE: Hulu
Oscar-winning writer Dustin Lance Black adapted this miniseries from the nonfiction book by Jon Krakauer. What begins as an investigation of the brutal murder of a mother and her infant child turns into a clash between warring sects of the Mormon Church. In the course of getting at the truth, Detective Jeb Pyre (Andrew Garfield), a devoted Mormon himself, finds his faith shaken when his investigation leads into the darker side of the Church. Yes, "Under the Banner of Heaven" is a crime drama, but it is much more of a character study of a man fearful that his faith is about to crack.
PRO: The interweaving of a murder investigation with a crisis of faith gives the series an emotional resonance rarely seen in true crime dramas. A bonus is Garfield, who, after a stellar 2021 in movies, brings welcome attention to the series in this tight Emmy race.
CON: The mixture of a pulp crime drama with a crisis of religious faith may not be a palatable combination for some Emmy voters.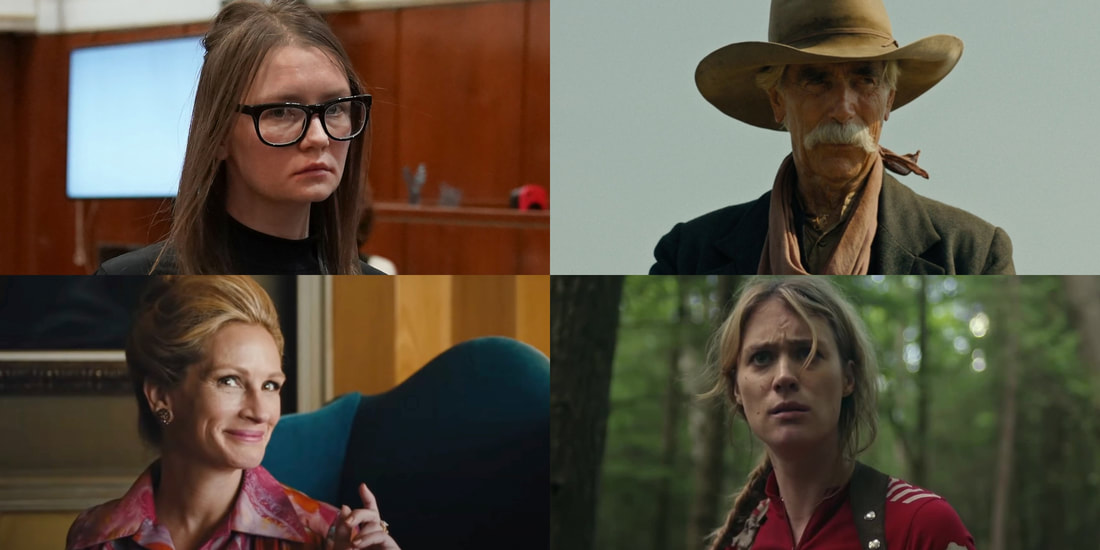 These are my predicted six series to land an Emmy nomination but don't count out these four additional series, each of which is knocking on Emmy's door.
1883
STREAMING SERVICE: Paramount+
This prequel series to "Yellowstone" keeps this focus on the Dutton family, this time in the 19th Century, as James Dutton (Tim McGraw) and his wife Margaret (Faith Hill) bring their family West via wagon train to begin a new life. What may be unexpected is how series creator Taylor Sheridan tells the story through the eyes of the Duttons' teenage daughter Elsa (Isabel May), who must deal with facing adulthood as her life is being uprooted while also facing the dangers of being a young woman in a West that's still very wild.
PRO: The overdue Emmy recognition for "Yellowstone" is getting stronger, and "1883's" association with that hit show may carry over here. Also, "1883" offers a distinctive alternative to the crime dramas that often populate this category.
CON: While the family connection to "Yellowstone" is still there (if limited), "1883" is much more a straight-up Western, a genre that has fallen out of favor with Emmy voters due to lack of product. It's been a long time since "Lonesome Dove."
STATION ELEVEN
STREAMING SERVICE: HBO Max
While still facing the dangers of a deadly pandemic, you might think that the last kind of limited series that audiences would want to see is one in which a virus wipes out 99% of the world's population. Still, audiences showed up to watch this 10-episode series, even though it's not an IP or based on historical events. Seeing a global disaster through the eyes of a group of traveling performers is an unusually effective one, providing a theatrical pathway into the story that allows such downbeat material to become gripping.
PRO: "Station Eleven" may earn voters' respect the hard way — no flashy star power but just plain great storytelling.
CON: That being said, many of its rivals have higher audience awareness, and in a tight race, that may be a factor should it fall short on nomination day.
GASLIT
PREMIUM CABLE NETWORK: Starz
From "Game Change" to "Chernobyl," historical series based on headline news have been proven winners in this category. This year's political hopeful is this eight-part Starz series set in the days of Watergate when Martha Mitchell (Julia Roberts), the outspoken wife of Richard Nixon's Attorney General John Mitchell (Sean Penn), becomes the first person to call out Nixon's involvement in the scandal and is subsequently destroyed for it. Even in her day, Martha was considered quite the character, and Roberts playing this camera-loving whistle-blower proves to be a surprisingly good fit.
PRO: Two Oscar-winning movie stars plus likely below-the-line nominations (such as hair & makeup) could result in a nomination for the big prize itself.
CON: To be blunt, how many people do you know who watch Starz? That's the problem in getting voters to see your show.
INVENTING ANNA
STREAMING SERVICE: Netflix
Watching films about con artists who bilk the unwary elite is a classic audience favorite, often providing actors the juicy chance to portray two people in one character. In the nine-part Netflix series created by Shonda Rhimes, two-time Emmy winner Julia Garner plays Anna Sorokin, a real-life Russian-born scammer who, under the name of Anna Delvey, bilked banks, hotels, and New York's tastemakers to the tune of over a quarter-million dollars, shaking the upper echelons of society to the core.
PRO: Two names: Emmy darling Julia Garner. Television legend Shonda Rhimes. Emmy voters: attention must be paid.
CON: Still, the reviews of "Inventing Anna" were mixed at best (64% on RT), and considering the critical acclaim received by several rivals, voters may flock elsewhere.
And if these ten weren't enough, waiting in the wings would have to be Showtime's "The First Lady," Hulu's "Pam and Tommy," Disney+'s "Moon Knight," Amazon Prime's "A Very British Scandal," and HBO Max's "Scenes From a Marriage." With contenders like these, it will be one exciting guessing game between now and Emmy nomination day on July 12th.
​
Which of these shows do you think will be nominated Outstanding Limited Series at this year's Emmys? Are there any others we left off which you think could get in? Please let us know your thoughts in the comments section below or on our Twitter account.
You can follow Tom and hear more of his thoughts on the Emmys and TV on Twitter at @thomaseobrien