​​Yes, "Scream 5" is happening, but without series legend and "the Master of Horror," Wes Craven; yes, without Dimension films and the short leash, uber control of Bob and Harvey Weinstein over its plot and production; yes, "Scream 5" is going to be shot and released ten years since "Scream 4," which made significantly less money at the box office than the original trilogy.

Blumhouse Productions, a production company with a boutique specialization in horror films, announced last year that they were interested in revisiting the "Scream" series. As details have trickled in, it was revealed the new "Scream" film would not be a clean reboot, but rather a direct sequel to "Scream 4". In addition, the directors of "Ready or Not," Matt Bettinelli-Olpin and Tyler Gillett, would undertake the intimidating task of being the first people to direct a "Scream" movie other than Wes Craven. Joining them in a new vision for the franchise is fellow "Ready or Not" writer, Guy Busick, and James Vanderbilt of "Zodiac" fame. They will take over the writing responsibilities from the two writers of the four proceeding films, Kevin Williamson and Ehren Kruger. Inspiring good news, Paramount Pictures is on board to distribute the film, eyeing a 2021 release date.

From here, however, things get complicated and vague. Neve Campbell, Courteney Cox, and David Arquette have been the trio in each installment of the series thus far, yet as of this writing, Arquette is the only actor confirmed to return as his original character. Blumhouse has kept a tight seal on just about every detail about this movie. There's no sense of who the main character will be, what the circumstances of the plot are, and, Campbell and Cox aside, who the cast will be aside from Arquette. The only thing we know about the film is the following brief description: "['Scream 5'] will follow a woman returning to her home town to try to find out who has been committing a series of vicious crimes."

A sober-minded, casual viewer of the series would read that and think, "Okay, so Sidney (Campbell) returns to Woodsboro after murders begin again." But, not so fast. The only assumption I'm confident making is that the setting will be back in Woodsboro, like the original "Scream" and "Scream 4." However, there's room for speculation about who the "woman" is. It could very well be Sidney, but a curveball people who are entrenched in these films may not see coming is the return of Hayden Panettiere as Kirby Reed from "Scream 4".

You may be thinking, "But, wait…Kirby died, right?" Not necessarily. The short version of a long story is, when Kevin Williamson conceptualized "Scream 4," he wanted the fourth film to be the first chapter in a second trilogy. Everyone thought "Scream 4" would have had the original cast passing the torch to the new generation, but those assumptions were upended by the brilliant cultural and meta-commentary in "Scream 4" where only the original trio were allowed to survive yet again. However, due to the "no-kill" clause in Panettiere's contract, Kirby's death was intentionally left ambiguous by Wes Craven. We never actually see her die in "Scream 4," her wounds were very similar to that of Sidney's in "Scream 4," so if Sidney survived, it's possible Kirby did, too. Many fans have speculated it was Williamson and Craven's intent for Kirby to be the heroine of the next films and new trilogy, despite the nebulous storytelling choices.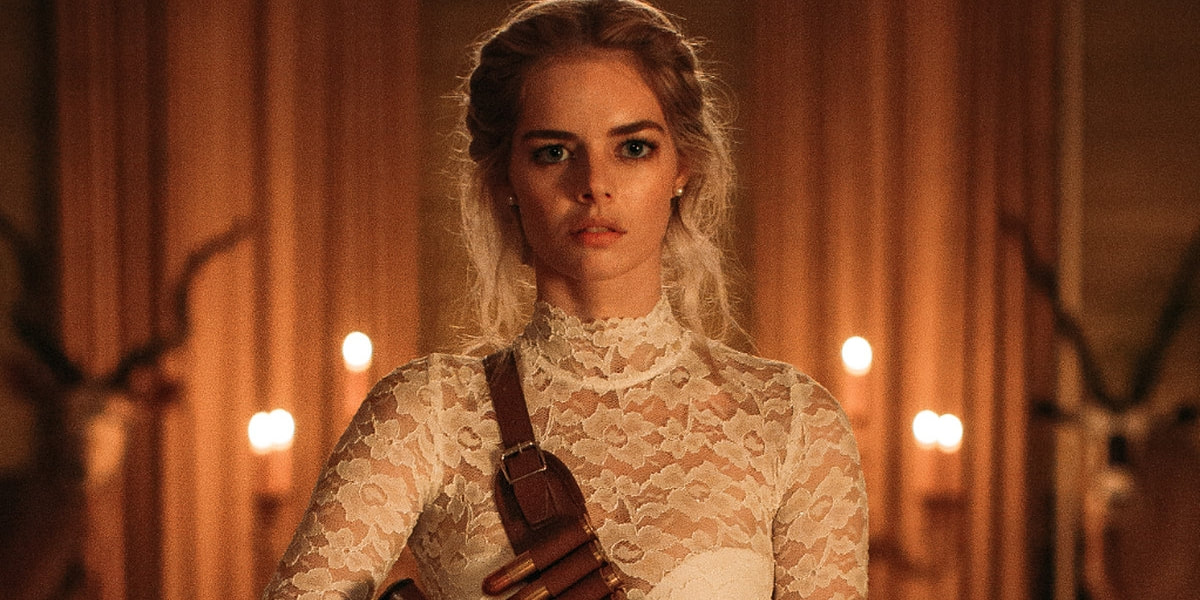 However, the new trilogy, and all of this discussion, was put on hold ten years ago after "Scream 4" only made $38 million domestically and $97 million internationally. Compared that to the money made for the original films: $103 million domestically and $173 million internationally for "Scream"; $101 million domestically and $172 million internationally for "Scream 2"; and $89 million domestically and $161 million internationally for "Scream 3". The lackluster profit, along with a bitter relationship between writer Williamson and the Weinstein brothers after chaos in the re-writing of the "Scream 4" script, delayed plans to make a fifth film. There were rumblings for a while, but were permanently set to a close after Craven's death in 2015. Who could imagine a "Scream" film being directed by anyone other than Craven? For the record, I'm a huge fan of "Ready or Not" and feel as comfortable I could be by the choice of Bettinelli-Olpin and Gillett as the successors of Craven for directing the series. "Ready or Not" itself has a tone that was very much in keeping with the tone set by "Scream 4," at least. In addition, they have a real eye for camera movements and framing which could make "Scream 5" more artistic than any other film in the series.

Back to Panettiere. From the looks of it, she's enthusiastic about returning for "Scream 5". She was a force in advocating for the fourth film back in 2011, recently joined Instagram on a public level, and changed her hairstyle back to Kirby's pixie cut, posting a picture on Twitter a few months ago where she admitted the decision was inspired by Kirby's "Scream 4" signature look. Fans love the character of Kirby, in a similar way they love Parker Posey's character of Jennifer in "Scream 3". The buzz around this character may be inflated by a segment of the fandom, but part of Kirby's popularity is earned and organic.

If Kirby returns, I find it highly unlikely that she will be the focus of the film more than Sidney. In my view, it's difficult to imagine "Scream 5" being anything other than a redux of "Scream 4," an anniversary movie type of fare, especially if "Scream 5" is coinciding with the 25th anniversary of the original film. If this is true, then perhaps "Scream 5" will provide set up for Kirby or another character we don't know about yet to lead "Scream 6" and "Scream 7," as a new trilogy without the original trio. Or maybe "Scream 5" will be a reunion film for the original cast and finally end the series and the stories of the characters we've watched now over its duration. Everything is on the table.

The original trilogy, as a unit, is my favorite movie of all-time. I lived through the production of "Scream 4," waking up to new pictures from the set every day, new plot details, speculation, etc. As a fan, I'm pumped for "Scream 5" to begin production in Wilmington, North Carolina, this fall. However, until the details are confirmed, there are legitimate concerns to be had, like how will COVID-19 impact its production and post-production? All the news points to America's lack of progress in curtailing the virus, and if the number of cases continues to increase, it's difficult to imagine "Scream 5" actually being shot, cut together, and delivered by 2021, which would be an ideal time to release it – 25 years after the original "Scream" stabbed its way into theaters.

Full disclosure: I'm not a fan of this idea that the original trio is stale, needs to be killed off and replaced with new heroes. For me, that contradicts what makes these films so successful on a storytelling level. Unlike "A Nightmare on Elm Street," "Friday the 13th," and "Halloween," where those films are about their respective boogeyman "Scream" isn't about the Ghostface killer. These films are about Sidney Prescott, her backstory and character arc, and to a lesser extent, Gale Weathers (Cox) and Dewey Riley (Arquette). The "Scream" films are more similar to "Harry Potter" than to "Friday the 13th". The characters guide the story. They're not simply replaceable for the same killer to attack a new, unconditioned cast. A "Scream" film without these characters is doomed to struggle unless they set up a relevant connection to Sidney and a substantial backstory for the new main characters, similar to how the storyline of Sidney's mother, Maureen Prescott, was the catalyst and backbone of the original trilogy.
​For me, I always knew Arquette would be the easiest "get" for "Scream 5" – his career doesn't stretch far beyond these films and he seems to genuinely love being a part of them. That brings us to Campbell and Cox. Going back to my thoughts above about who the "woman" in the description is, my view is that it's clearly Sidney and that her arc for "Scream 5" is going to be about her inserting herself into the murders to stop them, which is fitting growth from being the victim who's running from circumstances in the first four films to actively trying to stop them in this new film. I'm confident Neve Campbell will return. Despite her attitude from 20 years ago, which was circumspect of making too many "Scream" films, she has clearly become less afraid of being pigeonholed as a "Scream Queen". In recent years, Campbell is embracing that title, since the character of Sidney Prescott has been the greatest material and financial success of her career. And she has essentially confirmed her interest in returning in interviews during the COVID shutdown, but nothing has been made official It's likely Campbell is still negotiating her contract.

The member of the trio who's beginning to make me anxious is Cox. There has been no news – nothing, nada, el grande nada – about Cox returning as Gale Weathers. This could make sense, as she is easily the biggest star of the trio outside these films and comes with the biggest price tag, but I'm still nervous. A widely known fact is Cox kept urging Craven to kill off Gale in the iconic Stab a Thon scene in "Scream 4," where Gale is chased, stabbed in the shoulder, and survives. That fact doesn't sit with a fan who loves Gale and wants to see her return for a fifth film. With that being said, 2011 was a different time than 2020 for the actress. Cox was knee-deep in her ABC comedy, "Cougar Town," for which she was nominated for a Golden Globe prior to filming "Scream 4". My fear is she's exhausted from making these films and she doesn't want to sign on for another entry. However, she hasn't worked on a major project in over five years, since the end of "Cougar Town". Despite having a few new television projects in the pipeline, Cox will hopefully decide to given Gale another go.

Something for film fans to consider is the film's budget. Part of why "Scream 4" was such a financial disappointment was because its budget was $40 million, therefore the film didn't even make back its budget in America (again, it only grossed $38 million domestically, which is about what "Scream 3" made in its opening weekend in 2000). There are a variety of factors to explain the financial failure: poor release date (in April!), competitive weekend (against the 3-D entity of "Rio"), and lacking a marketing campaign. Who would have thought a $40 million budget would be a risk after the first three films grossed a range of $162-173 million worldwide per film?

The budget could be a problem for "Scream 5". In order for the fifth film to lure Campbell, Panettiere, and especially Cox back into the fold, "Scream 5" will need a nicely sized budget. Campbell's salaries for "Scream 3" was $4 million and about $5 million for "Scream 4". On the flip side, Cox was paid $7 million for each "Scream 3" and "Scream 4". If the studio views the budget of "Scream 4" as a red flag, they could be conservative in the money they put up for the feature, which in turn would provide little incentive for Cox to return. Campbell will likely return no matter the budget, in my estimate. This is what scares me, and why I fear Gale not returning may be a real possibility. Perhaps this is simply chalked up to the fear of the unknown since there's so little news about the film and plot details released. It's difficult to imagine any "Scream" film of which Gale isn't a part, while Sidney and Dewey do return. But stranger things have happened. Another reality we may face is, yes, Cox returns to play Gale in "Scream 5," however, she negotiates her contract to be that Gale must die and this will be her final appearance. Or this is all crazy, paranoid speculation.

Other potential wild cards are Patrick Dempsey and Marley Shelton returning for "Scream 5". Dempsey played Detective Mark Kincaid in "Scream 3". Kincaid survived and was set up as a love interest for Sidney. Personally, I would love to see Dempsey return. I adored his very adult turn in "Scream 3" and his chemistry with Campbell. But after his acquired fame on "Grey's Anatomy," he's likely to be uninterested. Marley Shelton played a cop, Deputy Judy Hicks, who also survived in "Scream 4". Hicks makes sense to return since the story is set in Woodsboro again. I would love to see Hicks revealed as a killer; the backstory they presented for her in "Scream 4" was fertile ground for a grudge against Sidney and her obvious tension with Gale would provide much motivation. In addition, the series has never had a survivor who's also a killer. My guess is they won't do this since many people who were casual fans of the original trilogy twenty years ago didn't even get around to seeing "Scream 4" when it released ten years ago.

All news reports point to the announcement of big casting decisions in the coming weeks, which will provide a clearer picture of what "Scream 5" is going to be. Are you excited? Let us know your thoughts in the comments section below or on our Twitter account.
You can follow Ryan and hear more of his thoughts on the Oscars and Film on Twitter at @rcs818