By Matt Neglia The 2016 Telluride Film Festival has concluded and we have emerged from the popular festival with a much better idea of how the 2016 Oscar Race is shaping up. Some films need to still be seen a by more people ("Bleed For This") while others made another stop on the trail ("Manchester By The Sea") towards potential Oscar glory. The Venice Film Festival is still going on right now until September 12th, while the Toronto Film Festival starts September 8th and the New York Film Festival follows September 30th. There is certainly more to come from this exciting season, but a lot usually starts with Telluride due to their notoriety for hosting world premieres for certain films throughout the season. So with that said, down below we highlight the big takeaways from the Telluride Film Festival.
1. Believe The Hype! "La La Land" Is The Early Frontrunner For Best Picture
As the lights cam up in the auditorium, word has it that the applause started and did not let up for nearly everyone that attended Telluride can testify one thing: "La La Land" is the real deal. It also proves that Damien Chazelle was no one-hit-wonder with "Whiplash" and that he is here to stay. With glowing reviews and enthusiastic tweets from those who attended the screening, it proves that the film not only has broad appeal but could also be a very serious play for Emma Stone in Best Actress. It has the right combination of nostalgia, technical craft, light hearted appeal and a strong leading performance to carry it all the way to more than a few Oscar wins in many categories. December 2nd cannot come soon enough for the colorful musical.
2. Casey Affleck Is Out In Front For Best Actor In "Manchester By The Sea"
Word started going around back at Cannes that Casey Affleck had given a powerful performance in Kenneth Lonergan's "Manchester By The Sea" with some suggesting that it was his best work to date. That positive word continued to gain momentum as the film screens to more and more people. People are praising many aspects of the film, from Lonergan's direction and screenplay, to the supporting performances of Michelle Williams and Lucas Hedges but its Affleck who everyone is unified in their love for. That kind of momentum and buzz could make the one time nominated actor (For the brilliant "The Assassination Of Jeese James By The Coward Robert Ford") a two nominee and very likely winner. With a weak category starting to emerge due to Nate Parker's controversy and other contender's films underperforming critically, Affleck is looking more and more like a lock as the weeks roll on.
3. "Bleed For This" Has Oscar Worthy Performances
Despite the emergence of Casey Affleck as the frontrunner in Best Actor, we should not discredit Miles Teller in "Bleed For This." Teller plays real life boxer Vinny Paz who suffered a horrific spinal injury that threatened to leave him paralyzed if he ever step foot back in the boxing ring. Word coming out of Telluride is that Teller is really terrific in the lead role, even if the film itself proved to be more divisive with people. Carrying enough equal praise though was supporting player Aaron Eckhart who, like Teller, is looking for his first nomination and could very well see that happen with "Bleed For This." Boxing trainer roles have done very well in the Best Supporting Actor category before. Look no further than Sylvester Stallone who got his first acting nomination for his supporting work in "Creed" last year. However, the Italian Stallion did not win last year so nothing is a sure thing.
4. Bryan Cranston Is Fine In "Wakefield," But The Film Is Not
Another Best Actor hopeful early on was Bryan Cranston, who stars in the (Until recently) unknown "Wakefield." The film tells the story of a man who suffers a nervous breakdown, leaves his wife and locks himself in his attic. It looked like it could be an Oscar vehicle for Cranston who managed a Best Actor nomination last year for "Trumbo." However, the film opened up to mixed reviews with everyone at least signaling out Cranston. Unless its an extremely weak year, it seems that this film's chances have now come and gone.
5. "Arrival" May Be Too Cold For Some
We mentioned before that Emma Stone made a serious dent in the race for Best Actress for her performance in "La La Land" but another actress that managed to twist a few heads was five time nominee Amy Adams for her performance in "Arrival." While Adams is receiving strong reviews for the film, director Denis Villeneuve's latest is being hailed by many and in a few dark corners questioned by others. Science Fiction is always a tough sell for the Academy whether you're "Gravity" or not. It's always tough and don't ever let anyone tell you otherwise. So despite solid reviews, "Arrival" still has its detractors and may be in potential danger of missing out in many top categories. If the film is a big hit at the box office, that may turn the tide, but for now the film remains somewhere in the middle.
6. "Sully" May Be Another Contender For Eastwood
Clint Eastwood has always been a hit or miss director throughout the years. For every "Mystic River" and "American Sniper" there is a "Hereafter" or "J. Edgar." From what we have been hearing, it appears "Sully" falls more in the former category as it comes swooping in as his leanest effort in ages with a running time of 96 minutes and a strong lead turn from the beloved five time nominated actor Tom Hanks. "Sully" is said to be a possible contender for a few technical categories, Best Actor for Hanks and never discredit Eastwood himself (Who was probably number 6 in the nominee field for Best Director two years ago) and the film for Best Picture. The film's theme may resonate with older voters in the Academy and could be this year's "Bridge of Spies" which also coincidently starred Tom Hanks in the leading role.
7. "Moonlight" Is The Dark Horse That Could Go All The Way
Last but not least is director/writer Barry Jenkin's powerful tale of an African American male struggling to grow up in a masculine society despite his ever evolving sexual identity. "Moonlight"could be the art house critical darling of the year as many people commented on how this is one of the most important films ever made and that it is perfect in nearly every way. Such acclaim, respect and enthusiasm will give studio A24 the confidence to go with this film all the way as it has now emerged as a dark horse contender (Box Office will be important, make no mistake about it) in many categories including Best Picture, Best Director, Best Adapted Screenplay, Best Supporting Actor (Mahershala Ali), Best Supporting Actress (Naomie Harris) and possibly even more. It's still holding strong on both Rotten Tomatoes and Metacritic (At the time of this writing) with 100% approval rating from both websites. For those who may or may not be aware of the power of this film, I'll leave you with a few tweets and the trailer below.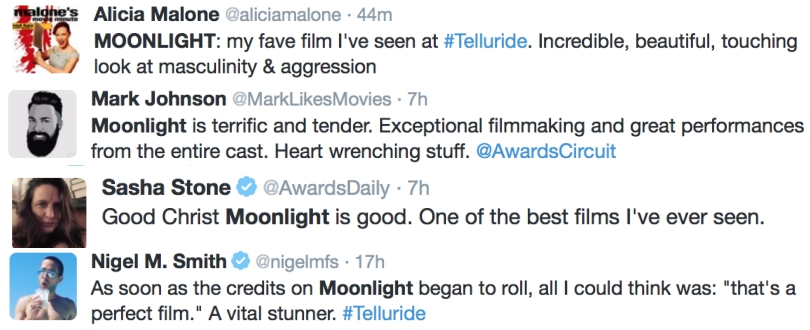 You can follow Matt and hear more of his thoughts on the 2016 Oscar Season on Twitter at @NextBestPicture