The 72nd Primetime Emmy Awards was unlike any other award show in history. Due to the COVID-19 pandemic that rendered the production of the entertainment immobile for months, there was no red carpet, nor was there was a massive audience filled with nominees waiting for their names to be called to the stage. The Television Academy went to great lengths to accommodate these safety restrictions while maintaining the integrity and entertainment value of the show. There was an ample amount of social distancing among the presenters and an elaborate virtual set-up for the nominees watching and literally accepting trophies from their homes.
Jimmy Kimmel stepped into the crucial role of host for this year's Emmys and his delicate, reassuring touch kept the evening running smoothly under the circumstances. The set-up allowed for moments of spontaneity, including an albeit, very funny bit between Kimmel and presenter Jennifer Aniston early in the evening, where Kimmel took to extremes to sanitize the envelope with the winner's name inside. To continue his slapstick joke, Kimmel set the envelope on fire in a garbage can on stage, which Aniston was responsible for putting out with a fire extinguisher. In an unplanned moment, the fire did not completely cease and Aniston had to use the fire extinguisher again to completely put the growing fire out. This was perhaps my favorite moment of the evening, other than maybe the other moment with Aniston reuniting with her "Friends" co-stars, Courteney Cox and Lisa Kudrow, later that night at home before the announcement of her category, Outstanding Lead Actress in a Drama Series.

Records were broken and surprise outcomes bubbled to the surface left and right at the 72nd Primetime Emmy Awards. The most notable winner of the evening came in the form of Zendaya for "Euphoria," who emerged as the victor in a hotly competitive race between Jennifer Aniston, Laura Linney, and Olivia Colman for Outstanding Lead Actress in a Drama Series. This win is reminiscent of Tatiana Maslany's win for "Orphan Black" in 2016: a surprise win by a young actress in a stacked year for a show that is not fit-the-mold of a traditional Emmy-approved show. In retrospect, the outpouring of support from major, A-list celebrities after her surprise nomination most likely foreshadowed this upset.

At 24, Zendaya is now the youngest actress to ever win this award and the second Black actress to win this award, after Viola Davis made history for "How to Get Away with Murder" five years ago. Zendaya was also one of seven people of color to win an acting trophy in this Emmy cycle, breaking the previous record of six people of color winning acting awards in a single year, in 2018. A much milder surprise was Uzo Aduba's triumph in the Outstanding Supporting Actress in a Limited Series for her siring portrayal of political legend Shirley Chisolm in "Mrs. America," a timely win with the next presidential election for the United States just weeks away.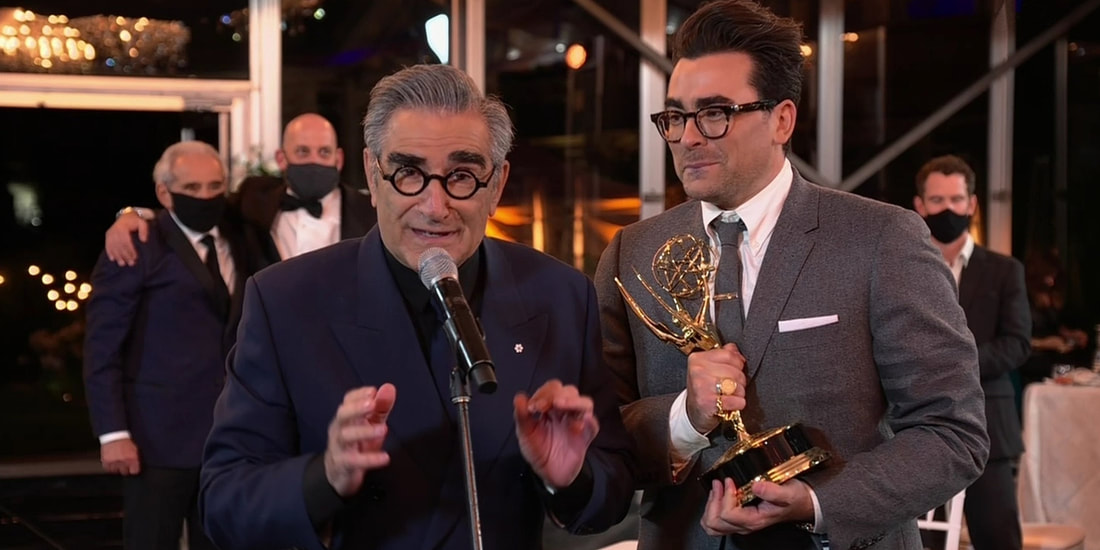 "Schitt's Creek," the once-obscure Canadian show, smashed records in the Comedy categories, cleanly sweeping every single category presented last night for its final season. "Schitt's Creek" is a show which puts LGBTQ+ representation and themes at the forefront of its narrative, and its deserved recognition is most gratifying. Series creator Dan Levy won four trophies for his acting, writing, directing, and producing. The series stars, Catherine O'Hara and Eugene Levy, as expected, won the trophies for Outstanding Lead Actor and Lead Actress in a Comedy Series. But the real upset of the Comedy categories at the Emmys, something none of us at NextBestPicture predicted, was an Annie Murphy for Outstanding Supporting Actress in a Comedy Series. Murphy always seemed like the longest shot of the "Schitt's Creek" cast, especially with reigning champ, two-time winner Alex Borstein in the ring for "The Marvelous Mrs. Maisel." And yet, she persisted, and "Schitt's Creek" is now the most honored comedy show in history by the Primetime Emmy Awards in a single night.

HBO took victory laps last night for "Succession" and "Watchmen," shows which won the majority of the drama and limited series categories, respectively. "Watchmen" tallied 11 Emmy wins this year, including for Outstanding Limited Series. Regina King won her fourth Emmy for her iconic portrayal of Sister Night, besting the once formidable frontrunner Cate Blanchett for "Mrs. America." "Watchmen" also took the Outstanding Writing in Limited Series prize for its frank, brutal and devastating recounting of race relations in American history for the episode "This Extraordinary Being." However, the real "Watchmen" surprise was with the success is Yahya Abdul-Mateen II winning Outstanding Supporting Actor in a Limited Series. Most of us were predicting industry mogul Louis Gossett Jr. in this category for a more grounded and sentimental role. When we recorded our podcast for Emmy predictions, there was something that was drawing me to consider Abdul-Mateen. On the podcast I mentioned if voters watched "Watchmen" in its entirety, they would see his standout performance, character-centric as Doctor Manhattan in the penultimate episode, then he would stand a great shot at winning.

As expected, "Succession" won Outstanding Drama Series and its incumbent category from last year, Outstanding Writing in a Drama Series. In a surprise win, "Succession" won for Outstanding Directing in a Drama Series. This is notable for two reasons: one is that half of us here at NextBestPicture were expecting "The Crown" to win this category as it has the past two cycles it was eligible, especially since "Aberfan" was such a gorgeous, director-driven episode. And the other half of us at NextBestPicture were predicting "Succession" to win, but for the other episode for which it was nominated. It is almost bewildering that "Hunting" beat the season finale, "This Is Not for Tears."
That is one example of "Succession" overcoming category splitting at the Emmys this year. The other example is Jeremy Strong's win for Outstanding Lead Actor in a Drama Series over co-star Brian Cox, who won the Golden Globe in January. Strong's emotionally driven performance claiming the Emmy over his co-star is reminiscent of Jodie Comer's win last year for "Killing Eve." Strong and Comer mostly won the consensus as the superior lead performance on their shows from critics and turned that merit into a win over the more seasoned, overdue co-stars in Cox and Sandra Oh.

The Emmys did provide a few winners last night that went against what the consensus predictions may have been. These winners can be the most fun to watch live. Yet even if the majority of people and pundits were predicting someone with a more obvious buzz, it did pay off for some of us here at NextBestPicture. For instance, I was the only person to predict Mark Ruffalo to win Outstanding Actor in a Limited Series for "I Know This Much is True" and Billy Crudup to win Outstanding Supporting Actor in a Drama Series for "The Morning Show." Most pundits overlooked these candidates because their shows lacked best series nominations, yet my prediction was based more on the quality of the work, baitness of the roles, and star power of Crudup and Ruffalo.

Michael Schwartz went against the tide of Helena Bonham Carter predictions for Outstanding Supporting Actress in a Drama Series for "The Crown," instead of picking Julia Garner for "Ozark." Garner's path to a second win fits the mold of actors in supporting categories repeating their wins, such as Alex Borstein for "The Marvelous Mrs. Maisel" in that show's first two seasons. Had Garner not won, "Ozark" would have been the biggest Emmy loser of all-time, winning only one of its 18 nominations. And while the rest of us at Next Best Picture were in awe of the visionary directing in "Watchmen," only Amanda Spears predicted Anna Winger's work in "Unorthodox" to win for Outstanding Directing in a Limited Series. "Unorthodox" was a sleeper hit of the season and likely benefited from each of the "Watchmen" monuments canceling each other out in an epic vote split.

What did you think of last night's show? Let us know in the comments section below or on our Twitter account. Also, please take a listen to our Emmy reactions podcast here. For reference, check out our Next Best Picture podcast for the Emmy predictions here.
You can follow Ryan and hear more of his thoughts on the Emmys and TV on Twitter at @rc818