By Matt Neglia
"I want to join the force." "What do you want to be a Jedi or something?"

Lacking the spark that the other two entries in the Small Axe anthology had, "Red, White And Blue" is still a solid effort from Steve McQueen that is worth checking out. It maintains the gifted storyteller's heart and humanity that he has displayed in all of his work, even outside of this anthology series. While this latest entry (and the last to be shown to press before the Anthology rolls out on Amazon Prime this November) may be my least favorite of the three I've seen so far, it still tells an important story that is backed by the best work of John Boyega's career so far.
Set in London during the 1980s, "Red, White And Blue" follows real-life police officer Leroy Logan (Boyega). After his father Kenneth (Steve Toussaint) is brutally assaulted by two police officers for no reason, leaving him hospitalized, Leroy makes the decision to stop working as a forensic scientist and joins the London Metropolitan Police Force, much to the dismay of his father who is now seeking legal action for the crimes committed against him. Wanting to do good in the community by trying to change the system from the inside out, Leroy faces discrimination and racism from his fellow officers for not only his approach to police tactics but for simply being who he is: a black man in a police officer's uniform.
"Red, White And Blue" only covers the initial years of Leroy's career on the police force. He would go on to receive the MBE from the Queen in 2001 for his contribution to policing. He retired from the force in 2013 and continues to work with youth in the community through his charity, Voyage Youth. He also recently released a memoir titled, "Closing Ranks: My Life as a Cop." None of this is explained in the movie. Not even through text at the end of the film. Although the story we do get is powerfully told and features wonderful performances from everyone in its cast, "Red, White And Blue" can't help but feel incomplete. Its runtime is only 78-minute long and by the time it's over, it feels like it was just getting started and there was a good hour still left. Coming off of the exceptional "Mangrove" a few days ago, "Red, White And Blue" is a bit of a disappointment. Perhaps it will play better in Amazon Prime's release schedule when the other episodes in the anthology have already been seen (this will be the last entry). But where the short runtime benefited "Lovers Rock" and its smaller and intimate story, "Red, White And Blue" felt more sprawling and did not have enough time to not only dig deeper into the issues that Leroy Logan was trying to confront within the police force, but also into the man himself.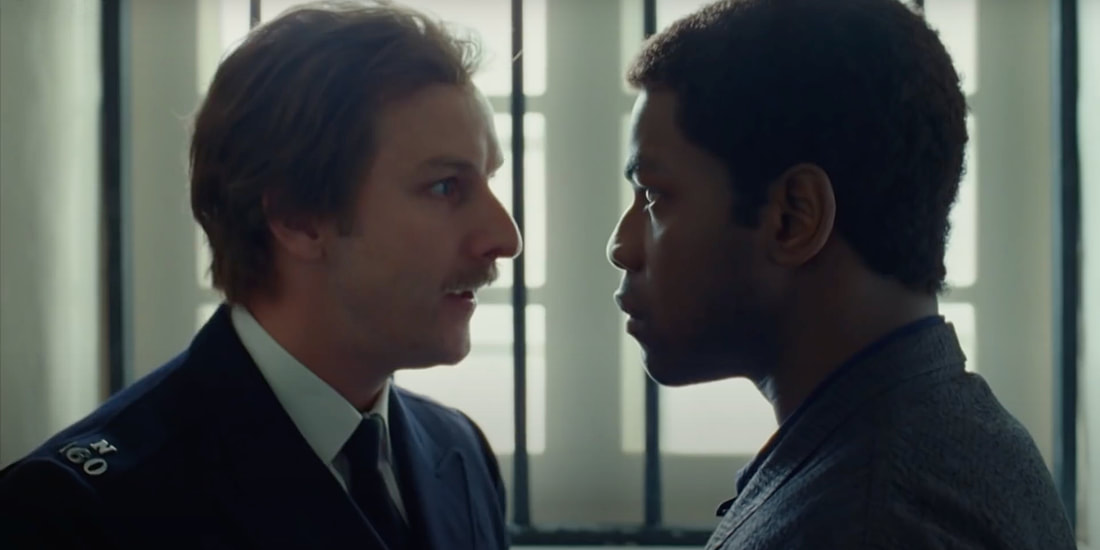 What McQueen does very well, is he allows space for Boyega and Toussaint to act opposite one another, so we can focus on the ever-growing relationship between father and son. We get to see how conflicting it is not only for Leroy to be a cop against his father's wishes but also how Kenneth's suffering has impacted his son. Their final table conversation together is undoubtedly a nuanced highlight and a perfect moment to end the film on, as their relationship comes full circle in a society that is seemingly changing, but not quick enough for the both of them.
Being the only black man in his class and facing constant acts of racism no matter where he ends up, Leroy always has the deck stacked against him. Having to work harder and push himself forward in a controlled manner that won't get him kicked off the force and ruin his ultimate goal of bringing about true change, he's a dignified character that Boyega brings a ton of depth to. The 28-year-old actor had to get even more physically fit than he already was and do a lot of research to prepare for the role and his hard work and dedication shows on screen in what is an impressive performance. One scene in particular where he scorns his fellow officers for not coming to his aid to deliver back up during an arrest is well, arresting. Boyega's on-screen presence goes beyond what we've grown accustomed to with him in the "Star Wars" films and I anticipate we'll see more refined and layered work like this from him in the future.
Courttia Newland co-wrote the screenplay for "Red, White And Blue" with Steve McQueen. "Each one of the Small Axe stories, and the anthology as a whole, shows Black British resistance," Newland says. "It's how we've struggled; it's how we've fought and how we overcame. The title of the series is Small Axe, but for me, it's also about 'small acts.' These are small acts of resistance that are not common knowledge historically. Acts that changed the landscape of society as well." I did not know the story of Leroy Logan prior to seeing "Red, White And Blue." Although not perfect, it still feels tonally and thematically right at home with "Lovers Rock" and "Mangrove" and deserves to be seen by as many people as possible when the rest of the anthology gets released.

​The remaining two films in the Small Axe anthology to be seen are "Education" and "Alex Wheatle." The Small Axe anthology will be released on a weekly rollout on Amazon Prime Video beginning Friday, November 20th. The films will be released in the following order:
​
MANGROVE – Friday, November 20th
LOVERS ROCK – Friday, November 27th
EDUCATION – Friday, December 4th
ALEX WHEATLE – Friday, December 11th
RED, WHITE AND BLUE – Friday, December 18th
Education is the coming of age story of 12-year-old Kingsley (Kenyah Sandy) with a fascination for astronauts and rockets. When Kingsley is pulled to the Headmaster's office for being disruptive in class, he discovers he's being sent to school for those with "special needs". Distracted by working two jobs his parents (Sharlene Whyte, Daniel Francis) are unaware of was the unofficial segregation policy at play, preventing many Black children from having the education they deserve until a group of West Indian women take matters into their own hands. Education was co-written by Alastair Siddons and Steve McQueen.
Alex Wheatle follows the true story of award-winning writer, Alex Wheatle (Sheyi Cole), from a young boy through his early adult years. Having spent his childhood in a mostly white institutional care home with no love or family, he finally finds not only a sense of community for the first time in Brixton, but his identity and ability to grow his passion for music and DJ'ing. When he is thrown in prison during the Brixton Uprising of 1981, he confronts his past and sees a path to healing. Sheyi Cole stars opposite Jonathan Jules. Alex Wheatle was co-written by Alastair Siddons and Steve McQueen.
You can follow Matt and hear more of his thoughts on the Oscars and Film on Twitter @NextBestPicture