It's always a challenging feat to adapt a well-loved novel with a strong cult following – just ask Peter Jackson. Director Garth Jennings, and screenwriter Karey Kirkpatrick, found themselves in a sticky situation of trying to adapt a beloved classic sci-fi novel to the big screen with Douglas Adams' "The Hitchhiker's Guide to the Galaxy" in 2005. The result was a muddled mess that divided fans and critics alike. The film failed to make an impression at the box office, meaning that despite the ending setting up a sequel, nothing ever materialized.

For those who are unfamiliar with the "Hitchhiker's Guide" saga and the work of Douglas Adams, the journey to the big screen adaptation is a long one. Originally a radio play which was broadcast in 1978, "Hitchhiker's Guide" follows the misadventures of Earth's last surviving man, Arthur Dent, and the planet has been destroyed by the alien race known as the Vogons in order to make way for a hyperspace bypass.
Luckily, Dent is rescued by Ford Prefect – a human-like alien writer for the electronic travel guide "The Hitchhiker's Guide to the Galaxy." Following his rescue, Dent explores the galaxy with Prefect and they encounter Trillian, another human who had been taken from Earth by the two-headed President of the Galaxy, Zaphod Beeblebrox, and the depressed, Paranoid Android, Marvin.
The first radio series consisted of six episodes which received generally good reviews and a great audience reaction. In 1978, the first series was repeated twice and this led to an LP re-recording, produced independently for sale, and resulted in a novel adaptation. The popularity of the radio series saw it make the transition to television with a six-episode series, directed and produced by Alan J. W. Bell and aired on BBC 2 in January and February 1981. The TV series saw many of the actors from the radio series playing the same characters.
However, disputes between Adams and the BBC meant that a second series was never filmed, and talks of a big screen adaptation seemed to go nowhere, with the film lingering in production hell for many years. According to David Hughes' book, "The Greatest Sci-Fi Movies Never Made," Adams was approached by the American Broadcasting Company network who wanted to turn the book into a film, but Adams refused as he feared they wanted to turn the work into "Star Wars with jokes," and described his experience with ABC, "like every horror movie you've ever seen".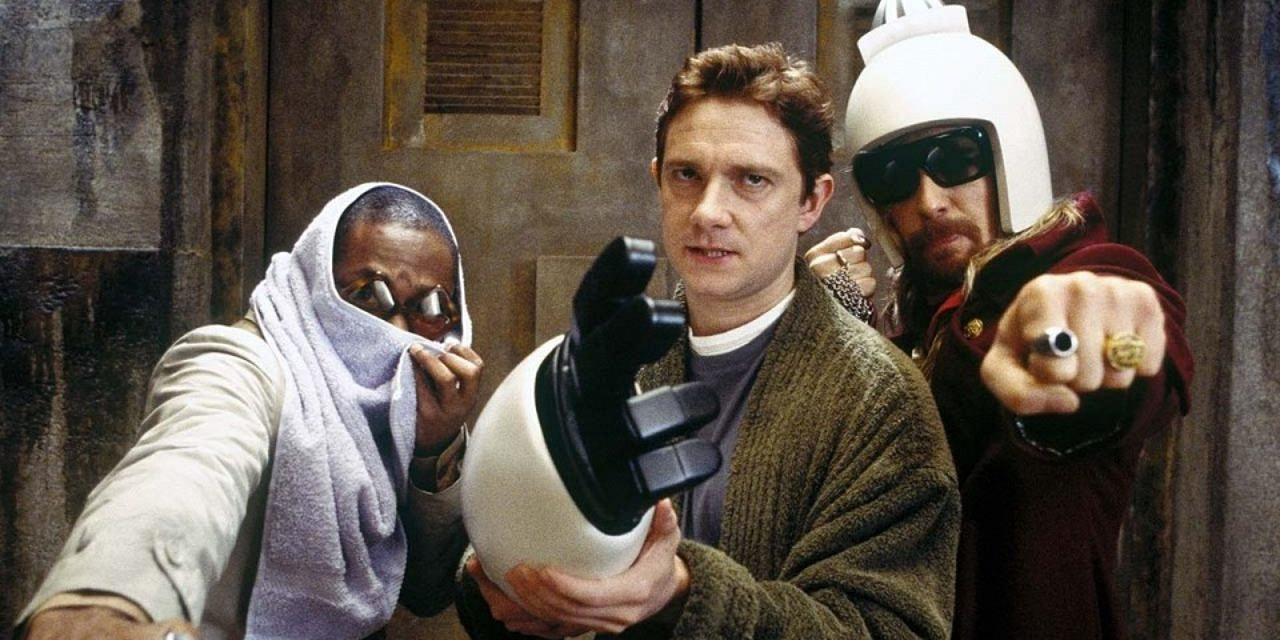 In 1982, Adams was approached by producers Ivan Reitman, Joe Medjuck, and Michael C. Gross who wanted to make the film. (Adams actually wrote three drafts for them per his contract.) During this time, Medjuck and Gross were considering Bill Murray or Dan Aykroyd to play Ford Prefect. However, all plans for the "Hitchhiker's Guide" film were abandoned when Murray and Aykroyd went on to make "Ghostbusters". Even back in the early 1980s, producers were pushing to have Ford Perfect played by an American actor, but in the 2005 film, he would be played by Mos Def.
Things began to gather up in speed in the early 2000s when "Austin Powers" producer and director Jay Roach managed to secure a new deal with Adams and production through Disney. Before Adams' passing in 2001, he assisted with the early drafts of the screenplay and concepts introduced with the film, as well as having a brief cameo in the film itself. With Adams' death, Roach left the project but didn't want Adams' hard work to go to waste, so instead, he offered the project to director Garth Jennings and producer Nick Goldsmith. The film's pre-production began in 2003, with filming starting in April 2004, and post-production taking place five months later.
In terms of casting, originally Hugh Laurie was approached to play Arthur Dent, but instead, Martin Freeman was cast. Freeman is perfect in the role, capturing the dry British wit of the character. However, issues lie in terms of the forced romantic relationship between Freeman's Dent and Zooey Deschanel's Trillian, which many fans pointed out didn't exist in the novels. While Deschanel brings her usual zaniness to the role, she feels a little overshadowed by her male co-stars.
Sam Rockwell overplays Zaphod Beeblebrox and should have been reeled back a little more. Alan Rickman is perfectly cast as the voice of Marvin, and so is Bill Nighy as Slartibartfast, and Stephen Fry as the narrator. Despite having a large cast of well known and beloved actors, as well as decent special effects and impressive visuals, "Hitchhiker's Guide" seemed to leave many critics underwhelmed, especially those unfamiliar with the source material. In his review, Roger Ebert stated that he found the film "tiresomely twee" and that "it got old fairly quickly." He called it, "more of a revue than a narrative, more about moments than an organizing purpose […]"
The film made $104.5 million at the box office, and it remained in the U.S. box office top ten for its first four weeks of release. However, despite earning its budget back (the film's budget was reportedly $45-50 million), the film failed to make a substantial impact. Looking back at the film, it remains a great gateway into Adams' work and it also helped to prove that Martin Freeman could be a leading man. Sadly, the film failed to capture the spirit of the novel, and its humor and tone are very hit and miss.
Last year, it was announced that a new Hulu television series is in the works and scheduled for 2021. Filming is scheduled for this summer, and fingers crossed that this still occurs. It's clear that "Hitchhiker's Guide" still retains a strong fan following, so while things may seem scary at this current point, remember these important words: "Don't panic!"
What do you think of "Hitchhiker's Guid To The Galaxy?" Let us know your thoughts in the comments section below or on our Twitter account.
You can follow Bianca and hear more of her thoughts on the Oscars and Film on Twitter at @thefilmB