By Matt Neglia
After yesterday's reactions for "The Favourite" and "Roma," the 2018 Venice Film Festival came back for a big third day with some greatly anticipated premieres including Bradley Cooper's take on "A Star Is Born," the lost Orson Welles film "The Other Side Of The Wind" and the Coen Brothers' Netflix western anthology titled "The Ballad Of Buster Scruggs."
​
What were the reactions?
First up was Bradley Cooper's "A Star Is Born" starring himself and Lady Gaga. Touted as a major Oscar player, here is what the critics had to say…
​Leah Greenblat from Entertainment Weekly writes about Lady Gaga…
"Gaga's serious-actress transformation for her first major film role will undoubtedly lead the conversation, and she deserves praise for her restrained, human-scale performance as a singer whose real-girl vulnerability feels miles away from the glittery meat-dress delirium of her own stage persona. And the original songs (most of which Gaga and Cooper share full or partial credit for) are memorably, sturdily melodic —though not the conspicuously flat dance-pop Ally moves toward as her career swerves closer toward the mainstream."
Owen Gleiberman from Variety had this to say about Cooper's performance…
"How do you play a drunk? We know, of course, that the answer is not to "play drunk," but Cooper doesn't just avoid the usual slurry shambling (though at key moments he does a little of that too, and it's powerful). He brings off something I've rarely seen done this exquisitely: He plays blitzed, very functional and in his element, his smile and reflexes greased by the liquor. Jackson speaks in a deep, low, deliberate Southern-stud growl — a voice with real music in it, though one that lets you taste all the booze it's marinated in."
David Rooney from The Hollywood Reporter comments on the film's best aspects…
"Cinematographer Matthew Libatique, who brings such a rich look to his work with Darren Aronofsky, shoots in high-gloss or darker textures as required, excelling in particular in the dynamic performance sequences. Production designer Karen Murphy and costumer Erin Benach make vital contributions to defining milieu and character. But the most invaluable element is the music, covering a diverse range of frequently catchy songs, co-written by Cooper and Gaga with artists including Lukas Nelson, Jason Isbell and Mark Ronson. (Nelson and his group Promise of the Real appear as Jack's band.) Cooper does his own singing with the same unshowy confidence he brings to everything else."
And here were a few more reactions from Twitter…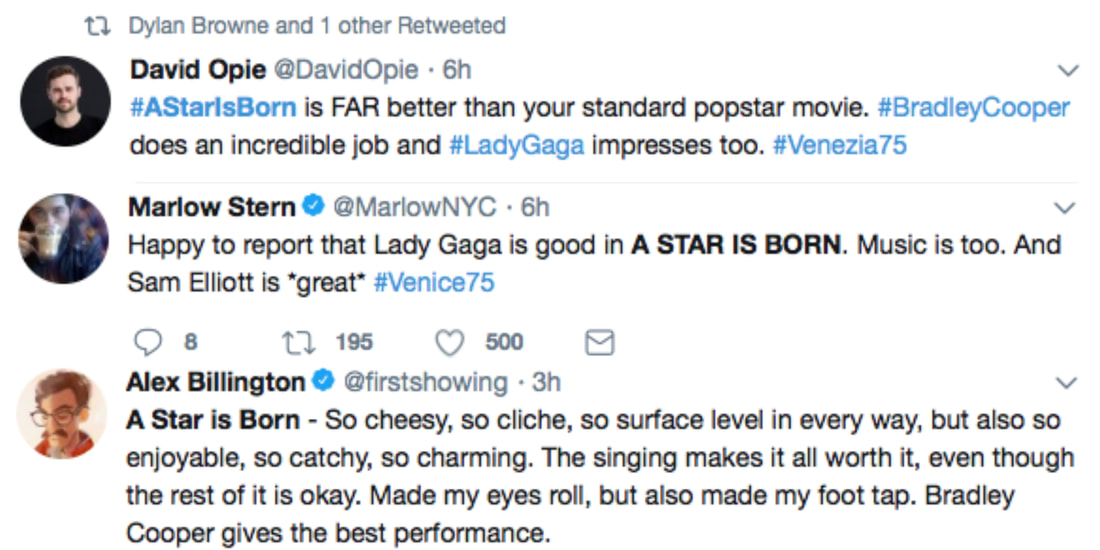 Next was the Coen Brothers' anthology western (produced by Netflix) titled "The Ballad Of Buster Scruggs" featuring six vignettes. Critics had a lot to say about this one…
Stephanie Zacharek from TIME writes about the tone of Coen Brothers' latest…
"Though there are dashes of the Coens' trademark arch humor, most of The Ballad of Buster Scruggs isn't what you'd call a laugh riot. There's also something genuinely mournful about it; it leaves you feeling a little exposed, as if you'd been dropped, alone, into the wide-open prairie and weren't sure you wanted to be there. It's effective in a somber way, and as shot by cinematographer Bruno Delbonnel, it's dazzling to look at, a reinvention of classic literature of the old west with a storybook feel."
​Owen Gleiberman from Variety comments on the theme of death surrounding the Coen Brothers' latest project…
"In "The Ballad of Buster Scruggs," life is nasty, brutish, and short, even for a number of the protagonists; the film's signature motif is people getting killed with one clean shot through the forehead. If that sounds like a vintage Coen vision, or maybe a vintage Coen joke, it is, but the Coens have always made death into a semi-philosophical jape. "The Ballad of Buster Scruggs" is a pop fantasia that's interested in the meaning of what a brutal place the Old West really was."
Peter Bradshaw from The Guardian talks about the film's performances…
"The performances are polished to a gleam: Neeson is great as the huckster, brooding on the awful change he might need to make to his show; Kazan plays it entirely straight as the young woman whose life is about to be turned around and Blake Nelson is superb as the roistering Buster, who thoughtfully imagines what it's going to be like in heaven looking back at "all the meanness in the used-to-be". Earthly existence is eventful and not short on laughs."
Here are a few more comments from Twitter about the film…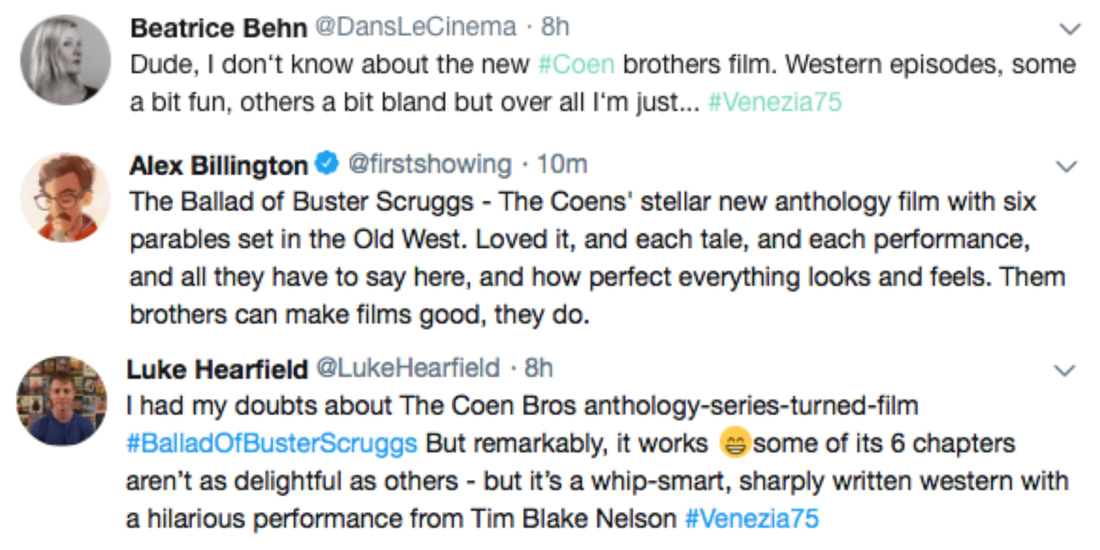 Next up was Orson Welles' longly anticipated project "The Other Side Of The Wind" which Netflix helped to finish and now all these decades later after his death, we are receiving a new Orson Welles film!
Owen Gleiberman from Variety writes…
""The Other Side of the Wind" tells the story of a legendary Hollywood director, Jake Hannaford (John Huston), who is struggling to complete his latest picture. Considering that it took more than 40 years to assemble Orson Welles' final film into something that resembles finished form, the first question to ask about it is: Does it play like a fully realized movie? The answer (more or less) is yes. The diligent team of archivists and technicians who labored to complete "The Other Side of the Wind," led by the Oscar-winning editor Bob Murawski ("The Hurt Locker"), have tackled the 100 hours of footage Welles left behind (along with his extensive notes) as if this were a hallowed cinematic archaeological dig. What their work lays bare is an eccentric, rather choppy, but highly watchable movie, and Orson Welles is quite alive in it. You can feel the intensity of his DNA in its sinister atmosphere of garish noir depravity."
Todd McCarthy from The Hollywood Reporter comments on the film's visuals…
"For those who only know Welles the director for the bold and brilliant black-and-white visuals and long takes in the likes of Kane and Touch of Evil, Wind will take some getting used to. The party and the events surrounding it are shot by the resourceful, on-his-toes cinematographer Gary Graver in rough, cinema-verite style 16mm, often in black-and-white, with everything cut so tight and fast as to throw any notion of classical continuity out the window."
Eric Kohn from Indiewire calls the film messy but still considers it essential viewing…
"An opening scrawl declares the restoration "an attempt to honor and complete that vision," but it's a misnomer for a movie that's incomplete by definition — and, perhaps, by design. As "The Other Side of the Wind" shifts between two movies as well as multiple film stocks (including color and black-and-white), it often seems as though it exists within Welles' restless consciousness. Fans of the director's late-period work (particularly his last completed effort, the rapid-fire diary film "F for Fake") will find it thrilling to return to those unpredictable, garrulous recesses, no matter the bumpy ride. Welles continues to contemplate storytelling, Hollywood, and his own troubled career by transforming these obsessions into a marathon of creativity. Stitched together by star editor Bob Murawksi, "The Other Side of the Wind" is a fascinating resurrection."
And here are some more reactions from Twitter…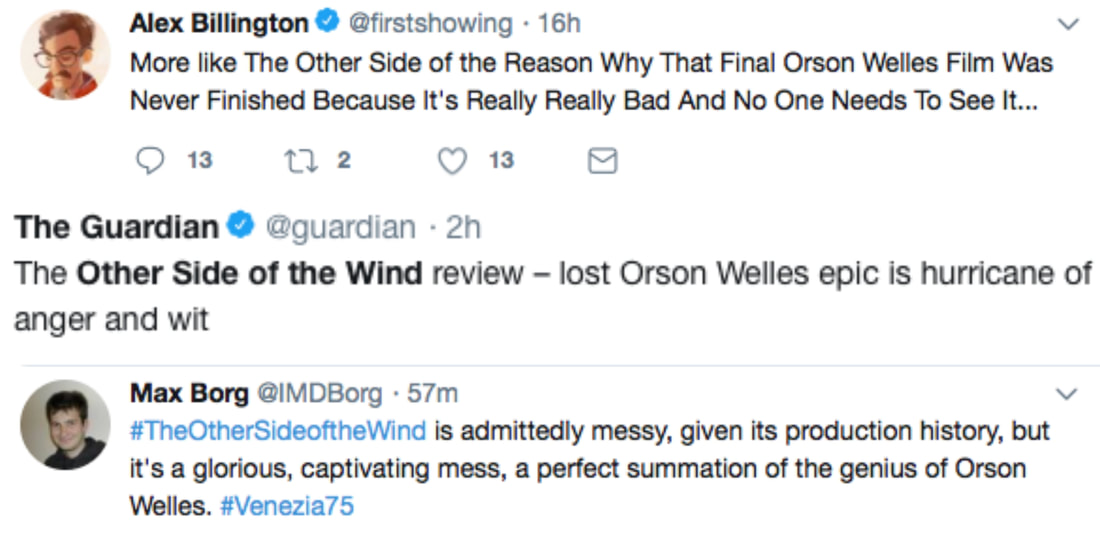 And then finally, the last film of the day was Mike Leigh's epic historical drama "Peterloo."

However, reviews for the 7-time Academy Award nominee's latest have not officially gone up online yet. Here are some early reactions via Twitter from a few who saw the film…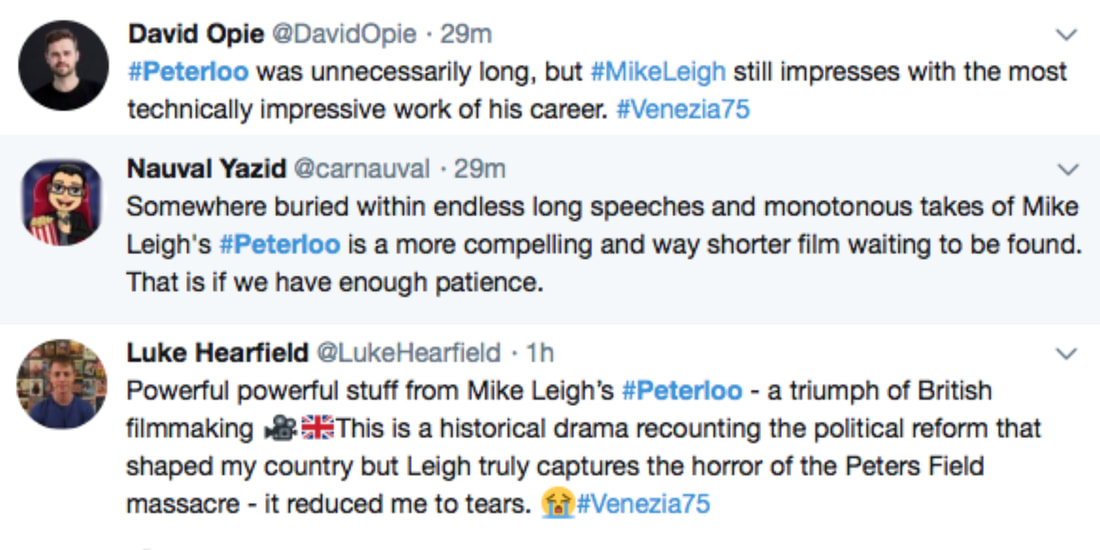 Day 3 certainly felt like a success for us cinephiles as more of the year's most anticipated titles are getting released to early acclaim. Some of these will show up again at other festivals like Telluride, TIFF and NYFF. But for now, this is what we have to go on until further updates are provided. In the meantime, be sure to follow the fall film festival through social media or here on NextBestPicture.com
Stay tuned for more!
You can follow Matt and hear more of his thoughts on the Oscars & Film on Twitter at @NextBestPicture