"Flee" tells the incredible true story of Afghan refugee, Amin, whose real name and identity have been withheld from the audience to protect him and his family from persecution. Director Jonas Poher Rasmussen chose to tell the story using animation to honor his friend's wishes and protect him in the process. The resulting film is a timely recount of both happy and terrifying memories which have led Amin to where he is today and giving us all a look at what the human spirit is truly capable of. In addition to landing universal praise from critics and fans alike, Jonas Poher Rasmussen's magnificent animated, foreign language, documentary could very well make history at this year's Academy Awards.
​The Academy's shortlists recently cited the film in two categories: Best Documentary Feature and Best International Feature. If fulfilled, it would make "Flee" one of the few films in history to earn nominations in both categories. However, that's not all. In addition to being a frontrunner candidate for Best Documentary Feature and Best International Feature, it is also eligible for the Best Animated Feature category. No film has ever been nominated in all three categories, let alone had the momentum to pull off wins in all three.
To be fair, there has been precedent for this kind of achievement. Recently, "Honeyland" (2019) and "Collective" (2020) were nominated in the Best Documentary Feature and Best International Feature Film categories in consecutive years, while "Waltz with Bashir" was the first film to be eligible for nominations in all three categories, despite netting only a single nomination for Best International Feature in 2008.
"Flee" has been far more competitive than these earlier titles on the awards circuit. The film has already been nominated for and won several prestigious prizes, including wins from the Gotham Awards for Best Documentary, the Los Angeles Film Critics Association Award for Best Animated Film, and received a Golden Globe nomination for Best Animated Feature and two Critics Choice nominations for Best Animated Feature and Best Foreign Language Film. Furthermore, word of mouth for the film has been infectious since its premiere at the Sundance Film Festival in January 2021, where it won its first prize for World Cinema Documentary Competition. The late U.S. release date in December no doubt helped give it a boost in the public eye as it's been able to carry momentum for an entire year up until this point when Oscar voting is currently underway. The praise remains similarly high, especially regarding Jonas Poher Rasmussen's direction and his formidable handling of the real-life material, which has resonated deeply for all those who have seen the film.

​"Flee" seems most likely to score a win in the Best Documentary Feature category, with Gold Derby placing its odds at 37/10 and 7/12 of the Next Best Picture team's pundits currently predicting it to win. One might assume that favoritism in one category might cost ground in others, but "Flee" is also placing impressively high when it comes to the odds-end favorite for Best International Feature. Gold Derby puts the film's odds in this category as 4/1, which currently makes it the third most likely victor, while the Next Best Picture team presently has it at fourth most likely.

The Best Animated Feature Oscar win will remain the trickiest hurdle for "Flee" to overcome. The category has been difficult to win for films that aren't part of the Disney or Pixar machine, with only two of the last ten winners being non-Disney properties. "Rango" and "Spider-Man: Into The Spider-Verse" were still released by massive studios like Paramount and Sony. The smart money is against "Flee" to win Best Animated Feature. Still, its chances of securing a nomination, coupled with the strong odds it has for success in the other two categories, means that it will likely be a historic contender come Oscar nomination morning.
Adding to its already impressive resume of wins and nominations, the film has been nominated at this year's Annie Awards for Best Independent Animated Film, Best Directing, Writing, and Editing. It received nominations for Best documentary from the Producers Guild Of America, the Independent Spirit Awards, the Cinema Eye Honors and is currently longlisted at the BAFTAs for Best Foreign Film, Best Documentary, and Best Animated Film. It's evident that "Flee" is not only one of the best documentaries, animated or foreign language films of the year…it's one of the year's best overall films, period.
​While its chances at a Best Picture nomination are considered slim to none, it doesn't need that to make Academy history still. Even Academy Award-winner Bong Joon-ho, whose film "Parasite" went on to make Academy history as the first foreign language film to win Best Picture, has recently come forward to sing the praises of this remarkable film. I will leave his letter down below for you to read. If you have not yet seen "Flee," make it a priority to do so. It has recently expanded to more theaters (you can get tickets here) and is now available to rent or purchase on VOD. Hopefully, Academy voters are paying enough attention to look past the more prominent contenders, with the bigger studios behind them, to reward an underdog who truly deserves this level of recognition.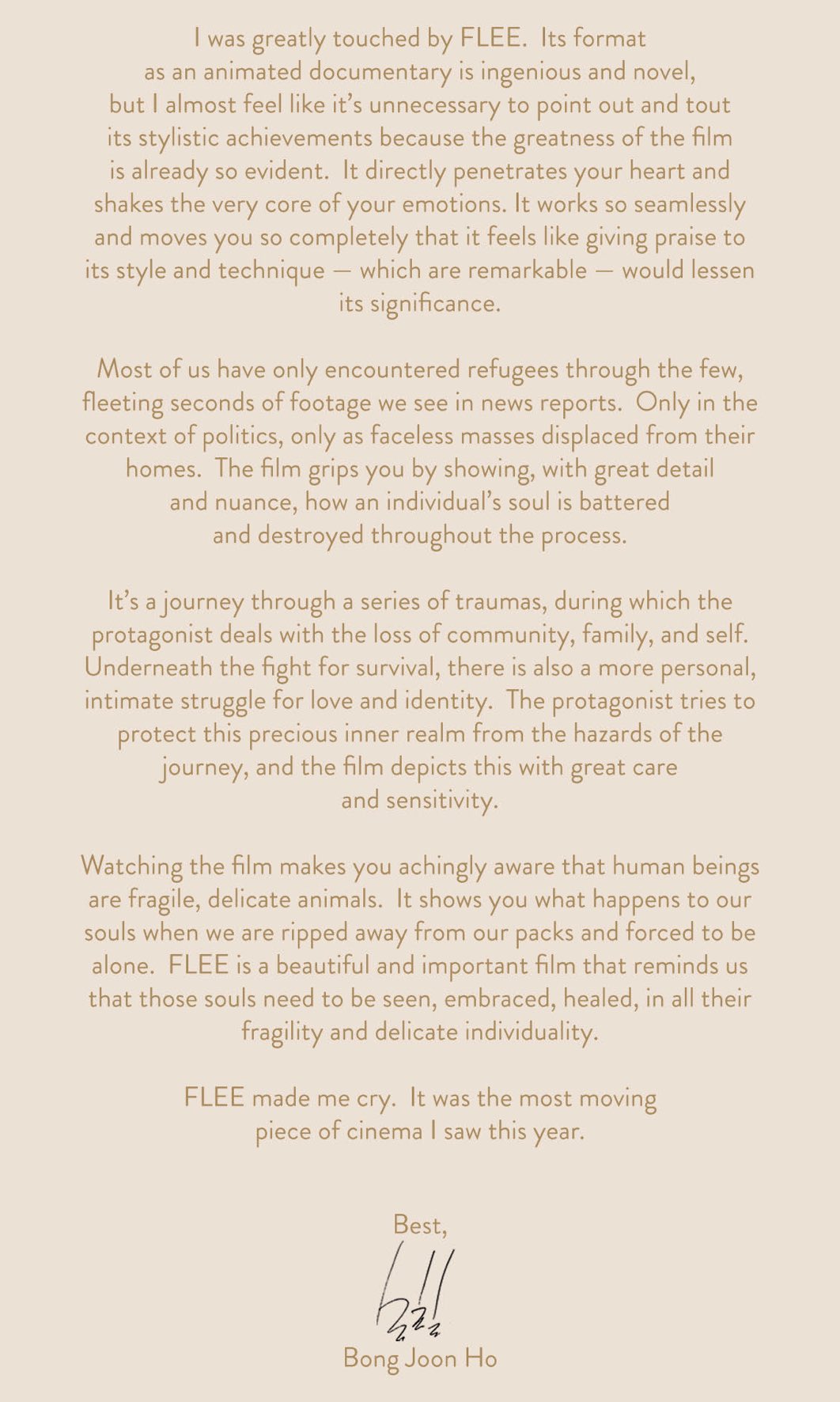 Have you seen "Flee" yet? If so, what did you think? Which categories would you nominate it for at this year's Academy Awards? Check out the Next Best Picture team's current Oscar predictions here and let us know your thoughts in the comments section below or on our Twitter account.
You can follow Danilo and hear more of his thoughts on the Oscars and Film on Twitter at @DaniloSCastro