By Ryan C. Showers ​
The recent trend in awards seasons has seen very few films with late release dates make it through to a high amount of nominations. There are some obvious examples, like "American Hustle" and "Vice," which both skipped the festival circuit and went straight to theatrical release in late December. But these are few and far between. The flip side of that is "Selma" and "The Post," which were released too late in the game to gain the traction those films deserved. Over the past ten years, I would say this has been the overall trend. Festival exposure and pre-ordinated campaigns have become more essential than having a big release very close to Oscar voting. For example: In the early 2000s, mid- to late-December was considered to be the prime time for release. Take 2002 for example: all five Best Picture nominees were all released in December, 4/5 of them hit theaters in the second half of December, and 4/5 of them debuted in limited release for the first month in theaters. That's a rule from the playbook of yesterday.
This year, late-breaking films will be at an even greater disadvantage because of the condensed timelines. The Academy moved up the ceremony date by two or three weeks than when it typically takes place, on February 9. Therefore, nomination voting begins about a week earlier, on January 2. This impacts the time voters are allotted to see all the films in order to mark them on their nomination ballot, as well as the amount of time they have to see all the nominated films when they vote for the winners. In September, I wrote a piece about how this creates an advantage for films released earlier. However, it also creates hurdles and limitations for films released around Christmas time that have not participated in the Venice, Telluride, Toronto, and New York film festivals. There are some interesting and promising adult, Oscar-baity, and feminist films being released around that time. This is merely a warning to those films and their campaigns: You in danger girl.
The two most prominent films on everyone's minds within this subject are "Little Women" and "1917." They are both set to release on December 27, which is just a little over a week from when Oscar voting begins. They remain sight unseen thus far. On paper, a World War I story told in one-shot and a writer/director/actress collaborative follow-up to "Lady Bird" adapting one of the most beloved feminist novels in history sound like fertile ground for Oscar seeds to be planted. Having skipped the festival circuit scares me for both of these films. In other years, these could potentially be Best Picture winners, either of them. But this year, it's going to be a matter of how organized and impactful the campaigns can be given a short amount of time. And of course, the films need to deliver on quality. If either open to disappointing reviews or if "Little Women" underwhelms at the Christmas box office, its Oscar chances could be in jeopardy.
It's difficult for me to realistically argue that both late bloomers, "Little Women" and "1917," can release to high-nomination count, Best Picture-nominated Oscar mornings. At the bare minimum, "Little Women" would compete for Best Costumes, Best Production Design, Best Original Score, Best Adapted Screenplay, and Best Actress for Saoirse Ronan. (Even this amount of nominations seems generous for a late-breaking film, but hey). Even if the film disappoints, Ronan's chances at a filler nomination are real, considering the uncharacteristically weak state of the field this year. She's one of the few factors standing in Renee Zellweger's way of winning for her overwhelming work in "Judy," because Ronan's performance it's still an unknown. For my money, I see Ronan being nominated for this similar to Kate Winslet's nomination for "Little Children" in 2006: a deserved nomination but it mostly serves to provide extra padding to her "overdue" narrative for a film that's better suited to being her Oscar-winning work.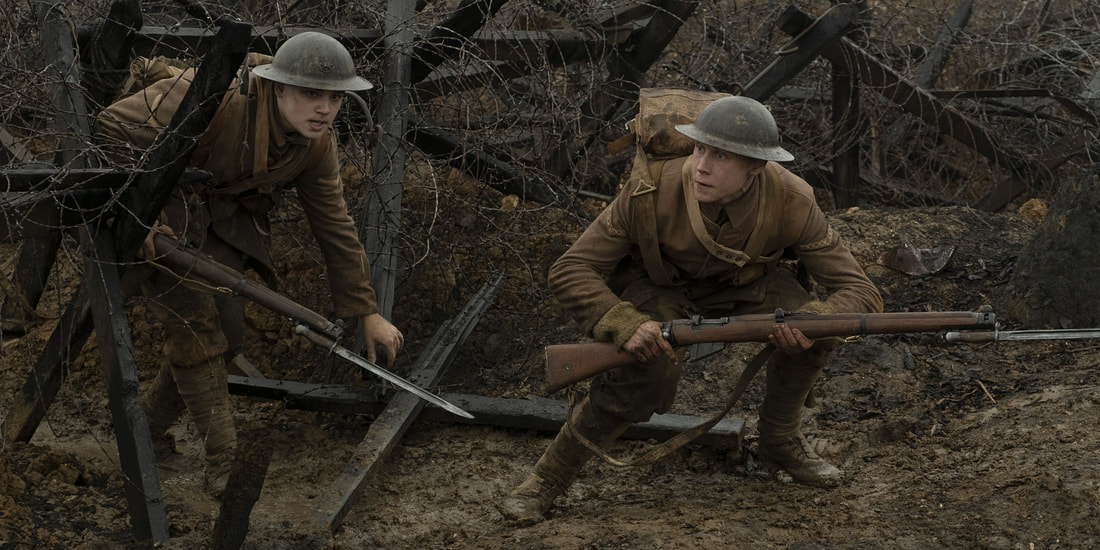 "1917," on the other hand, benefits from being a technically-driven film, with probable nominations in Best Director, Best Cinematography, Best Score, Best Sound Mixing, Best Sound Editing, Best Visual Effects, and Best Production Design. Many of my colleagues have moved Sam Mendes into their predicted winner spot in Best Director. While I acknowledge the fact that this is likely a directorial achievement, creating a film in a single shot like "Birdman" but with the harsher topic and staging of World War I, I struggle to see Mendes winning. Best Director, in recent history, has always been awarded to films that have built a presence at film festivals over a period of time. He would be going up against Martin Scorsese for Netflix's aggressive push of "The Irishman." Maybe we'll see a replay of 2017, where the technically driven war epic ("Dunkirk" and "1917") is defeated in Best Director by a narratively driven film driven by the unique traits of its auteur ("The Shape of Water" and "The Irishman"). Best Director is a difficult category to break into, let alone for a late-breaking film to win.
"Bombshell" is set for release on December 20. The cast is stacked with Oscar-winning/nominated A-listers: Charlize Theron, Nicole Kidman, Margot Robbie, John Lithgow, Allison Janney, etc. Jay Roach, though less notable for his film accomplishments (despite directing Bryan Cranston to an Oscar nomination for "Trumbo"), he has practiced making these political expose stories in the medium of television. "Recount," "All the Way," and his best work ever, "Game Change," show us he knows what he's doing when telling these stories. If he and Julianne Moore can depict Sarah Palin so adroitly in "Game Change," surely he, Theron, Kidman, and Robbie can make this Fox News story work. Right? Apparently, the answer is a resounding yes. "Bombshell," unlike most of the other films discussed here, had its campaign commence recently with its first screening. Other screenings, Q&A forums, talk show appearances, and a new trailer have been slated for the coming weeks. This creates buzz and exposure in a different way, separate from the festivals, and it could be very effective. This method of rolling out a film involving the public, may guarantee big box office upon its theatrical release, which would be the Oscar blessing "Bombshell" needs to explode.
The enthusiasm from initial reactions was palpable, but better yet, consistently positive. The performances of the three women at the center of the film have received the highest praise. Theron and Robbie, in particular, have been raved enough to launch them into frontrunner status for Best Actress and Best Supporting Actress. Robbie's two-punch supporting roles this year (the other being in the Best Picture frontrunner "Once Upon a Time in Hollywood") could be enough to formidably challenge Laura Dern's "Marriage Story" default frontrunner performance. In addition, the film is almost guaranteed for a Best Makeup/Hairstyling nomination. Word on the street is, actors will really go for this movie. Its an enormous cast, full of cameos, all performing on the kind of wavelengths actors will respond to. If this movie lands well, it could go all the way to Best Picture. Heck, Kidman, who is constantly working and who routinely gets ignored for her best work outside the Golden Globes, may get swept along with Theron and Robbie for an acting nomination, too. She would be the Woody Harrelson to Theron and Robbie's McDormand and Rockwell if you will. If I were an advisor to the "Bombshell" campaign, I would invest heavily in categorizing the film as "Comedy/Musical" at the Golden Globes for an easy Best Picture nomination and an easy Best Actress win for Theron.
The one thing "Bombshell" has working against it is its characters of the story it's telling. Most liberal critics and voting members of awards bodies probably do not appreciate Fox News or Megan Kelly. On a conceptual level, blending this group of people with a #MeToo thematic overtone may be controversial to depths that "Vice" didn't even achieve with its divineness last year. However, the reactions to the film have thus far not mentioned this aspect as problematic….yet. I read several reactions that indicate the message of the film is quite powerful. This may be what ultimately holds back Charlize Theron from defeating Renee Zellweger for "Judy." Who would vote for Megyn Kelly over Judy Garland?
​Another film with a release date of December 20 is "Star Wars: The Rise of Skywalker." If it delivers, it has the chance to match what "The Force Awakens" accomplished with Oscar nominations in 2015: Best Editing, Best Sound Mixing, Best Sound Editing, Best Original Score, and Best Visual Effects. Or perhaps, it will earn a Best Production Design nomination, too, and top what "The Force Awakens" did at the Oscars. "The Last Jedi" practically got the same nominations, just without Best Film Editing in 2017. "The Rise of Skywalker" has the inherent advantage of being the blockbuster of the moment, the movie everyone and their brother will see. Either it will be an immensely satisfying concluding chapter of the trilogy, or it will divide people and get fewer nominations than either of its two predecessors. Of the films I've mentioned so far, "The Rise of Skywalker" has the least potential to be affected by the systematic block of the condensed calendar because of name recognition and inherent notoriety. "The Force Awakens" got very close to a Best Picture nomination that year. Perhaps "The Rise of Skywalker" can achieve that if the Academy is looking for traditional cinema to include among the Netflix films in the Best Picture lineup.
The two most vulnerable films with the condensed voting timeline this year are "Clemency" and "Just Mercy," which are two smaller productions that have made the rounds at film festivals and have tried to set up narratives for themselves. "Clemency" could be an easy Oscar nomination for Alfre Woodard with a better release date. There has been a thunderous reaction to her powerful work. Unfortunately, film festivals and a great performance aren't enough sometimes. She reminds me of Nicole Kidman in "Destroyer" last year, or Annette Bening in "20th Century Women" three years ago: deserving work in a small film that found buzz at festivals but released too late in the year to be seen by enough Academy, BAFTA, and SAG members. "Just Mercy" is more complicated since the "Clemency" campaign is focused narrowly on Woodard. "Just Mercy" could compete in Best Picture, Best Adapted Screenplay, and Best Supporting Actor on its best day. It's the type of film that the Academy historically goes for: simple, digestible, obviously emotional. However, it is small, and for it to release so late makes me think this will be swallowed up by the competition. It's a shame, considering Jamie Foxx is getting standout reviews and maybe he could have built a campaign to win if he had a better release date.
The bottom line is: I'm scared for these films. No one knows exactly what the change in the process really means or what will be the consequence of condensing the timeline. All I know is the current trends in recent years and how it's so easy for films to get crushed without festival exposure. Add in Netflix's towering, financially secure effort to bombard the Oscars and win across the board, it all adds up to these films being vulnerable for awards prospects.
What do you think? How do you think these films will factor into the Oscar race? Is the window too small for them to make a significant dent? Let us know your thoughts in the comments section below or on our Twitter account.
You can follow Ryan and hear more of his thoughts on the Oscars and Film on Twitter at @rcs818