By Matt Neglia ​
The 2019 EE BAFTA nominations were announced this morning. Being the last major stop on the road to the Oscar nominations on January 22 (and with Academy members currently voting on their ballots as we speak), many pundits were looking to them for help to clear the air on several categories.
Honestly, I believe we were left with more questions than answers.
​​"BlacKkKlansman," "Roma, "A Star Is Born," or, yes, "Green Book," is your Best Picture Winner

After a strong showing at the other guilds this week, Critics Choice, Golden Globe, SAG, and now BAFTA, "BlacKkKlansman," "A Star Is Born," "Roma" or "Green Book" stand the best shot at being named the Academy Award winner for Best Picture on February 24. All four landed a Best Picture nomination from BAFTA, as well as support other key groups. They show no sign of missing out on a Best Picture nomination come January 22. "Green Book" may be missing a BAFTA nomination for Peter Farrelly in Director, but it received a big boost this week with three Golden Globe wins, a DGA nomination, and more this week. BAFTA cemented that in a year of five nominees, these four would have been a part of the lineup, most likely. We'll see if that holds true on Oscar nomination morning.

"The Favourite" Leads Nominations

The fifth film that received a BAFTA nomination for Best Picture (and likely would be the fifth film in a year of five at the Oscars) was Yorgos Lanthimos's "The Favourite." Leading the BAFTAs with 12 nominations (and the Critics Choice with 13), there stands a good chance that despite a DGA miss for Best Director, the dark British comedy could not only go on to secure a nomination for Lanthimos (his first Oscar nomination in that category) but also lead the Oscar nominations as well.
"Cold War," "First Man" & "Bohemian Rhapsody" Show Strength

The film that received an unexpected boost from the BAFTAs was "Cold War." Meanwhile, "First Man" received a desperate boost from the BAFTAs. And after a Golden Globes upset, "Bohemian Rhapsody" accomplished yet another (and unwelcome) boost from the BAFTAs.

Paweł Pawlikowski's follow-up film to his Academy Award-winning "Ida," received four nominations for Best Director, Best Cinematography, Best Original Screenplay, and Best Foreign Language Film. Unfortunately, for "Cold War," it will be competing in all the categories against fellow black-and-white foreign language nominee, "Roma," which is a more competitive film in every sense of the word. Pawlikowski has been heavily rumored to receive a Best Director nomination over the past few weeks by pundits Kris Tapley and Scott Feinberg. His nomination here makes that possibility look more like a reality.

"First Man" tied for the second most nominations on the day with seven, including Best Supporting Actress for Claire Foy, who also received Critics Choice and Golden Globe nominations, and Best Adapted Screenplay for Josh Singer, who also received a Critics Choice nomination. Many feel that despite its bumpy road all awards season, that enough below-the-line support could carry Damien Chazelle's space biopic to a Best Picture nomination at the Oscars. It has the potential to land in Oscar categories for Best Cinematography, Best Production Design, Best Film Editing, Best Sound Editing, Best Sound Mixing, Best Visual Effects & Best Original Score. Oddly, "First Man" missed the Best Original Score nomination shortlist this morning at the BAFTAs after winning the Golden Globe just days ago. But after "If Beale Street Could Talk" missed a nomination in the same category at the Golden Globes, the track record feels somewhat balanced. The kind of support "First Man" demonstrated today at BAFTAs is exactly what it needs to stand a chance at a successful Oscar nomination morning.

The recent Best Picture Drama winner at the Golden Globes, "Bohemian Rhapsody," received seven nominations including many unexpected below the line nominations. Best Film, Best British Film, and Best Actor for Rami Malek were among what was expected. Yet, because it had a strong showing with categories such as Best Film Editing and Best Cinematography, it proved "Bohemian Rhapsody" is not going anywhere and its reputation is legitimate in this awards race, though I still don't believe it's a threat to win Best Picture at the Oscars.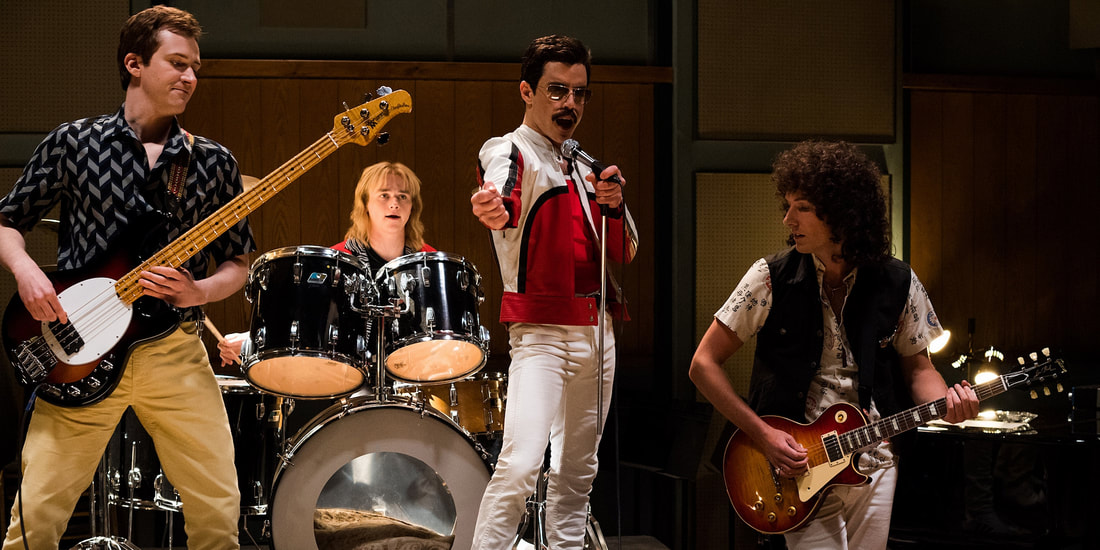 "Mary Poppins Returns," "Black Panther" & "If Beale Street Could Talk" Continue To Stumble

Three films that did not have the strongest showing at the guilds this week and continued that string of bad luck with the BAFTAs were "Mary Poppins Returns" (three BAFTA nominations) "If Beale Street Could Talk" (two BAFTA nominations), and "Black Panther" (the most shocking, just a single BAFTA nomination).

While "Black Panther" was always a longshot to perform well at BAFTA, many expected it to pull in more than a lone Best Visual Effects nomination. And after missing nominations this week with ACE and ASC, the Marvel cultural phenomenon is weakened overall. It did receive PGA, SAG, and WGA nominations, so it will still probably win a Best Picture nomination. But the BAFTA rejection is a huge blow and a brutal reminder that superhero genre bias still exists.

One film that we heard early rumblings that the BAFTAs would not be on high on was "Mary Poppins Returns," which is strange considering the film stars British actress Emily Blunt and takes place in London. That proved to be true when Blunt did not receive a nomination for Best Actress for the iconic role and the film failed to get a Best Film nomination. Blunt was also overlooked for "A Quiet Place" in Best Supporting Actress, which further alienates her chances at finally cracking any sort of Oscar nomination this year, after a career of strong work being snubbed. First "Mary Poppins Returns" was snubbed by what should have been an easy get at PGA. Now the film failed at another easy get with BAFTA. Thus, it's logical to make the call that the late-breaking Disney sequel will be an exclusive tech player only come Oscar nomination morning.

Finally, there is Barry Jenkins' beautiful "If Beale Street Could Talk," which continued its streak of underperforming this season today at BAFTA. With the lack of embrace for it by the guilds and the Globes, it's fair to say, "If Beale Street Could Talk" is getting the shaft. It's downright bizarre that the Oscar-winning creator of "Moonlight," Barry Jenkins, is struggling with his immediate follow-up project. He has missed Best Director nominations at Critics Choice, Golden Globe, DGA, and now BAFTA. The film has failed to be nominated for Best Picture at PGA and BAFTA. The most consequential snub for "If Beale Street Could Talk" is Regina King in the Best Supporting Actress. Many considered her the frontrunner after sweeping the critics' awards, until her SAG nomination snub. That was the first roadblock that caused pause. She recently picked up the Golden Globe, which alleviated the doubt from the SAG snub for many. Now, this. She may have goodwill and support from critics and the Internet, but how can a performer be the frontrunner for a category when she's missed the precursor nominations from groups that also vote for the AMPAS lineup? "If Beale Street Could Talk" is on life support to have a successful nomination haul from the Academy. Additional misses at the ADG, ACE, and ASC don't help. Like "First Man," it's been a rocky journey for the Best Picture hopeful and I'm afraid it may have reached the end of its road after today's showing. It's also funny how Barry Jenkins and Damien Chazelle always seem to be tied together in their awards journeys.
​The Acting Races Are A Mess

I honestly don't know what to make of some of the acting races at this point. Ethan Hawke and Toni Collette have each had a strong presence at the critic's groups, but this season but A24's failure to campaign for either of them has cost them key nominations at the Golden Globes, SAG, and now BAFTA. Each of them has only a Critics Choice nomination to their name. That may not be enough to carry two of the most deserving performances of the year to Oscar nominations.

As I said above, King missing here is also a devastating blow to her campaign and only further muddies the water for Best Supporting Actress this year. It's the most difficult category to predict this year. Amy Adams, Rachel Weisz, and Emma Stone all seem locked for nominations, having landed at all the necessary precursors. Next in line is Claire Foy, who received a BAFTA nomination today after previously earning Critics Choice and Golden Globe. Then there is Regina King who has only received nominations from the Critics Choice and Golden Globes, which she won. But then you also have Margot Robbie who received nominations from SAG and BAFTA for "Mary Queen of Scots." Remember, SAG and BAFTA have a crossover with the Academy, which benefits Robbie to be nominated and practically destroys a narrative for King to win. Emily Blunt is still lurking for "A Quiet Place" which she received a SAG nomination for. She had the best year of her career in 2018. Now that "Mary Poppins Returns" is slowing down in momentum, will the Academy really deny Blunt her first Oscar nomination again? The BAFTAs did not help us here, and it will truly be a nail biter on Oscar nomination morning as to who makes the cut and who does not.

Over in Best Actress, Viola Davis shocked us all with a Best Actress nomination for "Widows," which has underperformed across the board all season long, failing to get any major nominations elsewhere. It appears that Glenn Close, Olivia Colman, Lady Gaga and Melissa McCarthy are locked for nominations, but where do we turn to for that fifth slot? Do we look at Critics Choice nominees, Yalitizia Aparicio in "Roma" or Toni Collette in "Hereditary?" Or maybe we need to examine Golden Globe nominees, Nicole Kidman in "Destroyer" or Rosamund Pike in "A Private War?" Or perhaps the Critics Choice, Golden Globe, and SAG support Emily Blunt has for "Mary Poppins Returns" will be enough to maintain an Oscar nomination. A British actress in an iconic British role shouldn't have missed BAFTA, though. Who knows. It's not out of the question that one of the four women who has nailed all the precursors so far miss in an Amy Adams in "Arrival" or Tom Hanks in "Captain Phillips" style.

I fully expect the Best Supporting Actor lineup to be the SAG lineup — Mahershala Ali, Timothée Chalamet, Adam Driver, Sam Elliott, and Richard E. Grant — despite Sam Rockwell's presence at this morning in the lineup for playing President George W. Bush in Adam McKay's "Vice." The critically divisive film has shown a tremendous amount of guild strength and could carry last year's Best Supporting Actor winner to a repeat nomination. Rockwell's inclusion has led to Sam Elliott's snubs at the Golden Globes and BAFTAs. But I remain hopeful that Elliott, the 74-year-old-veteran without a nomination to his name, will receive his first Oscar nomination for "A Star Is Born."

Christian Bale, Bradley Cooper, Rami Malek, and Viggo Mortensen have received Best Actor nominations across the board nominations from Critics Choice, Golden Globes, SAG and now BAFTA. But who gets the fifth slot? Critics Choice went for Ethan Hawke in "First Reformed," as well as virtually every critic's group with their wins for the season. Golden Globes and SAG went for John David Washington for "BlacKkKlansman." Critics Choice and Golden Globes went for Willem Dafoe for "At Eternity's Gate," and BAFTA went for Steve Coogan in "Stan And Ollie." My gut says it is between John David Washington and Ethan Hawke are the two stronger candidates, but I honestly don't know.

So what did you think of the BAFTA nominations? What conclusions are you drawing now that we've heard from PGA, DGA, WGA, SAG, Critics Choice, Golden Globes and now BAFTA? Let us know in the comments section below or on our Twitter account.
You can follow Matt and hear more of his thoughts on the Oscars and Film on Twitter at @NextBestPicture