​​The Tonys sometimes feel like the purest of the televised award shows. They're a celebration of the Broadway community and everyone seems legitimately thrilled to be attending. Their most important feature is that they provide a glimpse into a very hard-to-access art form by showing off the Broadway season's offerings to people across the country who might not be able to afford a trip to New York and the steep and ever-rising Broadway ticket prices.
This year's Tony Awards certainly exuded that warm and friendly feel that the Tonys are known and loved for. James Corden returned to host and delivered some very funny sketches while never making the award show feel like an extension of "The Late Late Show" (not a carpool karaoke session in sight!). His genuine love for Broadway was very clear and he managed to walk that tricky line of being a presence without making the show seem all about him. ​
​One comedy bit involved him asking audience members like Kristen Chenoweth and Jeff Daniels to practice their losing faces. In another, he complained that the Broadway community is too nice and asked someone to step up and start a fight — ending in a near throw-down between Audra McDonald and Laura Linney, complete with earrings coming off. These were a fun, not-too-drawn-out way to see some Broadway favorites who weren't nominated for anything this year.
The best part, however, was James's parody of "Be More Chill"'s song, "Michael in the Bathroom," with rewritten lyrics to showcase his nerves about hosting the Tonys. As past hosts Josh Groban, Sara Bareilles, and Neil Patrick Harris popped out of bathroom stalls to join in, it just kept getting better and better. It was also a nice nod to "Be More Chill," the musical only nominated for one award but much-loved by the youths across America, even if they did forget to acknowledge what show it was from.
The winners were fairly unsurprising across the main awards, but incredibly deserving. The very original new musical "Hadestown" based on the Greek myth of Orpheus took home eight awards including Best Musical, Best Director, and Best Featured Actor for Andre de Shields. It was undoubtedly the biggest winner of the night and while it's been one of the hottest tickets in town for a while, it's about to become even more difficult to get a seat.
The new musical adaptation of the 1982 film, "Tootsie," took home the award for Book of a Musical and Best Leading Actor for its leading man Santino Fontana. Meanwhile, the campy jukebox musical "The Cher Show" snagged both Best Costume Design for Bob Mackie (one of the most easily predicted categories of the night) and the Tony for Best Leading Actress for Broadway favorite Stephanie J. Block. These were both Fontana and Block's first Tony awards.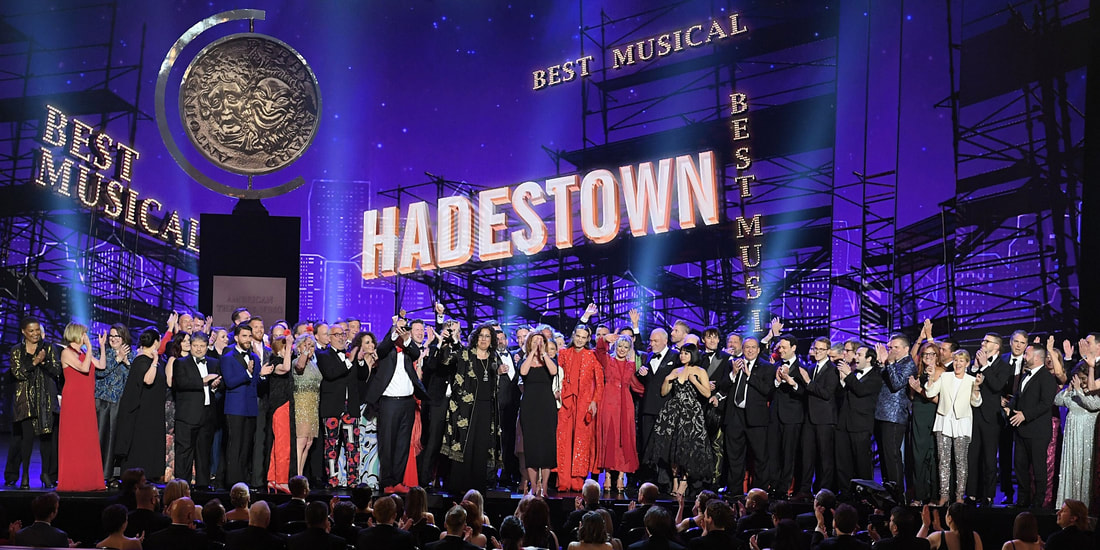 The Best Musical Revival category had only two nominees: the dark and edgy revival of "Rodgers & Hammerstein's Oklahoma!" and the more traditional (but still slightly rewritten) "Kiss Me, Kate." "Oklahoma!" took the award and also won Best Featured Actress for its Ado Annie, Ali Stroker, who made history as she made history as the first person in a wheelchair to be nominated for and win a Tony Award. While Stroker's win was a huge step towards diversity in the Tony Awards, the fact that she had to wait backstage as the award was announced, as there was no accessible route to the stage for her from the audience, emphasizes how important it is that we make room for those with disabilities, be they patrons or performers.
For the play categories, Jez Butterworth's "The Ferryman," which is loosely based on his wife's family history, took home four awards, including Best Director for Sam Mendes and Best Play. "The Boys in the Band" triumphed over the predicted "The Waverly Gallery" to win Best Revival of a Play in one of the few upsets of the night. However, Elaine May did win the award for Best Leading Actress for her phenomenal performance in "The Waverly Gallery," which closed earlier this year. "Ink" scored a couple of wins, including Best Featured Actor for Bertie Carvel. Bryan Cranston won Best Leading Actor for "Network," after winning the Olivier Award in London last year for the role. A beaming Celia Keenan-Bolger took home "To Kill a Mockingbird"'s sole award for Best Featured Actress.
It was a great night for speeches, especially from the ladies who won. As Rachel Chavkin accepted her Best Director of a Musical Award and pointedly called for more Broadway shows with women and people of color on their creative teams and in the director role. Anais Mitchell gave a similarly moving speech. André de Shields's speech was like pure poetry as he thanked everyone who got him where he is and offered sage advice.
Bryan Cranston won laughs as he jokingly quipped, "Finally an old straight white man gets a break!" He went on to thank everyone involved in the production, even thanking the stage managers by name. Elaine May also managed to attribute her award to every person in the production other than herself but in particular her co-star Lucas Hedges. Celia Keenan-Bolger shared that her grandparents had a cross burned on their lawn because they were welcoming to black families new to the neighborhood, making her success in the play of "To Kill a Mockingbird" more poignant.
Ali Stroker's speech may well have been the most emotional and emotion-inducing of the night. She dedicated the award to "every kid who is watching tonight who has a disability, who has a limitation or a challenge, who has been waiting to see themselves represented in this arena."
The performances were wonderful almost across the board. "Tootsie" and "Ain't Too Proud" both seemed a bit standard or even lackluster, perhaps not showcasing the musicals in their finest light. "Hadestown"'s number showcased the beautiful lighting design, choreography, and cast and was certain to have set people across America Googling to find out more about the show. "Oklahoma" showed off Ali Stroker's amazing vocals with a snippet of "I Cain't Say No" before going into their titular song with the entire cast, perhaps proving that though this musical is reimagined, the music is very much intact.
"The Prom" gave a fun and energetic performance. As NBT colleague Dan Bayer pointed out, you can tell it's Casey Nicholaw choreography when the dancing is so intense that the girls 'at prom' are wearing sneakers. It also featured a kiss between the two characters who play girlfriends in the show, which had sparked controversy when they did so at the Macy's Thanksgiving Day Parade. Another queer show, "Choir Boy," was the sole play to perform and did one of their step routines which was beautiful and a wonderful showcase for the art form on national television.
Beetlejuice gave an incredibly energetic performance of both "Day-O" (for film fans) and "The Whole Being Dead Thing" which really showed off Alex Brightman's incredible performance in the lead role. They slightly amended their lyrics for the Tonys, including adding in the hilarious line, "Hey Adam Driver! You killed Han Solo."
Between the nominated shows, the performances, the winners, and the speeches, it was a great night for diversity at the Tonys. Theatre has long been a home to disenfranchised groups and it was wonderful to see women, people of color, members of the LGBTQ+ community, and even those with disabilities being celebrated for their incredible talents.
However, it's important to remember that as much as Broadway has achieved, there is still a way to go. As Rachel Chavkin said in her speech, "There are so many women who are ready to go. There are so many artists of color who are ready to go. And we need to see that racial diversity and gender diversity reflected in our critical establishment, too. This is not a pipeline issue. It is a failure of imagination by a field whose job is to imagine the way the world could be." Overall, it was one of the best Tony Award broadcasts of the past decade between a funny but unobtrusive host, great performances, and empowering and well-deserved wins.
What did you think of the show? Let us know in the comments section below or on our Twitter account. Also, to hear more of our thoughts, be sure to listen to our podcast review of the show here.
​You can follow Nicole and hear more of her thoughts on Film and the Oscars on Twitter at @nicoleackman16