Odds are that Alexander Hamilton, the "ten-dollar Founding Father," wasn't someone that you thought about very often before 2015. When the musical "Hamilton" premiered off-Broadway, it brought one of America's founders back into the spotlight in a way he arguably hadn't been since his untimely demise centuries earlier. "Hamilton" was popular seemingly from the moment it was on a stage and its popularity has only grown over the past five years. "Hamilton" mania reached a height that no Broadway musical has reached since the days of "Rent" with references in TV shows and movies like last year's "Knives Out," teens across the country spending their time memorizing the lyrics and attempting the raps, and everyone vying to get expensive and hard-to-find tickets to the show. Now it's back in the spotlight once more with the original production available to watch on Disney+ from the comfort of your own couch.
If you've made it to 2020 without knowledge of "Hamilton," then your ability to avoid popular culture is impressive. But for those who don't know, it's a musical about Alexander Hamilton, who fought under George Washington in the Revolutionary War and essentially founded our nation's financial system. The music, lyrics, and book were written by Lin-Manuel Miranda who also played the leading role in the original cast. If you don't know Lin's name already from projects like "Moana," "Mary Poppins Returns," and "His Dark Materials," you should learn it now before "In the Heights" comes out next year. The musical was inspired by Ron Chernow's 2004 biography of the Founding Father and the show features music that blends traditional musical theatre with hip hop, R&B, soul, and jazz.
"Hamilton" premiered off-Broadway at the Public Theatre in New York in February 2015 before transferring to the Richard Rodgers Theatre where it officially opened on Broadway on August 6, 2015. Its run at the Public sold out and tickets to the show on Broadway quickly became hard to acquire (and a sort of cultural status symbol). The show drew attention for its casting of BIPOC actors as historical figures who were actually white like George Washington and Thomas Jefferson; the classic line to describe it was that it was "American then, as told by America now."
The show received an incredible 16 Tony Award nominations and won 11 awards including Best Musical. In addition to taking home the Pulitzer Prize for Drama (a notoriously difficult achievement for a musical), it soon traveled to other cities. "Hamilton" opened in Chicago in 2016, in London at the end of 2017, and had multiple tour companies traveling the US.
So where does the version currently on Disney+ come from? Three performances of the show were filmed at the Richard Rodgers in June 2016 and edited together. The film features the full original Broadway cast, except for two of the original ensemble members who had left the show by the time of filming. The film was directed by Thomas Kail who also directed the musical on stage. Walt Disney Studios acquired distribution rights for $75 million and originally announced a wide release in cinemas in October 2021. However, in light of the pandemic, they decided to release it on Disney+ on July 3. While Disney has said that they still plan to release it in cinemas next year, it drove downloads of Disney+ up by 74% over its first weekend on the streaming service.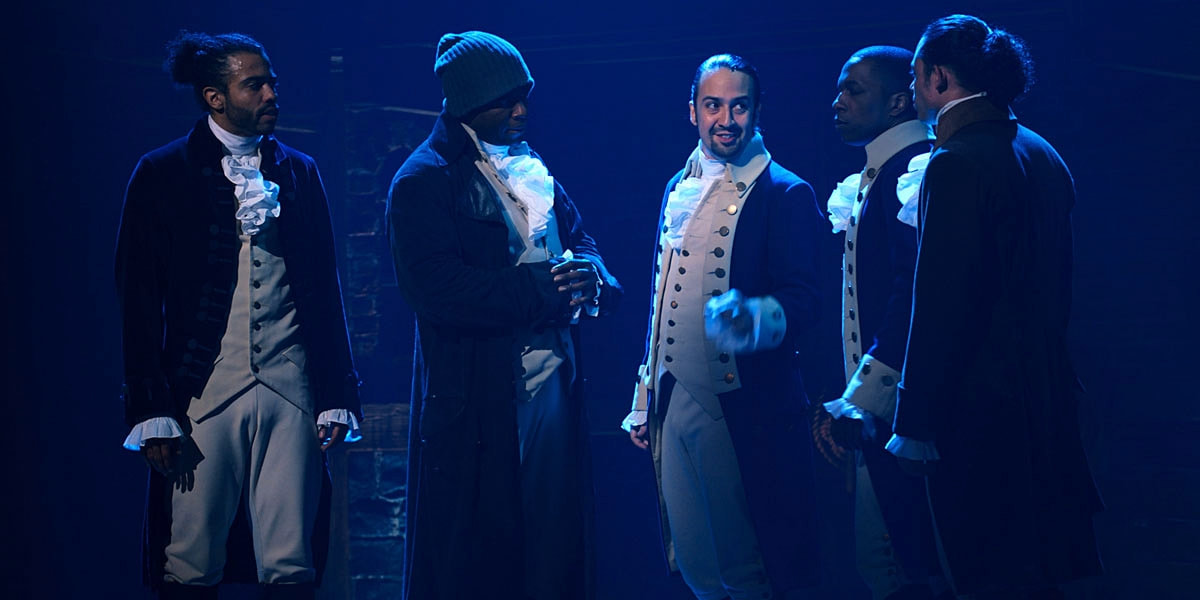 In fact, they couldn't have chosen a more perfect time to put "Hamilton" online. Releasing it while much of the country was enjoying a holiday weekend and was likely to tune in was astute, but what better to watch on the Fourth of July than a show about the Founding Fathers? As recent political movements and an upcoming election continue to remind us of the flaws in this country, "Hamilton" is a poignant reminder that America was founded on the principles of fighting against corruption and working to improve your nation in any way you can.
The "Hamilton" film also comes at a smart time to connect with the theatre industry which has been shut down for months due to Covid-19. Recently, it was announced that Broadway will be closed until at least January 2021 and for many performers and fans, the ability to watch a beloved show online was a brilliant reminder of what we love so much about theatre. While it can't fill the void left by the lack of live theatre right now, it helps in some small way.
In a time in which the Black Lives Matter movement has asked Americans to reconsider the historical figures they admire and the statues that adorn their cities and whether these men are worth venerating, it's natural that "Hamilton" has received some criticism online for its portrayal of the Founding Fathers. While the show certainly points out that Thomas Jefferson was a slaveholder, it is less explicit about George Washington or the Schuyler family's part in the abhorrent practice of slavery. Many of the men and women onstage that we see being played by actors of color were slaveholders and white supremacists. Miranda himself acknowledged in a tweet that "All criticism are valid" and cited the difficulty of fitting everything about the founding of America in a two and a half-hour musical.
It's an important conversation to have and necessary to remember that while we might appreciate these men and women as characters and even admire and love the actors playing them, the historical figures are messier and deeply flawed individuals. As we reckon with our Founding Fathers and what their legacy is, I hope that more people will take the time to learn about John Laurens (portrayed in the show by Anthony Ramos) who was unique amongst his contemporaries in his acknowledgment of the hypocrisy of preaching about fighting for freedom from Britain while owning slaves. The revival of interest in him is one of the many good things the musical has achieved.
"Hamilton" has certainly made an impact in many ways. The US Treasury had originally planned to replace Hamilton on the $10 bill, but thanks partially to the musical's popularity, they decided to replace Andrew Jackson on the $20 instead. (These plans have come to nothing under the Trump administration.) The show launched the careers of many actors in the original Broadway cast like Daveed Diggs, Anthony Ramos, and Jasmine Cephas Jones, all of whom have now landed film and television roles. Notably, Ariana DeBose played "the bullet" and will be seen in two upcoming movie musicals: "The Prom" and "West Side Story."
​"Hamilton" helped revitalize interest in Broadway and stage musicals. Many people ended up becoming a subscriber to their local theatre to be able to get seats to the "Hamilton" tour, which were notoriously hard to snag. But for many fans, the connections to the musical are personal and intimate. On the Next Best Theatre episode, we discussed our own personal connections to the show. The show's themes of immigrants achieving success, loss, love, ambition, friendship, and legacy have resonated with people across the world.
The potential for "Hamilton" to win any Academy Awards is still unclear. Will Mavity laid out the precedent for filmed plays and musicals winning Oscars in an article, along with the categories that "Hamilton" has its best shot in. Even if it is ruled eligible, it is unlikely to break into the acting categories. Where it does have a real chance is a nomination for Best Sound or even potentially Best Editing. In a normal year, it would seem clear that any Oscar hopes wouldn't go far. But with the number of films delayed due to the pandemic, perhaps it could garner a nomination or two if Disney really campaigned for it.
Of course, watching "Hamilton" on Disney+ is no substitute for the magic of seeing it live in a theatre. But for "Hamilton" fans who have seen the show, they can relive the experience and see bits of it in greater detail than you can see from a theatre audience. For those fans who hadn't yet seen the show, it's fantastic to finally be able to experience it. And being on a streaming service will introduce the musical to a whole new audience who may even choose to see it live one day post-quarantine. The world that the "Hamilton" film comes into, with a Trump presidency and a worldwide pandemic, is a vastly different one than the more hopeful time when it premiered on Broadway while Barack Obama was still president. But it still has much to say to us today and serves as a reminder of the importance of standing up for what you believe in and not throwing away your shot.
The "Hamilton" film is a beautiful reminder of the power of theatre during a time when the theatre industry is shut down for the foreseeable future. If you watched and loved "Hamilton" and have the ability to, please consider a donation to The Actor's Fund or Broadway Cares. These organizations help support theatre artists and others in the entertainment industry through difficult times like the ones we are experiencing now.
Have you seen "Hamilton" on Disney+ yet? If so, what did you think? Have you ever seen the show on stage? Let us know in the comments section below or on our Twitter account.
​You can follow Nicole and hear more of her thoughts on Film and the Oscars on Twitter at @nicoleackman16