By Nicole Ackman ​
With the "Downton Abbey" movie being released this weekend, it's a good time to revisit where we left the beloved characters at the end of the sixth season of the television show. "Downton Abbey" followed the Crawley family and their servants for over a decade, through marriages, deaths, and scandals. We watched the Crawley family, led by parents Robert and Cora with three daughters — Mary, Edith, and Sybil — as they navigated the dawning of a new era and tried to discover what their place as English nobility was in a modern world.
The series began with the sinking of the Titanic in 1912, and the death of Lord Grantham's nephew, the heir to Downton Abbey, throwing the house into chaos as the new heir, a young solicitor named Matthew Crawley (played by the very handsome Dan Stevens), had to be initiated into the fold. The series soon plunged into World War I, as both Matthew and some of the downstairs characters went off to war and Downton itself became a convalescent home for returning officers. The war changed the lives of wealthy young women forever and this was reflected in the show, as the youngest daughter Sybil became a nurse and eventually eloped with the family's chauffeur and Edith searched for an occupation before becoming the head of a magazine.
The series finishes in 1925 as the Crawley family has decided that they will remain living at Downton Abbey despite how many of their neighbors have sold their houses and downsized. Downton is the beating heart of the village around it, employing much of the local community, and remains a symbol of how tradition can adapt to the times. The movie picks up two years later in 1927.
In the rest of this article, I will provide updates on some of our most beloved main characters and where we left them at the end of the series four years ago. Hopefully, this will serve as a helpful refresher for anyone who hasn't revisited the show since 2015, or a crash course introduction to the main players for those who haven't seen the series but are going to the movie.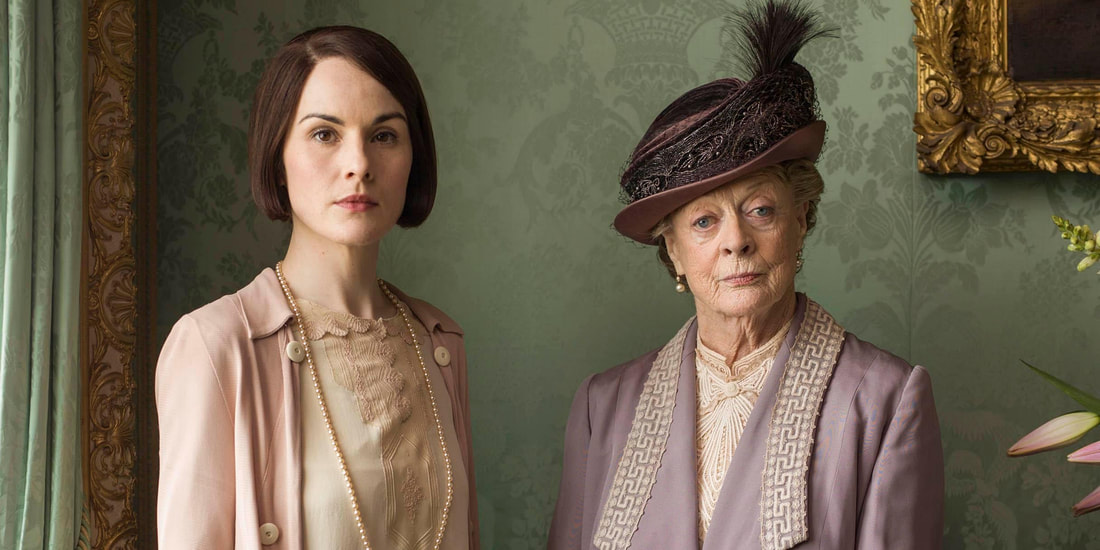 The Earl and Countess of Grantham
Robert Crawley (Hugh Bonneville) and Cora Crawley (Elizabeth McGovern) have had their ups and downs over the years but have emerged with their strong marriage intact. Robert loves his family and his estate very much, though he sometimes clashes with his wife and daughters' more progressive attitudes. At the end of Season 6, he stepped down from running Downton Abbey and left his daughter Mary in charge, with the help of his son-in-law Tom Branson.
Meanwhile, Cora is an American whose wealth once saved the estate from ruin. She is modern-thinking, sometimes clashing with the older English nobility set, and at the end of the series has become president of the local hospital board.
Lady Mary and Henry Talbot
Lady Mary (Michelle Dockery) has had a far from smooth path but has finally found happiness with race car driver Henry Talbot (Matthew Goode). The eldest Crawley daughter is known to be rather cold and snobbish, though her first love Matthew thaws her icy exterior. Mary is very loyal to and protective of those she loves, especially her youngest sister Sybil, her lady's maid Anna, the butler Mr. Carson, and later her brother-in-law Tom Branson. On the other hand, she can be rather cutting and even mean to those she doesn't care for, namely her sister Edith. She loves Downton above all things and is dedicated to ensuring its survival.
After her cousin and fiancé died on the Titanic, she had an initially tumultuous but wonderful love story with the new heir, Matthew Crawley. However, they had only been married a short time when Matthew died in a car accident on the same day that Mary gave birth to their son, George. Mary has many suitors (both during her initial 'will they? won't they?' with Matthew and after his death), before finally marrying Henry Talbot. Despite her issues with Henry's profession and her outranking him, he shows himself to be loyal and supportive and the two are married and expecting a baby at the end of season 6.
Lady Edith and Bertie Pelham
Lady Edith (Laura Carmichael) had more heartaches and sorrows than any other character before finding herself — and handsome, wealthy husband Bertie Pelham (Harry Hadden-Paton). Edith and Mary are constantly at odds and even her parents seem to prioritize her after her two sisters. Poor Edith had been jilted at the altar and had an affair with a married man before meeting magazine editor Michael Gregson.
However, Gregson is killed while abroad before they can marry and she must figure out how to raise their illegitimate daughter Marigold without a scandal. Gregson leaves her his magazine, where she was working, which she expertly takes charge of. At the end of the sixth season, she marries the lovely Bertie Pelham who has recently become marchioness after his cousin's death and finally gets her happy ending.

Lady Violet Crawley and Isobel Crawley
Family matriarch Violet Crawley (Maggie Smith) finally finds a match for her wit and determination when Isobel Crawley (Penelope Wilton) moves to town along with her son, Matthew. Violet is known for her hilarious zingers as she quarrels with Isobel and her daughter-in-law, Cora. While she is very traditional and set in her ways, Violet cares deeply about her son and his family and even eventually accepts Tom Branson despite his humble origins.
Isobel spent the first part of her life as a doctor's wife before her only son became the heir to the Crawley estate. She quarrels with Violet as she makes a place for herself in the village, helping with the local hospital and other charitable causes and encouraging Sybil's love of nursing. Later, Isobel remarries Lord Merton despite his nasty grown children's interference. Violet and Isobel start off the series very much at odds, but by the end, they are devoted friends — even if they're still quick to voice their disagreements.
Tom Branson
Tom Branson (Allen Leech) started out at Downton Abbey as the family's chauffeur, known for his Irish nationalist politics despite his deep respect for the Crawley family. However, he soon fell for the youngest daughter, the equally-politically minded Sybil. The two were married in Ireland but returned to Downton with a baby on the way after Tom got into some political trouble. He initially struggled to find his place as both the aristocracy and some of the downstairs staff resented his change in position. Sybil died tragically while giving birth to their daughter, Sybbie, which made Tom's place in the family even more unclear.
While Tom left Downton for a few months for America, he and Sybbie returned to the family where he served as the estate agent and helped run the estate alongside Mary. He and Mary formed a strong friendship and the end of the season sees him opening an automobile dealership alongside Henry Talbot.
Mr. Carson and Mrs. Hughes
Mr. Carson (Jim Carter) is the family's gruff butler who is softer than he appears under the surface despite his high standards for the staff. He has worked at Downton his entire life, as his grandfather did before him. He has had a soft spot for Lady Mary since she was a little girl and is very traditional and resistant to change.
Mrs. Hughes (Phyllis Logan) is the Scottish housekeeper at Downton and she is a firm but friendly presence in the household. She is close friends with Mrs. Patmore and Anna Bates and the only person willing to challenge Carson. Carson and Mrs. Hughes's sweet romance in the later seasons is a highlight of the entire series and they eventually marry, though their transition to married life isn't without some bumps. At the end of the series, Carson has to retire because of his failing health though he receives a pension and will remain on the estate.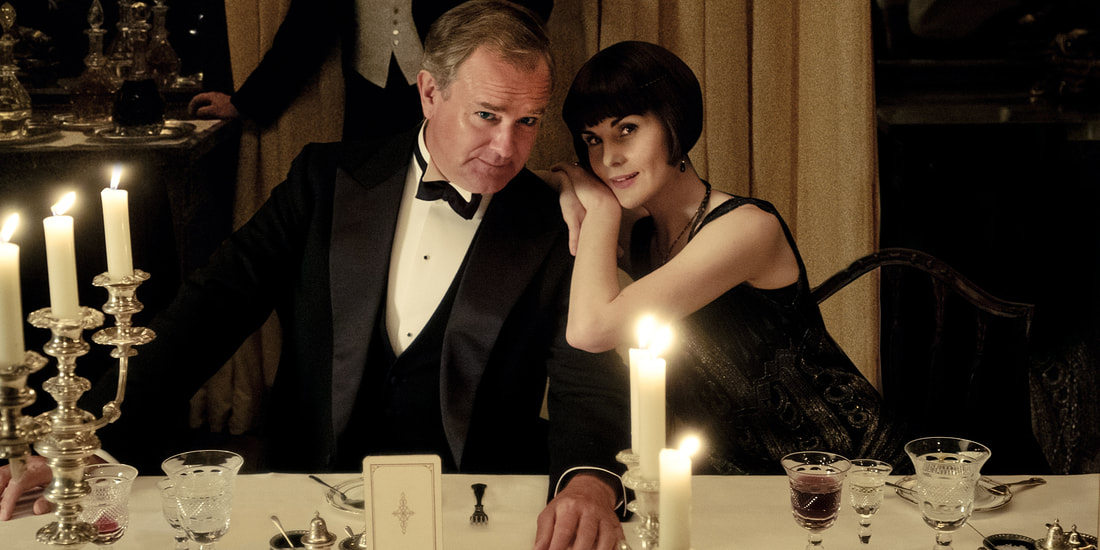 Bates and Anna
Bates (Brendan Coyle) and Anna (Joanne Froggatt) have the most turmoil of anyone on the show, though their relationship is steady throughout. Bates was Robert's batman during the Boer Wars and has a limp from a service-related injury. At the beginning of the series, he is hired as Robert's valet, though his injury causes some to question if he can do the job properly. Bates clashes with some of the staff and only housemaid Anna is truly kind to him; the two fall in love and are very devoted to each other. Anna is well-liked by most of the staff and is particularly close with Lady Mary, whose lady's maid she becomes later in the series.
The Bates go through multiple murder trials, assaults, imprisonments, and other difficulties throughout the series. However, the last season sees them happily settled at Downton free from worries as their son is born. Lady Mary agrees for the baby to spend his days in the nursery with George, Sybbie, and the pending Talbot baby so that both Bates and Anna can continue working at the house.
Thomas Barrow
Thomas Barrow (Robert James-Collier), a junior footman at the start of the series, was the main troublemaker and instigator for much of the series. He was rather nasty, especially when he teamed up with Cora's lady's maid, Miss O'Brien, in earlier seasons. However, Barrow also suffers from having to hide the fact that he is gay and feeling isolated because of the difficulty of finding other men like him. He goes back and forth between working at Downton and other jobs over the six seasons but eventually takes over as butler when Carson retires. Barrow is redeemed by his genuine affection for Lady Sybil, even stepping in when he sees another servant mistreating Sybbie, and especially his bond with little George.
Mrs. Patmore and Daisy
Mrs. Patmore (Lesley Nichols) is the cook and rules the kitchen at Downton Abbey. She's very proud of her position and her work and can sometimes be hard on the kitchen maids, like Daisy. However, she becomes very close to and even serves as a maternal figure for Daisy over the series. She is a stabilizing if fussy force for all of the downstairs staff. She can be rather sensitive and, like Carson and Robert, doesn't adapt well to change. In the last season, she buys a house to open a bed and breakfast with some inherited money and also begins a romance with Albert Mason, Daisy's father-in-law.
Kitchen maid Daisy struggles with misplaced crushes, one-sided romances, and wanting to be more than a kitchen maid. At the beginning of the series, her feelings for Thomas Barrow often lead her astray, as she is one of the only staff members who doesn't realize that he is gay. One of Downton's footmen, William Mason, likes her but she is indifferent. She agrees to be his sweetheart when he goes off to war and even marries him when he returns home gravely injured, though he dies the same day. She feels guilty for her one-sided marriage, particularly as William's father invites her to visit him on his farm. However, they soon grow fond of each other and he acts as a father to her as William was his only child left and Daisy has no parents. At the end of the series, she announces that she is leaving Downton to live on the farm.
So what new adventures and romances will the "Downton Abbey" movie bring? With two years having passed, Mary and Henry's first child will have been born. How is Edith adjusting to her role as the Marchioness of Hexham? How is Mr. Carson dealing with retirement? And how will a visit from the King and Queen of England affect the household both upstairs and downstairs?
You can check out my full review of the "Downton Abbey" film (with only light spoilers) here.
You can follow Nicole and hear more of her thoughts on the Oscars and Film on Twitter at @nicoleackman16