By Matt Neglia And here we are. This is it. The final two categories before the 89th Academy Awards. Best Director and Best Picture. Before we get to my in-depth analysis of these two awards and how I think they will go on Sunday, please take the time to check out the other articles I have posted these past couple of days on the other categories:
Best Foreign Language, Best Documentary & Best Animated Film
Best Original Song & Best Original Score
Best Film Editing & Best Cinematography
​Best Sound Editing/Mixing & Best Visual Effects
​Best Original & Adapted Screenplay
Best Makeup, Best Costume Design & Best Production Design
Best Actor, Actress, Supporting Actor & Supporting Actress
​Without any further adieu, click below for my in-depth analysis
BEST DIRECTOR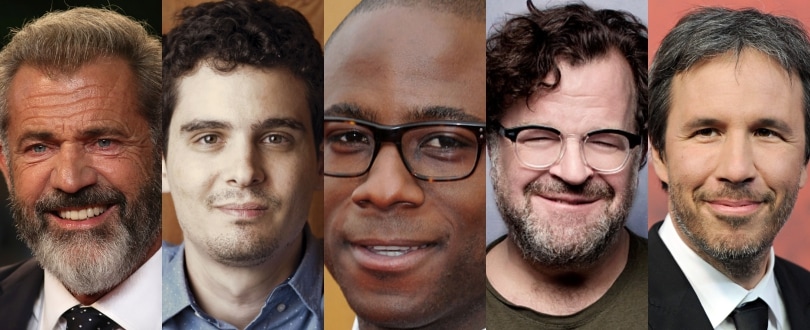 The nominees are…
Denis Villeneuve – "Arrival"
Mel Gibson – "Hacksaw Ridge"
Damien Chazelle – "La La Land"
Kenneth Lonergan – "Manchester By The Sea"
Barry Jenkins – "Moonlight"
This is a no brainer. It's going to be Damien Chazelle. I can tell you right now: no director has ever won the Critics Choice Award, Golden Globe, BAFTA & DGA and gone on to lose the Oscar since 1995, with the exception of Ben Affleck in 2012 for "Argo" because he was ultimately not nominated for the Oscar for directing. Had he been nominated, he would have easily won after the sweep of those awards he completed. Damien Chazelle has done the same thing all season and even if his film were to somehow, by some miracle, not win Best Picture, most would agree that he will still win Best Director becoming the youngest winner in this category in Academy history at 31 years of age. Some will argue that Barry Jenkins has an outside chance of upsetting after winning Best Director from the New York Film Critics Circle, National Board Of Review, Los Angeles Film Critics Association and National Society Of Film Critics becoming only the fourth person to do that after Steven Spielberg ("Schindler's List"), Richard Curtis ("LA Confidential") and David Fincher ("The Social Network"). However, critics don't vote on the Oscars. The industry has spoken and they're saying Chazelle is their guy.
PREDICTED WINNER: Damien Chazelle – "La La Land"
​RUNNER UP: Barry Jenkins – "Moonlight"
BEST PICTURE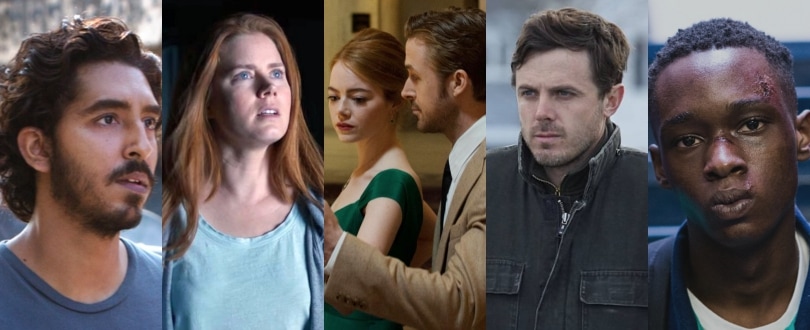 The nine films nominated for Best Picture are;
"Arrival"
"Fences"
"Hacksaw Ridge"
"Hell Or High Water"
"Hidden Figures"
"La La Land"
"Lion"
"Manchester By The Sea"
"Moonlight"
And like Best Director, there is no need to break out the stats for you all to see here. Had "Moonlight" won something more than the Golden Globe, such as the SAG or BAFTA, then I would be breaking those out to see if "Moonlight" had a chance. It still does have a chance, but it's extremely slim.
In 65 years of the Golden Globes, the Best Drama winner has gone on to win the Oscar 32 times (49%). The Comedy/Musical winner has gone on to win the Oscar 10 times (15%). However, when you take into account "La La Land's" wins at the Critics Choice Awards 13/21 times (62%), the BAFTA 28/69 times (41%), and the PGA 19/27 times (70%), it missing the Oscar for Best Picture would be a "Crash" like upset. "Crash" had won the SAG ensemble award which "Moonlight" did not win ("Crash" however, did not win the Golden Globe Award). The only thing that "La La Land" has going against it is three things:
1. Backlash against the film potentially winning the most Oscars ever
2. The preferential ballot
3. The lack of a SAG Ensemble nomination
Let's address the first point first. There are some who personally love "La La Land." They really do. Hell, I'm one of them. However, when "La La Land" received 14 nominations (Tied for the most ever) and you tallied up its potential wins, you realized that it stood a good chance to win 11 Oscars and tie the record for most wins ever, or if it wins everything except Ryan Gosling (Which is still feasible in an Adrian Brody-like shocking split upset) and Best Song (Which it will lose if its other nominated song wins), it will become the new record holder for most Academy Award wins ever. There are many who feel that the film deserves anything below that sacred 11 mark, but meeting and/or exceeding that is too much. People argue that "La La Land" is not "important" enough and will not hold up well over time. This is all subjective mind you. However, let's take a lookout point two and that is the preferential ballot.
"La La Land" needs more than 50% of the vote on the first round of voting to automatically win Best Picture, which could very well happen. However, if it goes to another round of voting it will face stiff competition from "Moonlight," a film which got every possible nomination it could (8) across a wide field of categories ranging from writing, acting, music, cinematography and editing. Some will argue that those inclined to vote for "Moonlight" will split their vote with "Fences" and "Hidden Figures." But I would argue that "Moonlight" is going to rank high on the ballots for those who vote for those films. It will also likely rank high on the ballots for those who vote for "Lion," "Manchester By The Sea" and "Arrival's" ballots. The question is, for those who vote for "Hacksaw Ridge" and "Hell Or High Water," how high will "La La Land" and "Moonlight" rank? "La La Land" has built in backlash for being a musical, for skewing younger and for ultimately being a movie that, while well-made, is ultimately not "important" enough in a year where the Academy is likely to make a statement towards the country's current administration. "Moonlight" has no backlash. Has virtually no people who outright hate it except those who will rank it low because they found it slow, or they are homophobic or racist.
The final point is the lack of a SAG ensemble nomination for "La La Land." If it wins Best Picture, it will be the first film since "Braveheart" (The first year SAG was announced) that a film won Best Picture without a SAG ensemble nomination. "Titanic," "Million Dollar Baby," "Slumdog Millionaire" and "The Hurt Locker" all managed to get Best Ensemble nominations and went on to win Best Picture. So why could "La La Land" not pull this off? Is it because the film is just Ryan and Emma and no one else of note? What about John Legend? If the film had enough passion behind it, how come the actors could not vote for it anyway? Does it all even matter? Probably not. But one thing is for sure…we are either heading towards another The Godfather/Cabaret & 12 Years A Slave/Gravity year. Or we are heading towards a huge sweep on the same level as something like "The Last Emperor" "Slumdog Millionaire" "Titanic" "The Return Of The King" "The English Patient" "West Side Story" or beyond. We will find out soon enough…
PREDICTED WINNER: "La La Land"
​RUNNER UP: "Moonlight"
Please let me know in the comments below what your thoughts are on these categories and be sure to enter our "Predict The Oscars" contest here. Thank you for reading these analysis articles on the 2017 Oscars. I hope you all enjoy the show!
You can follow Matt and hear more of his thoughts on the Oscars and Film on Twitter at @NextBestPicture