​The latest Oscar hopeful to be released and face the chorus of film critics and awards pundits is "News of the World" from director Paul Greengrass. "News of the World" is expected to be one of the core movies campaigned by Universal for this cycle of award season. As an epic adventure tale with technical gravitas and star power from Tom Hanks, it has the ingredients to be a Hollywood hit – despite skipping the film festivals that typically establish movies as legitimate contenders for the industry, press, and critics' prizes at the end of the year. Several of us at Next Best Picture who have seen the film have formed a small consensus on "News of the World": A solid feature with handsome aesthetics and qualified technical elements, even if the narrative feels especially familiar. ​
There is no doubt in my mind that "News of the World" will be a successful film. Its Christmas release date, western sensibilities, and Hanks's mogul name headlining the film all inspire confidence. "News of the World," if nothing else, will be anointed as the quintessential "dad" movie of the holiday season. It is also my expectation that "News of the World" will be looked upon fondly by Academy voters. Even though the film does not rival the quality of comparable stories like "True Grit," Greengrass puts forth a product with credibility, which in turn will grant it access to many categories at the Academy Awards. An advantage that "News of the World" has over the more artistic, smaller, independent films this year is the film was produced by members of the industry's establishment; it is much easier to navigate an awards campaign with good film for industry awards when its filmmakers and talent are known quantities.
Here is an outline of the Oscar prospects for "News of the World:"
Very Likely
Best Cinematography
Best Original Score
Best Sound
As far as I am concerned, "News of the World" can take these Oscar categories to the bank. The cinematography by Dariusz Wolski is easily the most impressive aspect of the film. The mise-en-scene is stunning in scope and beauty. The other standout characteristic is the original score. The music is an assertive attribute that helps sew together the tone and plot with the familiar western genre. The music hails from James Newton Howard, who has been nominated for his original music eight times by the Academy over his decades-long career. "News of the World" also seems like a sure bet in the newly combined Best Sound category. (In recent years, Best Sound Mixing and Best Sound Editing have been awarded separately.) The film has an expectedly superlative achievement in its sound design and will likely coast to a nomination here. This is the type of Best Picture-leaning, action film that typically lands with the sound branch.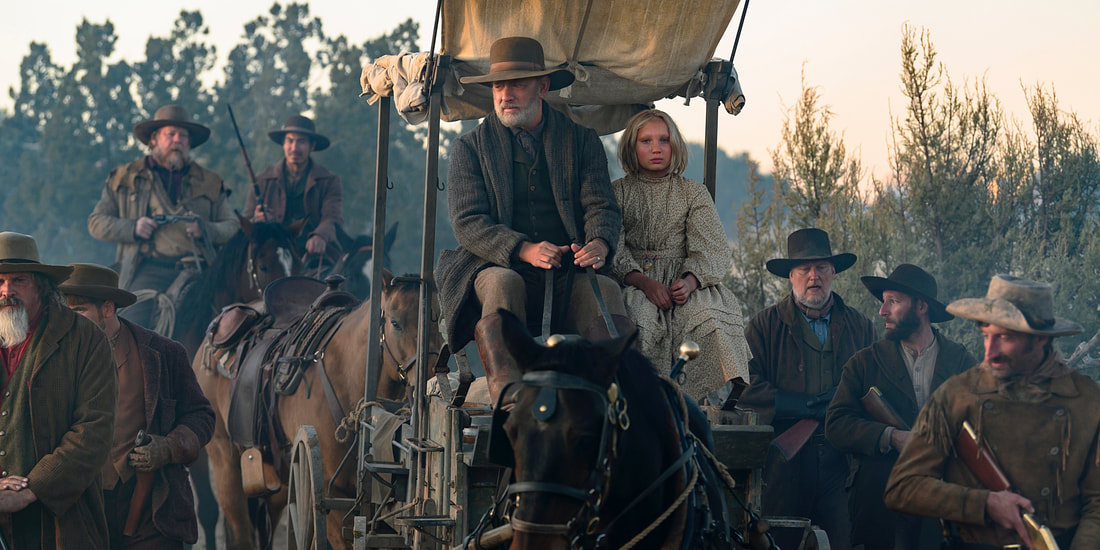 Possible
Best Picture
Best Adapted Screenplay
Best Film Editing
Best Costume Design
I am predicting "News of the World" to be nominated for Best Picture and Best Adapted Screenplay. At the time of this writing, it is in my eighth spot in my predicted Best Picture lineup and my fifth spot for Best Adapted Screenplay. However, there is still a lot of time for dynamics in the race to materialize or shift in ways we cannot anticipate, both in favor and away from "News of the World."
This film will attract a wide swath of people and a varied group of voters from several branches. In a weak year for Best Picture and a possible ten slots, it should be easy for "News of the World" to place in the lineup. A Best Picture nomination seems more likely than not. The screenplay is competent and looks to be in a nice position to benefit from good reviews (unlike "Hillbilly Elegy") and appears to be of the Academy's traditional taste (unlike "French Exit" or "I'm Thinking of Ending Things"). There is a chance that a surprise nominee emerges and takes the writers by storm, which in turn could cost "News of the World" a spot in Best Adapted Screenplay. But for now, this film is in a decent position to slide into a screenplay nomination.
Additionally, "News of the World" is the type of feature we would usually expect to see nominated in Best Film Editing. Though this film is not in my current predictions for the category, the genre and talent involved – the film was cut together by Oscar winner William Goldenberg of "Argo," "Zero Dark Thirty" and "The Insider" fame – foreshadow possible traction with the editing branch. One last place to look out for this film to be competitive is in Best Costume Design. Two-time winner Mark Bridges' work in "News of the World" may not be so obvious for a nomination when looking at the film on paper, but Bridges is obviously beloved by his peers and that may be enough for a nomination, similar to his nomination for "Joker" last year.

In the Running
Best Director
Best Actor
Best Supporting Actress
My rule of thumb with any of the other above-the-line categories is the film would have to make a huge impact to break into these shortlists. The film has possible lanes to explore for achieving Best Director, Best Actor, and Best Supporting Actress nominations, but these will be longshots.
Sight unseen, many of us kept an eye out for Paul Greengrass to return to the Best Director category with this film. Considering his reputation, filmmaking style, and brand of film he usually directs, this looked to be a strong contender for a nomination. However, "News of the World" lacks any substantial, unique trademark of Paul Greengrass's directorial vision that films like "Captain Phillips" and "United 93" so boldly contained. By my estimation, the direction does not resonate in the way it needs to in order to be nominated.
Tom Hanks has a surprising emotional range and impact as the protagonist Captain Jefferson Kyle Kidd. A nomination for this performance would be more deserving than the one Hanks received last year for "A Beautiful Day in the Neighborhood." However, "News of the World" would have to become a top-five film and a central contender for him to break into the Best Actor race, which already has a fastened top six contenders fighting for the five spots. Count him in for a Golden Globe nomination, however, because this is the type of performance the Hollywood Foreign Press will lunge to nominate. There may be more wiggle room for newcomer Helena Zengel in Best Supporting Actress, considering that category is lacking substantive contenders and what she is able to do with her sizable, emotional role. However, I remain skeptical due to the fact that younger acting nominees are typically few and far between, especially for performances such as these that rely less on dialogue.
What do you think of "News of the World's" chances at the Oscars? Let us know in the comments section down below or on our Twitter account and be sure to check out our latest Oscar predictions here.
You can follow Ryan and hear more of his thoughts on the Oscars and Film on Twitter at @rcs818