As Bill and Ted return for the third film of their trilogy, in "Bill & Ted Face the Music," it's imperative that the duo have a most excellent wardrobe as they try to save the world. The last time we saw the duo was in 1991's "Bill & Ted's Bogus Journey," and styles have certainly changed in the last 29 years. Costume designer Jennifer Starzyk spoke with Next Best Picture about her inspiration for working on a film that showcases some totally fun fashion from the past, present, and future.
​How did you come on board as costume designer for "Bill & Ted Face the Music"? Were you a fan of the previous two films before joining?

Definitely a fan. I grew up seeing both films in the theater. Fun fact, I actually ditched a day in high school to be background in "Bogus Journey" for a concert scene! The script came to me through Scott Kroopf who has produced all the "Bill & Teds". By the end of the first read, I had a giant smile on my face and was so thrilled to meet with [director] Dean Parisot.

Bill and Ted haven't been on the big screen for 29 years. What was it like dressing the characters in a modern wardrobe?

Both Keanu [Reeves] and Alex [Winter] were adamant that there was a natural passage of time and not to be stuck in the same place after all these years. Even though they are out of work musicians, time has passed in real life, and with the iconic characters. I provided a lot of ideas and images to get the conversation started. I had a week to gather everything for my first fitting because Keanu was going off to do a very long "John Wick" press junket for a chunk of prep time, so it was important to move forward as much as possible to accomplish what we needed in time for filming. I had an arsenal of clothes and ideas at that first fitting to accomplish what was needed in the overall time frame. Both Keanu and Alex always did all their fittings together and no one knows Bill and Ted better than they do so the collaboration process was very important.

A lot of "Bill & Ted Face the Music" takes place in the future. What was your inspiration for the futuristic wardrobe?

Inspiration came from quite a few resources. The environment of The Great Leader was mainly drawn upon the Spanish architect, Calatrava – spacious, organic shapes with repetition. Originally, I was playing with iridescent, transparent amoeba-like shapes that would float through that space. But once we had the camera test, it became apparent I needed to play with a structural silhouette because of the use of green screen. So the outcome was more architectural and the palette is in cool tones.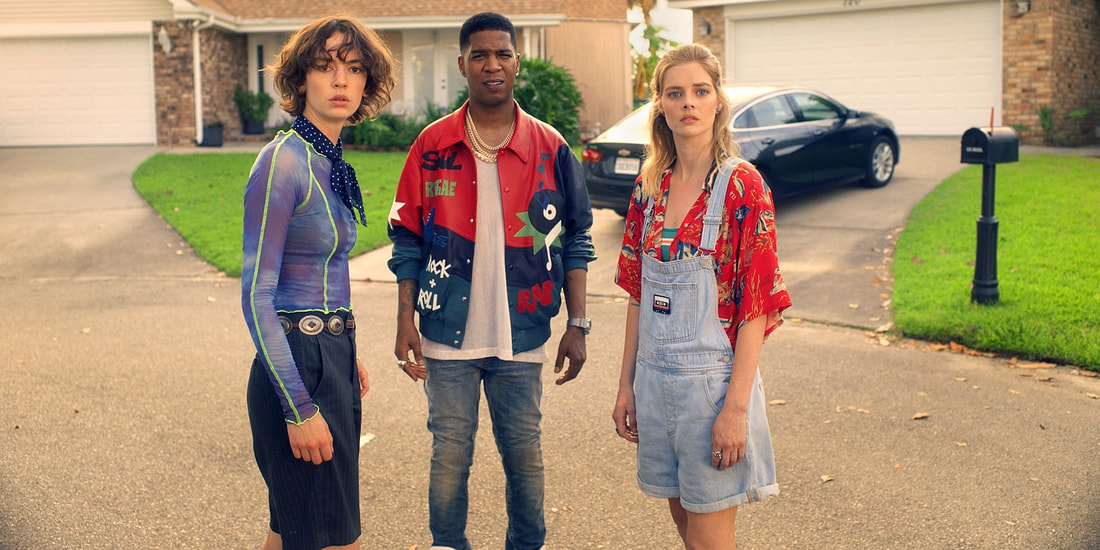 Did the actors have any input on their wardrobe?

Definitely. Being the third installment of the iconic cult film, the director, Dean Parisot, said to defer to Alex and Keanu as no one would know their characters more than they do. I always bring my vision, as I mentioned before, but ultimately, all their costumes were a collaboration.

Bill and Ted have to write and perform a song to save the world. Were there certain bands that influenced style choices in the film?

When Bill and Ted visit themselves in the future at the rockstar's home, their dress was more influenced by what a famous rockstar may dress like c.1989 – very theatrical. Think Steven Tyler and Eddie Van Halen. For their main look of the film, since they are struggling musicians, I also drew upon musicians to spark ideas as a jumping point. Keanu had brought up the idea of Wayne Coyne from Flaming Lips, who is a successful, artistic musician. So we created our own version that felt right for the character, also encompassing the idea that perhaps he would don a suit to attend couples therapy.

What are some of your favorite costumes in the film?

I was able to really have fun with all the characters on so many levels. As a costume designer, it was magical to have just completed a very reverent, restrained television series, "Mindhunter," and flip to a very joyful project with the best tagline: "Be excellent to each other." And just as important, music unites people.

In the film, Bill and Ted's daughters, Thea and Billie, are introduced. What was your strategy dressing these characters who carry on the Bill and Ted legacy?

I wanted to make sure that Billie and Thea are individuals while channeling all the effervescent and irreverence of their fathers. Their way of dress is very instinctual; layering things they would personally like so they are unique and eclectic.

Editor's Note: This interview has been edited for clarity.
"Bill & Ted Face the Music" is currently playing in theaters from United Artists Releasing.
You can follow Rebecca and hear more of her thoughts on the Oscars and Film on Twitter at @rebeccadaniel95