Earlier this year, filmmaker Guy Nattiv won the Oscar in the Live Action Short category for his short "Skin."
It's always interesting to see where the filmmakers behind these shorts go after winning the Oscar, and normally, it isn't too far. For every Andrea Arnold or Martin McDonagh, there are countless filmmakers who we never hear from again or at least their feature films aren't as prominent. In Nattiv's case, he already had a feature-length film in the can, also called "Skin," one that premiered at last year's Toronto International Film Festival, and A24 had already stepped up to distribute it.
Unlike the short, which takes place in a similar world, the feature is based on the true story of Bryon Widner, a tattoo-covered white supremacist neo-Nazi from the Midwest, who has a change of heart due to a few new factors in his life. In the movie, Bryon is played by Jamie Bell, the leaders of his gang – and Bryon's ersatz adoptive parents — are played by Vera Farmiga and Bill Camp. Things change for Bryon when he meets Julie, played by Danielle Macdonald ("Patti Cake$"), a single mother with three daughters who he motivates him to want to change his ways. At the same time, an FBI agent played by Mike Colter ("Luke Cage") is pressuring Bryon to turn on his "family," and these two things motivate Bryon to get surgery to remove the hateful tattoos that cover his entire body and face.s
Next Best Picture spoke with Nattiv last week about his film, and he also gave us the 411 on the next movie he's developing to shoot soon, an interesting personal family story that sounds amazing and should have some great roles for a mostly female cast.
​I know a little about this movie and about how it came about compared to the short film. How did you first hear about Bryon's story and get connected with him?
I was basically in a long-distance relationship with my wife now, Jamie Newman, who is also my producing partner. I knew that I was going to move to the States, and I was looking for a movie that will be interesting for me to tell. I was sitting in a coffee shop in Tel Aviv, reading the New York Times, and I saw Bryon Wagner's face, turning from fully-tattooed to clean face. I was blown away by the story behind that, and then I saw a documentary "Erasing Hate" that MSNBC made, and I called my wife and said, "This is the story that I think I want to tell." We got in touch with MSNBC – they gave me his Email, and I wrote him and after two months, he got back to me and said, "If you're really serious, why don't you meet me in Albuquerque, New Mexico?" So I flew in – my wife flew from L.A., I flew from Tel Aviv – and we met them, he and his wife, in a coffee shop in the middle of nowhere, and it was the beginning of a wonderful friendship between an Israeli Jew and an ex-skinhead neo-Nazi, telling a story of redemption. When I finished basically writing it, it took me three years. I was trying to sell it, trying to get producers to want to tell this story and no one did. People thought, "Neo-Nazis are a myth. It's not a big thing in the States. There aren't many neo-Nazis – it's basically a bunch of people in the Midwest making a lot of noise." I was shocked to understand that people live in a bubble. My wife told me, "You can't just wait forever. Let's make a short and maybe the short will evoke something to make the feature happen," and that's what I did. We put all our time and money on the short, and I flew in Sharon Maymon from Israel, who is a brilliant writer and director, he brought the idea of the short to me, and we brought it together. We made the short and sent it to the world and suddenly the feedback was different. And then, Trump got elected, Charlottesville happened, and the massacre in the Synagogue in the East Coast, and that's when the world became crazy, and especially America, so yeah, that's how it all began to happen for us.
Now your previous movies, you made all of them in Israel?

Yeah, before "Skin," the short I made were all Israeli movies and all shorts before as well.
As far as Bryon's story, was there also a woman involved, similar to the one Danielle Macdonald plays, and she had three daughters?

Yeah, Julie. I met the three daughters, I met the entire family. If you look at "Erasing Hate," there's a documentary about them.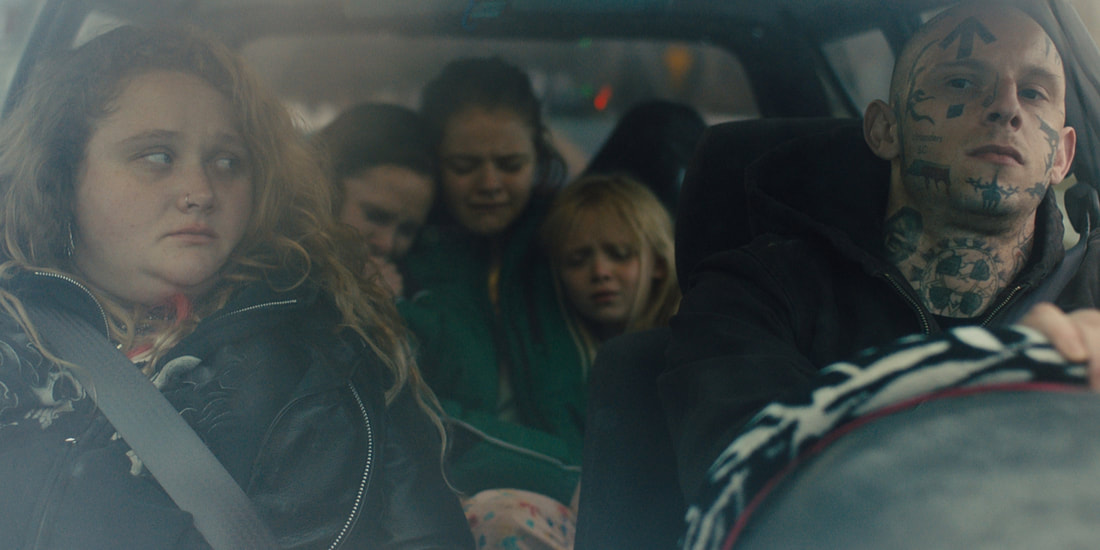 How did you get Jamie Bell to play Bryon and is it hard to get actors to play white supremacists since they're hated for good reason – they're hateful people. [Note: the filmmaker clearly misunderstood the question thanks to poor cell reception.]
Danni was my neighbor. I babysit her dog, and she babysits my dog, and we knew each other from the neighborhood. When I cast her for the short, that was before "Patti Cake$" came out. "Patti Cake$" came out after the short was ready. I just thought she was a phenomenal actress, and she was the right person for the role. She was raw, she was authentic, she had a lot of humanity and a lot of emotional intelligence in her, and that's what I was looking for. Naturally, from the short, she came to play Julie in the feature.
What about Jamie?
Jamie Bell, it was actually Oren Moverman who had the idea to bring Jamie… he wasn't the natural way to go when you look at a monster, you need someone who is man-type, hard, tough, man, but I think that's what made him very interesting for me is that Jamie has a lot of humanity. He's not stupid, and he's not the typical cliché. Bryon is a very intelligent man, and he's not at all your typical cliché, and I did not want to do a cliché movie. It was very important for me to do a raw, authentic, European-like movie. The approach was real. The approach was "Let's get this movie the way I envisioned and not any other way."
So Jamie came on board. I met him in Virginia. He was shooting his TV show back then, and it took him a while to sign on because he was afraid, but he said, "It's something good that I'm afraid of. If I'm afraid of a role, it means I feel something, and it's something good. I need to feel that." That's when he signed on, and he signed on when he saw that Danielle Macdonald was attached.
I saw this at Tribeca and then I saw "Rocketman" a few weeks later, and I didn't recognize Jamie in that, because the way he looks in this movie was so imprinted in my brain that when I saw "Rocketman," I spent most of the movie watching it, not realizing it was him. This is definitely more of a departure for him, as far as the look and attitude. You mentioned he was afraid of it. These are scary people, so were you at all worried about being in that world?
Yeah, I was, but look, this man went through redemption. He went through a change, so when I met Bryon… are you asking if I was afraid of Bryon?
No, if you were afraid of white supremacists in general since they're out there.
Look, I'm educated on films from the '70s and '60s when films were raw and tough. Look at "Midnight Cowboy" and look at films like "Alice Doesn't Live Here Anymore" and "Dog Day Afternoon." That's my education, that's my go-to, and I'm going to the cinema to suffer, not to enjoy. I need to go through something that is exhausting for me because I need that. For me, it's not escapism. I need realism, and that's my bread and butter. My good friend sent me a quote when I moved to the States. She sent me this present. It was a frame, and in the frame, there was a sentence: "You were once wild here. Don't let them tame you," which is from Isadore Duncan, which means, "Don't quit doing what you did in Israel," which is hard, topical, politically-charged and socially-charged films. That's what I think as filmmakers is our goal. We have these tools, and the world needs those toys. It's something that I wanted to do, and I didn't feel that I wanted to dive into a soft story.
I'm not even suggesting that you were afraid to make a movie, but being afraid of actual white supremacists actually seeing this movie and wanting revenge.
No, I didn't think about it. I think they have other stuff to be mad about, and yeah, I want a vocal conversation. Look, I'm getting those threats, either Emails or messages on Facebook from the extreme right-wing. I had that in my country, in Israel, too. You cannot really escape hateful reactions, but I do want to provoke conversation.
​What was involved with giving Jamie all his tats and then you have the removal scenes? Did you just have a great make-up team? How did you figure out how to do that?
Oh, my God! We shot for 24 days, but Stephen Bettles, who is a genius – I mean, a real genius. He did some massive movies. He just did the Tarantino movie. He read the script and he said, "It's important enough for me to sign on and to cut my fee for this movie to exist because of the topic and the message." I think that if he didn't do it, we wouldn't be able to do the movie because he did a fantastic job. Because we didn't have the budget, Jamie Bell had to stay tattooed on his face and body sometimes throughout the shooting. It was just a phenomenon to see that, the remarkable job that he did was a win for me and for the movie.
Also, the removal seems tough to recreate.
Very tough, but when you have Stephen Bettles, let's shoot it. He's making it all happen for you, so you just need to tell him what you want, and he's doing magic. It is tough, it is tough.
Since this movie was at Toronto last year, it's been done for a while. Have you started thinking about other things you want to do? Has the Oscar for the short led to a lot of scripts being sent your way that you might want to direct? Or do you want to still develop your own material?
I want both. I'm reading a lot of scripts right now, a lot of good stuff that I'm reading and then thinking, but while I waited for "Skin" to happen, I was writing my next script and then I'm shooting it later this year or beginning of next year. Actually, it's about my grandmother, who was a Holocaust survivor and at the age of 55, she had depression and post-traumatic nightmares from the Holocaust, and she wanted to kill herself. And then she met this gorgeous Sofia Loren-like 35-year-old who was a belly dancer, who told her, "I'm going to make you happy," and she did. She did make her happy. She did work with her, and the family was very happy. What we didn't know is that this woman, whose name is "Lorde," was a cult leader, and she made her move to her place. My grandmother gave her all the reparation money from Germany, and she made her deport my grandfather and say goodbye to our family and move to her place. She had 37 women around her, and she took them to Virginia in the woods. She bought a plantation with the money she stole from them and cut to five years later, my Mom and my aunt are going to Virginia to save their Mom and bring her back home. That's called "Harmonia" – it's a real cult that still exists. That's why I'm very cautious to talk about it, but yeah, we're starting to go to casting. Laura Rosenthal is casting it and looking for 37 women, and it's a different vibe to "Skin," and it's a real story. It's my family story.
Was your grandmother in Israel when this happened? How did she get connected with this woman?
She was in Israel. This woman came to Israel, but for the movie, I'm doing it in New York and Virginia. It's going to be New York 1985ish and back and forth to Virginia to see how she met her. It's a crazy family story that I need to get out of my system, but I feel now that I'm mature enough and ready enough to tell this story.
"Skin" is now playing in select theaters and On Demand.
You can follow Edward and hear more of his thoughts on the Oscars and Film on Twitter at @EDouglasWW