By Michael Frank

Screening at the Cannes Film Festival last year and the Sundance Film Festival earlier in 2020, writer/director Levan Akin's "And Then We Danced" hit the festival circuit with critical acclaim. A Swedish-Georgian film focused on the latter country, the drama sparked protests in the streets of Georgia while being hailed as a win for love and a distancing from bigotry.
Following Merab (Levan Gelbakhiani), a young dancer on the National Georgian Ensemble, the film explores the conversative and taboo nature of homosexuality within the region, especially within the confines of tradition. The gay love story between Merab and newcomer dancer Irakli (Bachi Valishvili) devolves into a gorgeous, passionate, and striking relationship to watch on screen, one that packs a serious punch.
"And Then We Danced" has had far-ranging effects throughout the world and has been adored by audiences and critics alike. We chatted with director Levan Akin and lead actor and dancer Levan Gelbakhiani about the Georgian culture, making films that matter, and the absolutely delicious Georgian wine. ​

I actually saw your film at NewFest a couple of months ago. Were either of you there?
LA: I was there, yeah. Not perhaps at your screening.
Loved it. It was really incredible. The thing that stuck out to me was that it was a quiet film and a quieter character despite the music. Was that intentional?
LA: I had a very almost documentary approach while making the film. I would do the mise-en-scene and all of those things. I wanted the film to be about those small moments. In his road to self-actualization, he falls in love with this other kid and I wanted to do my best to catch all of the small details of a gay love blossoming. I don't feel that I've ever seen it in that way. It's very personal to me. I think perhaps the quiet thing you're talking about is that.
Are you a trained dancer?
LG: I'm a contemporary dancer, yeah. We had three months rehearsal before we started filming for Georgian dance because it's quite tough with all the moves.
Where are you both from and where'd you grow up?
LA: So my parents are Georgian but I was born and raised in Stockholm in Sweden. So I lived in Sweden.
LG: But I'm Georgian. Like originally Georgian.
LA: And we both knew of the traditional Georgian dance. It's really a fabric of society in Georgia.
LG: When I was a kid, I had a few different classes. But yeah, everyone knows basic stuff. For birthday parties, or for weddings, but everyone knows Georgian dance and how to do that.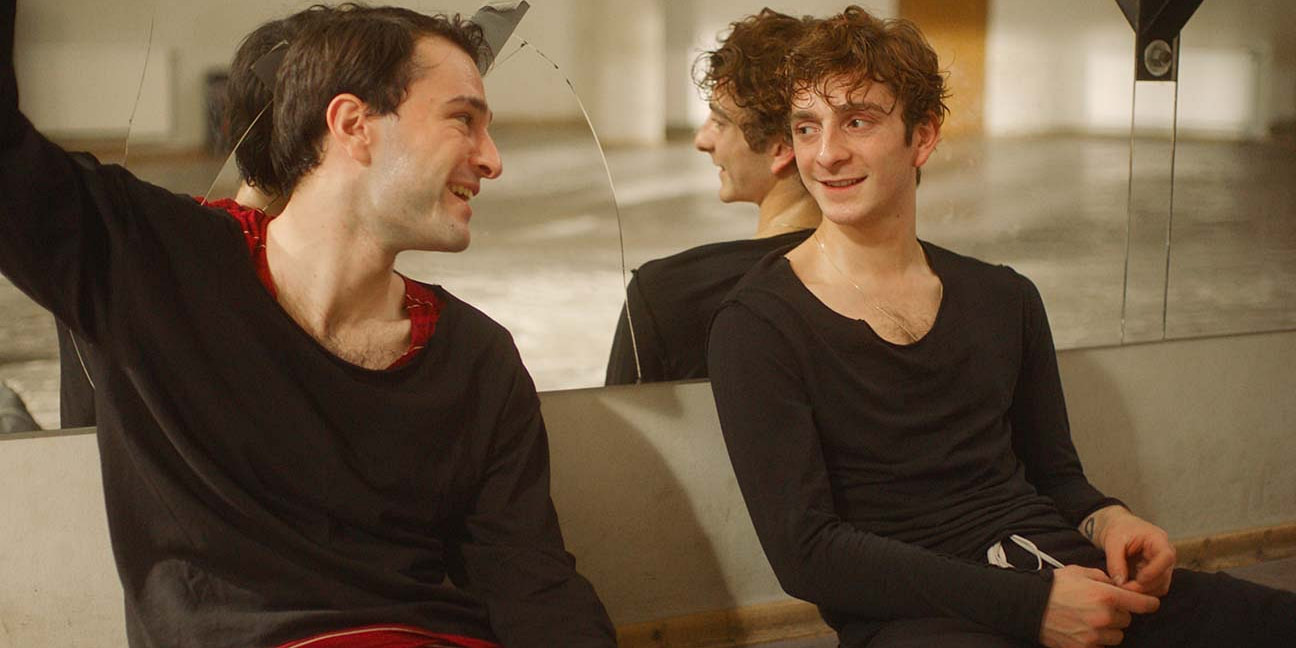 I've never been to Georgia. Can you describe your own experience visiting and how it would be to visit?
LA: If you want to go there, I mean Georgia is a tourist-friendly place. It's a fun place to go to. I used to go every summer as a kid, then it used to be the Soviet Union. Georgia has changed five times in my lifetime. I've seen many different versions of Georgia. And that's been interesting. Doing research for this film, I got to see the culmination of everything I've seen before.
LG: I really love Georgia, but because it's my home country. It has some special things that you cannot explain. Some soul things. Some spiritual things. It's like a baby. It grew so fast. It changed so fast. When you see these changes and you are a part of these changes, you want to be a part of that. There are a lot of issues and a lot of problems which we don't like but the people are really good. And the society is open-minded and there is a huge group of people who are the Soviet kids and a little bit different from us and sometimes we couldn't communicate but everything is really special, with the food and the traditions and the nature.
Why do both of you think this film is important and why should people go see it?
LA: Well, I mean I think if people want to have a fun time. Haha. No, I'm just joking. The film is very important for Georgia and for the movement in Georgia and it's really made a difference in Georgia. You can google a great New York Times piece on the premiere and what happened after the premiere. Generally, I love personally seeing new rooms and new spaces when I go to see a film that I haven't seen before. So that's a reason you should go see this film, to experience a place you know very little about.
LG: I think the general of the movie is really good recognition for the minority groups in Georgia. That's the first time, not just in Georgia, but in the whole region when they can really see openly this topic in a movie. It's really taboo. There aren't even music clips. This movie opened up this topic and people started to have loud discussions. People aren't afraid anymore to have arguments about this. It's really nice to see that. We kind of helped the community have a voice and have this power.
It was a really special, important movie as you said. How do you continue to make stories like this and be a part of stories like this?
LA: For me, my main source of inspiration is curiosity. So, I just go where I find something that piques my interest and I take it from there. I can't really duplicate something that I've made. Just hoping that things I'm inspired by will continue to inspire other people.
LG: For acting it's tough. You can't really control what you're a part of. Of course, you need commercial parts as well to be glued to the scene and continue to grow. But you need to focus on important subjects and issues in different societies. The world is changing. And you know we do lots of 'let's look at this beautiful flower and shoot this.' It's not something that gives you any energy or anything. I would like to choose a project that would be more problematic or change things.
Did you know you wanted to be in film when you were young?
LA: Yeah I always wanted to make films my whole life. As soon as I started watching films, I wanted to make them. That's what we did growing up.

​Any ones you want to shout out?
LA: I mean we did so many. Haha.
LG: Yeah. When I was a kid, I had some small experiences. But it was my dream to be an actor, but I lost this opportunity like three years ago. Now when I got it again, it felt like the perfect time to do it again.
Did you almost stop doing it?
LG: No not really, but I was applying for the theatre for the University of Georgia and they rejected me so I was thinking well okay maybe that's not the thing to do. But now things have changed so it's all okay.
What's the number one thing people should know about Georgia?
LA: They have great wine. It's a wine country. They invented the wine.
They invented it?
LA: Google it. They invented wine. Red, amber, and white. The thing that they're making love in front of that people think is just a big barrel or something is actually a vessel where they make the wine in a way that you don't do usually. But they've been doing it for thousands of years. They put the grapes in this vessel and then they bury it underground where the humidity is like the perfect temperature and it ferments there. So it's like natural wine. The earliest remnants of winemaking have been found in Georgia so yeah it's pretty cool.
I should have asked about wine earlier!
LA: And it's really tasty Georgian wine. Sometimes I crave wine when I'm somewhere and I drink a glass of red wine and I realize I crave Georgian wine like I actually crave something else. Google Georgian wine.
"And Then We Danced" is now playing in select cities. You can check out the trailer below.
You can follow Michael and hear more of his thoughts on the Oscars and Film on Twitter at @peachfuzzcritic