​While most of the world refreshed Twitter accounts for election updates on November 6th, Film Twitter writers and members in need of distractions had the first "Mank" reviews to help them for a few precious hours. Although the embargo for reactions lifted a week earlier, the full reviews confirmed that "Mank" may be every bit the Oscar contender – if not clear frontrunner yet – that it has been projected to be. Which may not only apply to director David Fincher but to lead actor Gary Oldman and supporting actress Amanda Seyfried as well.
In fact, even if Fincher doesn't win his first Best Director Oscar, it is Oldman and/or Seyfried who are poised to make history for him anyway just by getting nominated. If either of them do, it will give Fincher a distinction only one other director has achieved in the modern era, in making "Mank" his fifth consecutive feature film that got at least one acting nomination.
Fincher may not be defined first and foremost for his prowess with actors, despite having worked with many great ones over the last 25+ years. The likes of Martin Scorsese, David O. Russell and Quentin Tarantino are perhaps better known for giving actors big, emotional, bombastic showcases, whereas Fincher's are usually much more reserved by comparison. Nevertheless, Fincher is currently joined with Russell and Tarantino as directors who've made four straight movies that got at least one cast member Oscar-nominated. And now that "Mank" is officially more than likely to make it five, he would then join Alejandro Gonzalez Inarritu as the only current directors, and only directors of the modern era in general, to reach that milestone.
Fincher began his streak with Brad Pitt and Taraji P. Henson's nominations in "The Curious Case of Benjamin Button," then continued it with Jesse Eisenberg in "The Social Network," Rooney Mara in "The Girl with the Dragon Tattoo" and Rosamund Pike in "Gone Girl." Now, he may come full circle with both a Best Actor and Best Supporting Actress nominee for "Mank," as an exclamation point of sorts. However, just getting to five straight feature films with an Oscar-nominated performance is exclamation enough.
Scorsese only reached four in a row to start the 90s with "Goodfellas," "Cape Fear," "The Age of Innocence" and "Casino" and only three to start the 2000s with "Gangs of New York," "The Aviator" and "The Departed." Stephen Daldry and Alexander Payne each got to four in a row to start the 21st century before their next films snapped the streak, while Sidney Lumet reached four straight back in the 20th century with his version of "Murder on the Orient Express," "Dog Day Afternoon," "Network" and "Equus." Tom Hooper's streak of three straight movies with both Oscar-nominated and winning performances was painfully snapped by a bunch of cats last year, yet he still matched directors like Ben Affleck, Woody Allen, Jonathan Demme, Todd Haynes, Anthony Minghella, Michael Mann and Jim Sheridan who never made more than three consecutive films with nominated actors, though Bennett Miller remains at a perfect 3-for-3.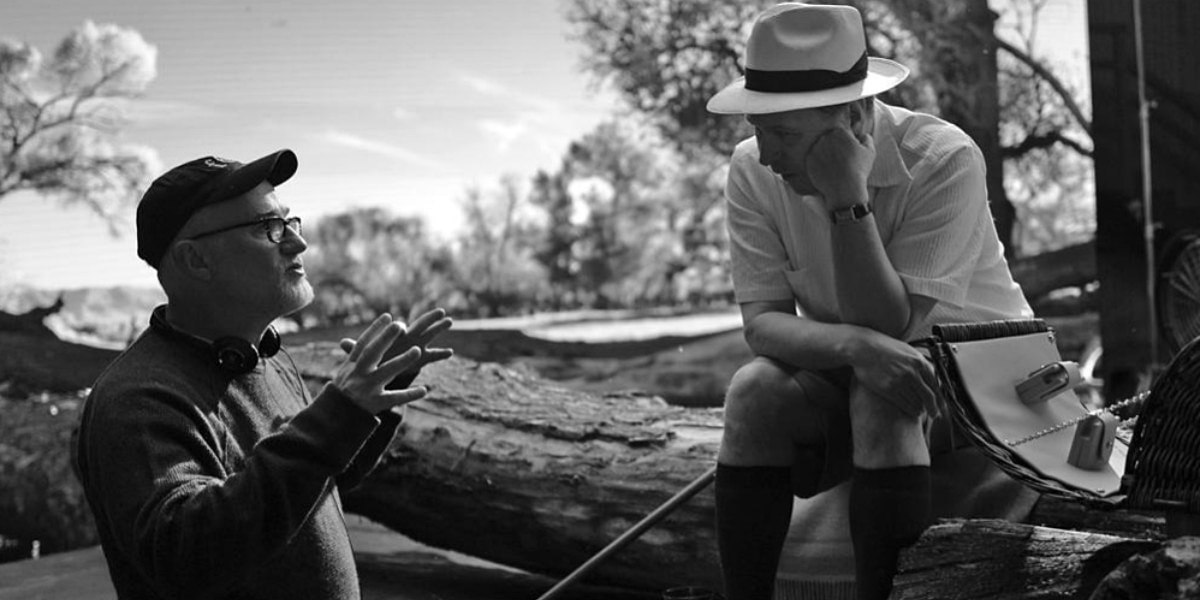 Russell and Tarantino are the only directors beside Fincher currently stuck at four straight, but that's mainly because Russell and Tarantino's next movies haven't been made or perhaps conceived yet. When Russell inevitably makes his first film since 2015's "Joy" and when Tarantino makes what may or may not be his 10th and final movie, they'll be more than likely to have one Oscar contender in their cast no matter what their films are. But until then, Fincher is ready to beat them to the punch in doing what only Inarritu has accomplished to date.
Inarritu has made five full-length movies from 2003 to the present day, all of which have made some kind of mark in an Oscar acting race. Thanks to Benicio del Toro and Naomi Watts in "21 Grams," Rinko Kikuchi and Adriana Barraza in "Babel," Javier Bardem in "Biutiful," Michael Keaton, Edward Norton and Emma Stone in "Birdman" and Leonardo DiCaprio and Tom Hardy in "The Revenant," Inarritu has done what no other director in modern times has done with such consistency. With such a track record of theatrical and emotional performances, Inarritu's nominees probably have more in common with those for Russell, Tarantino or Scorsese. Yet it now seems like Fincher's will match Inarritu's first in terms of a winning streak.
There is one other big difference between Inarritu and Fincher's track record of nominees, at least at this current time. Not one of Fincher's nominees have won, whereas Inarritu got DiCaprio his long-awaited Oscar, right after many were upset that he didn't get one for Keaton. Ironic enough, if Fincher had made "Mank" before Oldman made "Darkest Hour," he could have been the one to finally get Oldman his own overdue Oscar. Yet since he just got one, it makes it all the more likely that a nomination for "Mank" is the most Oldman can probably hope for, even if the likes of Anthony Hopkins, Chadwick Boseman and Delroy Lindo hadn't already staked their claim this year.
As it stands, if "Mank" becomes the first Fincher film to have an Oscar-winning performance, it will perhaps come from Seyfried. The early reviews have indeed mostly cited her as a big standout for giving Marion Davies her due, after time and "Citizen Kane" reduced her to a joke. Many are already making a show of being resigned to Glenn Close sweeping Supporting Actress for "Hillbilly Elegy," but if that movie is as otherwise embarrassing as those skeptics suspect (*Update* – it is), and if voters don't want to have Olivia Colman beat out Close yet again instead, that may leave Seyfried as their best if not only option for the category.
At first blush, it may sound odd that the first Oscar-winning performer for a Fincher film would be a supporting actress since many of Fincher's most famed movies mainly revolve around men. And yet thanks to Henson, Mara and Pike, he has gotten more actresses nominated than actors in his career, in a score that may be 4-2 or 4-3 in favor of actresses in several months. However, whether Fincher has gotten men or women nominated, the common thread between them to this point is that they haven't posed much of a threat to win.
​Pitt and Henson were afterthoughts as Sean Penn and Penelope Cruz won their categories, while Eisenberg and everyone else had no chance against Colin Firth, Mara watched Meryl Streep win her most debatable Oscar, and Pike was a bystander while Julianne Moore finally won her's. As acclaimed and worthy as they all were thanks in part to Fincher, they were rarely if ever considered real contenders to win. In contrast, Inarritu helped yield one Oscar winner and nearly got a second, while Russell has had two winners during his streak and Tarantino just guided a third Supporting Actor winner months ago. Ironic enough, that third winner was Pitt, whose true credentials as an actor were first cemented in part by Fincher with "Se7en," "Fight Club" and his first-ever nominated leading performance in "The Curious Case Of Benjamin Button."
Fincher was among the first to prove Pitt's range beyond his looks, launched Kristen Stewart's career in "Panic Room," helped Eisenberg, Henson, Mara and Pike break through to new levels of their careers, juggled a wide variety of extremely different actors from Ben Affleck to Tyler Perry, Neil Patrick Harris, Carrie Coon and Pike herself in "Gone Girl," and now seems to have given Seyfried her biggest showcase as a dramatic actress – a break that is seemingly poised to help cement Fincher in the record books.
Neither Fincher nor Inarritu will ever rack up the frequency of acting nominations that William Wyler did in the old days of Hollywood, as he at one point made 12 straight movies with a nominated cast member in the same 30s/40s era that "Mank" both celebrates and critiques. Wyler even had another five-film streak of acting nominees from 1956 to 1965 for good measure, with a string of movies that included "Ben-Hur." But in a few months, it will likely be said that no one other than Fincher and Inarritu has matched Wyler in that regard in the last 55 years.
It would be extra historic for Fincher if Seyfried won to go with it, or if Oldman snuck up for another Best Actor win. In all likelihood, the losing streak "Mank" is most likely to break is that for Fincher himself, as it may be his turn to ride the "overdue icon finally sweeps Oscar season" narrative, at least for Best Director. Yet even if Fincher finally breaks though, and regardless of whether that breakthrough includes a Best Picture win too, "Mank" is poised to be an historic achievement for him long before some kind of Oscar ceremony is held.
People other than film critics can finally see if Oldman and Seyfried are truly worthy of extending Fincher's near-historic streak, once "Mank" hits Netflix on December 4th. Let us know your thoughts in the comments section below or on our Twitter account.
You can follow Robert and hear more of his thoughts on the Oscars and Film on Twitter at @robertdoc1984