By Daniel Howat
​
We've waited longer than ever to finally hear this year's Golden Globe Film nominations, but the day is finally here! These are the first of the major televised awards and give us our first glimpse into what we might see at the Academy Awards.
​As always, there are plenty of snubs, surprises, and truly Globesy moves, so let dig in!
"Music" Snags Two Big Noms
We often underestimate the Golden Globes, but they were in rare form this morning. Have you ever heard of the film "Music"? If you have, it's probably only because of the controversy it stirred up over casting Maddie Ziegler as a person with Autism. The Sia-directed film hasn't yet been released in the United States and didn't exactly have any positive buzz going for it. Still, it scored nominations for Best Picture – Musical/Comedy, and Best Actress – Musical/Comedy for Kate Hudson. I half expected Ziegler to show up in Supporting Actress as well after hearing those nominations. It's a classic Globes move – nominate something entirely out of left field with poor critical response. Why did we expect anything less?
"Promising Young Woman" Overperforms
We love to see it! "Promising Young Woman" scored big this morning with nominations for Best Film – Drama, Best Director for Emerald Fennell, Best Actress – Drama for Carey Mulligan, and Best Screenplay. This was truly its best possible day at the Globes, and they didn't disappoint. When the HFPA pushed the film from the Comedy categories into Drama, I thought the movie was dead in the water. I'm pleased to have been so wrong! This is a much-needed boost for a film whose awards potential has been somewhat hard to read. Only twice in the last ten years did a film score Best Director and Best Picture – Drama nominations at the Globes, and then missed a Best Picture nomination at the Oscars: "The Ides of March" and "Carol." It feels like "Promising Young Woman" is safe in the Best Picture race.
Zero Nominations for "Da 5 Bloods"
"Da 5 Bloods" came out much earlier than most contenders, and we've been waiting to see if the film could resuscitate the buzz it needs to get some solid Oscar nominations. That didn't pan out this morning, as the film got exactly zero nominations, despite the Globes selecting Spike Lee's daughters as the Golden Globe Ambassadors for this year's ceremony. Most notably, this means Chadwick Boseman didn't score a nomination in Best Supporting Actor, as was expected. He still showed up in Best Actor – Drama for his work in "Ma Rainey's Black Bottom," a category in which "Da 5 Bloods" star Delroy Lindo was unfortunately snubbed.
Three Women in Best Director
For the first time at any major awards show, women outnumbered men in Best Director. Along with Fennell's nomination, Regina King was nominated for "One Night in Miami" and Chloe Zhao for "Nomadland" became the first Asian woman nominated here. It's a big deal, especially as awards shows have been under fire in recent years for lack of diversity in the Best Director categories. Zhao has been seen as a lock here and could very well win the Oscar. While it would be a surprise for all three to translate to the Oscars, I believe this will be the first year at least two women, and any women of color, are nominated at the Academy Awards.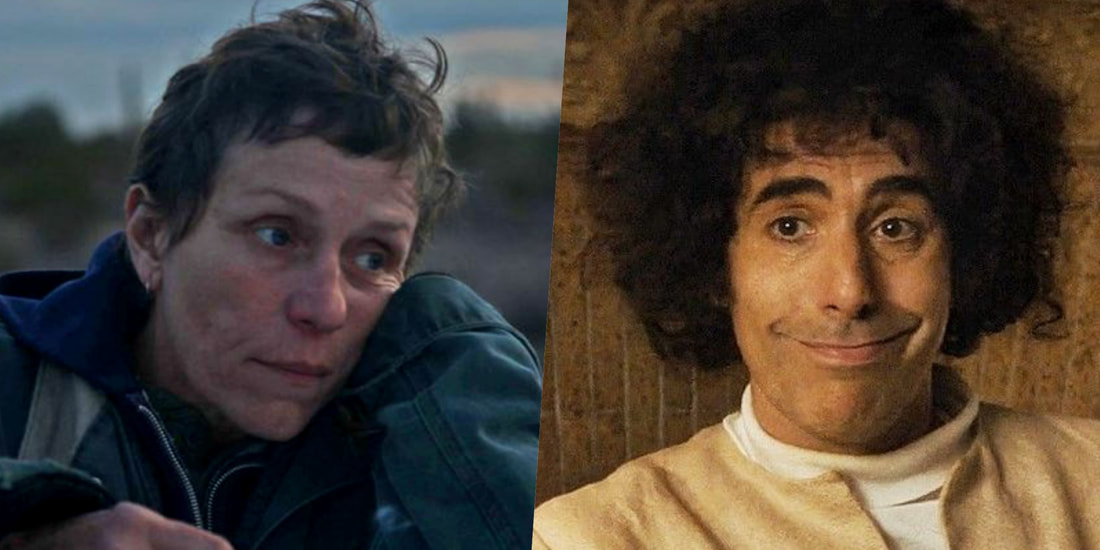 "Nomadland" and "The Trial of the Chicago 7" Remain Steady
Though it's no surprise, "Nomadland" and "The Trial of the Chicago 7" landed everywhere they needed to this morning. Both received nominations in Picture – Drama, Director, and Screenplay, along with one acting nomination each (Frances McDormand in Best Actress – Drama, and Sacha Baron Cohen in Best Supporting Actor). Additionally, "The Trial of the Chicago 7" scored a nomination for Best Original Song for "Hear My Voice." These two are clearly still battling it out for Best Picture.
"Ma Rainey's Black Bottom" Underperforms
Despite its top-tier contender status, "Ma Rainey's Black Bottom" only scored two nominations: Best Actor – Drama and Best Actress – Drama for Chadwick Boseman and Viola Davis, respectively. Missing Picture and Director nominations is a blow to the film certainly. It needed a boost to remain in that top-tier. Boseman and Davis are both in the hunt to win the Globes, but they've got serious competition now.
Could Hopkins and Mulligan Upset Boseman and Davis?
While Boseman and Davis have been mainly seen as contenders to win their respective categories, they now face challengers whose films performed better overall. In Best Actress – Drama, only two nominees had films also show up in Picture: Mulligan and Frances McDormand ("Nomadland'). Same for Best Actor – Drama, with Anthony Hopkins ("The Father") and Gary Oldman ("Mank"). While it's certainly still possible for Boseman and Davis to win without the Picture nomination, it leads us to wonder whether their challengers could win if their film was more beloved. I think it's safe to wonder if one of the two misses…but which will it be?
Only One Nomination for "Minari"
Though many of us saw this coming, "Minari" only scored a lone nomination for Best Foreign Language Film. This means that critics favorite Youn Yuh-Jung missed Best Supporting Actress. This doesn't bode well for her chances at an Oscar nomination, though it's still possible. Yuh-Jung and Paul Raci for "Sound of Metal" are far and away the biggest winners of critics' awards thus far, but neither was nominated here. Not surprising, but still disappointing.

"The Mauritanian" Stars Showed Up
Tahar Rahim and Jodie Foster scored big nominations today in Best Actor – Drama and Best Supporting Actress, respectively for their film "The Mauritanian." With a late release date and relatively low profile, this is a significant boost to a film that needs it. I still don't see those nominations translating to the Oscars, but it's a pleasant surprise for an outstanding, underseen film.
Corden, But No Streep? Zengel, But No Hanks?
We had some odd snubs throughout this morning, where we expected pairs of actors to be nominated, but only one made it in. The strangest of these is clearly nominating James Corden but not Meryl Streep for "The Prom." How often do we talk about a Meryl Streep snub? Similarly, but less surprising, was Helena Zengel's nomination in Best Supporting Actress, but Tom Hanks was snubbed for "News of the World." With Zengel making the cut, Ellen Burstyn missed the Supporting Actress nomination, leaving Vanessa Kirby as the lone nominee for "Pieces of a Woman." Andy Samberg scored a Best Actor – Musical/Comedy nomination, but Cristin Milioti was left unnominated.
Um…Jared Leto?
Saving the best for last: Jared Leto was nominated for Best Supporting Actor for "The Little Things," which just dropped on HBO Max last weekend. This film is sitting at 48% on Rotten Tomatoes and had practically zero buzz. In other words, a perfect Globe nominee. This is the sort of WTF nomination, along with the nominations for "Music," that won't go anywhere else in the race. We could've had Raci for "Sound of Metal." Sigh.
Other Notable Moments:
Rosamund Pike scored a Best Actress – Musical/Comedy nomination for "I Care A Lot," which has yet to release on Netflix. It only played at TIFF, but the Globes seem to truly love Pike.
Andra Day was nominated for "The United States vs. Billie Holiday." Not a big surprise but it confirms that she's still a contender for the Oscar nomination, despite the low buzz around the still-unreleased film.
Riz Ahmed scored an Actor nomination for "Sound of Metal." Like Day, this isn't a big surprise, but it's much needed. A miss here would've hurt him, so we can still feel confident in an Oscar nomination.
What were the snubs and surprises for you this morning? Anything we missed? Sound off in the comments section below or let us know on our Twitter account.
​You can follow Daniel and hear more of his thoughts on the Oscars and Film on Twitter at @howatdk