​"Under the spreading chestnut tree
I sold you and you sold me
There lie they, and here lie we
Under the spreading chestnut tree"
…and so the death knell rang out, as Winston Smith drank his final moments away in '1984'.
From the moment he committed thoughtcrime he knew the confession, the shaming, and ultimately his removal from public record was just a matter of time. George Orwell's seminal novel was alarmingly prophetic. Extreme though it may be, it provides an ample analogy to the Harvey Weinstein scandal, and the wider #MeToo movement within which it is engulfed.
On Friday 25th May, Weinstein handed himself over to the New York Police Department, where he was subsequently arrested and charged with two counts of rape and other criminal sexual offenses. Just 24 hours ago he was indicted by the District Attorney on charges of rape in the first and third degree, and criminal sexual act in the first degree, facing up to 25 years in prison, pending the result of his July trial.
The accusations were first made public by the New York Times piece on 5th October 2017, when Jodi Kantor and Megan Twohey reported on Weinstein's habitual sexual harassment dating back three decades. The article detailed accounts from former employees, interns, and aspiring professionals how they were propositioned and intimidated by the producer.
"Most women who told The Times that they experienced misconduct by Mr. Weinstein had never met one another. They range in age from early 20s to late 40s and live in different cities. Some said they did not report the behavior because there were no witnesses and they feared retaliation by Mr. Weinstein. Others said they felt embarrassed. But most confided in co-workers." (Kantor and Twohey, 2017)
In the days following this report, high profile names including Gwyneth Paltrow and Angelina Jolie spoke out against Harvey Weinstein, claiming similar experiences of sexual misconduct while working with him. Actress Rose McGowen, who was named as having received a $100,000 settlement in 1997, eventually broke her silence and has now emerged as one of the leading #MeToo campaigners.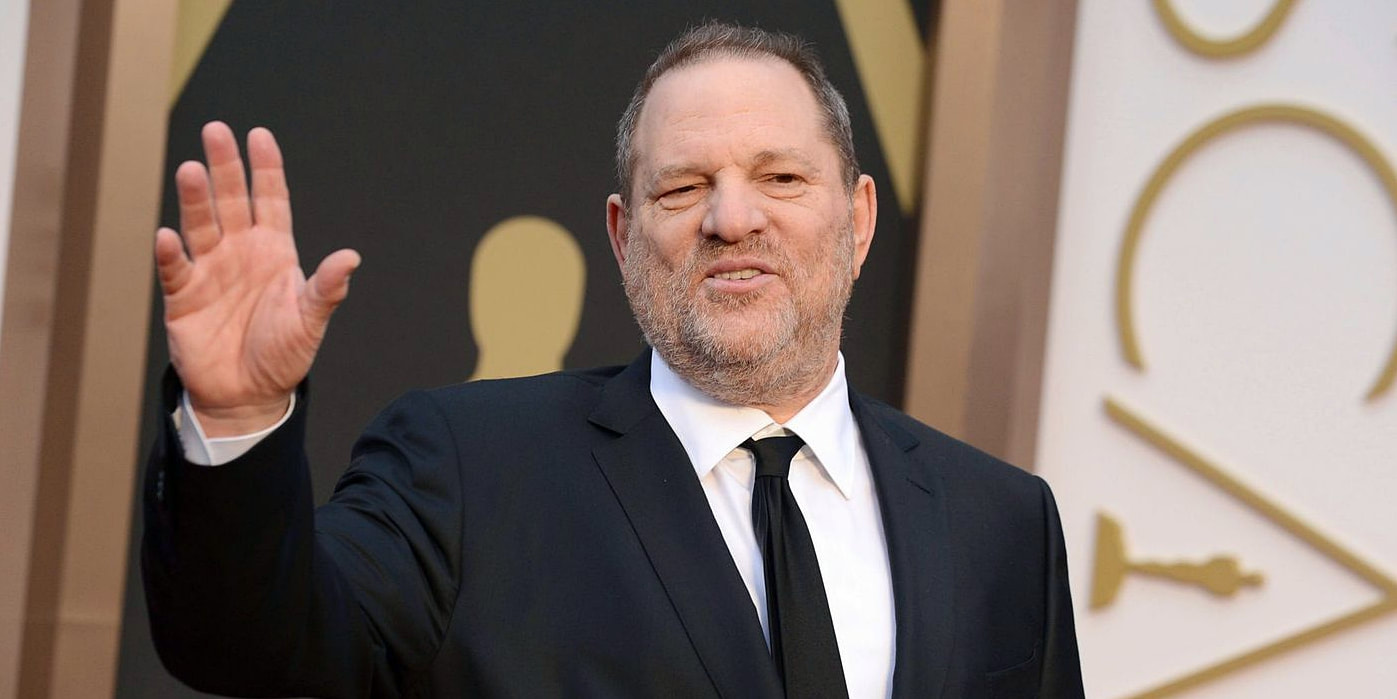 The abuse dates back to the early days of Miramax, which was founded by Harvey and his brother Bob in the late 1970s. The distributor took less than a decade to break into the Academy Awards, winning the 1988 Best Foreign Language Film for 'Pelle the Conqueror' as well as earning Max von Sydow a Leading Actor nod. Their first Best Picture nomination came just a year later with 'My Left Foot', including two wins for Daniel Day-Lewis and Brenda Fricker (Leading Actor and Supporting Actress respectively). Miramax would win three Best Picture awards under the Weinstein management from a total 17 nominations and more than a hundred across all categories.
Following a takeover by Disney, the Weinsteins sought new ground and established The Weinstein Company where the awards, and the abuse, continued steadily to the present day. Two more Best Picture winners and seven additional nominees later, and Harvey Weinstein became too big a target to miss. The allegations which had been floating through the industry for years, suspected but never challenged, finally surfaced, and with it a seemingly unstoppable tidal wave of accusations against Weinstein and other high-profile figures in the industry including Kevin Spacey, Louis CK and most recently Morgan Freeman.
The surprising thing about the scandal, however, is just how long it took to implode on a man with a substantial track record of bullying and abuse within the industry. Resulting from the shaming and (Perhaps in some cases) scapegoating through accusation and subsequent press coverage, Weinstein's takedown has triggered a revolution from Hollywood's Sisterhood – a once-silenced community now empowered to speak.
This is how we witnessed the downfall not just of one bad man, but of the systematic oppression embedded in an industry which hails itself as the flag-bearer for free speech and democracy.
Like any breaking story, bias can often cloud the truth, so it must be considered that little is known about the settlements Harvey Weinstein agreed beyond what is reported by the New York Times, and it should be acknowledged that much of the credibility of this article is based on the memo from former assistant Lauren O'Connor, who herself refuses to comment directly for the piece. However, what has been corroborated in the days and weeks after confirming the following:
Rose McGowan was paid a $100,000 settlement by Weinstein in 1997
Italian model Ambra Battilana was paid c.$1million following accusations of groping in 2015
Up to eight settlements were paid to women accusing Weinstein of sexual harassment in the last 25 years including Lauren O'Connor, and former assistant Zelda Perkins.
​
Ashley Judd was an actress who appeared in several Miramax productions. In May this year, she announced she is suing Harvey Weinstein on the grounds of defamation, sexual harassment, and violations of California business laws. Any critics who still inexplicably live in denial will claim anyone connected with the mogul will come out of the woodwork to claim what they can and/or resurrect their previously buried entertainment career. Of course, in reality, Weinstein made any publicity around his actions virtually impossible, either through an abuse of blackmail ("You'll never work in this town again!") or by literally paying them off.
It could also be argued that settlements payments, due to bureaucracy and paperwork involved, would be virtually impossible to conceal if the press cared enough to print about it, but as an article from the New Yorker highlights:
"In one case, in the nineteen-nineties, Bob Weinstein, who co-founded the film studio Miramax with his brother, paid two hundred and fifty thousand pounds, roughly six hundred thousand dollars today, to be split between two female employees in England who accused Harvey Weinstein of sexual harassment and assault. The funds came from Bob Weinstein's personal bank account – a move that helped conceal the payment from executives at Miramax and its parent company, Disney, as well as from Harvey Weinstein's spouse." (Farrow, 2017)
This article, among many others, also details the lengths he went to silence anyone, be it women accusing him of assault, or business partners who may publicly disclose undesirable information about professional or personal dealings by offering lucrative non-disclosure agreements.
What the above demonstrates is not only that Harvey Weinstein has agreed on settlements with numerous women over a twenty-year period, but there was an implicit corroboration with his brother Bob and potentially other associates, friends or relatives to ensure payments were kept discreet and untraceable. This directly contradicts a statement from Bob Weinstein who, in a statement to TMZ, categorically denied any implication that he was involved in any way or tried to undermine his brother.
On the one hand, any retrospective statements following the NYT article should be taken in context; once public, every man is out for himself, information will be leaked and the publicists will be working round the clock to ensure blame is shifted from their client to anyone else. However, what this demonstrates is a "don't ask don't tell" culture where close colleagues and family members such as Bob Weinstein can hide their guilt behind plausible deniability.
A few days after the incident, Oscar-winning actress Meryl Streep released the following statement to HuffPost:
"One thing can be clarified. Not everybody knew. Harvey supported the work fiercely, was exasperating but respectful with me in our working relationship, and with many others with whom he worked professionally. I didn't know about these other offenses: I did not know about his financial settlements with actresses and colleagues; I did not know about his having meetings in his hotel room, his bathroom, or other inappropriate, coercive acts." (Streep, 2017)
The carefully constructed statement demonstrates a rhetoric which refuses to deny knowledge of his behavior, but of specific incidents and anecdotes. This is not to suggest Meryl Streep is in any way implicit in a cover-up but compounds the almost insurmountable evidence of a culture of willful ignorance which has pervaded Hollywood for decades. It is also curious that Meryl Streep and Hillary Clinton were directly approached on the Weinstein scandal, while there were no high-profile statements sought from male colleagues or associates; even more curious that the press would continue to act on such ingrained gender bias when reporting a story about the discrimination of women.
It is more laughable still that, during the initial investigation of these allegations, Weinstein's legal team directly referred to Streep's statement to get the case dismissed. According to an article in The Guardian, they 'allege that, due to the high number of women who have claimed misconduct by Weinstein, the producer's "sexual enterprise" should be considered an organised crime group…. arguing that it was "fatally overbroad" and would apply to "all women who ever met with Weinstein, regardless of whether they claimed to have suffered any identifiable harm'.
In Weinstein's own response immediately after the story broke (Via his then lawyer) he played the 'old dog learning new tricks' angle, which is in itself a baffling, indirect admission of wrongdoing, but also indicates that Weinstein entered the industry at a time when this abuse of power, specifically the discrimination and harassment of women in the workplace, was commonplace and embedded.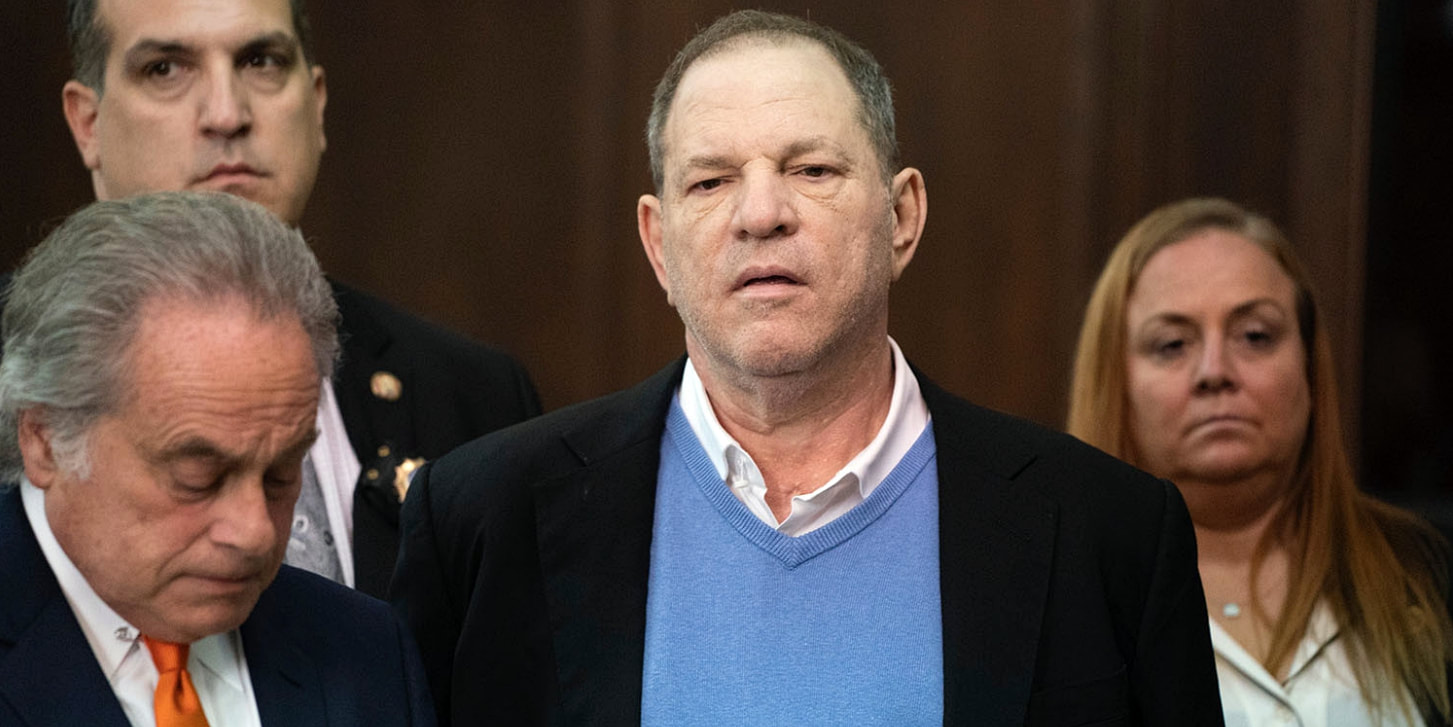 This still begs the question of why? Why would anyone who even suspected Weinstein of assault or, even worse, rape, not make him accountable for his actions? The only concerning conclusion to make at the moment is simply that anybody with the power to do something about it had everything to lose from reporting it. You could, therefore, if you so choose, attack Meryl Streep or Hillary Clinton or Jennifer Lawrence or Oprah for not speaking out years ago, but the Weinstein default strategy following their statements – to not only discredit all the women who speak out against him but re-appropriate their words as his own – demonstrates precisely why they couldn't. He literally stole their voice. They cannot, indeed they never could speak for themselves; their words, their struggle, and their narrative became his.
"How easy it all was! Only surrender, and everything else followed. It was like swimming against a current that swept you back however hard you struggled, and then suddenly deciding to turn round and go with the current instead of opposing it. Nothing had changed except your own attitude: the predestined thing happened in any case. He hardly knew why he had ever rebelled." (Orwell, 1949)
Like Weinstein's victims, Winston Smith had nothing but hope on his side; hope that his one tiny individual act of rebellion would occur at the precise time as many other individual acts of rebellion which would, in turn, lead to… something. The tide in Hollywood now appears to be changing, but for the past twenty-five years, Weinstein successfully silenced his victims with attractive settlement figures and non-disclosure agreements. Anyone who knew about it was either powerless to protest or so powerful they had a mutual interest in shutting it down, because when such a story breaks it threatens the whole infrastructure which has ultimately brought them to the top.
Simply put, it was easier for everyone to comply with a broken system than protest from outside it.
The timeline of Harvey Weinstein's settlements would suggest his rise to prominence within the industry was based largely on merit, as the accusations only began from the early 1990s, but Oscars were not won without his fair share of criticism. He built a reputation on ruthlessness, and a track record of intimidation and bullying was not merely known, it was shrugged off.
I write this article regrettably and shamefully as one of those people. I may not be a Hollywood insider, an indie filmmaker, or even a studio intern, but I did study the Oscars and, by association, the career of Harvey Weinstein in more detail than the average film fan. I read about the bullying, the anger, and the dirty campaign tricks and I accepted it. I should have questioned. I should have challenged. I shouldn't feel responsible for Weinstein allegedly choosing to be a rapist – that's on him and only he should pay for that – but I feel accountable for ignoring the signs, and so should everyone else.
The blame will be pointed at those who directly facilitated Weinstein, but we are all at fault for normalizing aggressive and predatory behavior which, if it occurred to us or someone we loved, would be unforgivably abject. But when we experience Weinstein through the gaze of the media, or through the Oscar race, they become part of the entertainment. The tragedy is removed from our reality and displaced into a world far removed where it no longer feels wrong.
This behavior was perhaps no more evident than in his 2002 campaign for 'In the Bedroom', in which Miramax's extreme lobbying finally backfired.
A 2002 article by the LA Times, published just a few weeks before the 74th Academy Awards, in which they expose 'Miramax's alleged involvement in a campaign to badmouth 'A Beautiful Mind''. This badmouthing supposedly included tipping off a reporting to write that 'gay scenes from Sylvia Nasar's book "A Beautiful Mind" had been "completely scrubbed" from the film'. Robert Sneider, who was working for Fox News, ran a series of stories praising 'In the Bedroom', which also drew criticism because of his close ties with Miramax.
Weinstein would later have an altercation with the Universal boss after a story ran in the NYT claiming Miramax was feeding journalists with anti 'Beautiful Mind' tips, where Weinstein allegedly threatened to increase the veracity of his smear campaign.
Ultimately this year Weinstein found the breaking point with voters, with a campaign focussing too much on discrediting the competition than praising his own nominee. 'Beautiful Mind' would go on to win Best Picture, leaving a furious Weinstein in their wake, who is widely known for his fits of rage and hated coming second in an Oscar race. He finds loopholes to gain an advantage, but when push comes to shove he will spend more and shout more to get what he wants. This has been the driving force behind his awards success since 'My Left Foot' through to 'The Artist'.
The correlation between his most aggressive/successful campaign years and the period with the highest concentration of abuse claims should not be ignored, nor should we or anyone in the industry feel responsible for not realizing the behavioral trademarks driving his professional success were indicators of his private lifestyle. However, we should all feel partly responsible for approving this behavior by rewarding it with Oscars, with a box office turnout and with the royalties which kept coming as a direct result of the campaigns he ran using the same manipulation and ruthlessness he used on the women he paid to stay silent. Weinstein's dominance of the Oscars and his pattern of abuse run parallel, and herein lies the problem.
Weinstein's success propelled him to the inner circles of Hollywood. This, in turn, led to further influence, which created further success and imbued him with a self-importance and, crucially, the sense of infallible authority perpetrated by his staff's fear of challenging him. It's a self-fulfilling prophecy where, for a time being, anyone who knew he was doing wrong was either too inferior or too ambivalent to stop it. The pain of the victims was substantially offset by the rewards to everyone else. There was no incentive to stop.
The embarrassment of 2002's campaign or the subsequent disappoint in lobbying hard for 'Gangs of New York' the following year only to see it lose all ten nominations, was not enough to bring down Weinstein, because the culture within which the Academy operated was still stable. The NYT report was not the trigger to the #MeToo movement, but a case study which contextualized the significance of a campaign which, for several years prior, had been steadily gaining momentum to put diversity and equality at the top of Hollywood's agenda.
In 2014 the Sony leak made big news, and gender pay inequality became a huge talking point. Compound this with the #OscarsSoWhite scandal of 2015 and 2016, which led to the Academy broadening its catchment area and consciously increasing its female, minority, and POC membership. By the time the Weinstein scandal was published, the industry was already in the midst of substantial cultural change, where the white male hierarchy, dominant for decades previously, was already fragile and unprepared for this fresh attack.
Returning to our analogy, if Hollywood is the infallible, immortal Big Brother figure, then the awards bosses, the studio chiefs, the agents and the publicists are the Inner Party – all with a mutual interest in preserving their position at the top of the oligarchy. Paying for silence was the easiest and most discreet resolution to a scenario everybody knew was happening but nobody could or would expose. What we are now witnessing is the gradual unveiling of a crude act of doublethink from Hollywood's elite. Unknown to us, Harvey Weinstein's fate was sealed the moment he was inducted to the boys club of late 20th century Hollywood – his rise predicated his abuse, which ultimately created the perfect narrative for his fall. He is the poster boy of the old guard, and his demise is necessary to safeguard a new value system embedded by the auteurs of today.
Following the takedown of Harvey Weinstein and Kevin Spacey, among others, the industry faces an uncertain future, filled with opportunity. Studios like A24 and Netflix are ushering in a new era of film production and distribution, spearheaded by a new generation of filmmakers with a 21st-century agenda. If Weinstein is the symbol of Indiewood, then Damien Chazelle, Barry Jenkins, Ava DuVernay, Geta Gerwig and others are part of a new era – a modern renaissance of independent, auteur cinema funded by majors, brought to life by individuals.
Times are changing and, based on the success of films such as 'Wonder Woman' and 'Black Panther' which are encouraging diversity both in front and behind the camera, audiences are clearly embracing it. Ironically though, Harvey Weinstein may affect the shape of awards season now more than ever, as the Academy continues to push for a more diverse membership and voters are consciously recognizing the achievements of female filmmakers via their ballots. It will be interesting to see how Plan B's movie about the Harvey Weinstein scandal will go down on the awards circuit.
As far as the #MeToo movement is concerned, women in Hollywood are reclaiming their voice, but now they have a platform and a megaphone too and we – you, me, the Men in Hollywood, the press, the police, the politicians – are finally paying attention.
Whatever the verdict in July, irreparable damage has already been done which will forever tarnish the career of historically one of Oscar's most esteemed peers. He will never work again, he has been expelled from the Academy, and the prospect of his Oscar being rescinded, and his name removed from the history books, is not totally implausible in the wake of a guilty conviction.
Make no mistake, Harvey Weinstein should pay for what he has done, and the wave of support for equality and justice in the industry should ensure he does, but this is not really about Weinstein, nor was it ever about Weinstein. This is the revolution desperately needed within an Orwellian industry calling itself Hollywood. We have finally recognized the absurdity of doublethink – our collective, simultaneous recognition of a story and ignorance of the facts. You – Rose McGowan and the women of Hollywood – have been empowered by the middle to challenge the Inner Party without fear of humiliation, of being ostracised by your peers, and of being wiped out of the industry altogether. The bullet of change is tearing through Hollywood, and though we can't say what will happen, we know this time everything will be ok, because we know two plus two equals four.
Hyperlink References (in order of appearance):

You can follow Liam and hear more of his thoughts on the Oscars and Film on Twitter at @thisistheheff