Something Oscar fans anxiously await every year is the opportunity to acknowledge a ceremony's "first-time Oscar nominees" – the often under-recognized and under-appreciated actors who have been given that proper role that the Academy finally embraces, offering them a sometimes long overdue shot to stand in the spotlight. Just last year, Kirsten Dunst, Jesse Plemons, and Kristen Stewart were able to call themselves "Oscar nominees" at long last, and this year talents like Paul Dano, Brendan Fraser, and Michelle Yeoh – among many others – may very well join that club as well. And thus, in anticipation of the forthcoming awards season, we've highlighted what we believe to be the ten likeliest "first-time Oscar nominees" at the 95th Academy Awards below.
Paul Dano – "The Fabelmans"
In Steven Spielberg's fervently anticipated "The Fabelmans" – a film loosely based on Spielberg's childhood – Paul Dano plays "Burt Fabelman," a character envisioned as a representation of Spielberg's own father. Additionally, he's easily one of the biggest names in a stacked cast, alongside Michelle Williams (playing "Steven Spielberg's mother") and Seth Rogen (as "Steven Spielberg's favorite uncle") – though Dano and Williams are said to have the meatiest dramatic material.
Dano has come close to receiving Oscar recognition in the past – earning a BAFTA nom for Best Supporting Actor for "There Will Be Blood" and a Golden Globe nom for Best Supporting Actor for "Love & Mercy" – but it's hard to beat a stirring supporting role in what is essentially a "Steven Spielberg biopic," so look out for him to be a strong presence in Best Supporting Actor all season long (especially coming off the staggering success of "The Batman," where he left quite an impression as the raucous Riddler).
Ana de Armas – "Blonde"
Ana de Armas' star has been on the rise for quite some time now following her show-stopping supporting role as Joi in "Blade Runner 2049," her Golden Globe-nominated turn in "Knives Out," and her powerhouse one-scene performance in last year's "No Time To Die," but Andrew Dominik's "Blonde" will give her her biggest role to date, as she plays the marvelous Marilyn Monroe in a semi-fictionalized take on her life.
However, since production wrapped, we've heard more and more about the supposedly graphic sexual content in the film (not exactly a shock, given the similarly graphic source material by Joyce Carol Oates), and, sure enough, the film was ultimately rated NC-17 by the MPAA. Can a performance – let alone a project – survive such a rating, especially up against more conventional and crowd-pleasing contenders? If de Armas' towering transformation in the teaser trailer is any indication, the answer is… maybe.
Brendan Fraser – "The Whale"
The Fraserissance is upon us! After going six years without starring in a major live-action release, Brendan Fraser has slowly but surely been preparing his Hollywood comeback for a short while now, first taking a minor supporting role in last year's "No Sudden Move" from Steven Soderbergh and now playing the lead in Darren Aronofsky's "The Whale" (which also happens to be that director's comeback-of-sorts too, after five years away from film following the controversial and divisive "mother!").
The film follows a 600-pound middle-aged man attempting to reconnect with his 17-year-old daughter (played here by "Stranger Things" star Sadie Sink) in light of his increasing health issues, and aside from surely being a mightily emotional movie, "The Whale's" awards campaign will also likely be heavily centered around Fraser re-entering an industry that famously hasn't treated him all that well (in 2018, he accused former HFPA president Philip Berk of sexual assault) and "re-claiming" his career, which might make voters even more motivated to honor him.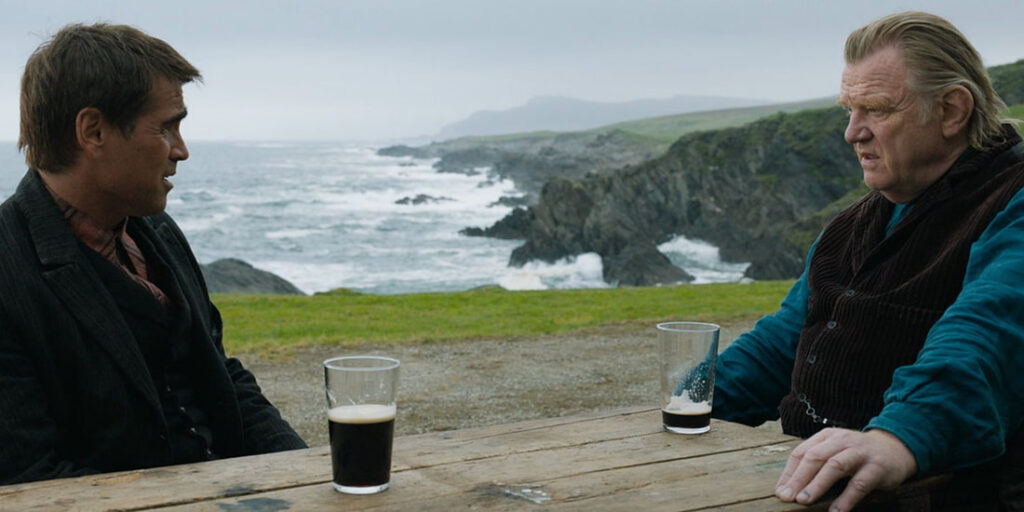 Colin Farrell – "The Banshees Of Inisherin"
Despite receiving considerable awards attention for his roles in "In Bruges" and "The Lobster" – being nominated at the Golden Globes for both performances and even winning for the former – Colin Farrell has never been embraced by the Oscars, but 2022 might be the year where that all changes. For starters, this is already a banner year for Farrell after terrific turns in Kogonada's "After Yang," Matt Reeves' "The Batman," and Ron Howard's "Thirteen Lives." Still, he additionally has Martin McDonagh's "The Banshees Of Inisherin" on the horizon for this fall – a film that sees him reuniting with his "In Bruges" writer-director to potentially equally entertaining effect.
The comedy-drama concerns two friends (Farrell and fellow "In Bruges" star Brendan Gleeson) who have a falling out, which brings about alarming consequences for the both of them – and that's about all we know so far. Farrell's "The Batman" co-star Barry Keoghan also somehow factors into the plot, along with "Three Billboards Outside Ebbing, Missouri's" Kerry Condon. However, from what we've heard, Farrell has the most significant role of the bunch. When you pair what is sure to be a spectacular performance with the huge year he's having, a case starts to be made for "The Banshees Of Inisherin" to be Farrell's Oscar golden ticket.
Dakota Johnson – "Cha Cha Real Smooth"
Dakota Johnson is having quite the 2022. Hot off of her sultry supporting part in Maggie Gyllenhaal's "The Lost Daughter" – which generated a decent amount of awards buzz itself – she started the year with a bang with two stellar Sundance premieres – "Cha Cha Real Smooth" and "Am I OK?" – and her Jane Austen adaptation "Persuasion" just hit Netflix last week. However, of all these hot titles, it's "Cha Cha Real Smooth" that is generating the most awards buzz for her, where she stars as the young mother of an autistic child who finds herself quite taken with a charming college graduate who reminds her of the youth she left behind.
Apple TV+ clearly purchased "Cha Cha Real Smooth" at Sundance, hoping it would be the next "CODA," and while it might lack the awards hook of last year's Best Picture winner, it's still a rapturously acclaimed coming-of-age comedy with serious prospects, particularly for its script and Johnson. She'll face considerable competition in Best Supporting Actress from the likes of "The Fabelmans'" Michelle Williams, "Killers of the Flower Moon's" Lily Gladstone, and "Women Talking's" Jessie Buckley, but Johnson's performance is so perfect and so poignant – and she's been on the cusp of Oscar recognition for so long now – that we can't count her out completely.
Ke Huy Quan – "Everything Everywhere All At Once"
After breaking big as a child star and supporting standout in 80s action adventure flicks like "Indiana Jones and the Temple of Doom" and "The Goonies," Ke Huy Quan retired from acting in the late 90s and early 00s, and it wasn't until the success of "Crazy Rich Asians" that he was inspired to return to the industry, believing there were better parts for Asian actors at long last. And he couldn't have possibly had a greater comeback than he's experiencing now, playing the warm-hearted Waymond Wang in the Daniels' emotional action extravaganza "Everything Everywhere All At Once" – the husband of Michelle Yeoh's Evelyn and the character who turns out to be the film's stirring secret weapon.
Yeoh has been generating a fair amount of hype herself (more on that below). Still, Quan is actually the surprise standout that no one saw coming, and Waymond's optimism is crucial to the movie's overall message. When you leave the theater, you're almost guaranteed to be thinking about his words of wisdom. Quan has never been in the awards conversation before – and Supporting Actor has its fair share of big names he'll have to contend with (Paul Dano, Brad Pitt, Jesse Plemons, etc.), but if "Everything Everywhere All At Once" breaks as big as we're expecting it to, watch out for him to crash this category.
Sadie Sink – "The Whale"
You know I had to put her on here, right? My personal stanning aside, Sadie Sink has earned her place on this list. Not only is she one of the hottest young stars in the world right now thanks to Season 4 of "Stranger Things," but her role in Darren Aronofsky's "The Whale" is a mighty baity one, as she plays the estranged daughter of Brendan Fraser's Charlie, sharing several standout emotional scenes with him, given that the story is driven by his desire to reconnect with her before his health issues escalate.
Some will say she's too young (uh, Anna Paquin, Abigail Breslin, Saoirse Ronan, Hailee Steinfeld, etc.?) or point to her Emmy snub as a sign that the "industry hasn't embraced her yet." However, it's still crystal clear that Sink's star is on the rise following her part in a now iconic setpiece from Netflix's flagship franchise. You should never count out a contender sharing critical scenes with an actor who will likely be a top competitor in their own race (since Fraser is widely seen as one of the top players for the Best Actor trophy). There's a chance "The Whale's" Oscar nom haul is "Brendan Fraser and not much more," but Sadie Sink is no slouch.
Jean Smart – "Babylon"
Who doesn't love Jean Smart? I mean, let's be real. The three-time Emmy winner (who also happens to be one of two people to have ever earned Emmys for Lead Actress, Supporting Actress, and Guest Actress in the comedy categories, alongside Betty White) is a national treasure at this point. She's set to pick up yet another Emmy this fall, most likely for Season 2 of her hit HBO Max comedy, "Hacks." However, this could be an even more fruitful fall for Smart should her Best Supporting Actress bid for Damien Chazelle's Oscar bait behemoth "Babylon" pan out, too.
Word on the street is that Smart's role isn't quite as significant as initially expected – with leads Diego Calva, Margot Robbie, and Brad Pitt receiving the lion's share of attention, alongside supporting stars Jovan Adepo and Li Jun Li – but she's Jean freakin' Smart. With her pitch-perfect screen presence, all she needs is a meaty monologue or two to be in contention this year, primarily starring in a film that's as bound to be beloved by Oscar voters as this one. Plus, never underestimate how much love for a performer can power them into an Oscar line-up, even if their role itself is relatively minor (look no further than Judi Dench in last year's "Belfast").
Song Kang-ho – "Broker"
To this day, after "Parasite" dominated the 2020 Oscars, many view Song Kang-ho's Best Supporting Actor snub as one of the most absurd omissions in any Oscar line-up in the last decade. Sure, that film was an achievement of ensemble acting, but when asked to cite one standout, a consensus quickly formed around Song, even if it wasn't soon enough for Oscar voters to take note. However, they'll get the chance to right that wrong this year in the Best Actor category, where Song will be eligible for Hirokazu Kore-eda's "Broker."
The film premiered at the Cannes Film Festival earlier this May, where it competed for the Palme d'Or, and Song even won the Best Actor Award. Only two years ago, Antonio Banderas won this same award (for Pedro Almodóvar's "Pain And Glory") en route to an Oscar nod, so can Song follow suit? Best Actor does have some heavy hitters this year (Hugh Jackman, Brendan Fraser, Austin Butler, etc.), but Song has a bit of an "overdue" narrative going for him to get that nom, and Neon ("Broker's" distributor) doesn't have much else to push this year other than Palme d'Or winner "Triangle Of Sadness" and David Bowie documentary "Moonage Daydream," so never say never.
Michelle Yeoh – "Everything Everywhere All At Once"
Last but certainly not least, we have the marvelous Michelle Yeoh in (almost) everyone's favorite movie of the year so far, "Everything Everywhere All At Once." In fact, if you asked me who the likeliest actor to get an Oscar nod on this list was, I'd say Yeoh, hands down. For starters, "Everything Everywhere All At Once" is going to be a force to be reckoned with on the awards trail this season. But Yeoh herself is also doing some of the best work of her career here in her role as Evelyn Wang, and a nom for this performance is also a way to acknowledge all of her roles that the Academy has overlooked.
Yeoh came close to earning Oscar attention in 2000 with the Oscar-nominated (and Oscar-winning) "Crouching Tiger, Hidden Dragon." Still, she was ultimately left off the final Best Actress line-up, and though there was some chatter for her to earn a "career recognition nod" for her snappy supporting role in 2018's "Crazy Rich Asians," that didn't come to pass either. But now, this is Yeoh's time. She's been given what she even sees as the "best role of her career," and it's in a film that's bound to be a big deal this season at almost every single ceremony. It wouldn't just be a crime if Yeoh were overlooked – it'd be downright unfathomable.
Which of these actors do you think will receive their first Oscar nomination this year? Is there anyone missing on the list you'd like to see? Please let us know your thoughts in the comments section below or on our Twitter account.
​You can follow Zoe and hear more of her thoughts on the Oscars and Film on Twitter at @ZoeRoseBryant