​The 78th Golden Globe awards went along swimmingly for a semi-virtual ceremony in these unprecedented times. After the success that was last fall's Emmy Awards, the Globes took a different approach with a bi-coastal ceremony and stars scattered throughout their respective locations. This year's ceremony provided a clearer sense of what to expect as we approach the Oscar nominations and subsequent ceremony, outside of the logistical changes.
After a monologue by hosts Tina Fey and Amy Poehler that took aim at the Hollywood Foreign Press Association (HFPA) due to recent controversy the organization was facing, the awards kicked off with Daniel Kaluuya pulling a victory in Best Supporting Actor for his commanding work in "Judas and the Black Messiah." His win here could shake up what was once thought to be a solid run for Sacha Baron Cohen in "The Trial of the Chicago 7." It was the first of many wins for people of color and despite some technical issues with his speech at first, Kaluuya was able to make the most of his screentime. This win for the British actor could also bring new momentum to the film in the Best Picture race and, therefore, propel Kaluuya's Oscar narrative. This is a race to keep an eye on in the coming weeks as Kaluuya and Cohen continue to battle it out at Critics Choice, SAG and (probably) BAFTA.
Aaron Sorkin took home yet another screenplay win (his third in this category following "The Social Network" & "Steve Jobs"), confirming that he remains a favorite of the HFPA and looks to be in strong standing to win a second Oscar in the coming weeks for "The Trial of the Chicago 7." There is still a lot that can happen with CCA, BAFTA and WGA to come but as the film's only win of the night, this was crucial for Netflix's big Best Picture contender to stay relevant as we head towards the guilds.
In one of the more shocking upsets of the night, Rosamund Pike prevailed for her work in Netflix's "I Care A Lot," overtaking presumed frontrunner Maria Bakalova in "Borat Subsequent Moviefilm." If the Borat breakout couldn't prevail at the Globes, her Oscar hopes seem to be in doubt, even in the supporting race. We're now at the point where we are discussing the possibility of her being snubbed all together at the Oscars! Crazy to imagine, considering it was only a short while ago that she was the critics' leader and frontrunner for the category. For Pike, her recognition may ensure new attention to her film, especially as Oscar voting begins on March 5th. With the film not being longlisted at BAFTA, this was her only chance to make an impression all season. Something to watch out for.
But if that surprise wasn't enough, Jodie Foster took home Best Supporting Actress for work in "The Mauritanian," a late-breaking entry in the race. Foster, whose on-screen appearances have been slim in recent years, may be posed to crash an Oscar lineup that was beginning to look sewn up. With tonight's surprise, it seems as if the race is very much still fluid. She is currently longlisted for BAFTA and if she manages to make an appearance there, then it would be wise to start adding her to your Oscar lineup predictions. And what does this mean for Glenn Close's chances now at getting that ever-elusive first Oscar win? More to come on that in the coming weeks.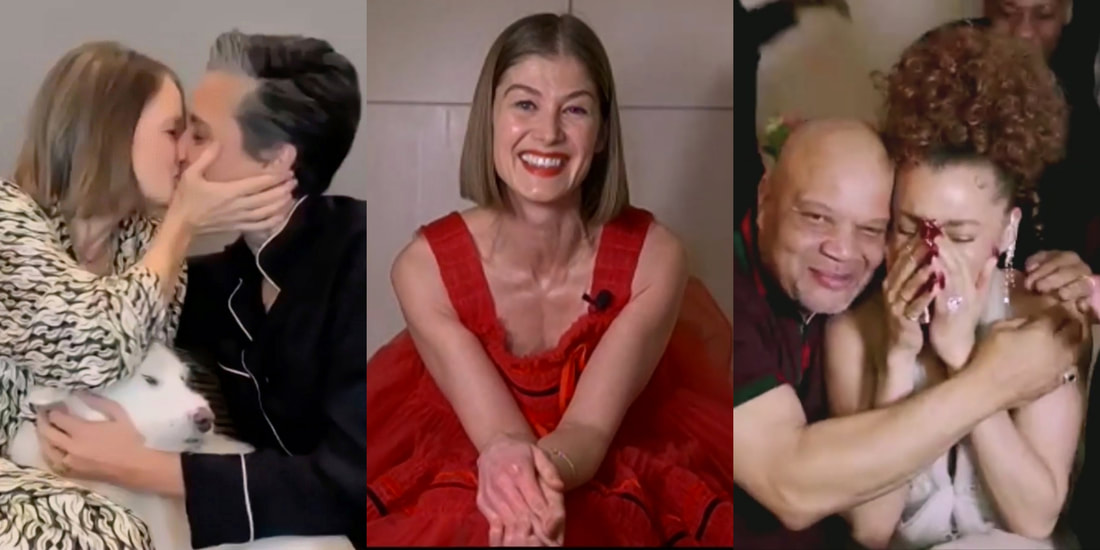 The surprises kept on coming as Andra Day overtook Frances McDormand and Carey Mulligan (who had corresponding Best Picture nominations for their films) in the Best Actress in a Motion Picture – Drama category with a win for her transformative work in "The United States vs. Billie Holiday." What was once considered a potential nomination now seems like a lock, with Day solidifying herself firmly in the Best Actress five at Oscar. Could another surprise win also be in store for the Grammy-nominated actress?
Apart from the surprises, a few predicted narratives began to take hold at the ceremony. Chadwick Boseman won Best Actor in a Motion Picture – Drama for his electric work in "Ma Rainey's Black Bottom." Should he go on to win the Oscar, he would be the third posthumous acting winner after Peter Finch and Heath Ledger. Another win that looks set for continuing accolades is Chloe Zhao's recognition for "Nomadland." The Best Director win at the Globes makes her the second woman to win the award behind Barbra Streisand for "Yentl." At the Oscars, she would be the first woman to win since Kathryn Bigelow for" The Hurt Locker" and the second overall.
Though Maria Bakalova lost for "Borat Subsequent Moviefilm," the film itself collected wins for Best Actor – Musical or Comedy and Best Motion Picture – Musical or Comedy. Sacha Baron Cohen's acting win made history as he is now the first performer to win multiple Golden Globes for the same character in different films. Don't expect this success to translate to Oscar, but it is still significant and could boost his chances in the Best Supporting Actor category where he's facing off with Daniel Kaluuya.
And finally, on the film front, "Nomadland" collected the Best Motion Picture – Drama prize, further solidifying the Fox Searchlight title as the major frontrunner of the season. As mentioned before, "The Trial of the Chicago 7" is not out of the race yet. We've seen with examples such as "Boyhood/Birdman" & "The Social Network/The King's Speech" that it's possible for the early frontrunner to do well here and with Critics Choice but then a different narrative takes over at with the guild awards. With its screenplay win tonight, it seems as if "The Trial of the Chicago 7" and "Nomadland" will continue to duke it out in coming weeks, making this season yet another nail-biter all the way down to Oscar night itself. That is, of course, "Nomadland" continues to win everything with no weaknesses being shown at all.
​On the television front, John Boyega made a splash with a win for his performance in "Small Axe: Red, White, And Blue." That will likely translate into an Emmy nomination later this year for the "Star Wars" actor. "Schitt's Creek" did exceptionally well on its farewell tour, picking up wins for Best Television Series – Musical or Comedy and Catherine O'Hara for Best Actress – Musical or Comedy. And to the surprise of no one, "The Crown" and "The Queen's Gambit" swept their receptive drama and limited series categories, winning awards for their actors as well. Both are primed for tremendous success at the Emmys later this year. Jason Sudeikis also put himself in a good position for next year's Emmys with his win for the Apple TV show "Ted Lasso," even if his speech was underwhelming to say the least.
As for the ceremony telecast itself, things moved along nicely, given the circumstances. Fey and Poehler were affable hosts, as always, and their chemistry transcended the coastal divide. Aside from the occasional technological glitch or two, the celebrities at home still had a presence within the action. Pioneering trailblazers Norman Lear and Jane Fonda were respectively awarded the Carol Burnett Award and Cecil B. DeMille Award. Both legends delivered impassioned and heartfelt speeches that also served as a cause to action. All in all, it was a successful evening with an interesting glimpse into what we can look to expect as the season continues onward.
The Critics Choice Awards is the next big stop in this very long Oscar season. What will happen there? What did you think of last night's winners? Where do you see the Oscar race now? Check out the fill list of winners here and listen to the NBP Team's immediate reactions to the show after it went off the air here. Let us know in the comments section below or on our Twitter account.
You can follow Michael and hear more of his thoughts on the Oscars and Film on Twitter at @mschwartz95