By Matt Neglia It's May the 4th and what would May the 4th be like if we didn't do a Star Wars article? In celebrating 40 years of Star Wars and with this being the first May the 4th since Next Best Picture has been around, I felt it would be fitting if we took you on a ride through the Star Wars series' history with the Oscars.
​Click below to read more.
"A New Hope"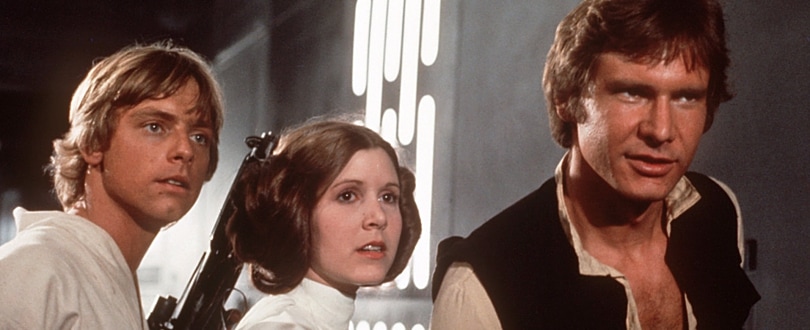 When "A New Hope" came out in 1977 it was unlike anything else the world had ever seen before in the history of film. This was reflected at the Oscars with 10 Nominations, 6 competitive wins and 1 Special Achievement Oscar.
Wins
Best Art Decoration-Set Decoration
Best Costume Design
Best Sound
Best Film Editing
Best Visual Effects
​Best Original Score
Special Achievement
Sound Effects
Nominations
Best Supporting Actor – Alec Guinness
Best Original Screenplay – George Lucas
Best Director – George Lucas
Best Picture
The one glaring miss here was a nomination for Best Cinematography. When you think of "Star Wars" there are so many iconic shots which come to mind…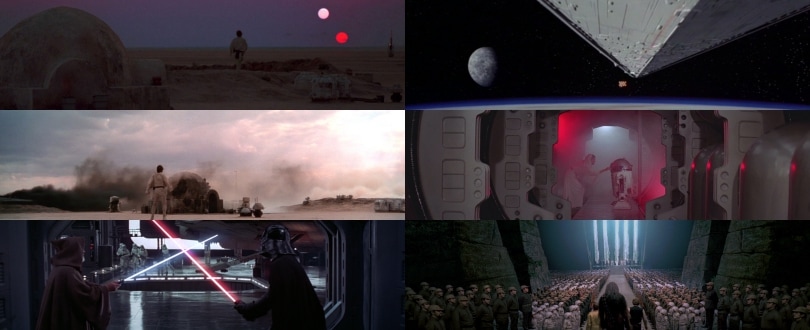 Now, I can personally deal with the miss of a nomination here but in retrospect, with so many nominations, it's hard to understand why it missed. The film also missed on a Best Makeup Oscar which was given out in 1964 and 1968 as Special Achievement Oscars, so why could it not get one here? Surely it was deserving, as evidenced by its impact on thousands of future filmmakers who have referenced its landmark effects since. The success of "Star Wars" at the Oscars in 1977 can be most compared to "Mad Max: Fury Road" which also won 6 competitive Oscars from 10 nominations, none of which were in the above the line categories. Each win was wholly deserved and ever since then, the Star Wars series has been struggling to reach these levels of Oscar glory again.
The only question one must ask here is if you were a voting member, would you still give "Annie Hall" Picture and Director over "Star Wars." I think we can all mostly agree that Woody Allen deserved to win Original Screenplay and I would also argue that it deserved to win Best Picture as well. Best Director however, I go back and forth on. George Lucas' vision was so ahead of its time here and really struck a chord with people that if he were nominated today, I wonder if today's voting body would have gone for him. It's tough to say. What do you all think?
​Should Have Gotten Nominations For: Best Cinematography & Best Makeup
"The Empire Strikes Back"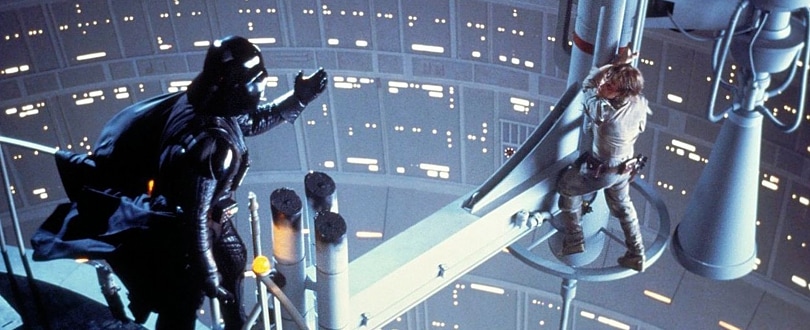 As said before, Star Wars has since struggled to do as well at the Oscars as it did with "A New Hope." By most accounts, "The Empire Strikes Back" is the best film of the series even though at the time it was not hailed as such. It was said to be too dark and did not make as much money nor garner as much acclaim as its predecessor had. The Academy saw fit to reward it as such:
Wins
Best Sound
Special Achievement
Best Visual Effects
Nominations
Best Art Decoration-Set Decoration
​Best Original Score
Now, this is where I will argue that "The Empire Strikes Back" is the absolute peak of the Star Wars series in terms of sheer cinematic quality on both a filmmaking level and a thematic level. It completely deserved a Best Director nomination for Irvin Kershner and a Best Picture nomination as well. And the cinematography? It's even more astonishing that "The Empire Strikes Back" could not get a nomination much like "A New Hope" could not.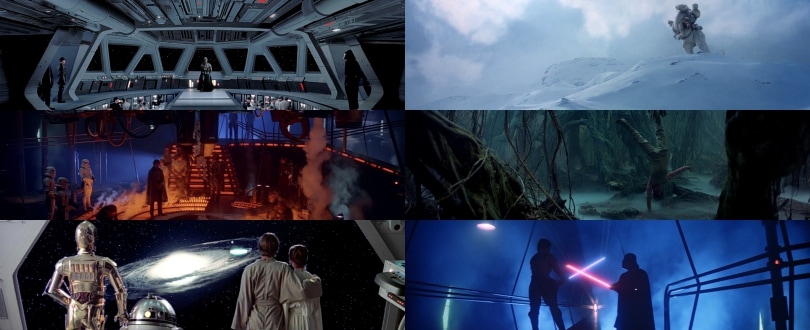 But that is probably not even the most criminal miss here. The one that stings the most is the Supporting performance by Harrison Ford as the iconic Han Solo. Here, in "The Empire Strikes Back" Ford completely owned the character and thus the movie, making his "demise" at the end of the film that much more tragic. Without "The Empire Strikes Back" its unlikely that Han Solo would have gone on to be the iconic character that he became and most that credit is attributed to Ford's charismatic performance.
Should Have Gotten Nominations For: Best Picture, Best Director, Best Supporting Actor & Best Cinematography
"Return Of The Jedi"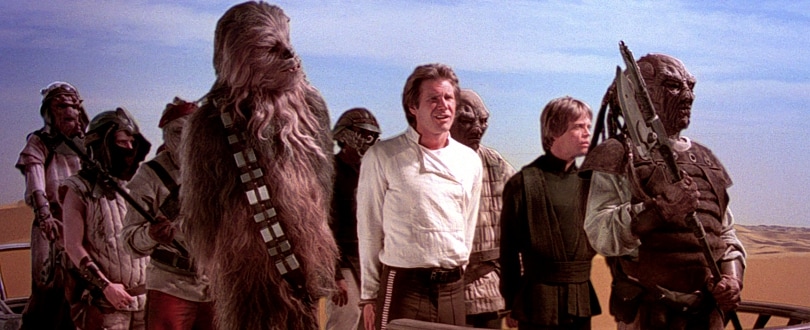 And now we come to the divisive third film in the original trilogy. There are many who consider "Return Of The Jedi" the best in the series but there are many more who don't. It's an adequate film that suffered from too much hype, despite giving fans a very satisfying conclusion to the trilogy. In 1983, "Return Of The Jedi" received nominations for:
Special Achievement
Best Visual Effects
Nominations
Best Art Decoration-Set Decoration
Best Sound
Best Sound Effects Editing
Best Original Score
Even though this film was more popular with the Academy when it came to overall nominations, the film managed only one win for a Special Achievement Oscar for its Visual Effects, which had come a long way since the 1977 original's visual effects. However, with no competitive wins it was clear that steam had run out for the series in regards to the Academy recognition. While I would not personally take any of these wins/nominations away, I also would not add any nominations/wins to its Academy haul other than once again a mention for the Makeup & Hair Styling. By this point, the award had been handed out since 1981, but in 1983 no award was given. Why was "Return Of The Jedi" not at least considered for this? It's a mystery.
Should Have Gotten Nominations For: Best Makeup & Hair Styling
"The Phantom Menace"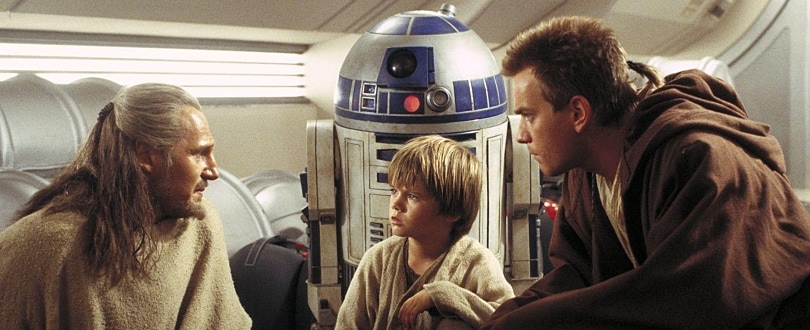 And this is where it gets fun. 1999 came. The hype for "The Phantom Menace" was at a fever pitch. The film came out and was a huge disappointment critically even though the anticipation drove the box office to what is now an astonishing $1 billion plus in worldwide sales. People looking to make excuses for the film's shortcomings were able to justify its three Academy Award nominations:
Nominations
Best Sound
Best Sound Effects Editing
Best Visual Effects
Considering how bad the film was and is regarded by many today, it's astonishing that it managed to get the nominations it did. But that's my 2017 self talking. In 1999, I'm sure these were all justified, but not as justified as what actually happened on Oscar night. For the first time ever, a Star Wars film lost Visual Effects "The Matrix" which also went on to win "The Phantom Menace's" other nominations for Sound and Sound Effects Editing plus a Best Film Editing win to boot. It was clear at this point that unless George Lucas could somehow turn the series around and bring the series back to its former glory, that the Academy was also done with giving the series wins of any kind.
"Attack Of The Clones"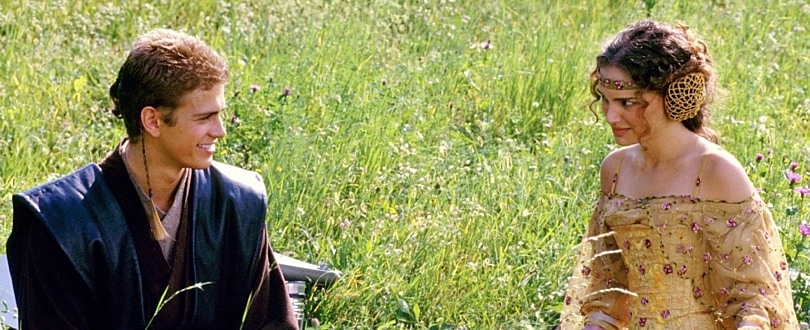 But George Lucas didn't make the series better. In fact, he made it worse. "Attack Of The Clones" was released in 2002 to even worse reviews and less of a reaction from the Academy with only one nomination for…you guessed it.
Nominations
Best Visual Effects
Now to be fair, I would not take any of the nominations for "The Phantom Menace" or "Attack Of The Clones" away, but if the Academy could have given these two films a Special Achievement Oscar (Much like the Razzies) for the "Worst" in anything, these two films would be more than deserving. Hayden Christensen famously made us all not care anymore for the once beloved Darth Vader and his on-screen chemistry (Or lack thereof) with Natalie Portman was laughably bad with horrendous dialogue from George Lucas. With no one to tell the powerful filmmaker "no" when he seriously needed to hear it, he created two films back to back that very nearly killed the franchise and to a certain extent, did for millions of fans around the world.
"Revenge Of The Sith"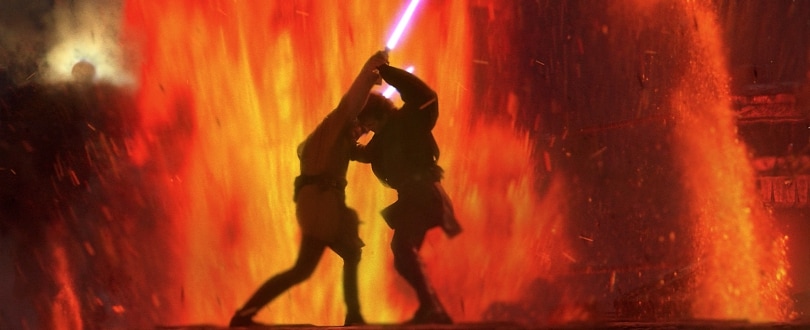 The proof is in the pudding. Despite bringing the story of Anakin Skywalker to a dramatic conclusion with darker themes and moments that would give many skeptical fans the ammunition they needed to somewhat forgive George Lucas to a certain degree, "Revenge Of The Sith" performed much like "Attack Of The Clones" at the Oscars with only one nomination:
Nominations
Best Makeup & Hair Styling
Finally! The Star Wars series made it into the Makeup & Hairstyling category with a nomination. In a shocking turn however, it missed out for the first time ever with its Visual Effects and "Revenge Of The Sith" arguably has some of the best of the series. Perhaps the Academy still could not forgive Lucas for the first two films in his prequel trilogy. While "Revenge Of The Sith" got a lot right, it still suffered from Hayden Christensen and Natalie Portman's terrible acting and on-screen chemistry, a complicated plot that no child could possibly understand and other ridiculous moments which betrayed Star Wars fan's trust (What do you mean Padme lost the will to live?! What does that even mean?!?!!?). After 2005, we would not see another Star Wars film until….
Should Have Gotten Nominations For: Best Visual Effects
"The Force Awakens"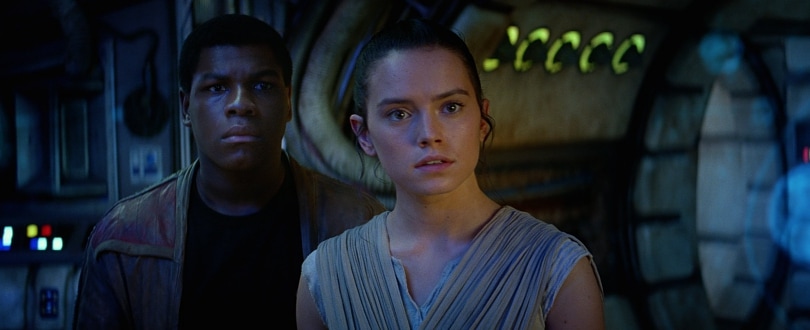 The first Star Wars film under Disney and the first to not have any direct involvement from George Lucas after selling the rights off to Disney, "The Force Awakens" was a triumph both critically, commercially and announced to the world that it was ok to love Star Wars again. The Academy responded kindly with 5 nominations.
Nominations
Best Film Editing
Best Original Score
Best Sound Effects Editing
Best Sound
Best Visual Effects
Shockingly no wins though. Many felt that on Oscar night, the Academy would be ready to reward what is now the biggest film of all time with at least one win. The Visual Effects team had won the VES and the BAFTA leading up to the ceremony so it made sense to predict that Star Wars would return back to the Visual Effects category wins with "The Force Awakens." However, it was not meant to be. In one of the most shocking Oscar upsets ever, most people's number 5 pick "Ex-Machina" won the category over other heavy hitters such as "Mad Max: Fury Road" and "The Revenant." Many people said that it was due to vote splitting. Some argued it was because "Ex-Machina" was so beloved by the Academy and was not going to win its other category for Best Original Screenplay over "Spotlight" and that this would be the only place to reward it then. Who knows? What was also very odd about this year was how hard people campaigned and pushed to have "The Force Awakens" get a Best Picture nomination with the Critics Choice Awards going so far as to retroactively include it in their nominations leading up to the Oscars. It was also not meant to be, for as enjoyable as "The Force Awakens" is, there are still those detractors out there who proclaimed the plot resembled "A New Hope" too closely as a means to lure old fans back to the series and assure them that the series was in good hands once again. I suppose it worked and even though it did not translate into any Oscar wins, the upcoming "The Last Jedi" film will be the deciding factor in how the Academy now feels overall about the series.
"Rogue One: A Star Wars Story"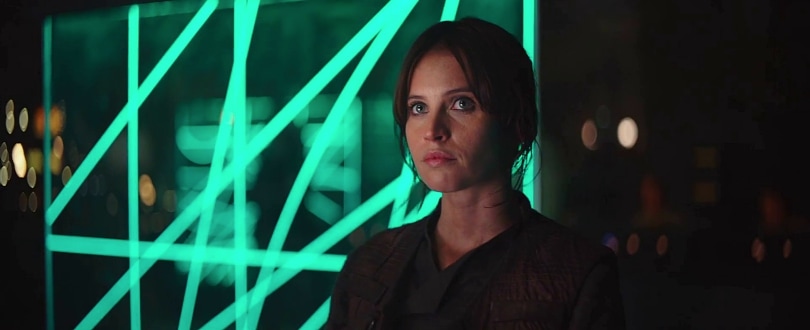 "Rogue One: A Star Wars Story" is unique in that it is the first spin-off film in the Star Wars series and performed at the Academy just about as well as any blockbuster film would with two technical nominations.
Nominations
Best Sound Mixing
Best Visual Effects
While not performing as well as "The Force Awakens" it also did not make as much money, nor was it as big of a hit both critically and with Academy members. While it did not fare as poorly as the last two prequel films did, "Rogue One: A Star Wars" story performed just about as well as you could expect from what is now a very crowded field every year in the tech categories. Just because you're Star Wars, does not mean you're automatically going to get a ton of nominations any more. There is a higher level of quality that needs to be reached and although there are some who say "Rogue One" is their favorite Star Wars film of all time, with weak characterization and a storyline that mostly could have been left on the cutting room floor until the film's second half, "Rogue One: A Star Wars Story" has its fair share of problems. The nominations it received here were deserved though as the series continues to advance visual effects with its digital character recreations of General Tarkin and Princess Leia and the film's climatic battle more than deserved that Sound Mixing nod. I am going to maybe throw a mention out there though to cinematographer Greig Fraser who might have possibly shot the best overall looking Star Wars film yet with striking cinematography that was respectful to the world that Lucas had built but also managed to carve out its own identity for itself visually. I personally would have given him the nomination for this over "Lion." But that's just me. What would you have done?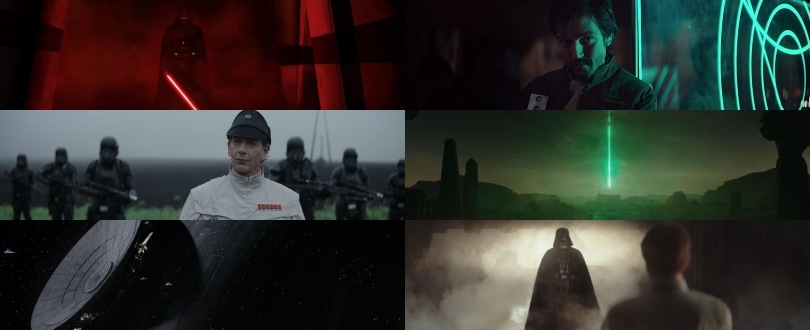 It will be interesting to see where the series goes in the future in regards to the spin-off films and how they will fare with the Academy. But that's it for the Star Wars films and their history at the Oscars. We still have "The Last Jedi" to look forward to later on this year. Will it do as well as "The Force Awakens" did? I've asked for your opinion on many of these films and how they did with the Oscars but now I want to hear your thoughts in the comments below.
​Thank you and "may the force be with you." You can follow Matt and hear more of his thoughts on the Oscars and Film on Twitter at @NextBestPicture