Following 13 unsuccessful Oscar nominations, Roger Deakins is now one of the unluckiest nominees of all time, and arguably the most overdue of this year's nominees. With his latest film "Blade Runner 2049," we need to ask: is it finally his time?​ The stats say yes and yet, we are still skeptical.
Deakins should be a sure thing, considering his dominance of most awards across the season. However, he was widely considered deserving of an Oscar in 2001, and was a favorite following his BAFTA win, but failed to convert it into Oscar glory. However, interestingly, Deakins has more Oscar nominations than BAFTA nominations and yet he has had more success with the BAFTA's (Probably homegrown edge). The question is whether or not there is a link between the ASC and BAFTA to the Oscar? Deakins does have a previous track record in relation to this – but do we still have reason to doubt? His biggest challengers this year are both "The Shape Of Water" and "Dunkirk." Two Best Picture nominees.
In 2017, prolific sound designer Kevin O'Connell finally turned his extraordinary run of bad luck around. After 20 Oscar nominations without a win, his latest efforts on "Hacksaw Ridge" finally led to success and a Best Sound Mixing Oscar win. Call it a pity vote if you must, but O'Connell no longer has the crown of unluckiest nominee not to win an Oscar.
That honor is now reserved for cinematographer Roger Deakins. Born in Devon, South England, Deakins has enjoyed a career as one of Hollywood's most celebrated DOPs, working with some of the best filmmakers in the world including frequent collaborations with the Coen Brothers. This relationship would earn him five Oscar nominations, while further projects with the likes of Martin Scorsese, Sam Mendes and recently Denis Villeneuve have won him a career total 14 nominations. This includes his pending nomination for "Blade Runner 2049."
Deakins is widely tipped to finally fill that dusty space on his shelf, reserved since "The Shawshank Redemption" in 1995, but this is not a textbook year. Trends are being broken and the film awards landscape is beginning to radically realter. So the big question is, will this work in his favor, or put an apparent sure thing once again out of reach?
Let us first look at some of the other awards he has picked up so far this season, and the historical correlation with the Oscars.
"Blade Runner 2049" has a total of 37 cinematography nominations this season, from a total of 182 nominations across all categories and all awards this season (Including Oscars). That equates to 45% of every award nomination being for cinematography, and of these 37 cinematography nominations, 28 were wins.

​Also, within Deakins' awards include the BAFTA and ASC. Since 2012, every cinematography recipient of the BAFTA has gone on to win the Oscar, suggesting a consistent cultural alignment in voting patterns between the two awards, in this category at least.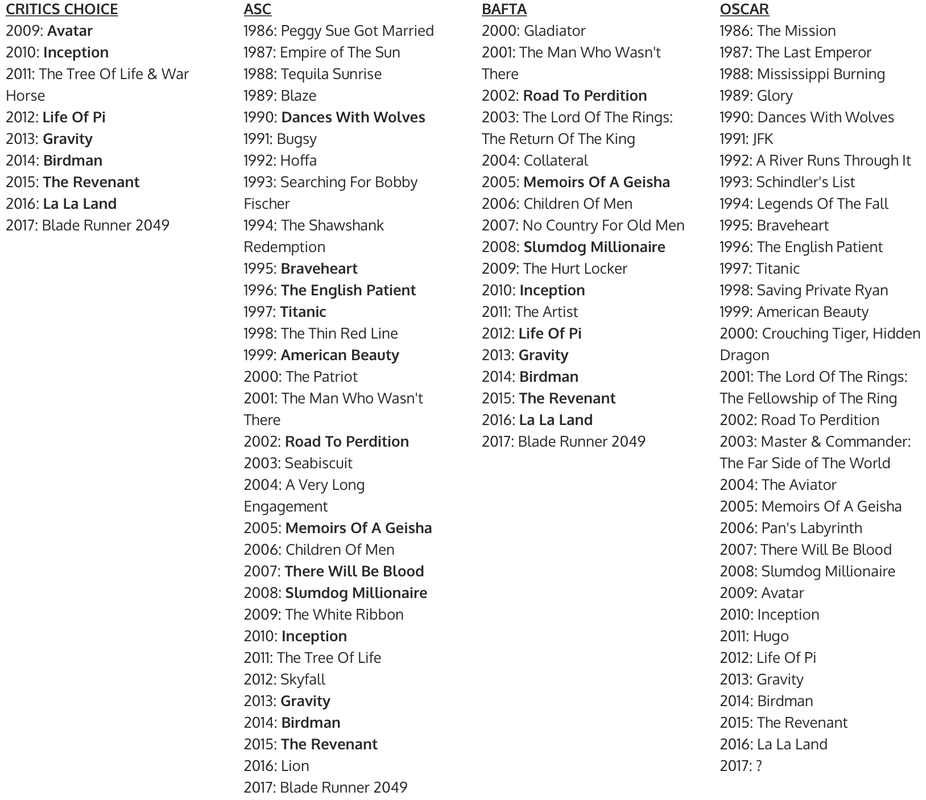 Both awards agreed on Deakins this year (Critics Choice too), and every time in the last decade when both BAFTA and ASC have matched, that person has gone on to win the Oscar too.
This tells us the following:
​
"Blade Runner 2049" is using cinematography as its campaign lead this season with Roger Deakins at the forefront.
Deakins has a 76% conversion rate this season from nomination to win.
He is ticking all the right boxes to put the odds massively in his favour.
I know what you're thinking, and yes there have been many occasions previously when Deakins was nominated for films and seemed to be doing very well but couldn't convert those odds to an Oscar, but just take a look at his track record against all previous nominations (excluding Oscars):

What this illustrates is a clear retrospective distortion of his chances with previous films. His early films "Fargo" and "The Shawshank Redemption", were loved by a small cohort of awards and shut out by everything else (There are also more awards groups today). Only four other films have been nominated at least 20 times on the road to the Oscars, but they all have a poor conversion rate ("Sicario" is at just 5%), while "Blade Runner 2049" has won more awards than any other of his films have been nominated for in total.
Whether you look at total nominations (Which can be unreliable over time as more awards are introduced on the circuit), conversion rate, or correlation to the big awards, this is all round Deakins' most successful film to date, which bodes very well for his chances on March 4th. However, this is not the first year he has won both the BAFTA and ASC award but ultimately lost the Oscar. The earliest example of this was 2002 – the year he was nominated for "The Man Who Wasn't There." Despite being the favorite, the Oscar ultimately went to "The Lord of the Rings: Fellowship of the Ring", which was also nominated at BAFTA and ASC but did not win either.
You could look at this at face value and begin to seriously doubt if Deakins has what it takes to win an Oscar, but "The Man Who Wasn't There" was not the roaring success that "Blade Runner 2049" has been in this category. However, "The Fellowship of the Ring" only picked up five awards from eleven nominations – a 45% conversion. The big difference here is the Academy, who nominated "The Lord Of The Rings: The Fellowship Of The Ring" for 13 Oscars that year (Including a Best Picture nomination), but "The Man Who Wasn't There" only the one. Compounded by the popularity of the franchise, and the notorious voting flaw as individuals who love a film will tick it for every category regardless, and considering neither film completely dominated the season, it's actually not hard to explain why Deakins lost that year. Which leaves one final unknown – who is the competition this year and what threat do they pose to "Blade Runner 2049?"
"Blade Runner 2049" (27) – AFCA, ASC, AWFJ, BAFTA, BFCC, BOFCA, CC, CFCA, CIFCC, COFCA, DFCC, FFCC, HFCS, LAOFCS, LVFCS, NCFCA, NFCS, NSFC, NTFCA, OFCS, PFCC, PFCS, SFCS, SFFCC, StLFCA, UFCA, WAFCA
"Dunkirk" (5) – AFCA, BSFC, GFCA, SDFCS, SFCA
"The Shape Of Water" (3) – DFWFCA, LAFCA, NYFCO
"Mudbound" – NYFCC
The list above shows each nominee's success to date this awards season, with "Dunkirk" and "The Shape Of Water" proving to be the biggest competition. They have been on the tail throughout the season, so if there's a shock to be had in this category it will come from one of these two (My guess is "The Shape Of Water"). The crucial difference between now and the fateful year of 2002 has been the sheer dominance of "Blade Runner 2049," throughout the season having beaten its competition at almost every award. Its 28 awards against the combined 6 from the others speaks volumes. As well as dominating the whole season, it also picked up the BAFTA and ASC which, as proven earlier, has translated to the Oscar win in recent history.
It feels like tempting fate and, as a Brit, I am desperately championing Roger Deakins – the country's greatest ever cinematographer – to win his first Oscar, but the stats are almost unanimously pointing towards this outcome. Some will still argue that "The Shape Of Water" or "Dunkirk" have a chance, but they have been nothing more than the most regular space-fillers among the nominees in a year made for Roger Deakins. This is finally his time.
You can follow Liam and hear more of his thoughts on the Oscars and Film on Twitter at @thisistheheff