By Matt Neglia
I love stats. I love the precursors. I love what they can and sometimes can't tell you about the Oscar race. For the purposes of this final Oscar predictions article, I'm going to use stats to make predictions for the 92nd Academy Awards. Some of these will be easier than others. And for some, we'll have to throw away the stats all together and rely on our gut instinct to help us figure out what's going to win an Oscar this Sunday. I have put together charts for each category (even if the category is locked) which I hope to keep referencing for years to come. You can also listen to my final Oscar Predictions on this week's latest edition of the podcast here.
So get ready. Here are my in-depth predictions for the 92nd Academy Awards.
​BEST INTERNATIONAL FEATURE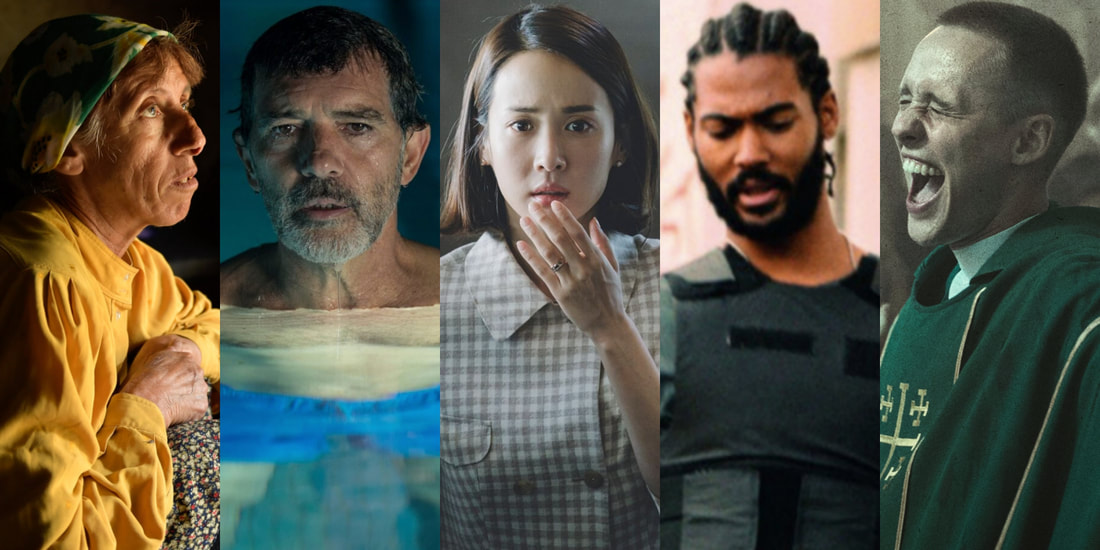 Let's start off with something easy that has no room for interpretation. The nominees for Best International Feature are…
Corpus Cristi​
Honeyland
Les Miserables
Pain and Glory
Parasite
And here is the chart breakdown for the category dating back to when Critics Choice started handing out awards for Best International Feature Film…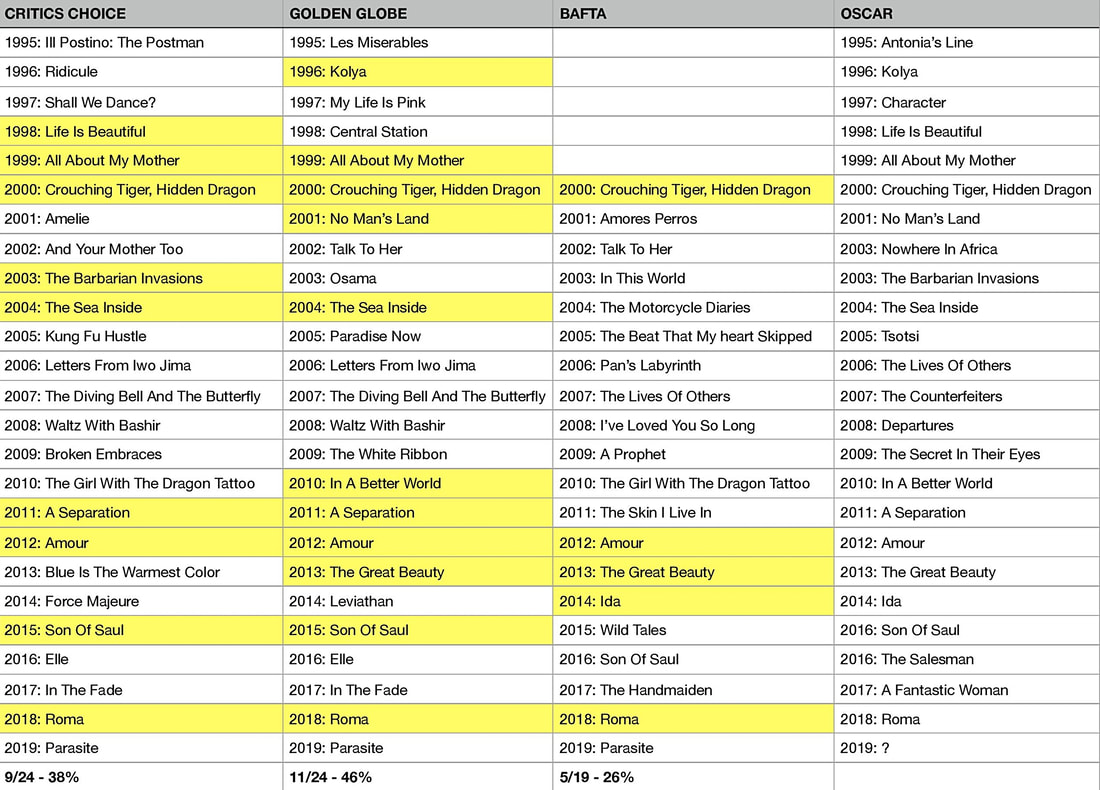 It's going to be "Parasite." No matter what happens elsewhere throughout the night, Bong Joon-ho will get up on that stage at least once. There are two things which make this a slam dunk: 1. No Foreign Language Film nominated for Best Picture has lost International Feature and 2. No Foreign Language film that has won Critics Choice, Golden Globe & BAFTA, has lost the Oscar for Best International Feature. This will be the first win ever for South Korea and it couldn't have gone to a better film.
PREDICTED WINNER: "Parasite"
RUNNER-UP: "Pain and Glory"
PREFERRED WINNER: "Parasite"
BEST DOCUMENTARY FEATURE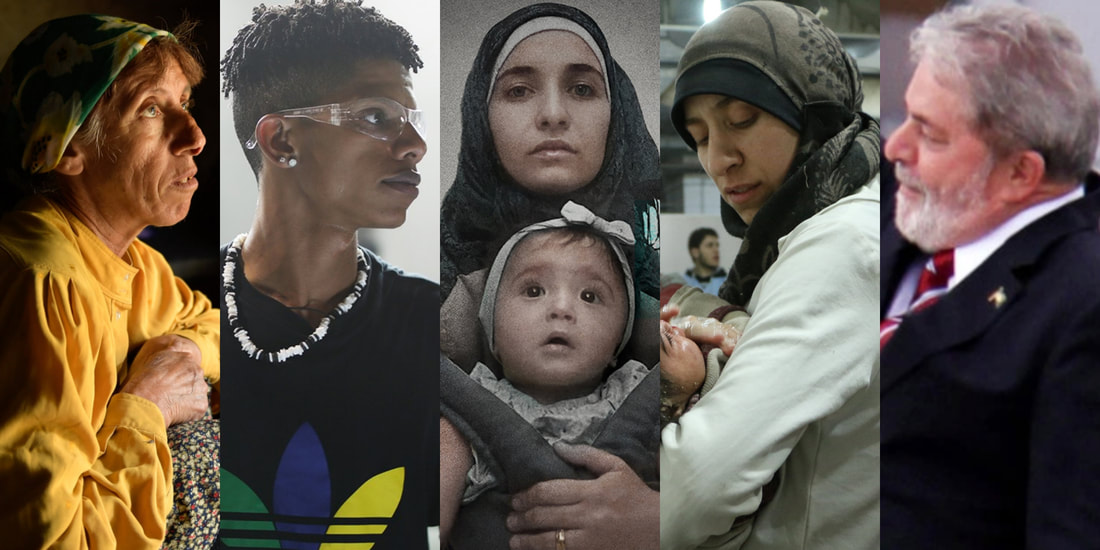 Now this one is a bit tricker to predict. As of this writing, we don't know what will win the Indie Spirit Award yet for Best Documentary but let's assume it's "Apollo 11," which like "Jane" and "Won't You Be My Neighbor?" before it, was the precursor juggernaut that failed to even garner a nomination. The five documentary films nominated instead are…
American Factory
The Cave
The Edge Of Democracy
For Sama
Honeyland

"Honeyland" is in interesting territory as it's the first documentary to also be nominated for Best International Feature film. It has also won the second most precursors to "Apollo 11's" massive 36 with 7 wins as shown below…
Honeyland (7) – BSFC, DFCS, GALECA, NDFS, NSFC, NYFCC, VFCC
For Sama (6) – BAFTA, BIFA, EFA, IDA, IFJA, LFCC
American Factory (4) – IFP, LAFCA, OFCC, TFCA
​"American Factory" won the DGA, which has translated over to a Best Documentary Feature win at the Oscars only 22% of the time. Meanwhile "For Sama" won at the BAFTAs which has a 50% match with the Oscars, including last year's winner "Free Solo." While on a personal level, I think "For Sama" is the best of the category and should win, "American Factory" has received a large publicity push due to its connections to the Obamas, its backing from Netflix and the sad news that its director Julia Reichert is battling cancer. Holding my breath on this one and letting the stats guide me.
PREDICTED WINNER: "For Sama"
RUNNER-UP: "American Factory"
PREFERRED WINNER: "For Sama"
BEST ANIMATED FEATURE

Another brutal category this year which felt like a lock early on but has become more competitive as the season has gone on, here are the nominees for Best Animated Feature…
How to Train Your Dragon: The Hidden World
I Lost My Body
Klaus
Missing Link
Toy Story 4

The Academy has had a long history with Disney/Pixar and specifically the "Toy Story" franchise which was the birth of the critically acclaimed animated studio. The first film received a special Academy Award in 1995 for its groundbreaking technical achievements being the first computer animated feature. The second film received a nomination for Best Original Song (the Animated Feature category did not yet exist in 1999 but my guess is it would've won). The third film received multiple nominations including Best Picture and won Best Original Song and Best Animated Feature, making it the first and only sequel to win this category. And therein lies the issue: sequels.
​While "Toy Story 4" is no doubt a great movie (even if it's not at the same level as the previous three) there may be a bit of fatigue setting in and I think the precursors have shown that with Critics Choice, Golden Globes & BAFTA going to three different films. This has never happened before as the race is usually between two films or one film dominates the entire season. So where will things go? Will it go with CCA/PGA winner "Toy Story 4?" Keep in mind that "Cars" & "Wreck-It Ralph" both had that combination as well (we're disregarding "The Lego Movie" since it famously wasn't nominated) and both still lost to the BAFTA winner. Will it go to this year's BAFTA plus Annie Award winner "Klaus?" Or will "Missing Link" pull off yet another shocking upset as it did at the Golden Globes?
​No Best Animated Feature winner has ever won without one of these prizes so that rules out "How to Train Your Dragon: The Hidden World" & "I Lost My Body." From a stats perspective it's very tight but I'm going to go with my gut (and the slightly higher stats) and say "Klaus" takes it because while a CCA/PGA winner has lost before, a BAFTA/Annie winner has yet to be dethroned. Then again…Laika pulled out all the stops for their campaign for "Missing Link" this year. Maybe it was enough to give the stop-motion animated studio their first win? I wouldn't be surprised.
PREDICTED WINNER: "Klaus"
RUNNER-UP: "Missing Link"
PREFERRED WINNER: "I Lost My Body"