By Matt Neglia
Just as I did yesterday with the acting and screenplay categories, I am now going to dive into my predictions for three categories which recognizes different divisions of "Best Picture" – Animation, Foreign Language and Documentary. These three categories feel like locks to me but maybe you'll think differently.
​Click below to see analysis and predictions for these three categories.
BEST ANIMATED FEATURE FILM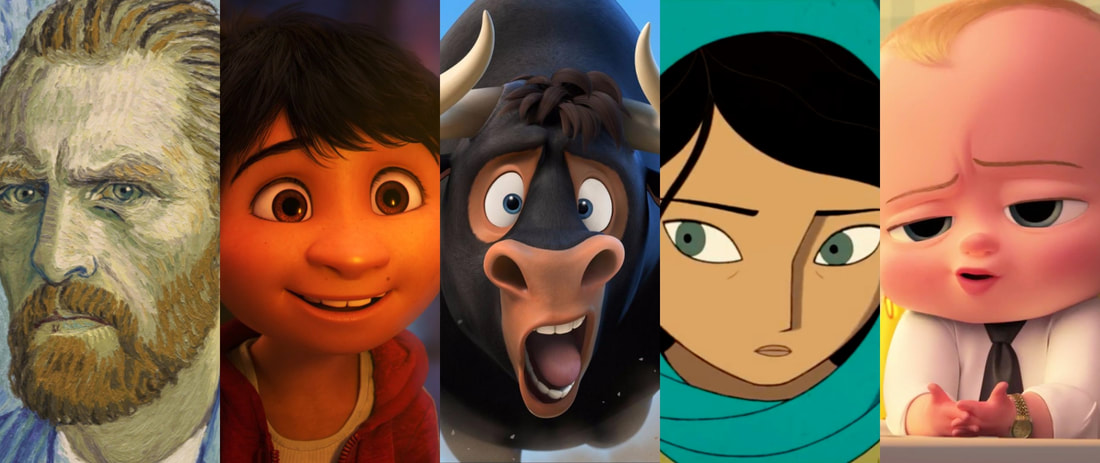 The nominees for Best Animated Feature are…
The Boss Baby
The Breadwinner
Coco
Ferdinand
Loving Vincent
No stats required with this one folks. We have said all year leading up to the release of "Coco" that this was a weak year for Animation and when your lineup at the Oscars includes both "Ferdinand" and "The Boss Baby," with the only alternatives outside of the obvious "The LEGO Batman Movie" (They really don't like these Lego movies…) being "Despicable Me 3" and "Cars 3" you know it's a weak year. It always felt like "Coco" was the anointed film that everyone could get behind and rally to a win here and that is exactly what has happened. With 37 wins including the PGA, the Annie Award, the Critics Choice, the Golden Globe and the BAFTA, "Coco" has dominated this category and is one of the true locks of the night. The one sad takeaway from all of this is that something as small and as powerful and brilliantly made as "The Breadwinner" doesn't even stand a chance in a year this weak. It's going to be "Coco." It was always going to be "Coco."
PREDICTED WINNER: "Coco"
RUNNER-UP: "The Breadwinner"
BEST DOCUMENTARY FEATURE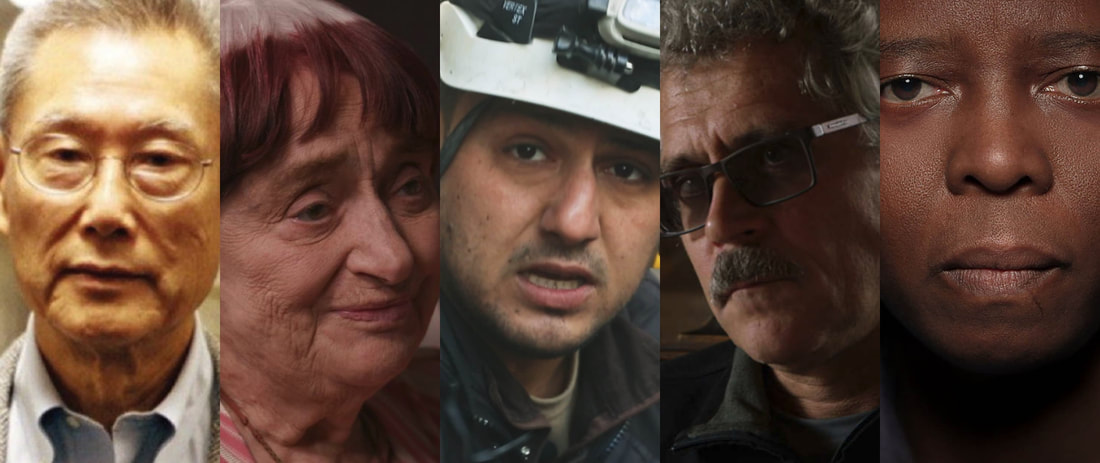 The nominees for Best Documentary Feature Film are…
Abacus: Small Enough To Jail
Faces Places
Icarus
Last Man In Aleppo
Strong Island
​Once again, we are in a situation where, had the strongest competition been nominated, this would be a lot more interesting. "Jane" and "Faces Places" traded victories all season long with "Jane" winning the Critics Choice Award, the PGA, the WGA and the National Board Of Review, while the DGA went to "City Of Ghosts" which also was not nominated. "Faces Places" on the other hand did well with the major critics winning Los Angeles, New York & the National Society Of Film Critics. It also, (Maybe other than "Icarus") has an advantage due to its popularity within the race. Of all of the nominees listed, it's very likely that "Faces Places" will have been seen the most and that's mostly in part due to its legendary director, the 89 year-old Agnes Varda. A pioneer of the French New Wave movement and already an Oscar winner this year after being rewarded the Honorary Academy Award back in November, smart money is for that goodwill to carry Agnes over to a competitive win as well.
​PREDICTED WINNER: "Faces Places"
RUNNER-UP: "Icarus"
BEST FOREIGN LANGUAGE FILM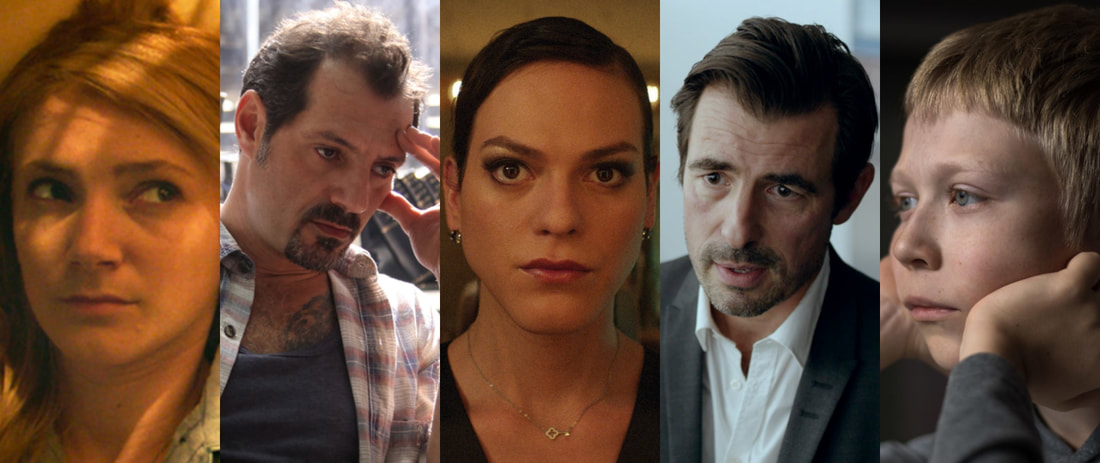 Ok. Here is where things get very interesting. Remember how last year a film won this category with a combination of name recognition and publicity? Something tells me deep within my gut that we are heading for another win like that this year. Here are the nominees for Best Foreign Language Film…
Body & Soul
A Fantastic Woman
The Insult
Loveless
The Square
Ever since its win at the Cannes Film Festival for the Palme d'Or, "The Square" has divided audiences. Some see it as a work of art. Others see it as a pretentious work of art with fun vignettes that don't add up to a cohesive whole. With wins from 8 critics groups including AWFJ, BSFC, CFCA, DFWFCA, GFCA, LAOFCS, OFCC, TFCA and sweeping the European Film Awards, "The Square" is the most rewarded film of the nominated films. After being snubbed for his previous film Force Majeure, Ruben Ostlund finally got his Oscar nomination but one has to wonder if it was truly warranted or did voters do it for fear of another freak out reaction video from the director? Ok, being totally honest, it was probably the former.
But what strikes me about how this year has played out in Best Foreign Language Film is that the frontrunner "BPM: Beats Per Minute" did not receive a nomination and we are left with once again the reluctant critical favorite ("The Square") against another film which everyone has heard of all season long and may garner enough votes to push it forward for the win due to the star power of the film's leading actress. Daniela Vega has been the story all year revolving around "A Fantastic Woman." Don't believe me? She's even been invited to present at the Academy Awards. While her spectacular performance did not get the awards traction that many were hoping for early on, it was able to garner enough buzz for many people to seek out the film and her performance. Just like how many were saying how a win for "In The Fade" (It won Critics Choice and the Golden Globe) was a win for its star Diane Krueger who also should have been in the Best Actress conversation, the same can be said for Daniela Vega and "A Fantastic Woman."
​It's "The Salesman" versus "Toni Erdmann" all over again. Both films are well known. Both films will have been seen. But which one is going to be the most loved? Keep in mind that the entire membership of the Academy is now allowed to vote on this category. Just ask yourself, which film do you feel will gain the most sentiment? Which one is the crowd pleaser? Which is the one that most people can agree upon is the best?
​​PREDICTED WINNER: "A Fantastic Woman"
RUNNER-UP: "The Square"
And that will do it for those three categories. Personally, I'm very confident in my predictions for those three but what about the rest of you? What are your thoughts on these three categories? What do you think is going to win Best Animated, Documentary and Foreign Language Film at the Oscars this year? Be sure to check out my previous articles on predicting the acting and screenplay categories and be on the lookout as I dive deep into all the other categories on our march towards the 90th Academy Awards.
You can follow Matt and hear more of his thoughts on the Oscars and Film on Twitter at @NextBestPicture