​I must be honest with you: I didn't watch "Glee". In fact, I've never seen a single episode. Which to be completely honest, doesn't make sense. You see, I was a theater student growing up in New York when the show became a cultural phenomenon. Most kids my age wanted tickets to see Justin Bieber or The Jones Brothers, but I wanted to see Wicked. So the fact that I – still to this day- have never seen an episode of the highly popular musical-comedy-drama centered around theater students is still a fact that shocks people today (especially considering that was destined to experience a similar high school experience).
Unlike most people, I discovered Naya Rivera a month ago. One of the only positive outcomes of the quarantine is that I have had the time to watch more shows and films and one of those shows was "Step Up: High Water", a spin-off to the famous movie franchise. The first two seasons can be found on YouTube Red (the first season is currently free and a third season was recently ordered by Starz) and follows aspiring young artists that attend a performing arts school in Atlanta. Rivera played Collette Jones, the school's leader who was a famous singer and dancer before leaving the industry due to a knee injury. Granted, it's not the lead role, but for some reason, there was something that attracted me to Collette over any other character in the show.
​For most of the series, Collette makes sure everyone at High Water is shining to their full potential. She can be found entering dance rooms and offices consulting students and her peers as well as moving literal and figural mountains to make sure that every conflict and conformation is resolved. Collette was a nurturer who always sought the well-being of her students first and made sure that they left the school carefree with a smile on their face, no matter if their cause of stress was dance-related or not.
But for some reason, this 33-year-old principal caught my eye. In every scene she was in, the camera just drew to her. For sure, she had charisma, wit, a flirtatious spirit, and great line delivery. But she was also an incredibly subtle and reactionary actor. In her quiet moments, she showed the audience her true superpower where Collette would just look at a character and they would unravel. It was magical. Rivera didn't need dialogue or blocking to get her point across. She was always portraying a layered performance that spoke volumes. It's something you can't teach in acting school.
But like I said, I've never seen "Glee", the project that Rivera is most known for. But I do believe I lived it. As I said, I was a young theater student during the beginning and height of the show; basically the target audience. So even though I didn't watch the show, I saw how the show affected my fellow classmates, heard the songs and I knew of some characters. Some of them by name like Lea Michele and Jane Lynch but the others I only knew by the trope they played: "The Cute Quarterback" for instance, and "The Pregnant Cheerleader" and then there was the "The Mean Cheerleader", and Collette looked like her.
So after my two-week binge of "Step Up" I decided to look up Rivera and found out she was in fact The Mean Cheerleader from "Glee". That week I watched almost every YouTube video I could find of her time as Santana Lopez. To say the least, I was blown away by the magnitude of this character. Yes, Rivera was a powerhouse vocalist. Anyone can detect her sheer talent when she opened her mouth but when one takes a step back, you can really see Rivera's talent and legacy with Santana Lopez.
​Originally a one-dimensional character like many before her, Santana was just "The Mean Cheerleader", "The Hot One", "The Bully", and the counterpart to the blonde head cheerleader. She took pride in her quick wits, hooking-up with boys, and making fun of everyone that was in her way. She was mean, confident, unapologetic, cruel, and got to deliver some of the best lines on the show. Even with this basic trope that audiences have seen time and time again, Rivera shined in this part.
But it was a few seasons in that Santana began to grow into a much more complicated character. What started out as just a mean girl in a guest-starring role, turned into one of the strongest points of the show that ended as a co-lead and that changed and affected millions of audience members around the world. I finally began to understand the Glee hype watching Santana's journey as she realizes that she's mean because she's angry and takes that anger out on people because she's afraid to come out of the closet. Naya Rivera as Santana Lopez became one of the first Latina lesbians on primetime television and told a beautiful and raw story about a woman of color's journey of coming out, being outed, and embracing everything that makes her who she is; which is the show's ultimate motif. But all of this would not be nearly as effective and powerful if it wasn't Rivera who brought this story to life.
One instance that comes to mind is when Santana is outed to the entire community and has to deal with her grief and panic during a run-through of a mashup to "Rumor Has It" and "Someone Like You" by Adele. Rivera shares the lead vocals with co-star Amber Riley but your eyes can't look away from Rivera. It is here where her innate talent as a reactionary actor and powerhouse vocalist create the perfect combination. Throughout the entire song, Santana is both falling apart and keeping it together just enough so that no one can tell. She's blinking away tears and screaming inside yet she dances perfectly and sings loud and proud while her entire world is falling apart. The message hits deeply when she belts the line "Don't forget me I beg" while hearing "Rumor Has It" in the background. It is here that Rivera and showrunner Ryan Murphy broke the mold of the bitchy cheerleader. She wasn't that person anymore and she wasn't singing about that life anymore. She was Santana. But she was also Rivera and to see a queer Afro-Latina woman release her power was like watching the birth of a phoenix, both for Santana and Rivera.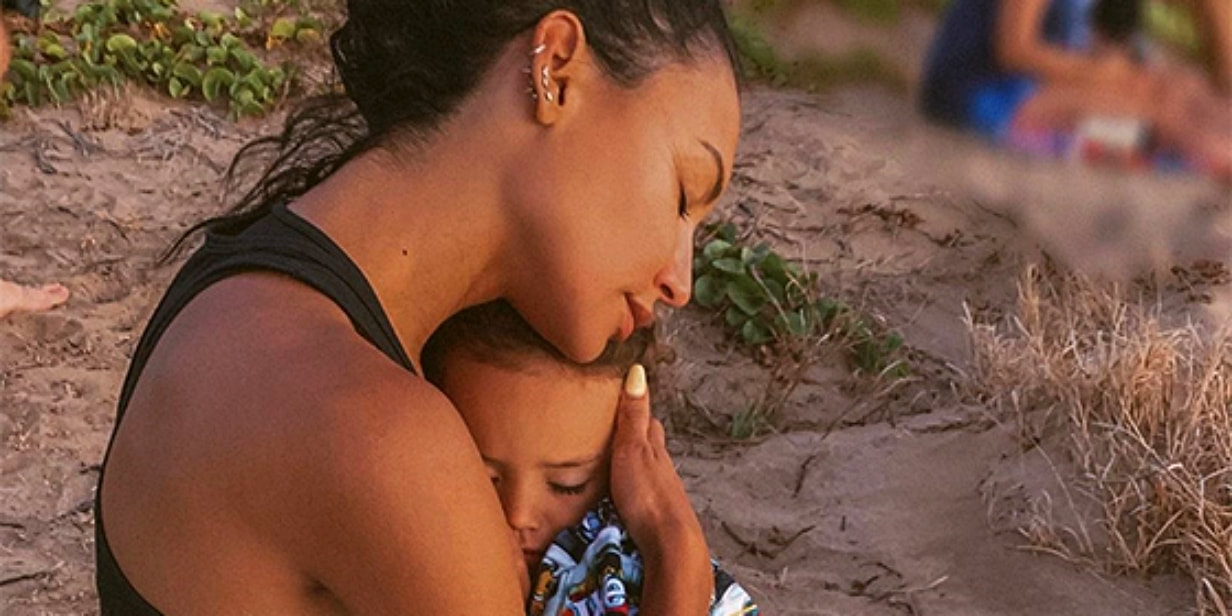 On July 8, 2020, Rivera was reported missing at Lake Piru in Ventura Country, California where she was spending the day with her son. After a six-day search, her body was recovered on July 13th.
It is natural to state how Rivera had so much more to give and how much she deserves to be here and watch her son grow up. But it is also important to acknowledge what she had accomplished in her 33 years of life. Naya Rivera was a grand force and broke glass ceilings for queer people of color and Latinas as well as making countless young people feel seen. She shaped and nurtured my generation, in both "Glee" and "Step Up." In addition to keeping up with professional dancers and redefining classic songs like "Valerie", "Don't Rain on My Parade", "Songbird" and countless others, she was able to blow away her audience with her sheer talent but also pull them in. She made you laugh and made you cry. You wanted her confidence, but you also wanted her vulnerability. Not many actors can do that.
As I said, I've never officially seen a full episode of "Glee" but I feel like I've seen the best of it in Rivera's scenes. Throughout my adolescence, I saw how she moved and changed people and within the last month, I finally understood what everyone was talking about. I wish I'd known sooner but even though I was really late to the party, I'm glad I was there and I am positive that Naya doesn't have to beg because we for sure won't forget her.
​​You can follow Lauren and hear more of her thoughts on the Oscars and Film on Twitter at @laurenlamango